Getting Armenian E-Visa
Armenia is an ancient nation with wondrous sites to prove its history, so it's no wonder that it's one of the unique countries on international tourists' bucket lists. The Armenian Ministry of Foreign Affairs has made it easier for foreigners to visit by making an electronic visa system.
Table of contents
Who needs a visa to visit Armenia?
If you are a citizen of a unilaterally visa-exempt country, you do not need to apply for an Armenian visa. You may enter and stay in the country for 180 days a year with your valid passport. The list features Schengen member countries, the US, the UK, Australia, among other countries.
Suppose you are a citizen of a country with a bilateral or multilateral visa-free agreement with Armenia and hold the determined kind of passport as explained in the official list. In that case, you may also enter Armenia without a visa.
Otherwise, you will have to hold a valid visa to enter Armenia.
Who can apply for an Armenian e-visa?
Unfortunately, not everyone can apply for an Armenian visa electronically. If you are a citizen of one of these 64 countries, you will need an invitation to apply for a visitor visa at the nearest Armenian embassy.
Armenian e-visa application process
You can apply for an Armenian electronic visa in three easy steps:
Start your application online
Complete the application online on the official Armenian e-visa site. Fill out your data, upload all the needed documents. Don't forget to double-check all of the details!
Pay for your visa processing fee
Pay for the application online using a credit or debit card (VISA, MasterCard, American Express, Discover) or PayPal.
The Armenia fee depends on the length of stay you chose for your visa. It is USD 6 for 21 days and USD 30 for 120 days. In either case, the Armenia visa cost is not refundable.
Track your application status and receive your visa
You may track your application status by entering your application number on the status check page. To do that, make sure you keep your application number!
After your visa is issued, you will receive your visa in your email inbox. It is advised that you print it to show upon arrival. In any case, it's good to have a paper backup instead of just depending on your phone or gadget, lest it runs out of battery!
Documents needed to apply for an Armenian e-visa
To apply for an Armenian e-visa, have these documents on hand:
Your passport, valid for at least six months from the planned date of arrival and with at least one blank page;
A digital photo that satisfies the visa photo requirements;
Additional documents, if needed:

Return tickets;
Proof of accommodation in Armenia;
Bank statements from the last three months as proof of financial ability.
Armenian e-visa photo requirements
Before uploading your picture to the form, make sure it fulfills the following requirements:
The photo size is 600x600 pixels;
The file size must be between 10 and 2000 kilobytes;
The background is light grey;
The height of your head must occupy 75% of the picture's height;
The height of the blank space between the crown of your head and the top border of the picture must occupy 10% of the picture's height;
The picture must be recent so you can be easily identifiable;
The image must be of high quality, well lit, with good contrast.
Here is an example Armenian e-visa photo: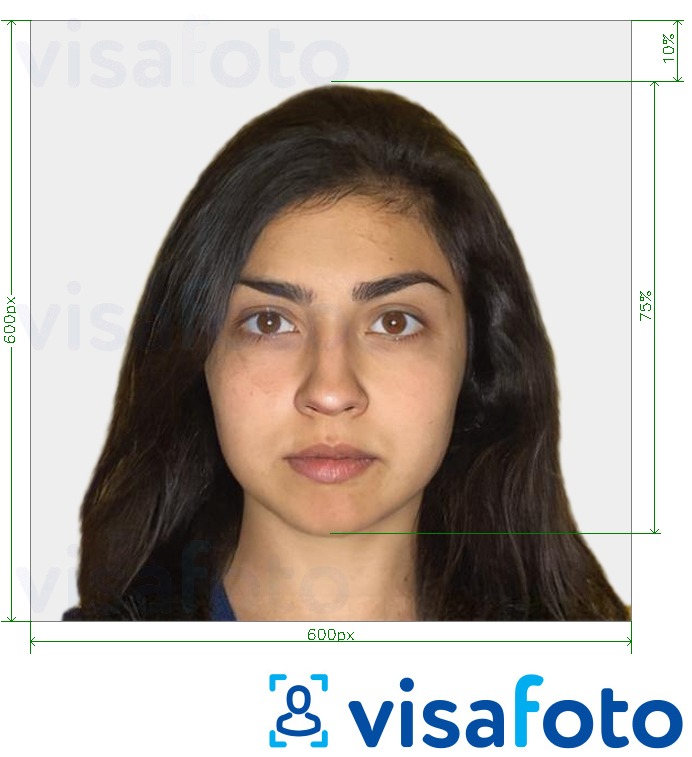 Get an Armenian e-visa photo quickly online
The application process to get an Armenian electronic visa is quick and convenient, but don't let it make you slip up with your application documents! For example, photos that don't fulfill the specific visa requirements are often a culprit of why your application process may be delayed. For such a self-explanatory prerequisite, it's an unexpected stumbling block.
Make sure your application is up to par by using our online photo editing service, Visafoto. Our tool can instantly adjust your photo to satisfy all the visa photo requirements.
Take an image with a smartphone or camera against any background, upload it here and instantly get a professional photo for your visa, passport or ID.
Source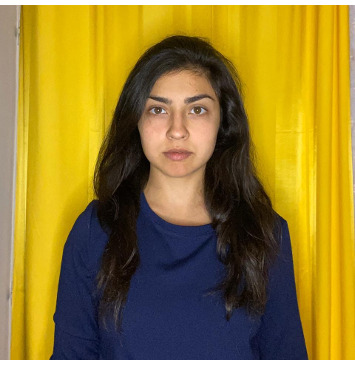 Result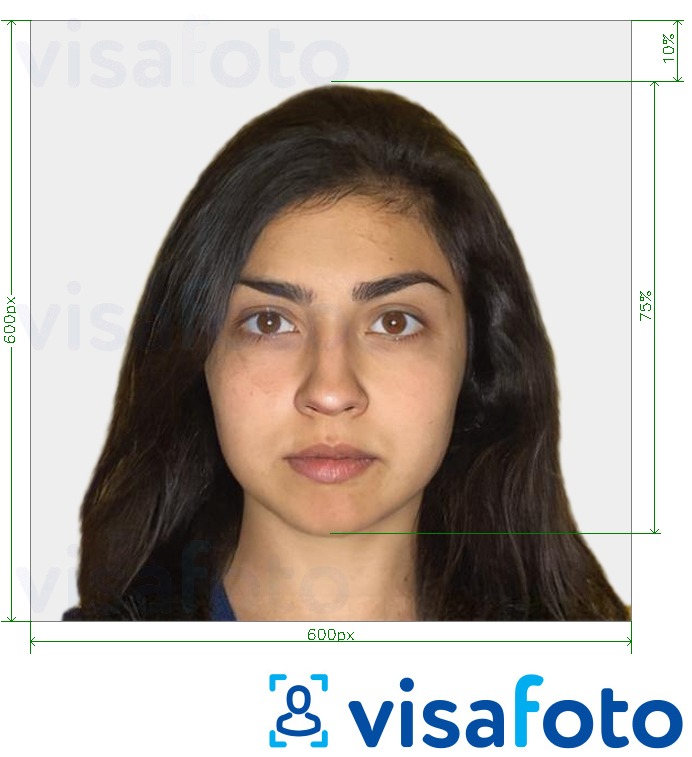 Just take a picture of yourself with a pose and attire proper for a visa photo, with any background. Make sure the picture is decently lit. Then, upload your photo to our tool below.
Take an image with a smartphone or camera against any background, upload it here, and instantly get a professional photo for your visa, passport, or ID.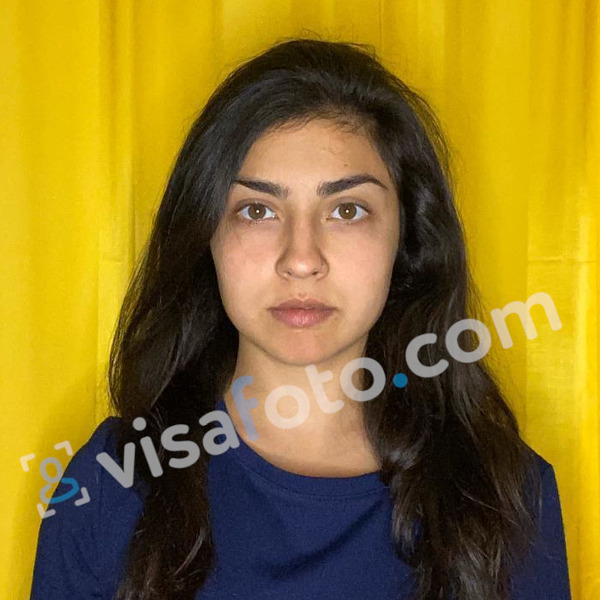 You will get a digital photo like this one: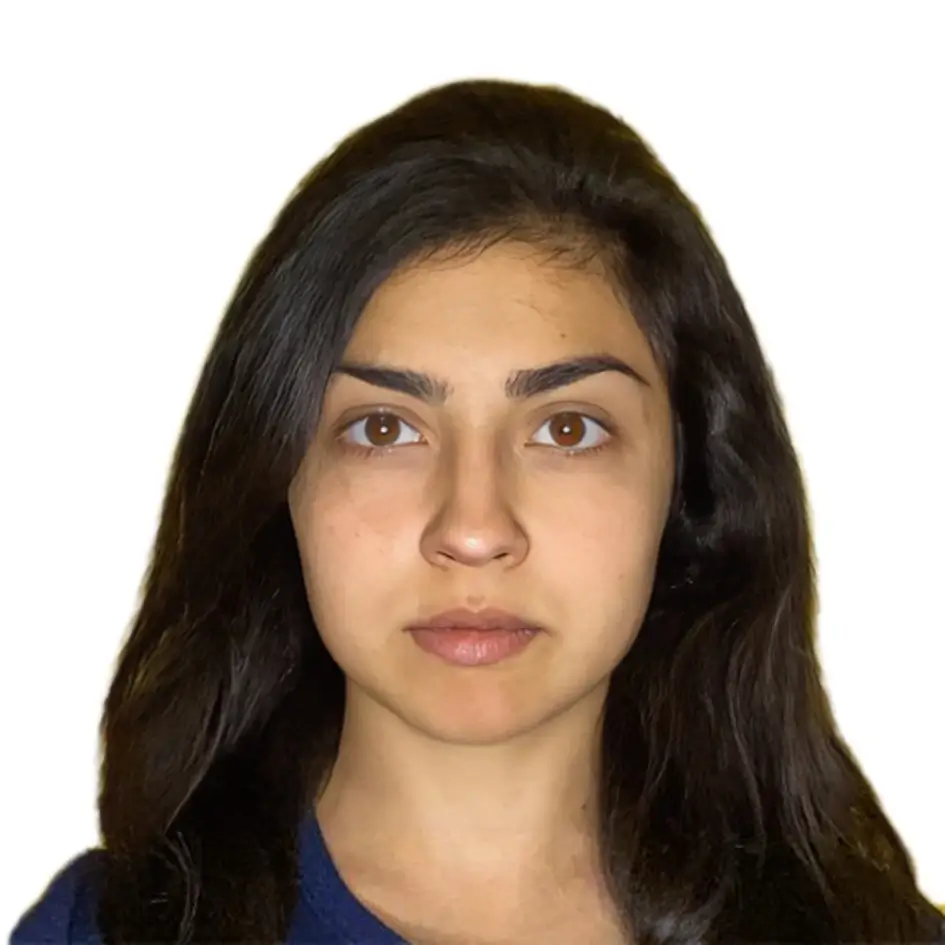 Your resulting photo will satisfy all the requirements and be guaranteed to be accepted. If you have questions about Visafoto, simply contact us!