Singapore Visa Photo
Citizens of most countries need a visa to visit Singapore.
A digital photo must be attached to the visa application.
Table of contents
For the application to be completed successfully, the photograph must meet the Singaporean visa application photo requirements.
Documents required for Singapore visa application
To obtain a tourist visa to Singapore, an applicant needs to collect the following documents:
A questionnaire that should be completed in electronic format.
A copy of the first page of a passport containing the tourist's data.
One digital photo matching Singaporean visa picture requirements.
Confirmation of hotel reservation in Singapore.
Scans of tickets to Singapore or confirmation of the availability of air tickets to Singapore.
A scanned copy of medical insurance.
The list of required documents differs depending on the type of visa.
How to apply for a Singapore visa online?
To submit your documents for a Singapore visa online follow several steps:
Choose the type of visa that you need;
Login with Singpass;
Fill out your data;
Upload the required documents;
Pay visa fee online;
Receive a visa to your e-mail;
Show it on your phone or in printed form along with your passport and Singapore's electronic migration card when you go through passport control.

A tourist visa allows multiple entries into Singapore during the 9 weeks validity period, which always starts from the date of visa issuance. Remember that each stay in Singapore is limited to a maximum of 30 days.
Singapore visa photo requirements
Standard Singapore visa photo specifications are as follows:
Photo size is 35 x 45 mm (if submitted via paperwork).
The height of the face should be about 35 mm.
The upper margin from the edge to the top of a head must be within 4–5 mm.
The face should occupy from 70 to 80% of the photo area.
Singaporean visa photo background color should be white.
The photo should be in color;
Corners and oval cuts are not allowed.
The photograph should show a clear contrast between the background and the person.
Facial features should be clearly seen.
Eyes should be located on a horizontal line.
The location of the face should be in the center of the photo.
The facial expression should be neutral.
The photograph should be taken full-face.
The mouth should be closed.
Hair should not cover facial features.
Hats are prohibited. But, Singaporean visa picture requirements permit one to be photographed in a headdress if it is necessary for health reasons or is a strict religious requirement.
Here is an example of a Singapore visa photo: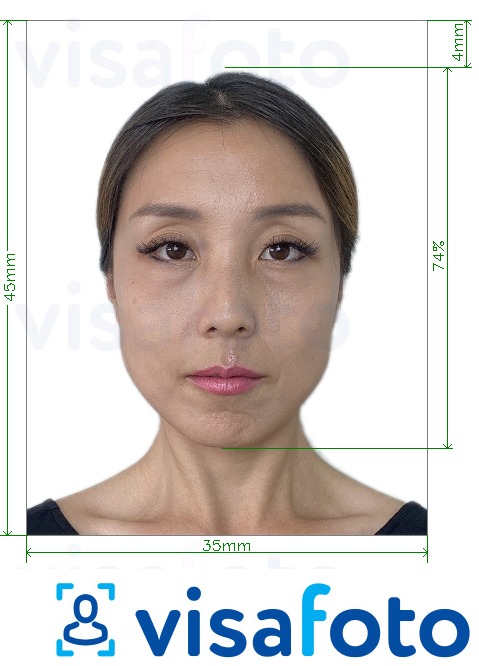 Singapore digital visa photo requirements
Singaporean visa digital photo requirements for online submissions are as follows:
The digital visa photo size should be 400x514 pixels.
The weight of the file should be up to 60 kilobytes
The image format should be JPEG.
The photo must be no older than 3 months from the date applying for a visa.
The digital photo should be attached to the completed application form and sent electronically.
Here is a sample of a Singapore visa online photo: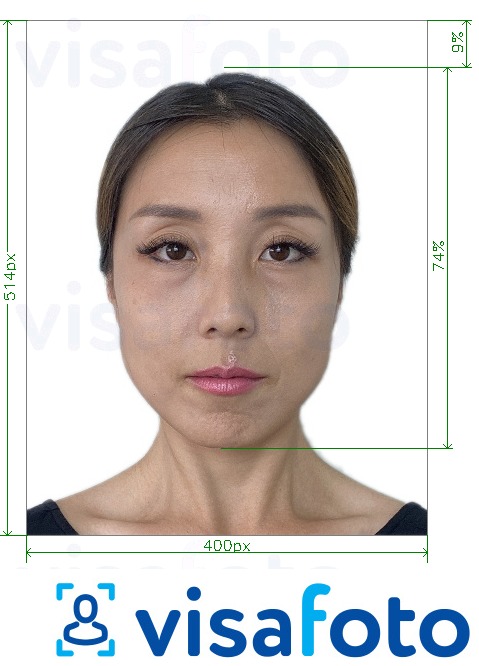 Can I wear glasses in the Singapore visa photo?
Regular glasses do not need to be removed. Glasses with massive frames that hide facial features and with tinted glasses are not allowed. Sunglasses are prohibited.
Singapore visa photo: matte or glossy
A digital photo for a Singapore visa does not need to be printed.
Singapore visa photo tool
What is the most reliable way to take a photo for a Singaporean visa application? For the Singaporean visa photo format is certainly specific and different from most passport-sized photos, it is best to commit this job to special online tools. With Visafoto you can take a picture for a visa to Singapore from any place in the world!
Take an image with a smartphone or camera against any background, upload it here and instantly get a professional photo for your visa, passport or ID.
Source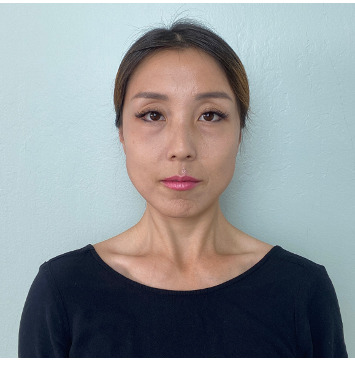 Result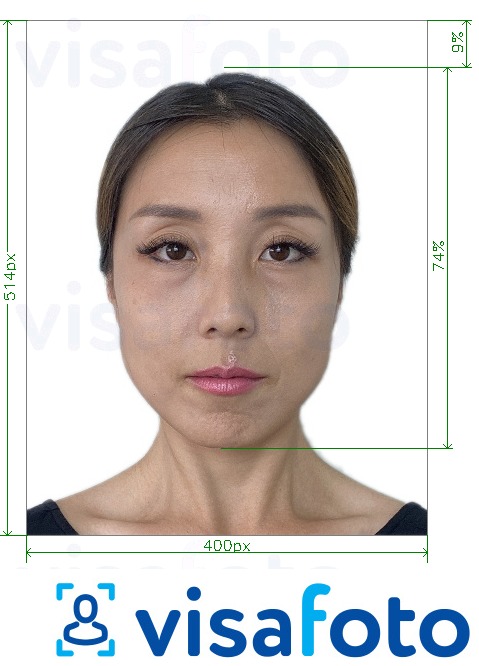 Use our Singaporean visa photo tool for the quickest results possible. Just upload a full-face shot taken under regular light. Visafoto will immediately resize and format it as demanded, substitute the background with plain white and increase the overall image quality. The resulting picture will fit 100% Singaporean visa photo requirements.
First, take a photo of yours under daylight like this one: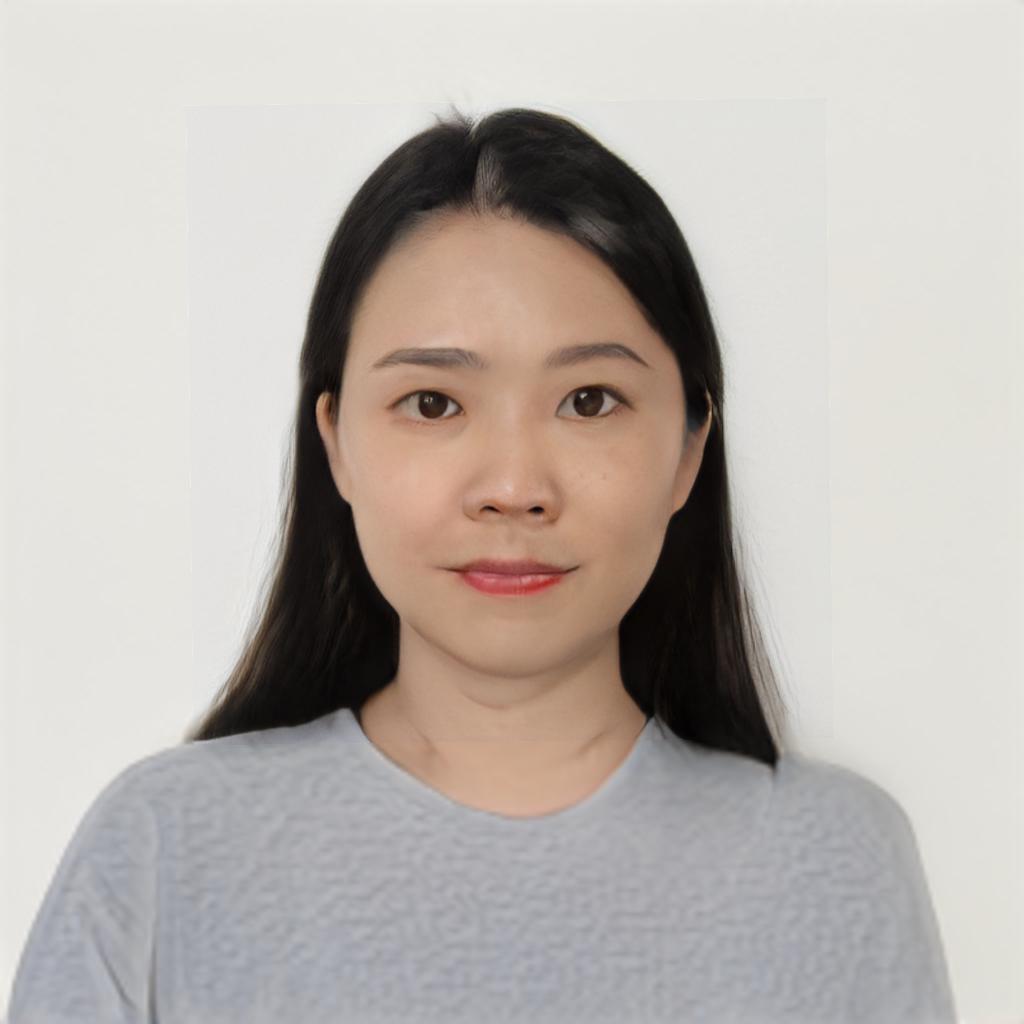 You will get two types of photos: the digital one for online applications and the other one is suitable for printing.
What types of Singapore visas require photos?
The information above suits the photos to the subsequent types of visa:
Singaporean tourist visa photo;
Singaporean business visa photo;
Singaporean transit visa photo;
Singaporean student visa photo.
Last update: November 2022
Links