Passport size photo
One of the basic requirements for a document application is a correct size of a passport photo. Check what id photo size is needed for your document so that your application is guaranteed to be accepted.
Table of contents
What is the correct size of a passport picture?
Refer to the detailed list of passport, visa and ID photos for each country for exact information and size of a particular photo.
The most commonly used passport photo dimensions in different countries are:
Such width and height of a passport size photo as 3x4 cm, 4x4 cm, 4x5 cm is also widely used.
Example of the US passport photo size
How do I make sure my passport photo is of the correct size?
If you need a passport or visa photo for the US, then you can use the US passport photo checker from the DVLottery.me website. It tells if your photo meets official requirements.
What is a standard visa photo size?
Sometimes visa photo requirements match with passport photo requirements in a selected country. Sometimes they differ. Please select your country of destination and then find the visa photo on Visafoto.com to get your visa photo. On the next page you will find the exact dimensions. You can also select your visa type for your destination country from this list of all passport photo types.
What is the passport photo size required in the U.S.?
As mentioned above, the standard size of passport photos in America is 2x2 inches (51x51 mm).
If you are applying for a US visa or passport online at the state.gov website, it is also necessary to take into account a size of passport photo in Kilobytes. It should not exceed 240 KB. Pixel size of passport photo should be 600x600 pixels (i.e. 2x2 inch at 300 DPI).
Requirements for the Green Card lottery photo size are the same.
You can instantly convert your picture into a 2 inch by 2 inch passport photo with our online tool. Visafoto provides two versions of a picture: a jpeg passport photo for online submissions and one for printing on 4x6" paper with 4 individual 2x2 inch photos on it.
What is the easiest and best way to get a passport size photo online?
Take an image with a smartphone or camera against any background, upload it here and instantly get a professional photo for your visa, passport or ID.
Source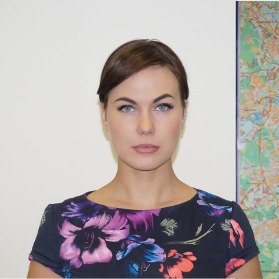 Result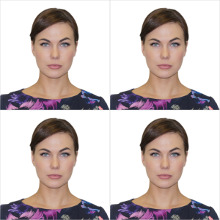 Visafoto.com automatically sets dimensions of passport size photo, as well adjusts other significant parameters, such as:
Background. Take your picture anywhere - Visafoto will replace the background with a plain white (or whatever color is required in your particular case);
Head size and eyes position. Correct positioning of the face is extremely important when editing passport-sized photos;
Passport photo size in pixels and in kilobytes. Visafoto automatically sets parameters required for online applications;
Image quality. Visafoto corrects contrast and brightness of a photo.
How to correctly crop a photo to the passport size on your own?
There are online tools like Visafoto.com that can do it for you in a couple of seconds. And you can crop a photo in any digital photo editor. Brief guidelines:
How to crop a passport photo in Photoshop
Open a photo file in Photoshop (or any similar photo editor). Select the crop tool in the left toolbar. Click on the first option after the crop tool in the top toolbar. Select 'W x H x Resolution.' Enter in passport photo dimensions. That can be:
1x1 (Square) for a 2x2 inch photo
7x9 for a 35x45 photo
Click and drag the crop selector so that it includes shoulders and ends above the top of the head. Click and drag the corners to adjust the size of the area.
Warning! You need to consider not only the size of a passport picture, but also other details such as head height and position and/or eyes location.
Visafoto creates a passport size photo automatically. It sets format, fixes head tilt, adjusts background and image brightness. The result is guaranteed to be accepted by the authorities. The 24/7 support is here to help you with any questions.
How to edit a passport photo with Visafoto
The whole process takes several seconds.
Upload your original photo. An example of a source photo is: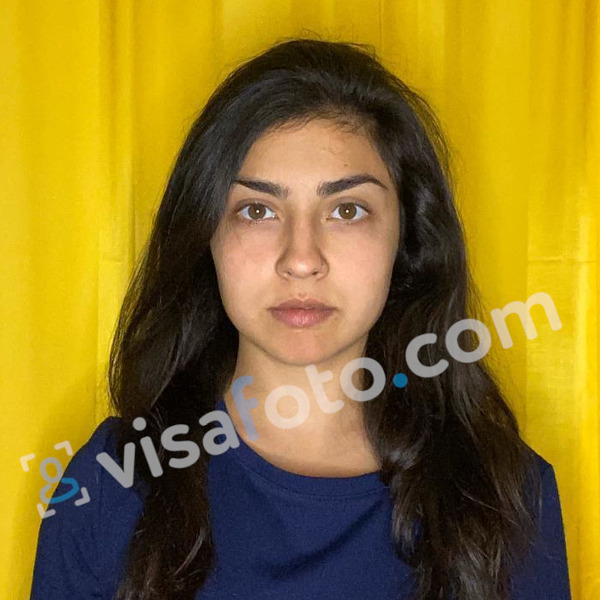 Download the result. You get 2 result images, one is a digital 2x2" (600x600 pixel) photo for online application (if you selected US passport photo):
Another one is a image for 4x6" printing, you get 4 individual passport 2x2" photos:
Visafoto offers a guarantee to all users. If your photos are not accepted, you will receive a 100% refund. But it's unlikely going to happen: photos made with Visafoto.com have a 99.7% acceptance rate.
In case you have any questions just contact our 24/7 support: support@visafoto.com.