Passport Photo Printing
One of the cheapest and fastest ways to get a passport photo is to take one at home and print it on glossy paper. That way, you can get as many copies as you want, using them not only for passport renewal but also for:
foreign visas,
identity cards,
driving licenses,
transport card (like bus passes, train cards, etc.),
social cards,
medical cards,
tax cards,
alien cards
residence cards,
licenses and permits
and other essential documents.
Follow our guidelines to take your passport photo and print it later.
Table of contents
Taking passport photos at home
Take an image with a smartphone or camera against any background, upload it here and instantly get a professional photo for your visa, passport or ID.
Source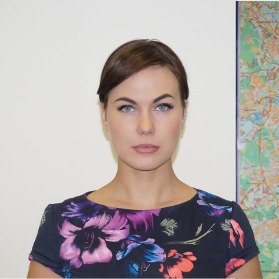 Result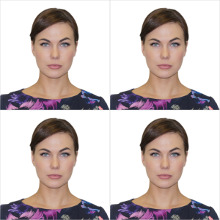 When you create a passport photo by yourself you benefit in several ways at once:
You do not need to go out to take your photo taken;
You can take pictures of yourself until you are satisfied with the result;
You can use your digital photos later and print multiple copies, saving money.
Modern smartphones are equipped with cameras that can produce high-quality pictures to be used for official documents.
How to take the best ID photo
Follow these tips for the better quality:
Use a smartphone or camera with resolution of 5 Megapixels or higher;
Take care about good lighting. The face should be evenly lit, without strong shadows and glares. The bright daylight with no direct sunlight is the best choice;
It's better to choose dark clothes for a better contrast with background;
Facial expression must be neutral (no smiling or frowning), mouth closed, and eyes fully visible.
How to take a passport picture with your phone
Ask your homemate to take a photo of you from a distance of 1,5-2 meters. The picture should include your face and the upper part of the torso.
If you are taking a passport photo on your own, use a tripod or selfie stick: this way, you can keep your shoulders straight.
Look directly into the camera. Take several pictures and choose the best one.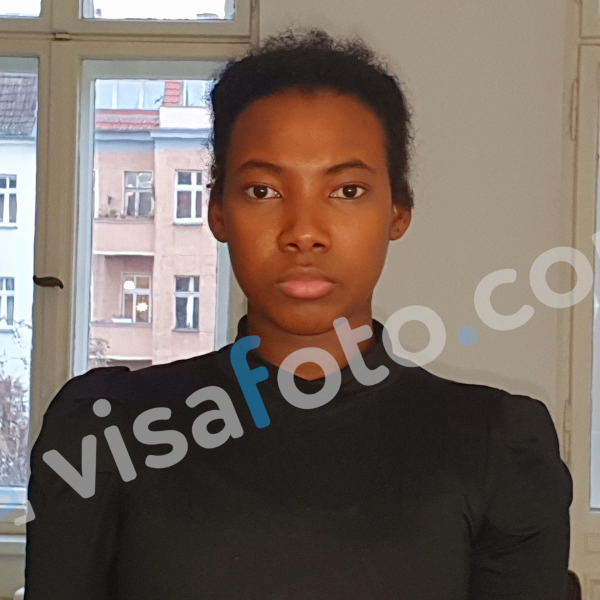 After you are done, proceed to passport photo editing. The fastest way to convert a picture to a passport photo is to process it via specialized online tools. That's when Visafoto comes to help: thanks to this service, you can quickly crop your photo for your passport, adjust the background and fix the image quality.
To convert your selfie to a passport photo, select the country and the document you need at or in the list of requirements. Upload your photo and instantly get a result ready for online submission and for printing on 4x6 inches (10x15 cm) paper.
Printing a passport photo at home
Visafoto provides users with a file ready to print containing 4 individual photos on it.
If you have a printer that allows you to do color printing on photo paper, just follow these simple simple steps:
You will need photo paper sized 10x15 cm (4x6 inches). That's a standard postcard format.
Locate your passport photo to print. Right-click on the image and select Print;
Select the printer model in the window that appears;
Select the paper size (10x15 or A6) and its type;
Indicate how many copies you want to make;
Confirm the settings and wait for the process to complete.
You don't need to resize the picture for the passport: the photos purchased at Visafoto will be printed at the required size right away.
How do I print my passport photo if I don't have a printer?
Simply find a printing service near your home and order a print on 10x15 cm (4x6 inches) paper. The price per printout rarely exceeds $0.50. Many services allow you to make and pay for your order online and then simply pick up the printout at a convenient location.
How do you do this as an example with Walgreens, which offers one of the most popular printing services in the U.S.?
Open Walgreens online photo service and choose the 4x6 prints;
Upload your image file that you got from Visafoto.com (there should be 4 individual photos on it);
Pay $0.35, choose the nearest store, and pick up your prints the same day (typically within 1 hour).
List of popular printing services in the U.S.
Passport photo check
If you are taking a photo for a U.S. passport or visa, you can quickly validate it through this tool: US passport, visa and diversity visa lottery photo check.
Visafoto provides all customers with 24/7 support. Contact us if you have any questions: we will help you validate the photo via official tools.
If a photo purchased via Visafoto.com doesn't qualify, we will fix it or replace the photo for free until it gets accepted or refund the money.
Get passport or visa photo online now!
Last update: May 2023