USA Visa Types
Before you apply for a visa to the United States, you need to decide firmly on the purpose of the trip: there are many types of travel permits, and each has specific requirements.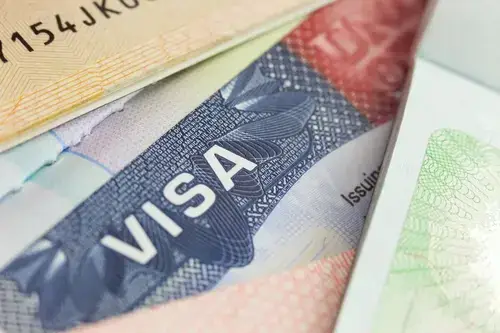 Be careful: if you choose the wrong type of US visa, you may encounter difficulties at your visa interview. If the officer decides that the declared visa type does not match your trip, you will be required to submit additional documents or reapply and pay one more consular fee.
Table of contents
In this article, we provide general information on the most common visas to the United States.
The U.S. visa application: basics
Whatever type of US visa you need, the process begins with paying the consular fee and completing the appropriate application form on the U.S. Department of State website. Next, you must make an appointment for an interview (you can do this here) and arrive at the U.S. Consulate on the scheduled date.
The required documents for any visa to the U.S. are as follows:
Visa application form confirmation number. You do not need to print the questionnaire itself;
A valid passport which contains at least one blank page;
Confirmation of payment of the consular fee;
Printed proof of the interview appointment;
A US visa photo
Please note that a photo for a U.S. visa application must meet the strict requirements listed in detail in this article.
To get the correct photo for your American visa online, simply upload any portrait of yourself here. The picture must be in full-face, with even lighting. You must not be wearing glasses or headgear (unless your religion requires it), your hair must not fall over your face, and your facial expression must be neutral.
Visafoto will instantly convert your image to a compliant US visa photo matching all the official specifications.
Non-immigrant visas to the United States
Nonimmigrant visas allow you to visit America only for a certain period. The list includes tourist, visitor, work, business, student, transit visas. The main challenge in obtaining a non-immigrant visa to the United States is to convince the Embassy that you are not a potential immigrant. You can prove this fact by demonstrating strong social and economic ties to your home country, as well as sufficient funds for travel.
Visa b1 b2 (USA visitor visa)
B1B2 is the most common type of American visa. A B-1 visa allows entry to America for business purposes, while a B-2 visa is issued for tourism, medical care, and other non-commercial goals. Most often, categories B1 and B2 are combined into a general B1/B2 visa, suitable for all the above purposes.
Also, a B2 visa allows you to attend educational courses if the number of academic hours per week is below 18. For more intensive training, you need to apply for a student visa.
Before you apply for a US tourist visa, read the nuances of obtaining this travel document in this article.
F1 visa (USA student visa)
This type of US visa allows studying at accredited universities, private schools, colleges, etc. Non-academic training (for example, continuing education) requires an M-1 visa type. To apply for any US student visa, you should submit form I-20, which confirms enrollment in the program. Applicants must also show proof that they are indeed enrolled and that they have sufficient funds.
Learn more about obtaining a U.S. student visa in this article.
J1 visa
It is issued for participation in exchange programs for students, teachers, and researchers. Depending on the program, this visa may entitle you to temporary employment in the United States. It is also suitable for the famous U.S. Work and Travel and Au Pair programs.
C visa (USA transit visa)
A U.S. transit visa is issued for 48 hours. It is a single-entry visa that entitles you to transit back and forth through the United States. All passengers transiting in America must have a C visa, as there is no transit zone at U.S. airports.
When obtaining a U.S. transit visa, you go through the same procedure as with a regular tourist visa. You can learn more about it in this article.
K visa (USA fiancé visa)
Contrary to common misconception, this category of visa is not an immigration visa. A K-1 visa allows the partner of a U.S. citizen to enter the United States with the intent to marry within 90 days of entry. Once you are married, you may apply for a green card (residency permit).
A K-2 visa allows unmarried children (under 21 years of age) of K-1 visa holders to enter the United States.
Temporary work visas to the United States
There are several categories of visas allowing you to work in America.
H1B visa (U.S. visa for specialty workers)
H1-B is one of the most coveted U.S. work visas. The H-1B visa is issued to people entering the United States to perform a pre-planned job requiring appropriate specialization. This permit requires a college degree, a valid job offer, and an employer willing to provide the necessary documents for you. You can learn more about this type of visa in this article.
H2 visa (U.S. seasonal work visa)
The H-2 visa program is used by a wide range of employers who need foreign workers for various occupations. While the H-2A visa is exclusively for temporary agricultural workers, the H-2B visa is intended for temporary personnel in non-agricultural fields. Some professions available for the H-2B visa holders include the following: hospitality and tourism, cruise ships, resorts, construction, maintenance, cleaning, landscaping, warehouses, restaurants, retail stores. To hire a foreign employee for such a position, employers must prove that they have posted a job for U.S. workers but could not find the required number.
L visa (U.S. executive & manager visa)
The U.S. visa type L is for an employee of a company with an office in the United States. A candidate wishing to obtain a U.S. L visa must work in a supervisory or managerial position in a company.
P visa
American P visas are for groups or teams of athletes and actors. To qualify for a U.S. P visa, the group must show proof of international achievement. P visa applicants must also provide invitations to events in the United States.
O-1 visa (U.S. talent visa)
The U.S. o2 visa is for people with extraordinary talents in arts, science, education, business, or sports. To qualify for the O-2 visa, candidates must present significant awards or formal recognition of the uniqueness of their talents.
R visa (U.S. religious worker visa)
This permit is for personnel and teachers of various religious ministries. Religious ministers seeking an R visa in the United States must be part of a religious group that has a nonprofit organization in the United States.
Q visa (U.S. cultural exchange visa)
A U.S. Q visa is required to participate in a labor exchange program for high-skilled professionals. A candidate seeking a U.S. Type Q visa must apply directly to official cultural exchange organizations.
C-1D visa (U.S. crewmember visa)
A type of U.S. transit visa. C1D visa is required for crew members servicing a vessel or aircraft in the United States.
Immigrant U.S. visas
Immigrant visas are granted to aliens who want to move to the United States. Diversity Visa lottery winners, qualified professionals, entrepreneurs, investors, and relatives of permanent residents or U.S. citizens are among eligible candidates.
The U.S. immigrant visa validity period varies, but you must enter the United States on it within six months of obtaining it. The holder of an immigrant visa can then obtain permanent residency in the United States (a Green Card), and five years after the permanent residence, U.S. citizenship.
IR visa category (U.S. family reunification visa)
IR visas are issued to immediate relatives of U.S. citizens: spouses, children under 21, and parents. This visa is also granted to an orphan who a U.S. citizen has adopted. The number of IR visas is not limited to a quota.
EB visa category (U.S. visa for migrant workers)
EB-1, EB-2, EB-3, EB-5 work visas to America make you eligible for a green card.
The EB-1A and EB-1B visas are designed for outstanding professionals who can significantly contribute to American society. The EB-5 visa can be issued to individuals who have invested at least $500,000 into the U.S. economy and have created at least ten jobs for American citizens.
DV (Diversity Immigrant Visa)
Is issued to winners of the Diversity Visa Lottery program. In addition to winning the lottery, candidates must prove that they will not burden American society. Learn more about the lottery at this website.