USA Student (F-1) Visa FAQ
Are you an international student dreaming of studying in the United States? If so, you'll need to navigate the F-1 visa application process, which can be complex and time-consuming. From submitting the right documents to scheduling interviews and meeting financial requirements, there are many steps to take before you begin your academic journey in the US. Whether you're a first-time applicant or a returning student, we've covered you with all the information you need!
Table of contents
General USA student visa types
There are two general categories of student visas in the States:
M-1 visa: Intended for those needing professional non-academic education to learn a specific skill, such as community colleges, trade schools, or career schools. You can learn more about M visa application in this article.
J-1 visa: Designed for individuals who wish to engage in various cultural exchange activities, including study, research, and work. The J-1 visa program provides opportunities to study at accredited U.S. colleges and universities, participate in research programs, and engage in internships or other work-based learning experiences. Here you can learn more about J-1 visa benefits and application.
The F-1 visa is required for most colleges and universities in the country. The F-1 visa is also granted to students attending language courses if they are studying intensively for 18 hours or more per week (if they have less than 18 hours, the B1/B2 visa is sufficient).
The F-1 visa benefits are:
Opportunity to study at accredited US educational institutions: universities, colleges, high schools, private elementary schools, seminaries, conservatories, or language training programs.
Permission to work part-time on-campus: F-1 visa holders can work up to 20 hours per week. This can help students earn extra money to support their living expenses and gain valuable work experience.
Possibility of off-campus employment: F-1 visa holders may be eligible for off-campus employment under certain circumstances, detailed below.
Access to US internships and research opportunities.
How to apply for an F-1 visa?
Here are the steps you must follow to obtain a student visa to the USA:
Get enrolled: Before applying for an F-1 visa, you must have already been accepted to an educational institution approved by the Student and Exchange Visitor Program (SEVP). The school must further provide you with Form I-20: a document that verifies your F-1 visa eligibility.
Pay the SEVIS fee: The Student and Exchange Visitor Information System (SEVIS) fee of $350 is required for all F-1 visa applicants. You can pay it online at the SEVP website.
Fill out an online U.S. visa application known as Form DS-160. Once you complete this, print out the confirmation page with the barcode. You'll need it to schedule your interviews.
Pay the visa application fee. The F-1 visa application costs the same as most nonimmigrant visas to the United States. Effective May 30, 2023, the US visa price is $185.
Schedule an appointment for a visa interview at your local U.S. embassy or consulate in your home country. Depending on where you live, the interview may have a wait time.
Attend your visa interview and bring all the required documents. The consular officer will review your application and decide whether or not to issue you an F-1 visa.
Once your visa has been approved, you can travel to the U.S. and begin your studies. Bring all the necessary documents to show the border officer when you arrive.
Documents required for obtaining a Form I-20
A Form I-20 is a document issued by a U.S. academic institution to an international student accepted for a full-time study program. It is a critical document for obtaining an F-1 student visa or changing the status to F-1 within the United States.
The Form I-20 includes important information, including the student's name, date of birth, program of study, and expected graduation date. Additionally, it outlines the tuition, fees, and other expenses associated with attending the academic institution.
To apply for a Form I-20, you will need the following documentation:
An official bank statement in the name of the person who will sponsor you during your studies.
If the sponsor is a U.S. citizen or permanent resident, he or she must complete and have the Affidavit of Support form notarized. The Affidavit of Support form must be accompanied by the sponsor's official bank statement or any other document certifying his or her ability to pay.
If a prospective student plans to live in the United States without charge, the sponsor must complete and certify an Affidavit of Free Room and Board. The form should be accompanied by: an official bank statement or any other document confirming his/her ability to pay; documents confirming that this person lives at this address (rental agreement, electricity bills, etc.). The student must live with the sponsor in the United States at the time of application for an I-20.
Once you have received your I-20 form from an American university, you can apply at the US embassy.
What documents are needed for an F-1 visa interview?
Ensure you have collected all the required documentation when attending the interview in the consulate. Here is a student visa checklist:
Mandatory documents
Passport valid for at least six months before you enter the United States;
Form I-20 issued by the SEVP-approved school you plan to attend. It verifies that you have been enrolled and have sufficient funds to cover your expenses while studying in the United States;
DS-160 confirmation page with a barcode you received after submitting your online visa application.
An invitation to an interview, which you will receive automatically after the appointment;
U.S. visa and SEVIS fee receipts;
2x2 photo printed on matte paper and matching the U.S. visa photo specifications.
Financial documents: You must provide evidence that you can cover your living expenses in the United States. This may include bank statements, tax documents, scholarship award letters, etc.;
Academic transcripts: You may need to provide diplomas from your previous studies and standardized test scores (such as TOEFL or SAT) if your institution requires them.
Any documents confirming that you plan to return to your home country after studying in the U.S.
What are the U.S. student visa photo requirements?
The photo for any visa to the United States must meet the following criteria:
The required U.S. visa photo size is 2 x 2 inches (51 x 51 mm) in size. For the DS-160 form, you must submit a squared digital photo of 600x600 pixels;
Eyes must be between 1 1/8 inches to 1 3/8 inches (28 mm – 35 mm) from the bottom of the photo.
The head must be between 1 inch and 1 3/8 inches (25mm - 35 mm) in heigh;
The image must be in color and have a resolution of at least 300 pixels per inch;
The picture must have a white or off-white background;
The photo must have been taken within the last six months;
The photo must show a neutral facial expression, with both eyes open and mouth closed.
Headwear is allowed in one case only: if you wear it daily for religious purposes. Any other head covering is prohibited;
Glasses are not allowed;
The photo must be free from shadows, glare, or red eye.
To instantly get the compliant U.S. visa photo, simply upload your portrait to the tool below. It should be a recent photo of you looking straight into the camera with a neutral facial expression. The face should be well and evenly lit.
Take an image with a smartphone or camera against any background, upload it here and instantly get a professional photo for your visa, passport or ID.
Source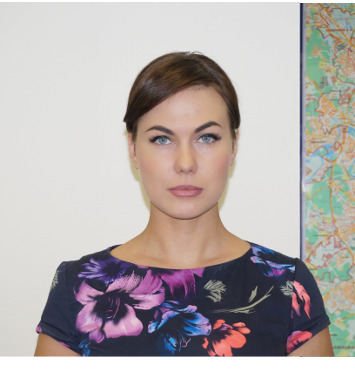 Result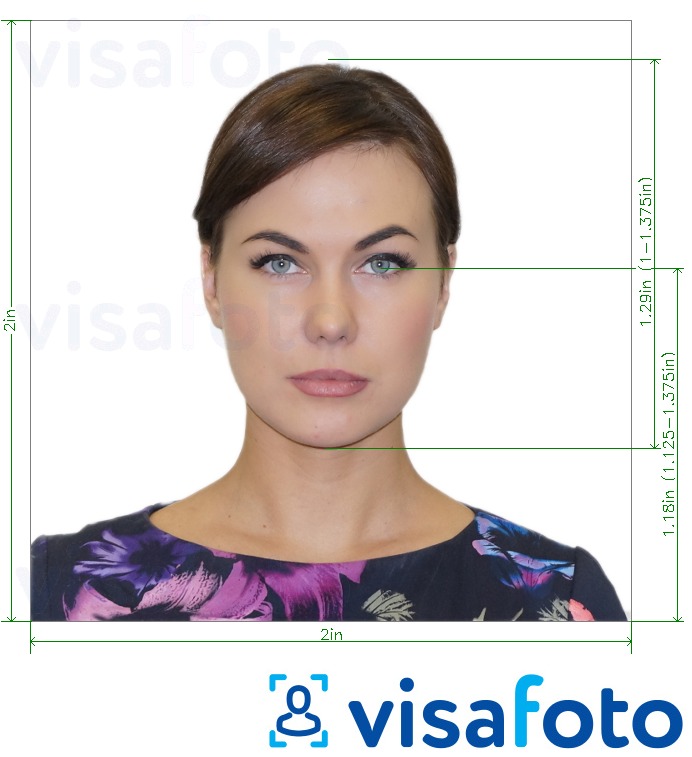 Here's an example of the original photo: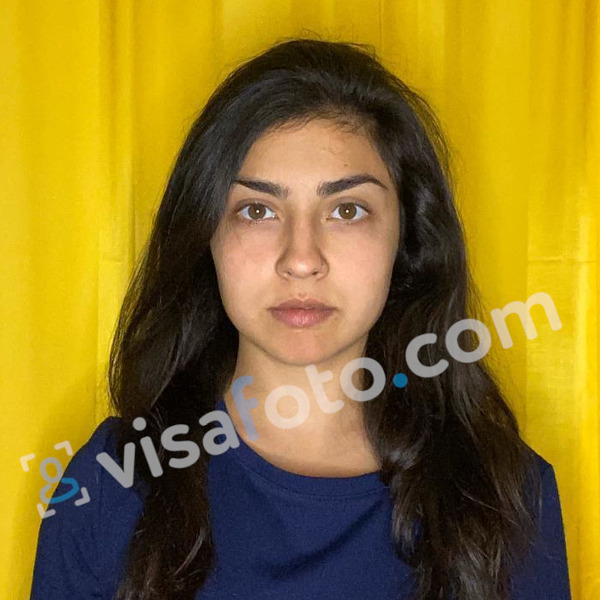 You will get two files from Visafoto: a digital photo for electronic applications and a template ready for printing.
Visafoto will instantly crop the photo to the 2x2" size, format the head and eye positions and replace the background with a uniform white. You will need it upon filling out the DS-160 form (the image must be uploaded to the website), so you must take a photo in advance. At the same time, you will get a template for printing containing four 2x2" photographs. Print it out, cut out the pictures with scissors, and take it to your interview at the U.S. Embassy.
What are the typical F-1 visa interview questions?
The consul at the interview will need to make sure that the prospective student:
Has strong ties to the home country and does not intend to stay in the U.S. longer than the university requires;
Can afford to pay all tuition and fees;
Is enrolled at an institution accredited by USICE (U.S. Immigration and Customs Enforcement) to educate international students.
Here are some questions you might be asked at the student visa interview:
Questions about your chosen institution and field of study. For instance: "What do you know about the university/college you plan to attend?", "How many universities did you apply to?", "How did you choose this specialty, and how do you plan to apply it?".
"Why the USA?" You should consider this question and provide strong arguments. It is not advisable to say, "Because the US has a strong economy." When applicants give out memorized clichés, the interviewer may think they are interested in living in the U.S. rather than studying. To enhance the situation, talk about the university you will attend and how it differs from any other institution worldwide.
Questions about the sponsor. If the student is not paying for themselves, be prepared for questions about who pays for their trip to the United States and why. The interviewer may ask for proof of payment and documentation of the sponsor's income.
Questions about knowledge of the English language. The visa officer can check to see if you understand enough English to attend a U.S. university.
Questions about post-graduation plans. Remember that the F-1 visa is a non-immigrant visa. You must make a convincing case that you have no plans to stay in the U.S. after graduation. So think about your plans for your future in your home country upon your return. For example, discuss your ideal job and how your U.S. education will help you get it.
Questions about relatives. The U.S. Embassy is primarily interested in whether you have relatives in America. If they live there, they will ask about their status and immigration program.
Questions about anything. At the interview, the officer may ask questions that have nothing to do with the visa application. You may be asked about the weather, how you got to the Embassy, and other things without connection to your application form.
Important notice: You do not need to show airline tickets or any bookings at the interview. It is advisable to pay for your itinerary after you receive your F-1 visa.
Do you need health insurance for an F-1 visa application?
No, there are no specific F-1 visa insurance requirements. However, some institutions require the purchase of school-sponsored health insurance. In addition, you must prove at your visa interview that you or your sponsor can cover medical expenses if necessary.
Is there any F-1 visa age limit?
No. You can enroll in a U.S. university and get a student visa at any age.
How much does it cost to issue an F-1 visa?
The F-1 visa price consists of two general fees:
SEVIS fee: $350;
Non-immigrant visa fee: $185 (Effective May 30, 2023).
How long does it take to issue an F-1 visa?
F-1 visa wait time varies depending on several factors, including the individual's circumstances and the processing times at the U.S. embassy or consulate where they apply. Generally, it is recommended to apply for a student visa several months before the intended start date of the program, as the processing time can vary and unexpected delays can occur.
You can start F-1 visa processing 365 days before the academic program. However, if you are granted a visa, you may enter the United States no earlier than 30 days before the start of your studies.
Can international students work in the U.S. on an F-1 visa?
Getting legal work on a student visa is possible, but you cannot work off-campus during your first year.
In the first year, an F-1 student can work up to 20 hours per week on campus. During the vacations, it is allowed to work full-time. A typical job for a student in the United States involves working in a library, cafeteria, or other university facility. However, jobs such as janitorial are unsuitable because American workers, not students, usually do them. You can also work in a position in your academic program. Masters and graduate students can become teaching assistants in a department or with a professor. They handle papers, teach classes, or help with research.
Off-campus employment is possible after the first year of study. As in the first case, you can work up to 20 hours weekly. To qualify for employment, you must be experiencing financial hardship due to unforeseen circumstances beyond your control. You must also be in good academic standing. The occupation chosen must be under the approved program.
Dependent family members of F-1 visa holders
Spouses of F-1 visa holders are generally eligible for an F-2 visa, which allows them to enter and reside in the United States with their spouse. However, F-2 visa holders are not eligible for employment in the United States.
Unmarried children of international students under 21 are generally eligible for F-2 dependent status. The f-2 visa allows children to attend primary and secondary schools in the United States but does not allow them to work.
It is important to note that each family member must apply for their visa and go through the application process separately.
F-1 visa 5-month rule
The "Five-Month Rule" is a regulation that governs the status of F-1 visa holders in the Student and Exchange Visitor Information System (SEVIS). Suppose an international student is absent from classes or out of status for five months or more. In that case, their SEVIS record will be terminated, and they may have to reapply for F-1 visa status to return to the United States.
However, this rule also provides flexibility for students who must interrupt their studies for five months or less. Suppose the F-1 visa holder timely notifies the appropriate office and provides accurate information about their leave. In that case, they may be able to retain their visa status.
On the other hand, if an F-1 visa holder stays outside of the United States for more than five months, their SEVIS record will be terminated, and they will be required to obtain a new Form I-20 and pay the I-901 SEVIS fee again.
What happens with an F-1 visa after graduation?
Upon completion of studies, F-1 visa holders are granted a grace period of 60 days. This term is intended to allow graduates to prepare for their departure from the United States, transfer to another school or program, or apply for Optional Practical Training (OPT) if eligible. During the grace period, student visa holders are permitted to remain in the United States but are not allowed to work or study.