Saudi Arabia Visa Photo Online
The primary condition for travelling to Saudi Arabia is obtaining a visa. For the citizens of 49 countries, this process is now easier than ever: if you are eligible, you can get a Saudi visa online without going to the consulate.
The electronic application must be accompanied by a digital photo that meets specific requirements. Which ones? Read below!
Table of contents
How to apply for a Saudi Arabia visa?
In 2019, Saudi Arabia launched an e-visa program. Visitors can obtain a multiple-entry visa for a period of one year, allowing them to spend up to 90 days in the country. This type of visa is issued for tourism or pilgrimage out of hajj season purposes only.
Travelers from 49 countries can apply for a tourist visa online via the official e-visa portal before their trip. The filing process is fast and convenient. Tourists from other countries need to apply for a visa at the Saudi Arabian embassies and consulates.
Along with the other application documents, you must provide recent photographs compliant with Saudi visa photo specifications. High-quality photographs are vital for a successful Saudi Arabia visa application.
Documents required for Saudi electronic visa application
To apply for a tourist e-visa, you need:
Scanned copy of the first pages of the passport. The travel document must be valid for at least 6 months;
Digital picture matching Saudi visa photo parameters;
Visa application fee. The cost of a Saudi visa in 2022 is 440 Saudi reals or $177. The consular fee also includes tourist health insurance, payable electronically;
Personal details: occupation, home address, telephone number;
Travel itinerary: indicate the cities you wish to visit. No flight or hotel reservations are required for the tourist e-visa.
Get a Saudi Arabia visa photo online!
What is the most reliable way to take a photo for a Saudi Arabia visa application? Since the Saudi visa picture size requirements are very specific and different from most passport-sized photos, it's best to outsource this task to dedicated online editors. With Visafoto you can take a Saudi visa photo from everywhere in the world!
Take an image with a smartphone or camera against any background, upload it here and instantly get a professional photo for your visa, passport or ID.
Source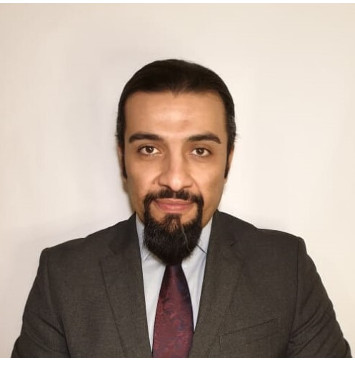 Result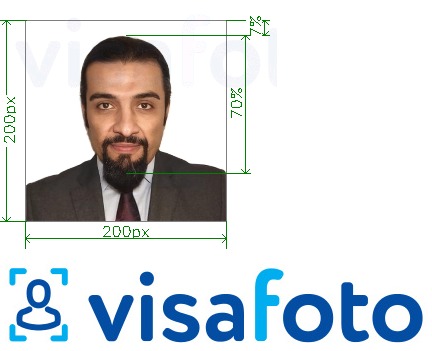 Use our online tool for the fastest results. Simply upload a full-face shot taken in good light. Visafoto will instantly resize and format the image, replace the background with a plain white and improve the overall image quality. The resulting picture will match 100% of the photo requirements for a Saudi Arabia visa.
First, take an original photo of yours like this one: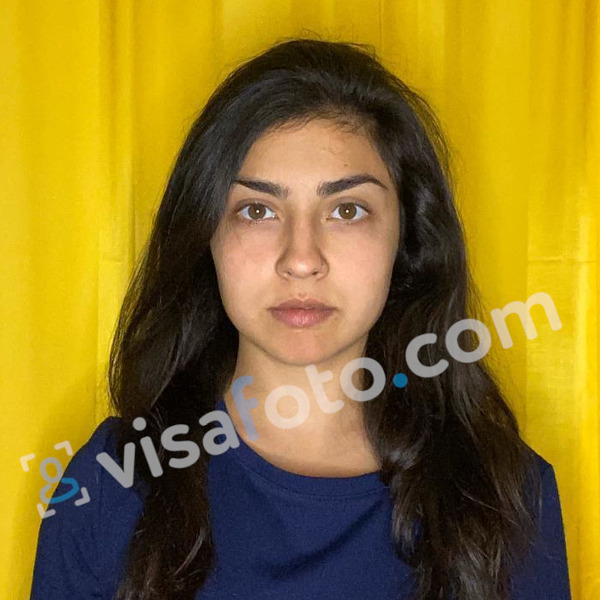 You will get two files:
A digital Saudi Arabia visa photo for e-visa application;
A printable template for applying in the paper form.
Here they are:
Saudi Arabia visa photo requirements
Size
If you apply for a visa via Visa.visitsaudi.com website, the digital photo size must be 200 x 200 pixels. The weight of the image must be between 5 and 100 Kb. To apply offline at the consulate, you will need a printed photo of 4x6 cm in size.
Background
The picture background must be plain light, without shadows or extra objects.
Format
The photo must be in color and include your face and shoulders. Black and white photos are not accepted. The face must be in the center of the frame.
Pose & facial expression
Look directly into the camera. Facial expression must be calm and relaxed, with the mouth closed. Don't tilt the head.
Dress code
Take a photo for a Saudi visa in covered clothing, preferably contrasting with the background. You can wear prescription glasses, provided that the eyes are clearly visible. Religious headwear is allowed. In this case, facial features should be identifiable;
Here is a Saudi Arabia visa photo example: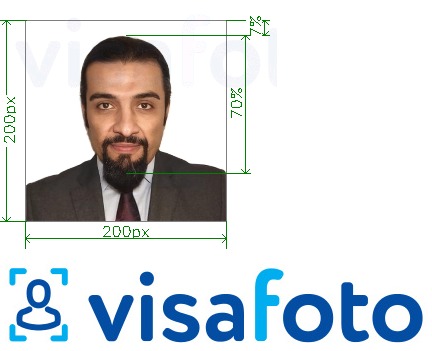 For the Electronic Visa Services Platform (Enjaz) website, you must provide a 200x200 pixel photo which size is 18 KB.
To get printed pictures accepted, Saudi Arabia visa picture size must be 2 x 2 inches.
Documents required for Saudi visa application in the consulate
If your country is not on the list of countries eligible for Saudi E-visa, you will have to apply at the consulate. You will also need to apply for a visa offline if you have other purposes besides tourism. To obtain a tourist visa, you must submit the following documents:
a passport valid for at least 6 months after the trip;
a color photo matching Saudi Arabia visa application photo requirements;
photocopy of the internal passport or ID;
an application form.
The list of required documents differs depending on the type of visa and your country of origin.
What types of Saudi visas require photos?
The information above is suitable for the following types of visas:
Saudi Arabia tourist visa photo;
Saudi Arabia business visa photo;
Saudi Arabia family visa photo;
Saudi Arabia transit visa photo;
Saudi Arabia student visa photo;
And more.
Links:
Last update: October 2022