Saudi Arabia Umrah visa FAQ
About half of the Muslims who visit Saudi Arabia head for the so-called minor Hajj, the Umrah. Unlike the Hajj, you can go to Umrah almost all year round: in the period between the start of Safar and the end of Ramadan.
Table of contents
If you are planning to travel to Saudi Arabia for Umrah this year, you will need to obtain a pilgrim visa. How to do this and what documents you will need are explained in this article.
Umrah visa in 2021
In February 2020, the Umrah was suspended in order to avoid the spread of the COVID-19 epidemic. In October of the same year, the holy sites were reopened, but only Saudis and expats living in the country could visit them.
However, on July 25, Saudi Arabia announced the resumption of Umrah service for pilgrims worldwide, starting from 1st Muharram 1443 (August 10, 2021). This means that you can apply for an Umrah visa through an accredited agency under a number of conditions.
Umrah visa requirements 2021
As for 2021, only vaccinated visitors can apply for an Umrah visa. Certificates of vaccination with the following medications are accepted: Pfizer, Moderna, AstraZeneca or J&J. Complete doses of China's vaccines with a booster shot of either Pfizer, Moderna, AstraZeneca or J&J are allowed as well;
Only persons above 18 can obtain an Umrah visa in 2021;
If you are a Muslim woman, you cannot get a Saudi Arabia visa alone. You must be accompanied by your mahram (a male next of kin) who is over 18. Another option is to be met by mahram upon arrival. If you are over the age of 45, you can travel with a group of women above that age or as a group leader;
If you have a non-Muslim name, you must submit a certificate from a mosque or an Islamic center stating that the applicant is a Muslim.
How to apply for an Umrah visa?
It is not allowed to apply for an Umrah visa on your own. You must contact government-approved agents who will also be responsible for your transportation and accommodation in Saudi Arabia.
Umrah visa duration
The Umrah visa is issued only for Umrah season and is valid for 15 days. You must leave Saudi Arabia strictly before it expires.
Umrah visa documentation
You will need to provide your travel agent with the following documents required for the Umrah visa application:
Passport valid for at least 6 months from the date of submission;
Umrah visa application form;
National ID Card or Birth Certificate;
Proof of vaccination;
Non Refundable roundtrip ticket with the departure date within two weeks from the date of entry;
If you are not a national of the country you is applying from, you must attach a valid residency permit must be submitted;
Umrah visa photo requirements
The photograph must be a full-face view;
The photo must be in color;
The applicant must look directly into the camera with a neutral facial expression;
The face should occupy between 70% - 80% of the image;
The background must be plain white;
The format must be squared. It should be 200x200 pixels for an online form. And the required Umrah visa photo size is 2x2 inches for applying in paper form;
The photograph must be not older than 6 months.
Here is an example: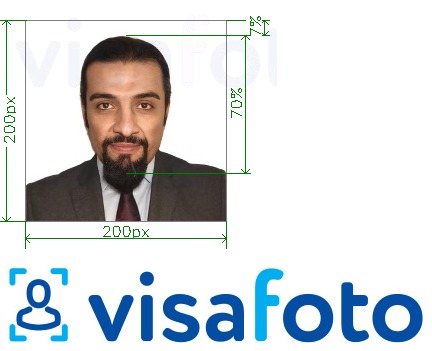 Use our convenient visa photo editor to instantly get an Umrah visa photo online! Just upload your portrait taken in full-face, and Visafoto will instantly convert it to a compliant photo for the Saudi Arabia visa application! The service will adjust the background, format, and size as well as the quality of the image.
Take an image with a smartphone or camera against any background, upload it here and instantly get a professional photo for your visa, passport or ID.
Source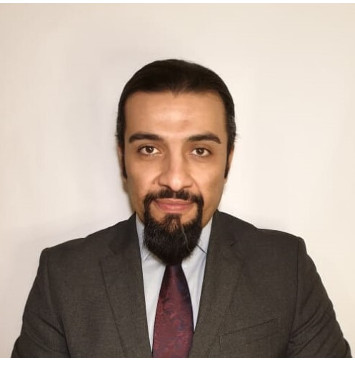 Result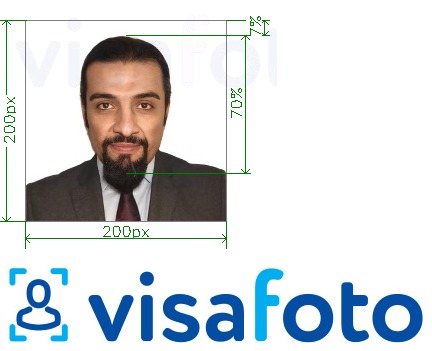 First, take a photo of yours like this one: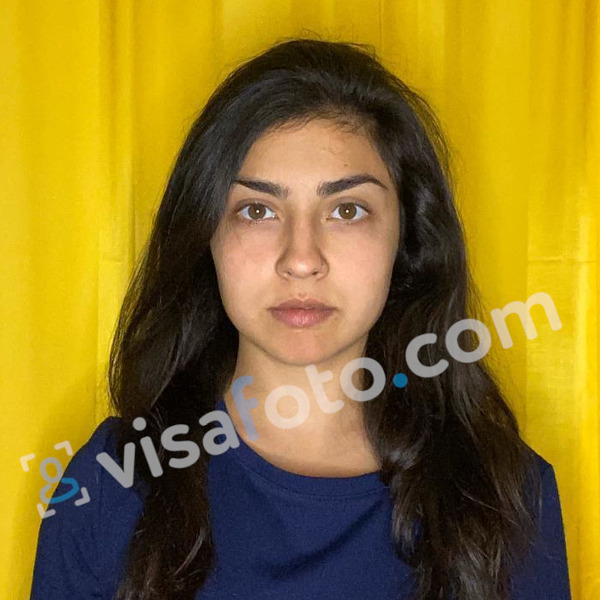 You will get 2 files:
A digital Umrah visa photo for electronic applications;
A printable template for applying in paper form.
Here they are:
In case of any questions just contact our 24/7 support.
Umrah visa fee (from the USA and other countries)
The cost of the Umrah visa depends on the travel agency. The visa itself is free, but there are certain services that travel agents have to include in the price.
Links