Umrah Visa Guide
Umrah is a pilgrimage to Mecca that is done by Muslims worldwide voluntarily. For most Muslims other than Saudi citizenship, a visa is required to do Umrah.
Table of contents
Umrah visa rules for 2022-2023
After the COVID-19 pandemic, Muslims worldwide who seek to do Umrah are wondering which kinds of restrictions may be in place in the Holy Land, as it is, after all, a large gathering of people from around the world.
The Saudi government has stated that in 2022-2023, there will be no caps on foreign pilgrims visiting for Umrah.
There are also no restrictions based on country of origin, quarantines, and PCR tests. Masks are only required indoors. However, pilgrims are required to only pray in the mosques during the permitted booked times based on their Umrah apps, which we will explain further below.
While there is no cap on visitors (and therefore, visas), there are health-related regulations to prevent the spreading of infectious diseases. Besides the usual Meningitis vaccines, pilgrims must wear masks in the Grand Mosque, among other regulations.
Can you do Umrah on a tourist visa? Umrah visa vs tourist visa
Yes, you can perform Umrah with a tourist visa. Tourist visas, as a rule, have more extended stay periods. However, they are more complicated than applying for Umrah visas through a licensed travel agency. The principal differences between Umrah and tourist visa are:
Saudi e-visa applications are available to citizens of 49 countries. Umrah visa is not categorized by nationality.
Tourist e-visas to Saudi Arabia are available to all applicants, regardless of their religion. However, only Muslim tourists can enter Mecca.
Umrah visa holders can visit only Jeddah, Makkah, and Medina. They must enter the country via Jeddah, Madinah, Yanbu, and Taif international airports. Tourist visa enables travelers to travel across all the Saudi Arabia.
A Saudi tourist visa costs 535 SAR (about $140). The Umrah visa is free if you organize your trip through a certified travel agency
A tourist visa allows multiple entries within the 90-day period. With an Umrah visa, you can enter Saudi Arabia only once, but its validity is 90 days also.
You can get a Saudi tourist visa on your own. The detailed application process is described in this article. Umrah visas are issued only through an agency.
Umrah visa requirements and eligibility
The requirements to apply for an Umrah visa are as follows:
Umrah visa application form;
One recent visa application photograph satisfying photo requirements;
Valid passport with at least six months of validity from the date of application submission;
Non-refundable flight tickets;
Evidence of a relationship between female pilgrims and their 'mahram' (partner/brother/father);
Health insurance, including Covid-19 coverage;
Proof of meningitis vaccination, done at least ten days before traveling but no older than three years.
As the pilgrimage is for Muslims, applicants may be asked for documental confirmation of their religion from a local mosque or Islamic organization.
How to apply for an Umrah visa?
Unlike other visas in which you usually have to apply to the embassy or a visa processing facility, the Umrah visa is usually applied through an approved travel agency that offers Umrah packages.
First, find an approved travel agency in your area. You can do so here;
Prepare your documents and submit it to the agency;
Register on the following Umrah apps on your phone and have them with you:

Tawakkalna, which contains your vaccination data and permits;
Etmarna, which allows you to register for prayer permits.
Is it possible to apply for an Umrah visa without a package?
It is now possible to apply for an Umrah visa without personally contacting a travel agency through the Umrah eVisa process, which is available for some countries. However, even in this case, an Umrah package is required as the Umrah visa is restricted for pilgrimage purposes. This means that pilgrims must stay during the allotted period of time in the allotted places. Applications through an Umrah package is the way to organize this.
Without a package, pilgrims may apply for a tourist visa, as we have mentioned above.
Saudi Arabia visa photo requirements
Make sure the photo you submit meets the following parameters:
The photo must be in color;
The format must be squared. The required size may vary depending on the agency, but in most cases, it is the same as for the e-visa: 200x200 pixels.
The height of your head in the picture should range at 70-80% of the overall photo height;
The photo must be no older than six months;
The background must be plain white;
Glasses are allowed. The frame must not cover any part of your eyes. There must be no glare on the lenses. Dark glasses are not permitted;
You can wear a head covering for religious or medical reasons. Your full facial features must be visible. You cannot wear head accessories for any other reason;
Your photo must be in focus and balanced lighting;
There must not be any shadows on your face or behind your head;
'Red eye' in photographs is not acceptable;
Keep your facial expression neutral and look straight into the camera.
Here is an example: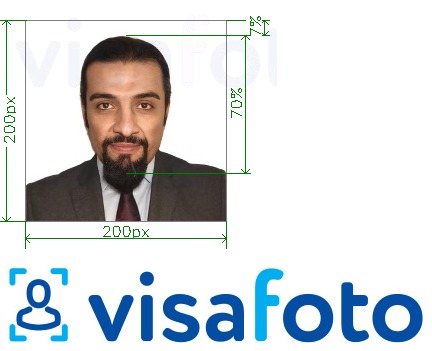 Get an Umrah visa photo online!
Getting ready for a pilgrimage is a spiritual process, and you may want to make the bureaucracy part as simple as possible. One of the ways to do that is to have your Saudi visa application photo professionally edited to the parameters and get it instantly.
Visafoto has been adjusting photos for passports, visas, and other documents worldwide, and it can also help you in this process. Just take a picture of yourself following the guidance above, under good, preferably daylight, lighting. There is no need to worry about the technicalities such as background, size, and proportions: Visafoto will take care of that.
Take an image with a smartphone or camera against any background, upload it here, and instantly get a professional photo for your visa, passport, or ID.
Take an image with a smartphone or camera against any background, upload it here and instantly get a professional photo for your visa, passport or ID.
Source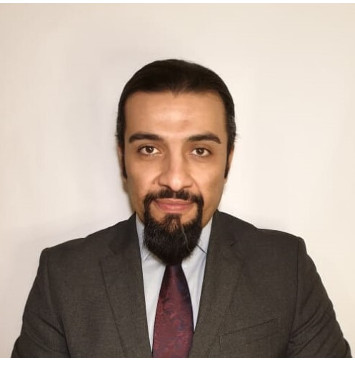 Result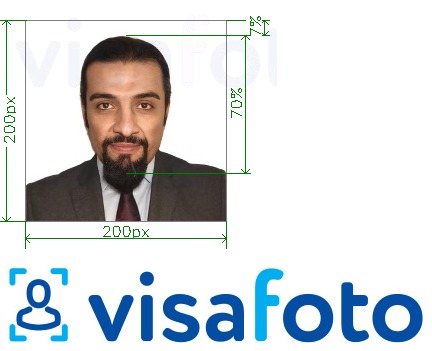 First, take a photo of yours like this one: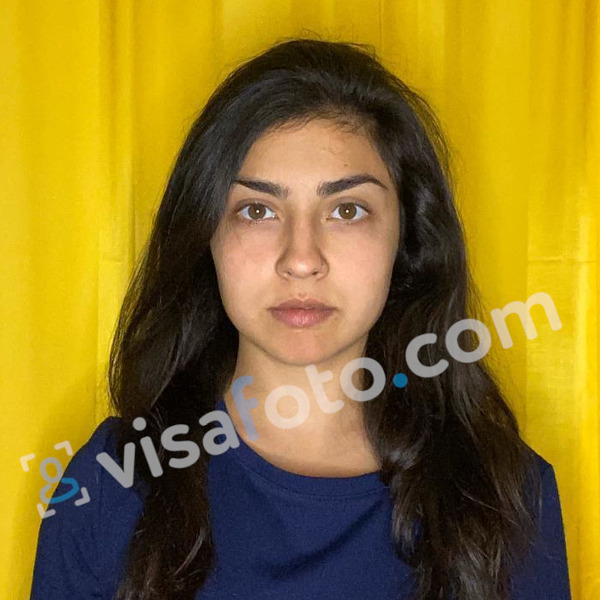 Visafoto has your back: you will get a photo fitting for online applications and a template ready for printing, whether you need the photo printed or in digital form.
Umrah visa fees
The Umrah visa application fees vary by country of application. As every case is unique, confirm all the fees with your travel agency. In most cases, the cost of an Umrah visa is included in the total package.
How to check your Umrah visa status?
You can check your Saudi visa status through the Umrah e-services platform here by entering your passport details and country of origin.
Umrah visa duration
Not so long ago, the Umrah visa validity was 30 days. In 2022 the length of stay was extended to 90 days. It's a single-entry visa.
Do I need to apply for an Umrah visa if you have a Hayya card?
With the Hayya card for the FIFA 2022 World Cup in Qatar, foreigners can apply for a tourist visa for free, which can be used to perform Umrah. Note that this is a about a tourist visa, not an Umrah visa specifically.