Saudi Arabia Visa FAQ
Traveling to Saudi Arabia has become increasingly popular in recent years, thanks to the nation's efforts to promote tourism and open its doors to the world. Whether planning a vacation, business trip, or pilgrimage, navigating the visa requirements can be overwhelming. We've compiled a comprehensive FAQ guide to help you understand the ins and outs of obtaining a Saudi visa.
Table of contents
Saudi Arabia visa policy
Currently, only Gulf Cooperation Council citizens can travel to Saudi Arabia visa-free (the list includes Bahrain, Kuwait, Oman, Qatar, and the UAE). Additionally, GCC citizens don't need a passport for Saudi Arabia: a national ID is enough.
Citizens of the UK are eligible for an electronic visa waiver (EVW) instead of a visa. The visa waiver allows UK nationals to stay in Saudi Arabia for up to 6 months. The applications are made at visa.mofa.gov.sa portal, at the latest 48 hours before travel.
Foreigners from all other countries looking to enter Saudi Arabia must hold a valid visa.
Until recently, obtaining a Saudi visa at a consulate was only possible. However, since 2019, Saudi Arabia has started issuing online visas for citizens of certain countries.
Note that having an Israeli visa in your passport does not affect your visa to Saudi Arabia.
Saudi Arabia visa types
Here are the available types of Saudi Arabia visas, which are based on the entry purposes:
Tourist Visa: allows travelers to explore the country's attractions, historical sites, and culture.
Government Visa: this visa type is for individuals invited by Saudi government agencies or ministries for official purposes, such as attending conferences or conducting research.
Diplomatic & Official Visas: granted to diplomats, government officials, and representatives of international organizations traveling to Saudi Arabia for official purposes.
Business Visit Visa: These visas are typically sponsored by a Saudi company or organization and are often valid for short durations.
Employment Visa: sponsored by the employer in Saudi Arabia and granted to foreign nationals with a job offer. Work visas are subject to various requirements, including a valid employment contract.
Residence Visa: once you've entered Saudi Arabia on a work visa, you'll need to obtain a residence visa. This visa allows you to live and work in the country for an extended period. It's typically valid for one year and can be renewed annually.
Premium Residency Visa: special long-term residence program introduced by the Kingdom of Saudi Arabia to attract foreign investors, professionals, and skilled individuals.
Extension of Exit/Re-Entry Visa: refers to the process by which individuals with a valid residency permit (Iqama) can extend their ability to exit and re-enter the country. This extension is particularly relevant for expatriates who must travel abroad temporarily while maintaining their residency status in Saudi Arabia.
Family Visit Visa: allows foreign residents (expatriates) living and working in the country to sponsor their family members for short visits.
Companion Visa: for family members of business or work visa holders.
Personal Visit Visa: to visit a Saudi national.
Hajj and Umrah Visa: special visas for pilgrims who intend to undertake the religious journeys of Hajj and Umrah. These visas are issued through registered travel agencies and are valid for the pilgrimage duration.
Student Visa: foreign students accepted into a Saudi educational institution.
Who is eligible to apply for a Saudi Arabia visa online?
Saudi e-visas are available for citizens of the following countries:
European Union members:

Austria
Belgium
Bulgaria
Croatia
Republic of Cyprus
Czech Republic
Denmark
Estonia
Finland
France
Germany
Greece
Hungary
Ireland
Italy
Latvia
Lithuania
Luxembourg
Malta
Netherlands
Poland
Portugal
Romania
Slovakia
Slovenia
Spain
Sweden

Andorra
Albania
Australia
Azerbaijan
Brunei
Canada
China
Georgia
Hong Kong
Iceland
Japan
Kazakhstan
Kyrgyzstan
Liechtenstein
Macau
Malaysia
Maldives
Monaco
Montenegro
New Zealand
Norway
Russia
San Marino
Singapore
South Africa
South Korea
Switzerland
Taiwan
Tajikistan
Ukraine
United Kingdom
United States
Uzbekistan
Plus, an online visa to Saudi Arabia can be obtained by GCC residents regardless of their nationality.
Saudi Arabia e-visa application process step-by-step
If you're eligible, you can apply for an e-visa in these easy steps:
Visit the e-visa platform and fill out your data to register;
Log in to your account and start a new visa application. Select the type of visa you're applying for (e.g., tourist visa) and specify the purpose of your visit.
Fill out the application form. Enter your personal data, including your full name, gender, nationality, date of birth, passport details, and other relevant information. Provide details about your travel plans, including your intended entry and exit dates, accommodation details, and planned activities in Saudi Arabia.
Upload the required documents, including a scanned copy of your passport, a recent passport-type photograph, and any additional documents as specified in the application guidelines. In some cases, you might be required to provide proof of health insurance coverage for your stay in Saudi Arabia.
Pay the visa fee using the payment methods provided on the portal. The cost can vary depending on your nationality and the type of visa you're applying for.
Wait for processing and get your visa.
Saudi Arabia visa photo requirements
Make sure the photo you submit meets the following parameters:
The photo must be in color;
The Saudi evisa photo format must be squared. The required size for the e-visa is 200x200 pixels;
The image size for the e-visa application must be from 5 to 100 Kb;
If you apply for a visa at the consulate, the required Saudi visa photo size is 4x6 cm;
The height of your head in the picture should range at 70-80% of the overall photo height;
The photo must be no older than six months;
The background must be plain white;
Glasses are allowed. The frame must not cover any part of your eyes. There must be no glare on the lenses. Dark glasses are not permitted;
You can wear a head covering for religious or medical reasons. Your full facial features must be visible. You cannot wear head accessories for any other reason;
Your photo must be in focus and balanced lighting;
There must not be any shadows on your face or behind your head;
'Red eye' in photographs is not acceptable;
Keep your facial expression neutral and look straight into the camera.
Here is an example: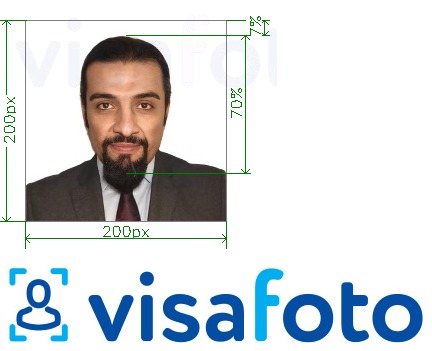 Get a Saudi Arabia visa photo online!
Saudi Arabia is opening up to the world, and we understand that you might want to be the first to experience the adventure! So why not make the visa process simpler where you can? One of the ways to do that is to have your Saudi visa application photo professionally edited to the parameters and get it instantly.
Visafoto has been adjusting photos for passports, visas, and other documents worldwide, and it can also help you in this process. Just take a picture of yourself following the guidance above, under good, preferably daylight, lighting. There is no need to worry about the technicalities such as background, size, and proportions: Visafoto will take care of that.
Take an image with a smartphone or camera against any background, upload it here, and instantly get a professional photo for your visa, passport, or ID.
Take an image with a smartphone or camera against any background, upload it here and instantly get a professional photo for your visa, passport or ID.
Source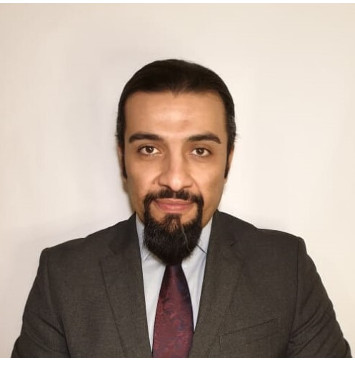 Result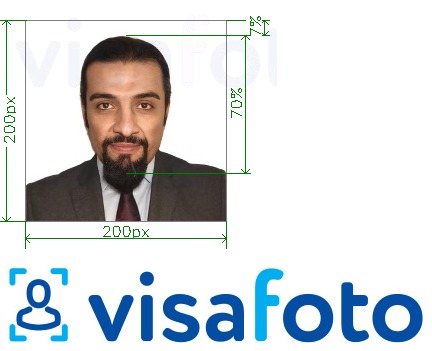 First, take a photo of yours like this one: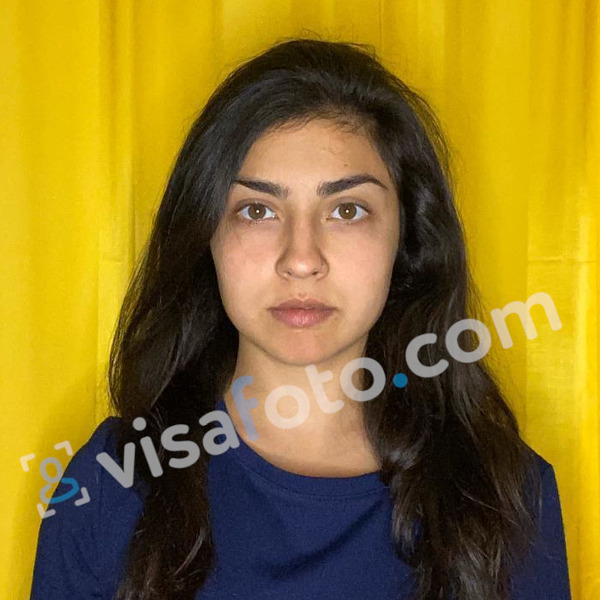 Visafoto has your back: you will get a photo fitting for online applications.
Saudi Arabia visa fees
The fees depend on the visa type you're applying for. For example, Visa fees (SAR 300) and insurance (SAR 140), equivalent to $123 dollars.
Fees for other types of visas depend on the agency you apply from.
Saudi Arabia visa validity
The Saudi tourist visa is valid for up to one full year (365 days) with a maximum 90-day duration of stay at one time and multiple entries.
The validity of other visa types depends on the type, entry purpose, and the validity stated on the issued visa itself.
How to check a Saudi Arabia visa status online?
If you have applied for an e-visa, you can check the progress of your application by logging in to your account on the platform.
If you have applied for another type of visa through an agency, you can contact the agency and, if they have an online form, check your application status through that form.
For some types of visa like the Family Visa, checking is available through the official MOFA website.
How to apply for a Saudi visa if you are not eligible for an online application?
If online application isn't an option due to ineligibility, you can apply for a Saudi visa by visiting your country's nearest Saudi embassy or consulate.
Obtain and complete the appropriate visa application forms from their official website, gather required documents such as passport, photos, and invitation letters, pay the stipulated fees, and submit your application in person.
Be prepared for possible interviews and wait times during processing. Collect your stamped visa from the embassy upon approval, ensuring accuracy before departure. Remember that procedures may change, so always refer to the embassy's official website for the latest instructions and requirements.
Saudi Arabia tourist visa VS Umrah visa: the difference
The Saudi Arabia tourist visa is intended for leisure and tourism purposes, typically requiring an invitation, hotel reservation, and travel itinerary for eligibility, while allowing stays of up to 90 days.
In contrast, the Umrah visa is exclusively for Muslims aiming to perform the Umrah pilgrimage, necessitating approval through authorized agencies, proof of Muslim faith, and accommodations for the pilgrimage period, focusing solely on religious activities in Mecca and Medina.
You can learn more about an Umrah visa in this guideline.
Can I get a Saudi Arabia visa on arrival?
Visa on arrival is only available for those who fulfill specific requirements. If any of the given conditions are met, tourists can obtain a Saudi visa on arrival at various entry points:
If the tourist's nationality is on the list of eligible countries: US, UK, or EU member countries;
If the tourist holds a valid USA, United Kingdom, or Schengen visa of either tourist or business type, which has been used at least once and bears an entry stamp from the issuing country;
For individuals with permanent residency in the US, UK, or EU, including their immediate family members accompanying them, provided the residency is verified.