U.S.A Visa Photo Online Tool
Applying for a U.S. visa is a serious process that must be handled responsibly.
The basic document package must be accompanied by USA visa photos that meet a number of requirements. You will need both a digital photo for the online application process and a printed one for the interview at the embassy.
Table of contents
In this article, we will tell you what requirements you need to meet and how you can get a photo for a U.S. visa cheaply and quickly.
Documents required for USA visa application
The basic process of the USA visa application is described in this article.
Different types of U.S. visas require different sets of documents. However, in every case you will need the following package:
Passport valid at the time of the interview, with at least one free page for the visa. If you then change your passport and at the time of the trip you received a new one — no big deal: just carry the old one with you;
Confirmation of an invitation to an interview;
Printout with confirmation of the completed form DS-160 that must be submitted electronically in advance (a digital ID picture of 600x600 pixels will be required for the application);
Receipt of consular fee payment;
Printed passport-sized picture (however, U.S. consulates in some countries no longer require printed photos. Check in advance if a photo is needed).
The list of supporting documents varies depending on the visa type. For your convenience, we have collected detailed info in several articles:
USA visa photo online tool
Use the box below to instantly get your US visa photo
Take an image with a smartphone or camera against any background, upload it here and instantly get a professional photo for your visa, passport or ID.
Source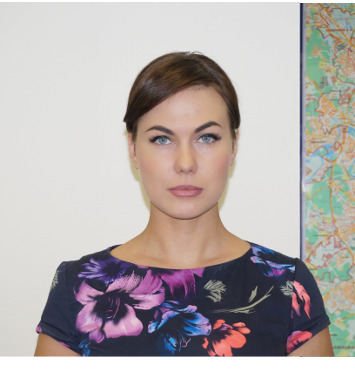 Result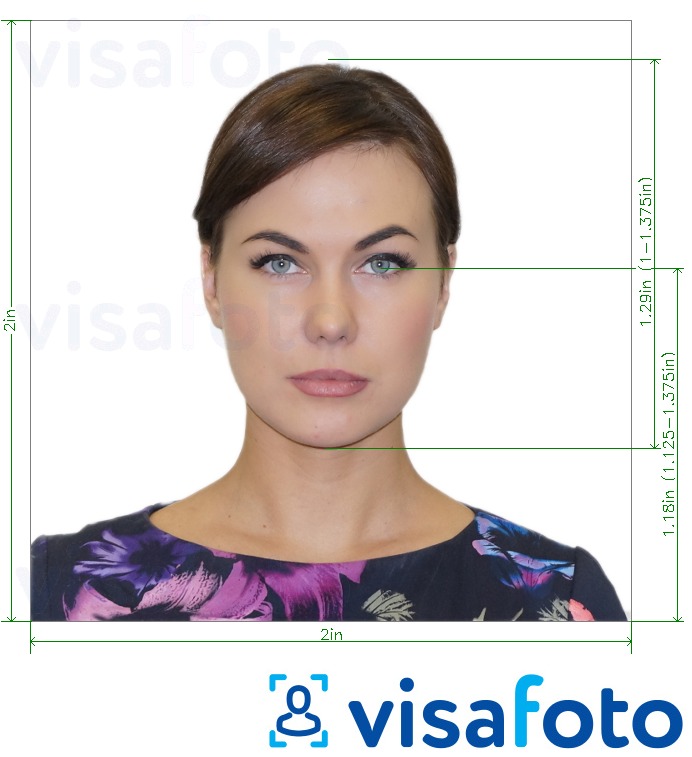 USA visa application photo requirements
The photo requirements for a U.S. visa are strict. Failure to comply with these criteria may result in a visa denial. Note, that if you are denied a visa you will not receive a refund for your visa fees.
Your photograph must meet the following requirements:
It must be taken within the last six months;
It must be a color photo without strong shadows;
The photo background must be plain white;
The USA visa application photo size must be 2 inches by 2 inches (51mm x 51mm);
The required online visa application photo size should be a minimum of 600 x 600 pixels and a maximum of 1200 x 1200 pixels;
Digital photo requirements include that the file should be no more than 240 kb (kilobytes);
You should have a neutral facial expression with both eyes open;
USA visa photo specifications include that the face should occupy from 50 to 69% of the image. Ideally, your head in the photo should be 1 to 1 3 / 8 inches (22mm and 35mm).
Here is an example of a USA visa photo: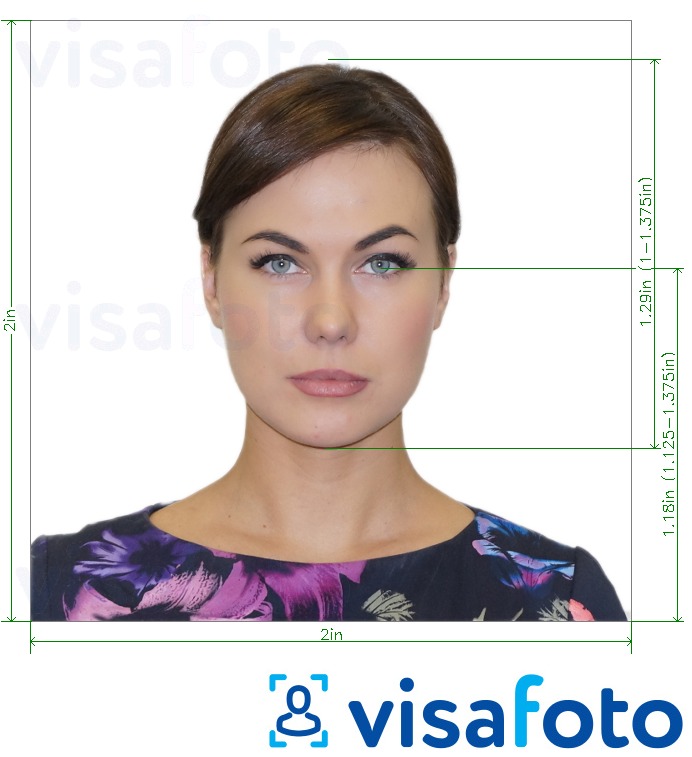 USA visa photo dress code
What to wear for a U.S. visa photo? Choose your normal daily clothes. No uniforms are allowed, except for religious clothing worn daily. You can take a photo with hijab or other religious headwear, but the face must be clearly visible. Other kinds of headgear are prohibited.
No electronic devices (such as headphones) must be on the head or neck, although hearing aids and other similar devices are allowed.
The makeup should be neutral and not misrepresent your facial features.
USA visa photo: glasses
You must not cover your eyes anyhow. USA visa photo with glasses will be accepted only if you are wearing them for medical reasons (e.g., you recently had eye surgery). If you have a medical reason, then you need a confirmation statement from your doctor.
USA visa photo guidelines
As photos for visa applications must meet quite strict requirements, it's preferable to entrust this task to professionals. But there is still no need to go out of home as you can easily get your visa photo online!
Visafoto has specialized in making ID photos since 2013. We instantly adjust an image so that it meets all the requirements: from size to eye position. Just upload your portrait taken against any background to our USA visa photo tool (make sure it complies with the dress code criteria mentioned above).
For the best result, follow this guideline to take a correct USA visa photo at home. Your source photo (selfie) should look like this one: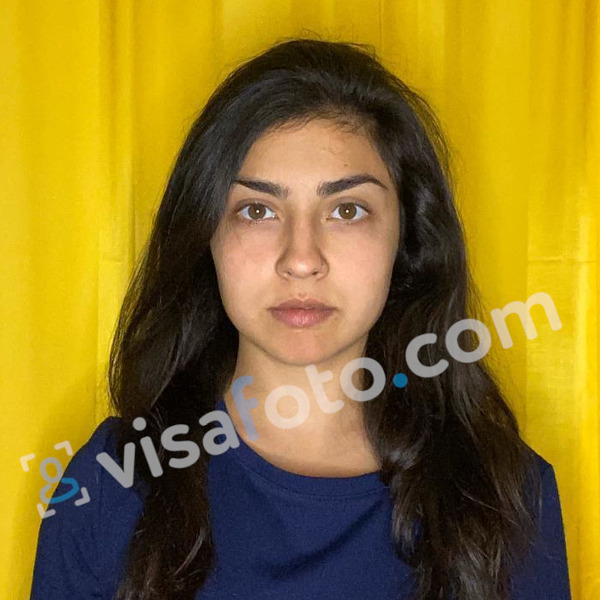 Then you can get a correct US visa photo out of your selfie with our online tool here.
You will get 2 files:
A digital image for DS-160 form submission;
A template with 4 individual photos that you can print and bring to the interview.
Here are samples:
How to submit a USA visa photo online?
A photo should be attached to your application form. Head to the Consular Electronic Application Center website and start filling your application. Do not test your photo at the beginning with an official photo tool as it may operate with errors.
Complete your application form and press the Upload Your Photo button. Then press the Browse button, and select your photo file. Continue to the Upload Selected Photo button at the end of the page. If everything is ok with your file, you will see the notification: "Photo passed quality standards". Press the Next: Continue Using This Photo. You are done!
USA visa photo: check it online
How to make sure that your photo qualifies before the submission? The USA visa photo editing tool provided by travel.state.gov used to be one of the most popular ways to crop an American visa picture and to check if it meets official requirements. However, on December 31, 2020, Adobe ended support for Flash. The functionality was affected and the photo tool had become temporarily unavailable.
You can check your image via a free US passport photo checker. The requirements for a USA visa photo and DV Lottery photo are the same.
Besides, support staff at Visafoto.com can always verify if the photo meets official standards via the Department of State website. The link is not yet available to the general public. Just contact us in case of any question, and we will answer asap.
If for some reason your photo purchased at Visafoto doesn't qualify, we will fix a photo for free or provide a 100% refund.
How to print out my digital visa photo?
First of all, check if a printed photo is needed. U.S. embassies in some countries don't require a picture in paper form anymore, and a digital file is enough.
Visafoto provides customers with a printable template containing 4 photos with the size of 2x2" (that's the required USA visa application picture size). All you need is to print it out on high-quality paper or order a print at the nearest copy center. Check our Printing passport photo guidelines to learn more.
USA visa photo: matte or glossy?
A photo can be printed both on matte or glossy paper, but if you can choose, then matte is preferred.
Last update: July 2022
Links