U.S. Visa For Brazilian Citizens
Brazilian citizens need a visa to enter the United States for most purposes, including tourism, business, study, and work. This article provides a comprehensive guide, furnishing Brazilian readers with an informed understanding of the U.S. visa application process.
Table of contents
What type of U.S. visa to apply for?
The specific type of visa that a Brazilian citizen should apply for depends on the purpose of their intended travel. American visas can be broadly divided into immigrant and nonimmigrant.
Immigrant Visas: intended for individuals planning to reside in the United States permanently. Examples include family-sponsored visas, employment-based visas, and diversity visas (Green Card Lottery).
Nonimmigrant Visas: These visas are for temporary stays in the United States. They cover various purposes, such as tourism, business visits, study, work, and temporary diplomatic assignments. Some common nonimmigrant visa types include B-1/B-2 tourist visas, F-1 student visas, H-1B work visas, and J-1 exchange visitor visas.
Below we will mainly talk about the B1/B2 nonimmigrant visa (or visitor visa) application process: the most popular type suitable for tourist and business travel.
US visitor visa application process step-by-step
Follow these steps to apply for the visitor (B1/B2) visa from Brazil:
Fill out the DS-160 form. Save the application ID and your security question answer. You will need them to access your DS-160 later. Print your confirmation page with the barcode;
Pay the non-refundable visa application fee. The fee can typically be paid online or at designated payment locations;
Create a profile and schedule an interview on the Visa Appointment Service website. Appointments are typically available at various locations, including Brazilia, Porto Alegre, São Paulo, Recife, and Rio de Janeiro, so choose the most convenient. It is also possible to apply for a U.S. visa outside of Brazil;
Attend your appointment(s) for the biometrics process and interview. Check here to learn about the most common US visa interview questions and answers;
Wait for your visa to be processed;
Pick up your visa at an Applicant Service Center (ASC) branch or through the mail. When applying through the Recife consulate, you may pick it up at the consulate.
If you are applying for another nonimmigrant visa, the process is similar: you must also fill out a DS-160 form, pay the fee, and make an appointment with the consulate. However, you must attach additional documents and fees to the form, such as a Form I-20 (proof of enrollment) for a student visa, a job offer for a work visa, or DS-2019 Form for an exchange visitor visa.
US visa fees & how to pay a fee in Brazil
Most nonimmigrant visas cost $185 to apply. Here are the visa prices in detail:
USD 185:
(B) Visitor: Business, Tourism, Medical Treatment
(C) Transiting in the U.S.
(D) Crew Member
(F) Academic Student
(M) Vocational/Nonacademic Student
(I) Media or Journalists
(J) Exchange Visitor
(TD/TN) NAFTA Professional
(T) Victim of Trafficking
(U) Victim of Criminal Activity
USD 205:
(H) Temporary Worker/Employment or Trainees
(O) Persons with Extraordinary Ability
(P) Athletes, Artists, and Entertainers
(Q) International Cultural Exchange Visitor
(R) Religious Worker
(L) Intracompany Transferee
USD 315:
(E1) Treaty Trader
(E2) Treaty Investor
USD 265
(K) Fiancé or Spouse of a U.S Citizen
US visa fees in Brazil can be paid through a credit card or a Boleto.
Documents required for the U.S. visa application (B1/B2)
To apply for a US visa, you will need the following documents:
Passport with at least six months of validity beyond your intended stay in the United States;
Previous passport(s) containing any previous US visa, if applicable;
The confirmation page of Form DS-160, which is the online nonimmigrant visa application;
Printed appointment confirmation and instructions page;
Additional documents to prove:

the purpose of your trip (invitation letters, travel itinerary; no prepaid tickets or hotel bookings are required);
your intention to return to your home country after your visit (such as proof of employment, property records, evidence of family ties, etc.);
your ability to cover all trip costs (such as bank statement and/or job certificate indicating the salary);
if someone else is covering your expenses, you can provide evidence of their financial support.
U.S. visa photo criteria
The photo you use for the application must fulfill these requirements:
The picture must not be older than six months;
The photo's background must be plain white;
The required US visa photo size is 2x2 inches (5x5 cm) in print and 600x600 pixels in digital form;
Face-to-photo ratio: your face should occupy about 70% of the picture;
No glasses are allowed, even for medical reasons;
Head covering is permitted only if worn daily for religious or medical purposes. The facial oval must be seen.
Check this article for detailed US visa picture requirements.
Here's an example of a US visa photo: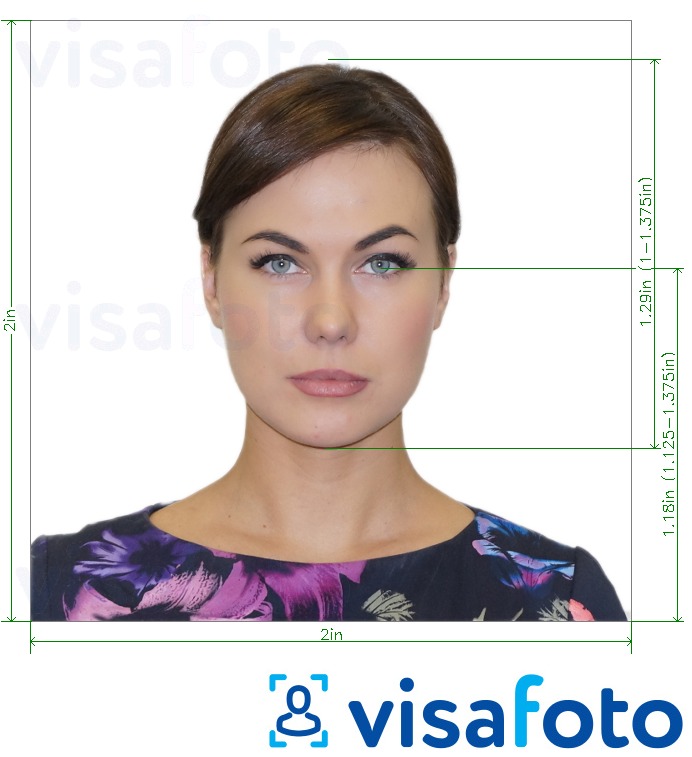 Get a digital photo for a U.S. visa online!
To ensure the acceptance of your US visa photos, they must meet the specified requirements mentioned earlier. To save time and avoid potential issues, you can use a professional tool like Visafoto, which guarantees that your photo will fully comply with all parameters, including the finest details, making it suitable for submission to the US embassy or consulate.
Visafoto has been processing US visa pictures since 2013, and it's incredibly user-friendly! Simply upload a portrait or a selfie in good lighting, adhering to the proper dress code and maintaining a neutral expression while looking directly at the camera. Visafoto will care for the rest, ensuring your photo meets all the criteria.
Take an image with a smartphone or camera against any background, upload it here and instantly get a professional photo for your visa, passport or ID.
Source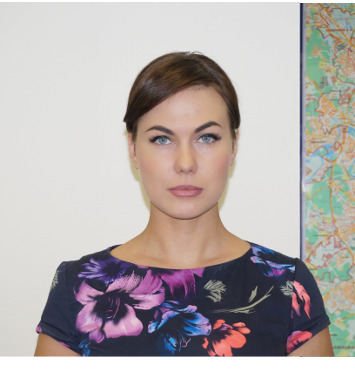 Result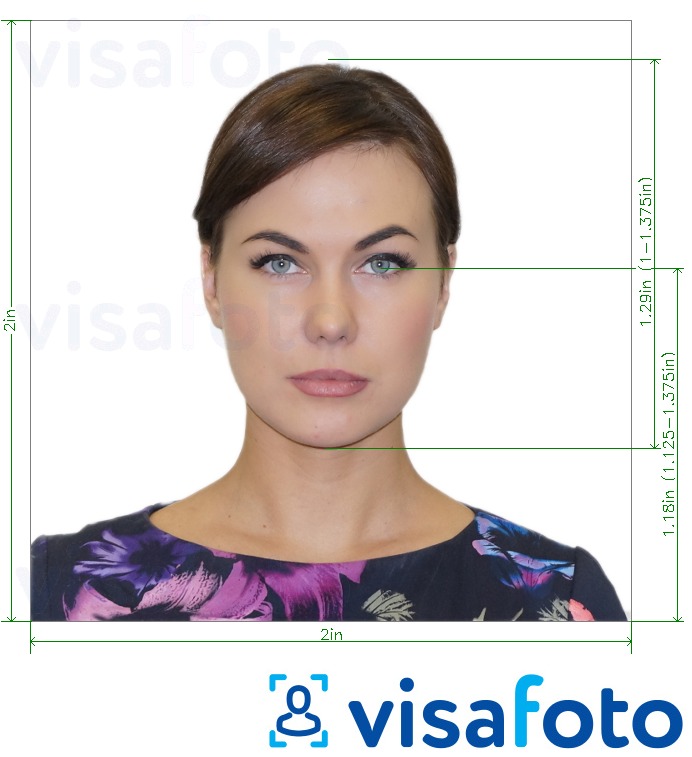 Just upload a portrait of yourself taken in appropriate lighting, with proper dress code, and adequately posed: look straight to the camera and keep a neutral expression. Visafoto will take care of the rest.
Take an image with a smartphone or camera against any background, upload it here, and instantly get a professional photo for your visa, passport, or ID.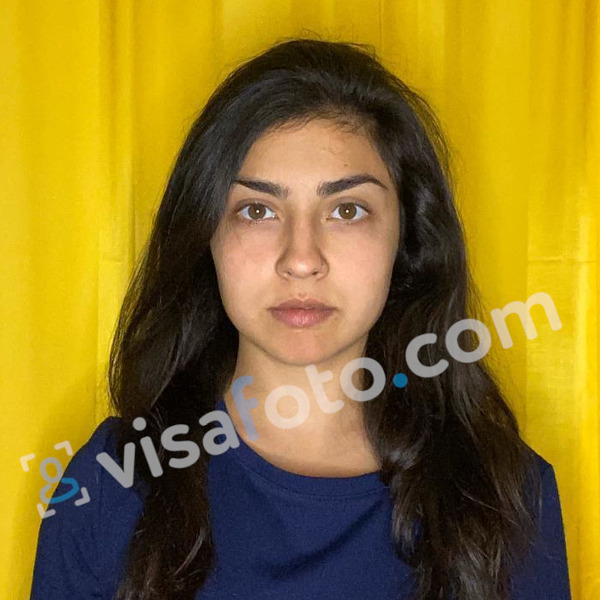 You will get two files from Visafoto: a digital photo for submitting the DS-160 form and a template ready for printing.
U.S. visa validity for Brazilian citizens
For Brazilian citizens, a US visa's validity depends on the visa type issued and the specific conditions determined during the application process.
Nonimmigrant visas typically have varying validity periods, ranging from a few months to several years, with single or multiple entries allowed. In most cases, the B1/B2 visa duration for Brazilians is ten years, but each trip shouldn't exceed 180 days.
Immigrant visas, such as family-sponsored or employment-based visas, generally grant permanent residency upon entry to the United States.
It is essential to check the visa's expiration date and the number of entries allowed to ensure compliance with US immigration regulations.
Where to apply for a U.S. visa in Brazil? Consulates & websites
U.S. Embassy Brasilia
SES - Av. das Nações, Quadra 801, Lote 03
70403-900 - Brasília, DF
Phone: (55-61) 3312-7000
Fax: (55-61) 3225-9136
U.S. Consulate General Porto Alegre
Consular District: Rio Grande do Sul and Santa Catarina
Address: Av. Assis Brasil, 1889
Passo d'Areia – Porto Alegre – RS
Phone: +55 (51) 3345-6000
U.S. Consulate General Recife
Consular district: Pernambuco, Alagoas, Ceará, Maranhão, Paraíba, Piauí, Sergipe,and Rio Grande do Norte.
Address: Rua Gonçalves Maia, 163, Boa Vista CEP 50070-060 Recife-PE
Phone: (81) 3416-3050 (during Consulate's working hours: 7 am to 4 pm)
Fax: (81) 3231-1906
U.S. Consulate General Rio de Janeiro
Avenida Presidente Wilson, 147 - Centro
Rio de Janeiro, RJ
Phone: (0XX 21) 3823-2000
U.S. Consulate General São Paulo
Rua Henri Dunant, 500,
Chácara Santo Antônio,
São Paulo- SP, 04709-110
Phone: (55-11) 3250-5000