U.S. Green Card through Investment
Investments are one of the most common ways for entrepreneurs to obtain a Green Card. From this article, you will learn about the nuances and peculiarities of getting it this way and the documents to be collected.
Table of contents
Green Card Programs for Entrepreneurs
There are several options to obtain a Green Card for business people. In all cases, you must first obtain a certain type of immigrant visa (see list below) and then apply for a permanent residence permit after relocation to the United States. The following investment programs are currently available:
EB-5;
EB-1c;
E-2.
L-1.
The EB-5 (Employment-Based Immigrant Program For Investors) is coordinated by the U.S. Bureau of Citizenship and Immigration Services (USCIS).
To become an EB-5 Green Card holder, an applicant must:
Invest $900k or more in an existing for-profit company or create a new one;
Establish ten or more full-time positions.
Fluent in English, with the appropriate education and work experience, is unnecessary: you only need the investment. The EB-5 participant receives a Green Card for themself, their spouse, and unmarried children under 21 years of age. The investor, along with their family, receives permanent residency status.
EB-1c (Executive Immigrant Visa)
The EB-1c executive visa is available to top managers and executives of international businesses who meet the requirements for transferring to work at a company operating in the United States. A person can immigrate to the United States by acquiring a new business, such as the opening of a new firm, where the entrepreneur plans to assume an executive position.
EB-1c visa requirements:
Employment in an executive position in a foreign enterprise for a minimum of one year;
Net income in the U.S. of at least $70,000;
Number of employees in the U.S. branch - a minimum of 10;
Under the management of the candidate must be a minimum of two levels of staff.
In this case, it is not necessary to obtain labor certification. It is enough to buy a controlling interest in a company or open a branch of an existing foreign organization in the United States.
E-2 Visa (Treaty Investor Visa)
This type of visa is often called a simplified version of the EB-5 visa.
The requirement for the applicant is an investment of $100,000 or more.
The holder of this visa may bring his wife or husband, as well as children under the age of 21. The E-2 status is valid for two years, and you can extend it as many times as you want. The list of countries whose citizens may apply for this visa is limited.
The E-2 visa does not automatically qualify you for a Green Card.
L-1 Visa (Intracompany Transferee)
L-1 visa is issued to businessmen who open branches or representative offices of a foreign enterprise in the United States. Although it is a nonimmigrant visa, you can eventually convert to a permanent residence permit after you have moved here.
L-1 visa requirements are as follows:
Registration of a branch of a business in the States;
Affiliation with branch or parent company or its shareholder;
Employment by a company in the States of at least 3 employees during the first year.
For specialists, this visa is valid for 5 years, for managers and top managers - 7 years. The family of the visa holder can live to work and study in the States.
Steps in obtaining a Green Card by investment
Green Card processing stages and the documentation differ depending on visa type. Let's review the procedure for obtaining a U.S. Green Card under the EB-5 program:
Selection of the project where the entrepreneur will invest funds;
Filling out an investor questionnaire, where the applicant specifies the source of funds for the investment, the number of family members who will receive a residence permit, and other information. The regional center provides confidential project-specific documents;
Hiring a lawyer in the U.S., under whose guidance the investor will gather documents proving the legitimacy of the source of funds for the investment;
The official signing of the documentation on participation in the investment project;
Transfer of money to the regional center's trust account;
Interview at the U.S. embassy and the issuance of an EB-5 visa;
Filing an I-526 petition, resulting in the approval of a conditional residency permit (Conditional Green Card) for the investor and their family.
Requirements for an investor to obtain a Green Card
Regardless of the type of program under which an investor receives a Green Card, he or she must meet the following criteria:
18 years of age or older;
Absence of criminal record;
The legal origin of the investment;
Submission of a tax return;
Investments must be risky in terms of capital return.
Green Card photo requirements
Green Card photos can be submitted in scanned, digital or printed form. Both matte and glossy paper are used for printing. The image must be clear, not blurred, without pixelation, glare, or defects.
The photo must not have been taken earlier than six months ago. It is best to submit as recent a Green Card photo as possible;
You must submit a color photo (24-bit color depth);
The required Green Card photo size is 2x2" (51x51mm);
The background must be light (white, light yellow, light gray, beige);
The head must take 22-35 mm of the total height of the photo;
The eyeline must be located 28-35 mm from the bottom border;
Retouching is prohibited;
Glasses are prohibited (including medical glasses);
Headdresses are prohibited except for religious paraphernalia;
You must look into the camera and keep a calm facial expression.
Despite the strict requirements, you can have your Green Card photo taken from the comfort of your home, anywhere in the world. With the Visafoto app it is very easy!
Here is an example: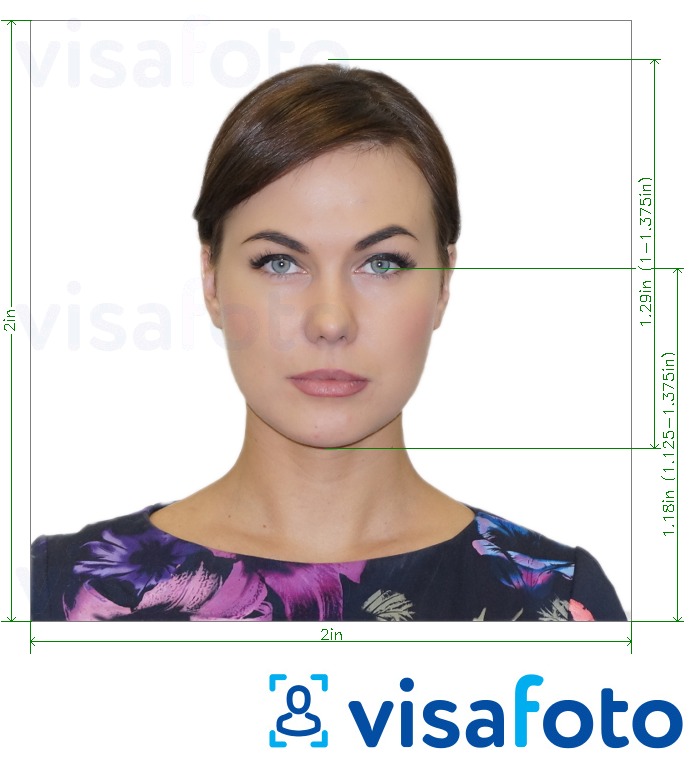 Visafoto features
Visafoto ID photo editor has been around since 2013. During that time, it has been processing thousands of photos for different types of documents, including Green Card. Visafoto:
Cuts the size of your Green Card photo online to the required parameters;
Changes the resolution;
Replaces the background of any color with white;
Performs color correction without retouching.
Take an image with a smartphone or camera against any background, upload it here and instantly get a professional photo for your visa, passport or ID.
Source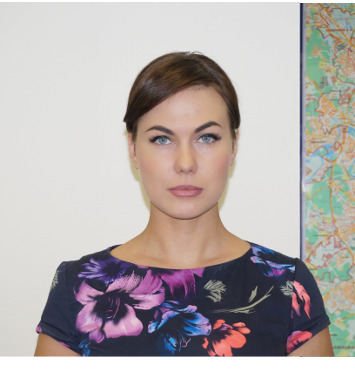 Result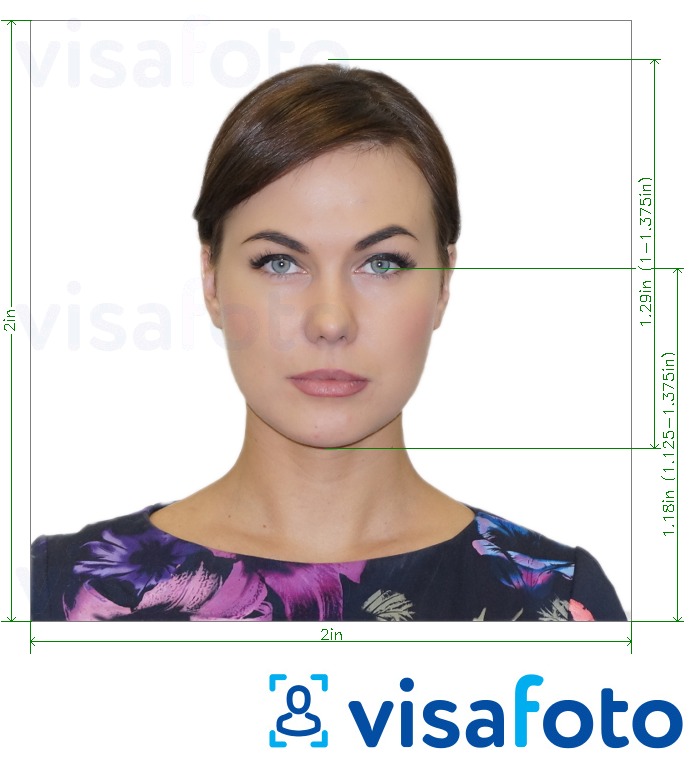 First, take a photo of yours under daylight like this one: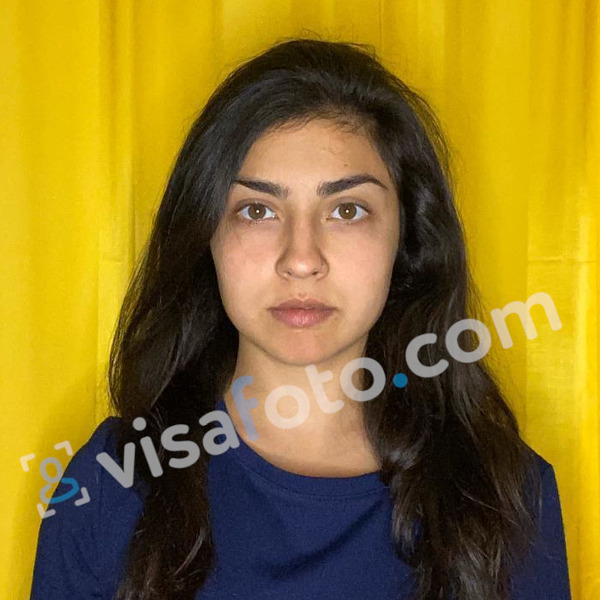 You will have two types of photos: a digital one for electronic applications and another one suitable for printing.
Here they are:
The program includes options for photos for all known types of documents. All you have to do is to take a picture with a good resolution camera (a simple smartphone camera will do), upload it to Visafoto and download the image ready for submission.
Good luck!
Links