US Immigrant Visa Interview Tips
The interview phase of applying for an immigrant visa is one of the more dreaded ones. It doesn't help that it takes a lot of effort to fulfill all sorts of requirements, but the interview is one step closer to success! Preparing for the talk with a visa officer will definitely help in passing it, so we wrote this guideline to help you.
Table of contents
How to schedule a US immigrant visa interview appointment
To simplify the bureaucracy, you can process a significant part of applying for a US visa online, and scheduling your interview appointment is not an exception. You can make it on one of these websites depending on where you are applying from:
To make an interview appointment online, you will need to indicate:
Passport number;
The confirmation number from the visa application form;
Visa fee payment receipt number.
US immigrant visa interview: wait times
The wait time to get a visa interview appointment depends on the embassy or consulate you are applying to. It is based on the actual workload and staffing conditions at each embassy and can change from time to time. You can check the estimated waiting times here.
Keep in mind that these are only estimates and do not guarantee the availability of an appointment within the period specified on the online service.
Documents required for an immigration visa interview
The interview is not just a talk between you and the officer, it is also a process of submitting and checking paperwork. So have these documents with you:
Interview appointment letter;
Your passport, which must be valid for six months beyond the intended date of entry into the United States
Two identical photographs that fulfill requirements;
DS-260 form confirmation page;
Original and/or certified copies of all civil documents you uploaded for visa submissions. This includes English translations of said documents, if you have not submitted them to CEAC.
Supporting documents for the U.S. visa interview
The following is a list of documents that it is advisable to bring to the interview and that a visa officer may ask for:
Certificate of employment, indicating the position and salary;
Bank statements;
Old/annulled passports with visas and stamps of other countries;
Documents that can prove the purpose of your trip.
Don't submit all the papers at once. Supporting documents are only submitted upon request. When the immigration officer asks about ties with your home country, you can briefly say that you have, for example, your own real estate (confirming it with a document of ownership), family (presenting certificates of marriage and birth certificates of children). But you should not take the initiative on your own.
What to expect at the U.S. immigrant visa interview?
While there's likely not going to be anything that may surprise you during the interview process, it might help you to imagine how the process may be.
First, a clerk will check your package documents and forms to make sure you have everything required. Next, you will meet a consular officer and you will take an oath in which you swear to tell the truth during the interview.
In some consulates, interviews are done with bulletproof glass between the officer and the interviewee, but do not be intimidated by this: it's just for security measures.
The officer will then review your documents and ask you questions about your journey and stay in the US. They will make sure everything is in order and matched to each other. They will likely check your statements against the documents provided.
If you struggle to answer about a specific detail, it is better to answer honestly based on what you know instead of taking guesses: it can sound like lying. However, it does help for you to go over your plans before the interview to make sure it goes without a hitch.
In short: be relaxed, be honest.
Typical questions asked at US immigration visa interviews
The questions usually aim to understand whether you qualify for the visa.
If your visa is based on work relocation, the officer will ask about your future work and how you plan to settle, like questions about housing, income, and other related information.
If your visa is based on marriage, they may ask you for some general information about your relationships. There should be nothing too personal about the questions, so you do not need to worry about that.
For visas based on family relations, it is in a similar vein: you will be asked about your familial relationship, you may be asked about with whom within the family will you live, and such.
US immigration visa interview checklist
After getting an appointment and before going to your interview, make sure to do the following items:
Complete a medical examination with an authorized physician in your country;
Register for courier service or and complete other pre-interview instructions, depending on your visa type and embassy/consulate;
Gather the needed documents for an interview, as mentioned in the previous section.
US visa photo requirements
You will need to bring application photos to your visa interview appointment. The photos you use for application must fulfill these requirements:
The picture must not be older than six months;
The photo's background must be plain white;
The US visa photo size is 2x2 inches (5x5 cm) in print and 600 - 1200 pixels in digital;
Face to photo ratio: your face should occupy about 70% of the picture.
Here's an example of a valid US visa photo: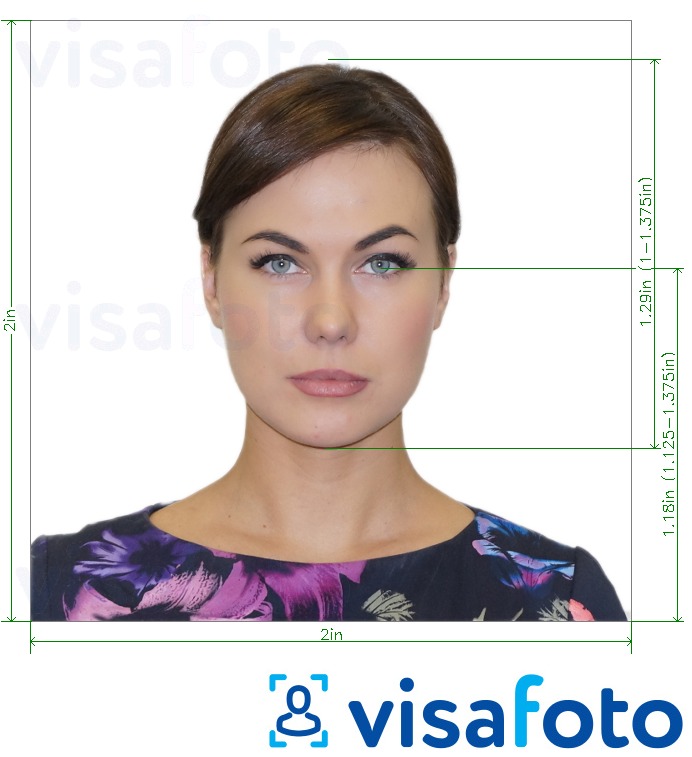 As US visa photos have to fulfill specific requirements that can get quite subtle such as face ratio, we recommend that you trust this task to the professionals. Visafoto is an online tool that can adjust the size, background, proportions, format, and other parameters in your photo, down to the subtler details of red eyes and head tilt.
Take a portrait of yourself in the proper dress code and pose. Make sure the picture has decent lighting to demonstrate your facial features. Then upload it on our tool below.
Take an image with a smartphone or camera against any background, upload it here and instantly get a professional photo for your visa, passport or ID.
Source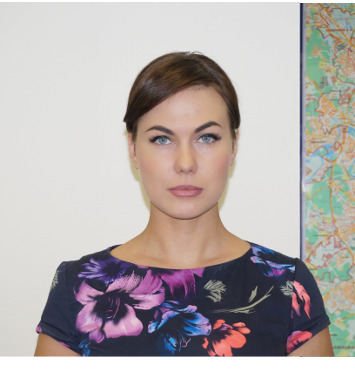 Result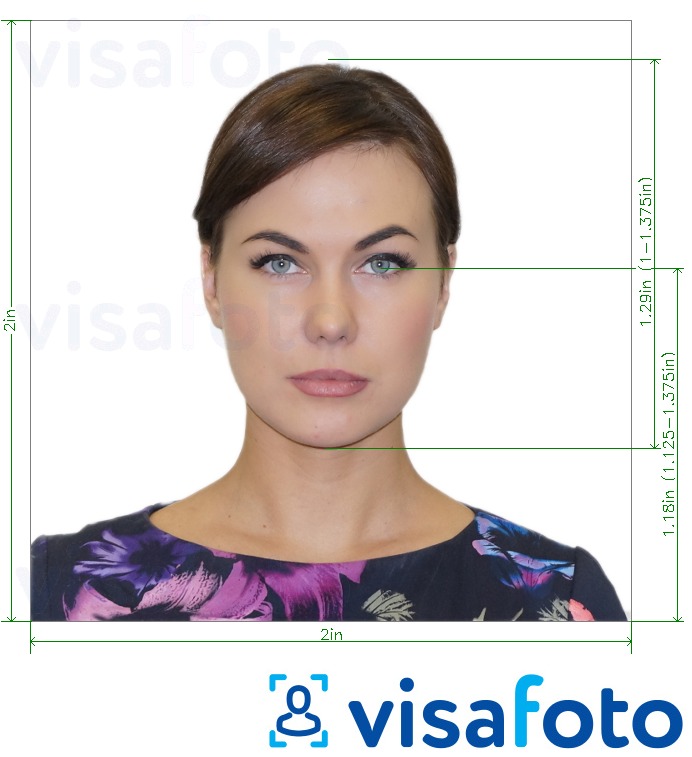 Take an image with a smartphone or camera against any background, upload it here, and instantly get a professional photo for your visa, passport, or ID.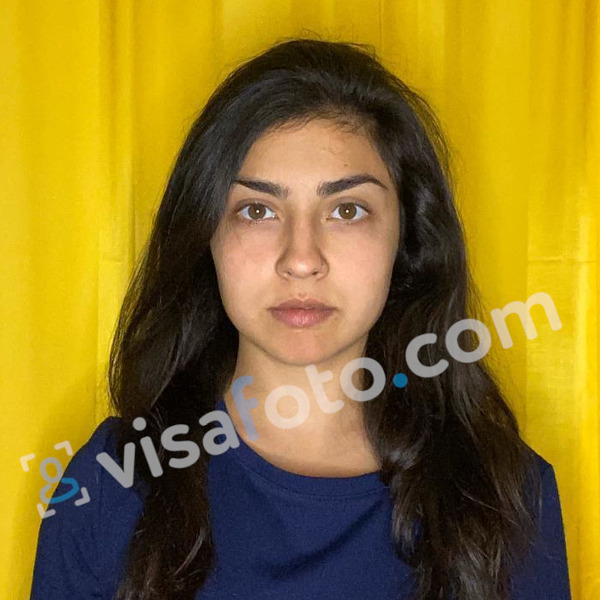 You will get two results from Visafoto: a digital photo for electronic forms and a template ready for printing, so you do not need to worry about photo layouting.
Visafoto has been helping people worldwide get the perfect photo for various documents worldwide since 2013. Our experience guarantees that your image will 100% match the US visa requirements. Should you need any support on our service, contact us!
Top reasons for denial of a U.S. visa
The main mistake at the interview is inappropriate behavior that does not match everything that has been described above. Refusal can be based on one of the following reasons:
Mistakes in the documents;
Excessive nervousness;
Unclear answers which could be interpreted ambiguously;
Lack of strong economic and social ties to the home country;
Suspicion of immigration intentions;
Negative visa history both in the U.S. and in other countries;
Insufficient funds for travel;
False information about oneself;
Being late for an interview.
You will know the decision on the visa immediately - you will be told it right at the window. If the passport is not returned to you, it means that the visa is approved, and you will receive the passport with the visa in about 3 working days. If they return your passport after the interview, it means that the U.S. visa was rejected. Do not worry - you can apply again in the future. Next time you will talk to a different officer, which eliminates the possibility of subjective evaluation.