U.S. Passport Photo Online
If you are looking for a passport photo of another country: UK, Canada, India, Singapore, Malaysia, Ireland, Australia, New Zealand, China, Hong Kong, Taiwan, Philippines, UAE, Bahrain, Pakistan, Sri Lanka, Bangladesh, Ghana, Nigeria, Kenya, South Africa, all other countries: all types of passport photos.
Table of contents
Are you going to renew your U.S. passport or get the first one? Pay strict attention to the passport picture! Your photo identification will accompany you throughout the whole lifetime of your passport and it is important that it meets certain requirements. In addition, an incorrect ID photo can lead to a rejection of the application and the passport processing will be delayed.
Get the passport photo online now
Take an image with a smartphone or camera against any background, upload it here and instantly get a professional photo for your visa, passport or ID.
Source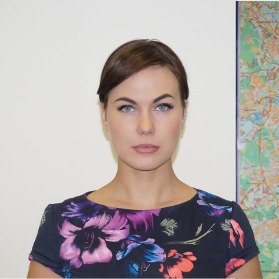 Result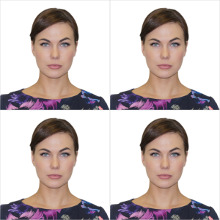 It is the easiest and most quick way of getting the passport photo. Visafoto.com works 24x7. The process takes just a couple of seconds. It automatically sets the right size, head size and background of a photo, and makes sure your photo 100% meets the requirements. For only $7 you instantly get professional-quality passport photos in two formats: a digital one for online submission and one for printing on 4x6" photo paper.
First, take a selfie or ask someone to take a photo of yours with your smartphone. Your face and shoulders should be fully seen. Your eyes should be opened. Mouth should shut. Look straight into the camera. Wear your everyday clothes. Your passport photo selfie should look like this: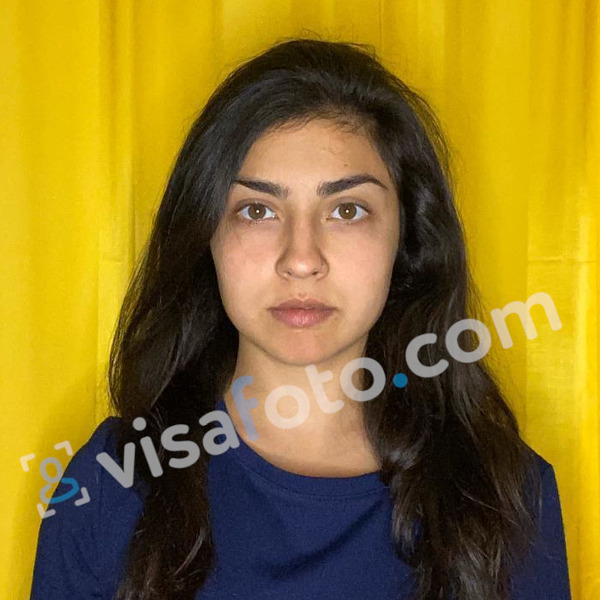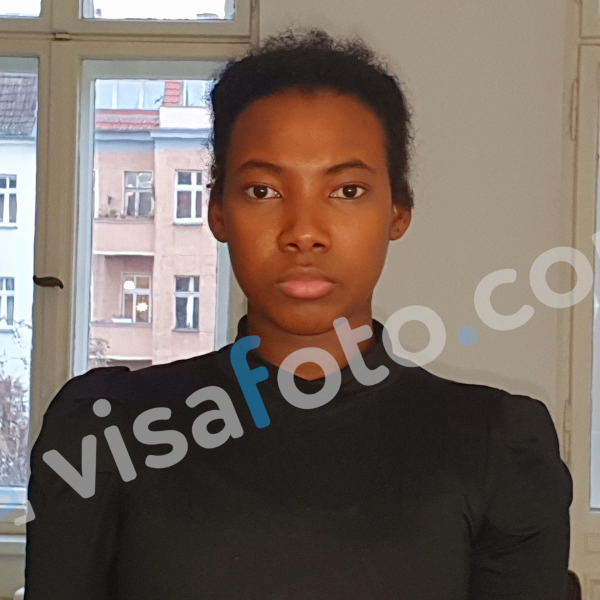 Now, upload this photo to online USA passport photo maker. You will get a digital result passport photo like this (it is 600x600 pixels):
Plus you will get a 4x6 inch printable image like this with 4 passport photos on it, and each photo is 2x2" (you can see it as 2 photos occupy all width of 4 inch paper, and thus each is 2" wide, and since they are square, then each is 2" high as well):
I already have a digital passport photo. How to print it?
If you got your passport photo at Visafoto.com, then you have an image with 4 individual passport photos on it, you need to use this image file and print it.
Many pharmacies, post offices and retail stores all over the U.S. offer printing services. But if you just bring a flash stick with an image file to print your passport photos, usually they refuse to print it at a regular price, and will charge you about $15, as if you were taking your passport photo at theirs. But there is a simple lifehack: order prints online instead. Here is how you do this as an example with Walgreens, which offers one of the most popular printing services in the country:
Go to the Walgreens online photo service and choose the 4x6 prints;
Upload your image file that you got from Visafoto.com (there should be 4 photos on this image);

Pay $0.35, choose the nearest store and pick up your prints the same day (typically within 1 hour)
Among other popular online printing services there are Snapfish and Shutterfly.
Where can I get my passport photo taken offline?
If getting a passport photo online at Visafoto in a couple of seconds from a selfie is not your way, then there are several main options of getting the photo offline:
Photo studios
In the past you could use Costco as well, but they have closed all of their photo centers
What are the typical passport photo prices?
Online. A digital photo that you can get on Visafoto.com costs $7 only, is professionally done, meets requirements, available 24x7, and you can print it multiple times (like $0.35 only per 4 additional prints) and it also includes the one that you can use to submit your passport or visa application online.
Retail chains. On the other hand, U.S. retailers and post offices have about the same rates for passport photos. On average, it is $15 for two ID pictures, no digital version is included.
Photo studios typically have higher prices, in the range of $15-30, but typically they offer higher quality pictures than drugstores and offer more personalized services.
One of the lowest offline passport photo prices (only $4.99 per one print) were offered by Costco. But in the beginning of 2021 Costco announced its plans to close all photo centers.
How do I make sure my passport photo meets official requirements?
You can use the free US passport photo checker on the DVLottery.me website.
Note, support staff at Visafoto.com can always verify if the photo meets official standards via the Department of State website, however this link is not yet available to the general public.
The example of a photo that passed the official verification procedure is:
If a photo purchased via Visafoto.com doesn't qualify for any reason, just contact our 24x7 support. We will fix it or replace the photo for free until it gets accepted or refund the money.
What are the main U.S. passport photo requirements?
In the U.S. there are a number of fairly strict criteria that a passport photo should meet. The basic ones are:
The size must be of 2x2 inch;
The must be plain white or white-off background;
There must be between 1 inch and 1 3/8 inches from the bottom of the chin to the top of the head;
Eyes should be located within 1 1/8 inches to 1 3/8 inches (28 mm-35 mm) from the bottom of the photo;
Photo must be in color;
Face expression must be neutral;
Photo should match your current appearance and be taken within the last 6 months;
It must be a full-face portrait;
Uniforms and headgears are not allowed unless they are worn for religious reasons;
Glasses are not allowed (including prescription ones);
Photo card must be printed on thin, photo-quality paper with no damages.
The photo has high quality. It is not blurry, grainy or pixelated. Eyes, noze, month and other facial features are sharp. If the face features are not seen clearly, retake the photo.
The passport rules are the same for child passport photos.
More information can be found in this article about US passport photo requirements.
How many photos are required for a passport application?
You should bring two identical photos when applying offline or just one photo if you have already applied online.
Do I need a new ID photo if my appearance has changed?
Insignificant changes like growing a beard or cutting hair don't matter. You don't need to apply for a new passport unless you can't be identified from the current photo.
DV Lottery photo requirements
U.S. State Department has the same requirements for U.S. passport photos and photos for the Diversity Visa Lottery (Green Card Lottery).
Is it allowed to edit a passport photo in photo editors?
US photo ID laws do not permit artificial changes in appearance (e.g. eye color, any other facial features). You cannot use filters like on social media.
However, fixing the background, altering size, and quality of the photo (e.g., brightness and contrast) is allowed.
We at Visafoto have made hundreds of thousands of US passport and visa photo that were accepted by the Department of State, so you can safely fix the background and use our online system.
How can I use the American passport photo?
The 2x2 inch passport photo is applicable to a number of documents:
Apply for the DV Lottery (Green card lottery)
Use it as a Green card photo, for US Citizenship, for US Employment Authorization, etc.
Last update: July 2022
Additional Information