Nigeria passport and visa photo
You have to take into consideration a lot of aspects if you go to Nigeria. Your application for a passport or visa for Nigeria will be successful when you provide accurate and complete information in the application form. In particular, your photo must meet certain Nigerian passport photo requirements.
Check a quick guide below to learn how to obtain a Nigeria passport or visa pictures. You will understand how to provide a suitable passport photo for Nigeria to avoid delays in your application.
Table of contents
Notice that the rules for a passport photo in Nigeria are the same as for a photo required for a Nigerian visa. Thus, the information below suits both pictures.
Nigeria visa online
If you go to Nigeria, apply online for your visa. You will need a passport valid for at least 6 months, passport photos and payment receipt. You will have to pay in US dollars. Cost of the Nigeria visa depends on the country of your citizenship.
Nigeria visa photo requirements
Among the documents that you have to submit with your Nigeria visa application form, you have to provide two current photos that must have been taken within six months.
The size of a photo for a Nigeria visa should be 35x45 mm. Also, there are some requirements on the position of the head in the picture. Head height should be from 26 to 30 mm. The distance from the top of the hairstyle to the top of the photo should be 3 - 5 mm.
Other parameters:
The photo should be in color only.
The background of a Nigeria visa pic must be white.
Keep the head in the center of the picture.
Do not smile. A neutral facial expression is mandatory.
Keep your eyes open.
Glasses are not allowed except for everyday ones.
Any hats or headgear are prohibited apart from religious purposes.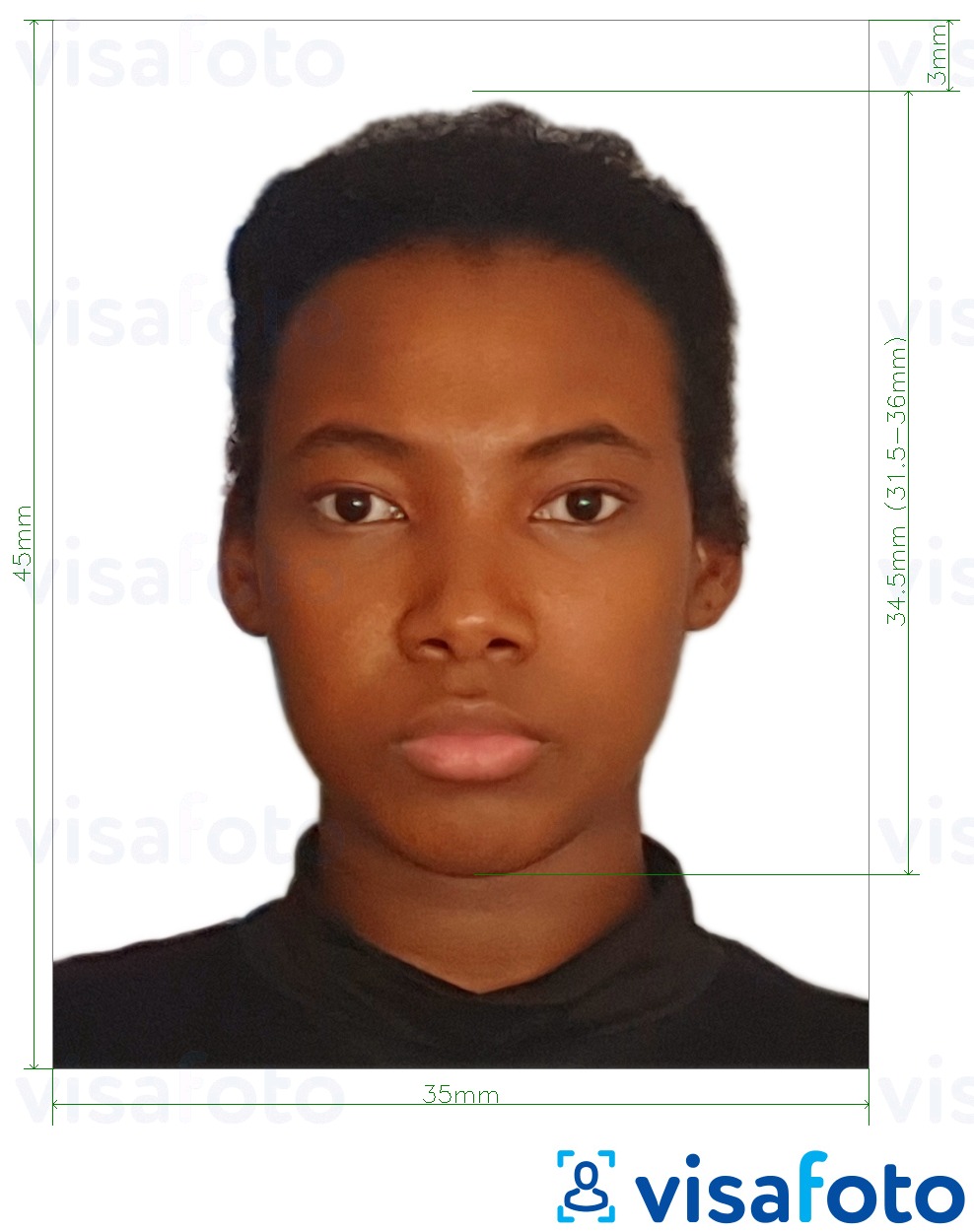 Photo for Nigeria visa online
If you apply online for a Nigerian visa, you will need a 350x450 pixel photo with a white background. Except for size, other requirements are the same.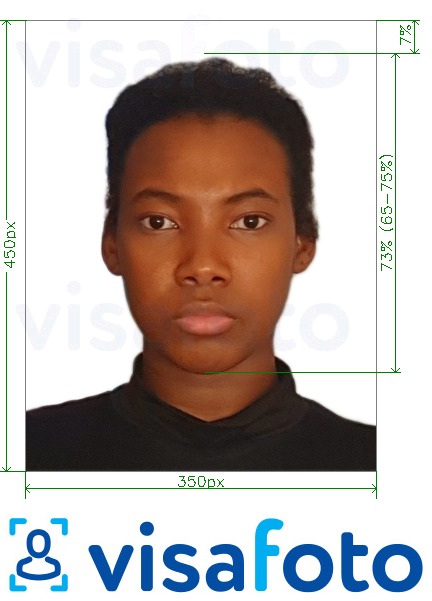 Take Nigeria passport and visa photo online
The most obvious and quickest way to get a Nigeria passport photo and a Nigeria visa photo is to use online tools like Visafoto. It provides you a helpful mode for obtaining photos fitting for a passport or visa in Nigeria. You just have to take a picture with your device and upload it to
Take an image with a smartphone or camera against any background, upload it here and instantly get a professional photo for your visa, passport or ID.
Source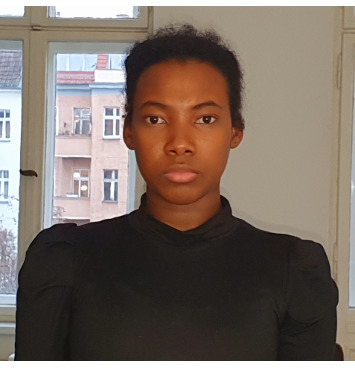 Result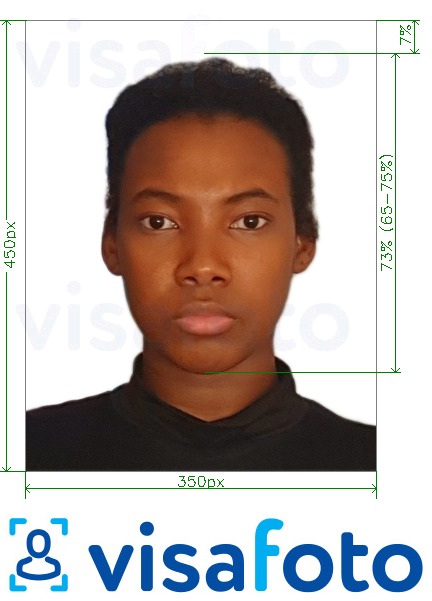 It will immediately transform your photo to suit all conventional Nigeria passport photos and Nigeria visa photo directions. Visafoto will take two photos. The first one is digital for the online submission for a passport or visa of Nigeria, and the second one is the printable option.
Here's a quick guide to taking pictures and using Visafoto.com on the web:
Take a selfie or photo with your gadget's camera in any the background;
Look toward the camera;
Have a neutral facial expression;
Be sure that your head meets the dressing rules above;
Avoid red-eye;
Upload your photo to Visafoto.com and see instant results.
The service will modify the background, install a special format and size, and increase the quality of the image. It will satisfy all the requirements for a passport photo in Nigeria.
You can use the same guide for your Nigeria visa picture.
First, take a photo of yours under daylight like this one: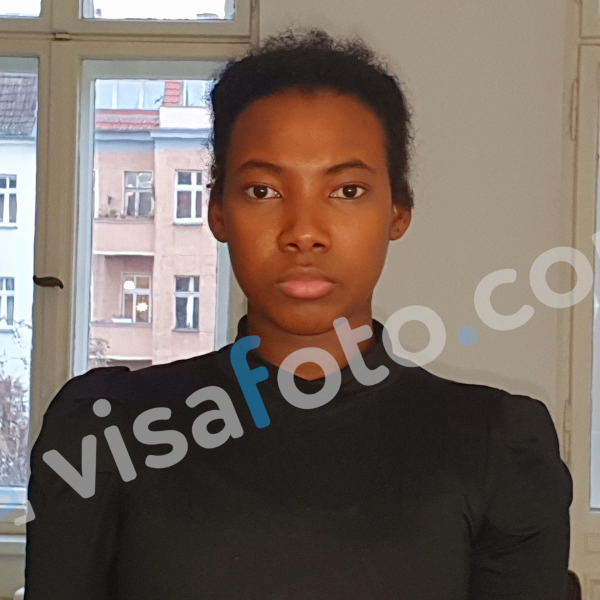 After resizing, you will get photos like these ones. They are suitable for online submidssion and printing:
Where can I get help with my Nigeria passport or visa photo?
If you have any puzzles, support is open 24/7. If for some reason the result does not suit you, Visafoto.com will displace the photo for free or return 100% of the payment.
Rules and requirements for babies, infants, and newborns Passport and Visa photos
It is interesting to note that the children's application for a Nigeria passport and visa must have been submitted separately from their parents. Thus, you have to provide a Nigeria visa photo or a Nigeria passport photo of your baby too.
Follow these requirements to get a suitable baby picture:
The eyes of your baby should be open.
The background color must be white.
Take several pictures to choose from.
Check out the tips on how to take baby passport photos at home in this article.
Nigeria passport photo: how to print it?
There are special online photo services to print a photo for your Nigerian passport and visa. Canvas Print and Snap Fish are great examples. They provide your Nigeria passport photos as a set of four appropriately sized 35x45 mm pics. The final price depends on the shipping.
To print your Nigeria passport photo, do the following:
Upload your Nigeria passport photo from Visafoto.com to one of the online photo services above;
Choose the size of the print 4x6";
Input your address;
Pay online;
Get your photo prints at home or choose a nearby store for pickup.
Besides, there is a possibility to print out your Nigeria passport photo or Nigeria visa photo at home if you have a suitable printer.
Learn more about the options of printing a digital passport photo in this article.
Links