Nigerian visa photo
To enter Nigeria, citizens of most countries must obtain a visa in advance. Only people of 17 African countries have visa-free access to Nigeria.
In addition to other documents, you must provide the Nigerian Embassy with two identical photographs that meet the Nigerian visa picture requirements.
Table of contents
High-quality photographs are essential for the success of your Nigerian visa application.
Documents required for Nigerian visa application
To obtain a tourist visa, the applicant should provide the following documents:
Passport;
Two color photographs matching Nigerian visa photo requirements;
An application form completed online on the website of the Nigeria Immigration Service. The form is assigned a unique number. After filling out the questionnaire, you should print it and sign;
An invitation corresponding to the type of visa requested. If it is a tourist visa, the invitation must be sent by the hotel or travel agency;
Travel itinerary written in free-form in English;
A copy of tickets or confirmation of reservations for tickets in both directions, or tickets to third countries;
A certificate from work on the company's letterhead indicating the position and salary which must be submitted in English.
The list of required documents may vary depending on visa type.
How to apply for a Nigerian visa online?
To fill out the Nigerian visa application form online, you need to:
Head to the visa application page of the Nigeria Immigration Portal;
Select the country of submitting your visa application;
Log in through your account in Google, Yahoo, Facebook, or Open ID;
Fill out the application form online;
Print out and sign your questionnaire;
Pay an application fee online;
Print out the receipt;
Attach the receipt to the application form and other documents.
Nigerian visa photo requirements
Nigerian visa application photo requirements are:
Nigerian visa application photo size must be 35x45 mm.
Head height should be 31-36 mm.
The distance from the top of the hair to the top of the photo should be 3-5 mm.
The photograph should be in color.
Nigerian visa photo background must be white.
Keep your head in the center of the picture.
A neutral facial expression is required.
Keep your eyes open.
Any hats and headdresses, except for religious ones, are prohibited.
Here is a photo example: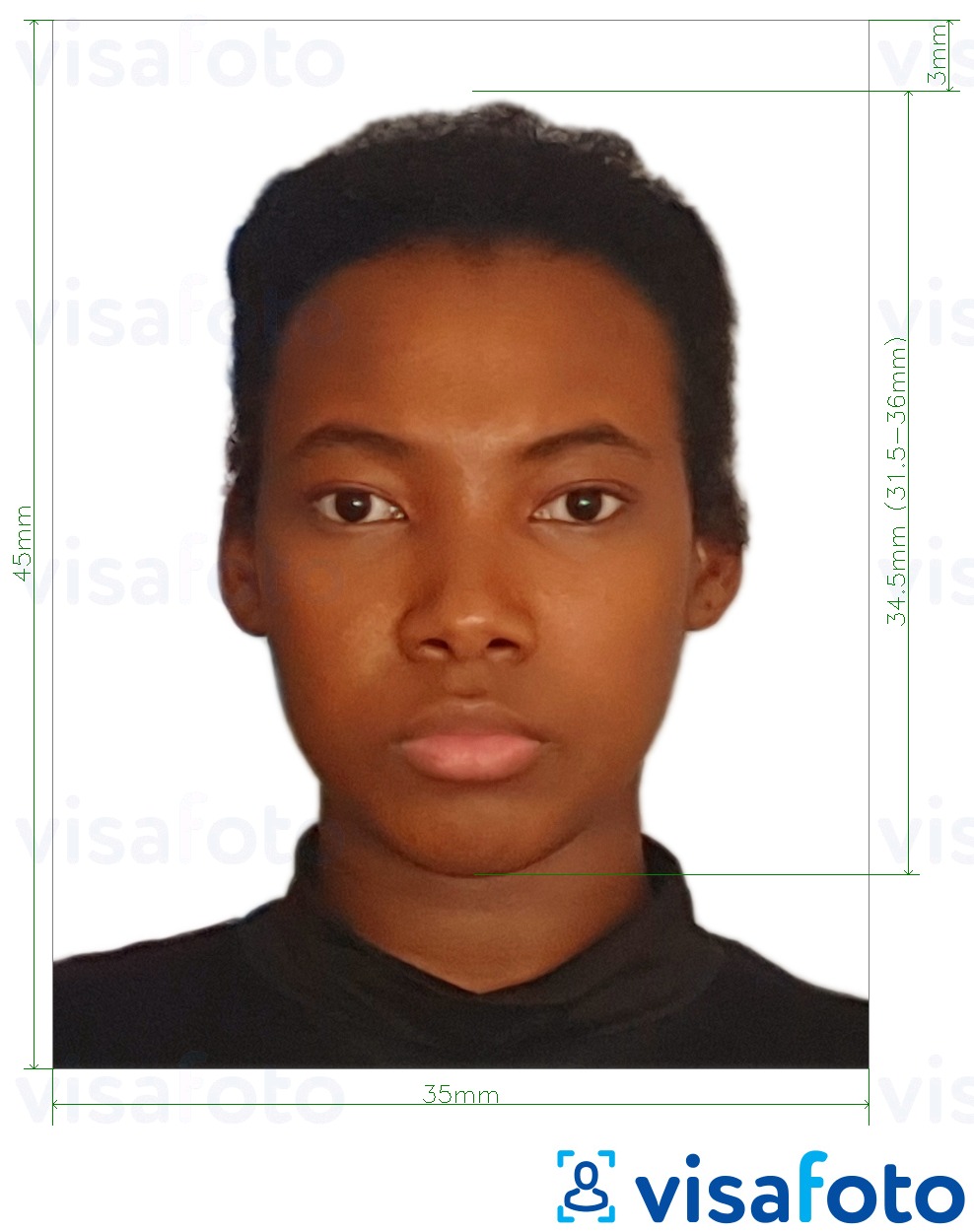 Nigeria visa photo for online submission
The photo size is 350x450 pixels. Other requirements are the same.
Your photo for online submission should look like this one: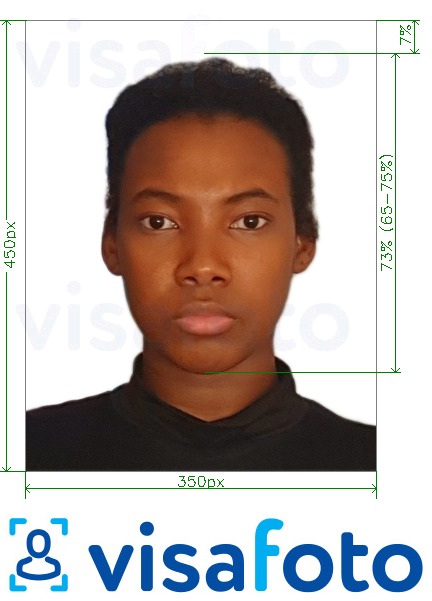 Can I wear glasses in the Nigerian visa photo?
Glasses are prohibited, except for everyday glasses. Sunglasses and tinted glasses are not allowed.
Nigerian visa photo tool
What's the most reliable way to take a Nigerian visa application photo? As the photo size for a Nigerian visa application is surely distinct and different from most passport-sized photographs, it is best to commit this task to dedicated online tools. With Visafoto, you can take a photo for a Nigerian visa anywhere in the world!
Take an image with a smartphone or camera against any background, upload it here and instantly get a professional photo for your visa, passport or ID.
Source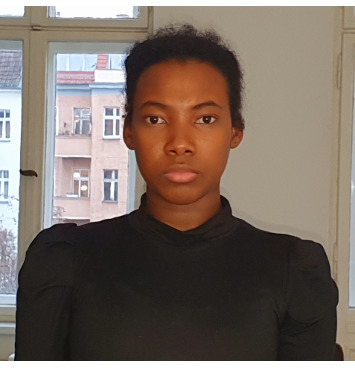 Result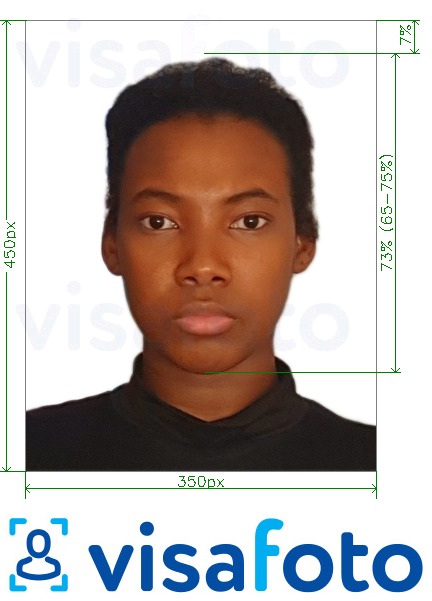 Use our new Nigerian visa photo generator to see the fastest results possible. Simply upload a full-face portrait. Visafoto will instantly resize and format it as demanded, substitute the background with plain white and increase the overall image quality. The resulting picture will fit 100% photo requirements for Nigerian visa applications.
First, take a photo of yours like this one: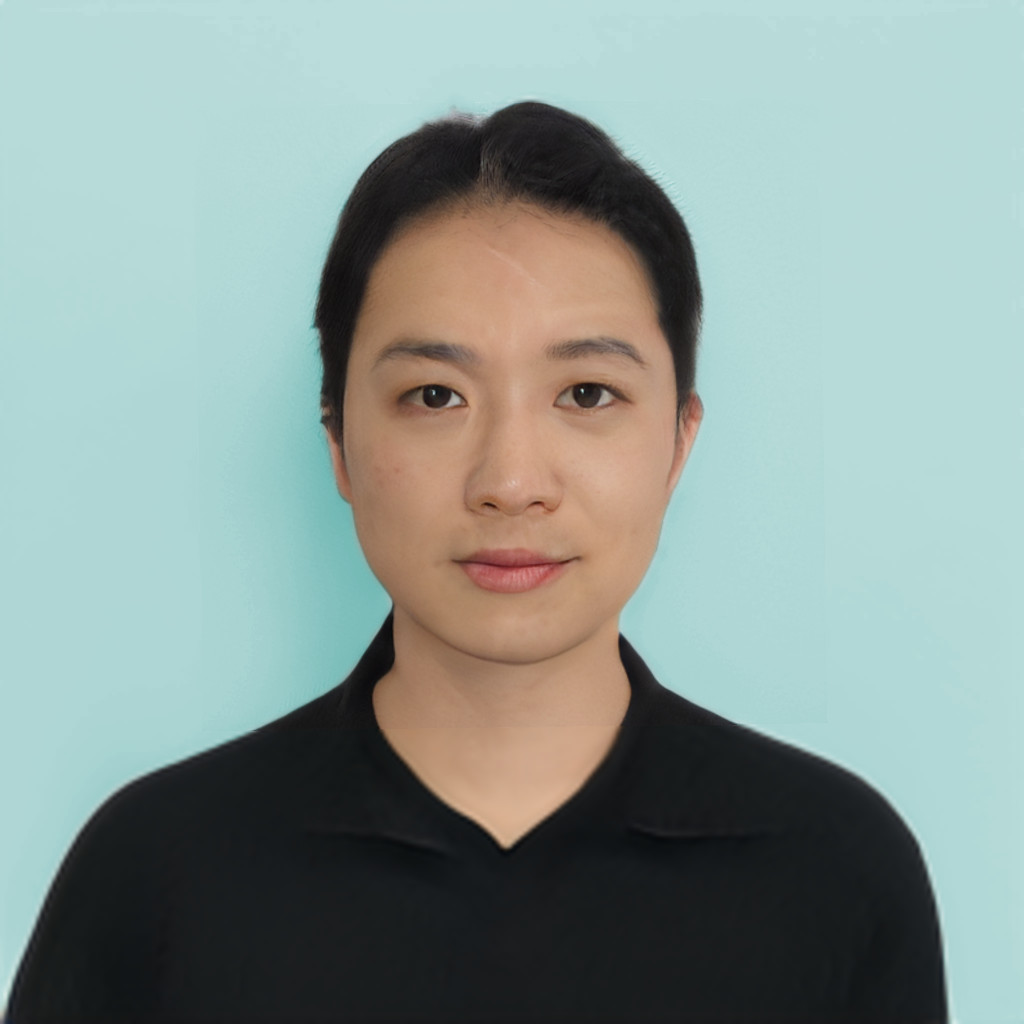 You will hold two kinds of photos. A digital photo is suitable for online applications, while the other one is applicable for printing.
Will I get help with my Nigeria visa photo?
Yes, our support team is ready to answer all your questions 24/7.
Links