Bahrain ID photo and passport photo
Whether you are going to get your first Bahraini passport or renew the existing one, give special attention to your passport photo and make sure your Bahrain passport photo meets the official requirements. Otherwise, obtaining a passport may be difficult and take longer if the photo is rejected.
In the article below you find out where to get a passport photo in Bahrain, what is the cheapest way to do it, and what are the main Bahraini passport photo requirements.
Table of contents
Pay attention that photo requirements for a Bahraini passport match with requirements for a Bahrain visa photo, as well as most other types of Bahrain photo ID.
How to apply for a Bahrain passport online
For an online passport application follow the next steps:
Visit the passport renewal page of the official Bahraini e-government service.
Click Start Service.
Select Passport Renewal Request. An ekey account is required to use this service.
Follow online indications and type the needed info.
Bahrain passport photo requirements
See this article about Bahrain passport and ID photo requirements, below is a summary. Photo requirements for Bahrain passport application are the following:
The Bahrain passport photo size must be 4x6 cm;
Head height should be about 38mm;
Distance from the top of the photo to the top of the hair should be 6mm;
The photo should be in color;
The photo should have a plain white background;
The photo must have been taken within the last 6 months;
Facial features should be clearly seen and reflect natural skin tones;
The applicant must face forward and look straight into the camera;
The head must be held upright;
The applicant must have a neutral facial expression;
The eyes must be open and visible;
Red eyes should be avoided;
The digital Bahrain passport photo must be of high resolution at least 300 DPI.
Here is an example of a Bahrain passport photo: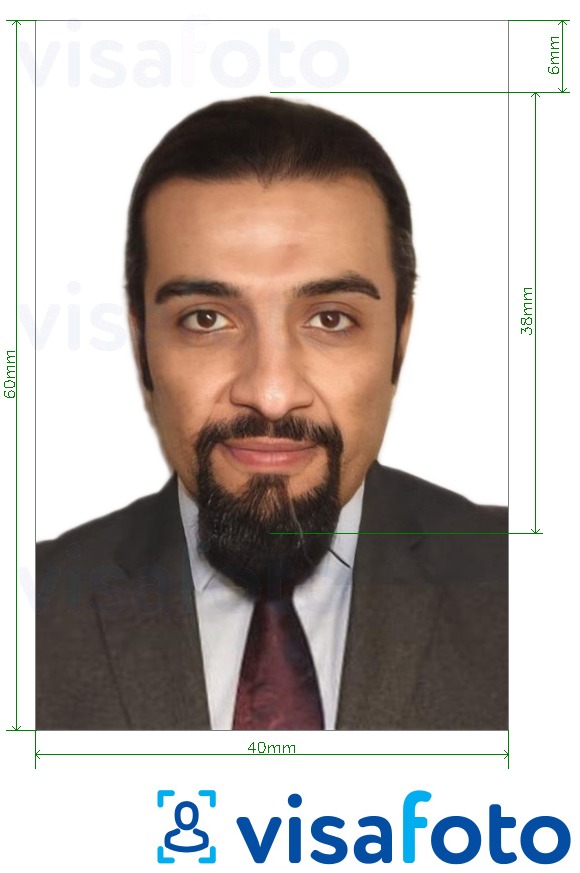 The same requirements are applicable for Bahrain visa picture.
Bahrain ID card photo
The required digital Bahrain ID photo size is 240pixel in width and 320pixel in height;
The background is grey;
The head height is about 75% (from 70% to 80%);
The photo should be in colour;
The file size should not exceed 2 MB.
Other requirements for a Bahrain ID card photo are the same as for a Bahrain passport photo.
Here is an example of a Bahrain ID card: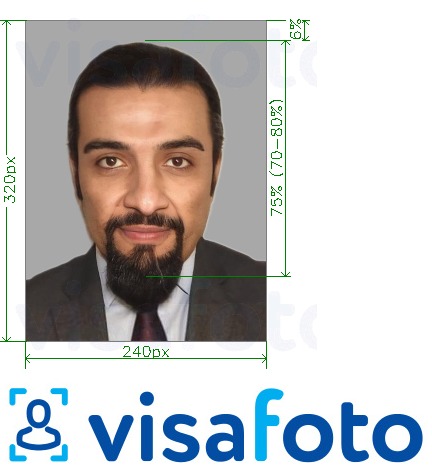 Bahrain passport photo dress code
What to wear for a Bahrain passport photo? Choose your daily closing of the color making a good contrast with a background. Any kind of uniform is not allowed. Headwear is prohibited, but the use of a veil, hijab or ghutra for religious purposes is permitted. However, the applicant's face must be fully visible and the headgear must not cast shadows on the face.
Bahrain baby passport photo requirements
Bahrain passport photo for baby must meet the requirements mentioned above except of the following:
Other people or objects like the hands supporting children should not be visible in the photo;
Children under five years old do not need to look directly into the camera;
Children under one year old do not need to open their eyes.
Can I wear glasses in a Bahrain passport photo?
Yes, you can wear glasses. But they have to comply with the next rules:
The eyes behind glasses must be recognizable;
Reflections are not allowed;
The edge of glasses or frames should not cover any part of the eyes;
Thick frames should be avoided;
Sunglasses, tinted glasses, or colored contact lenses that obscure the original eye color are not acceptable.
Get a Bahrain passport photo online
Take a photo with your gadget on any background, upload it here, and instantly get a professional passport or visa photo.
This is the easiest and fastest way to get a passport photo. Visafoto.com is open 24/7. It only takes a few seconds. It automatically sets the correct size for the photo, background, etc. So your photo will be 100% accepted. You instantly get a professional Bahrain passport photo in two versions. The digital one is for sending online and the other is for printing.
Take an image with a smartphone or camera against any background, upload it here and instantly get a professional photo for your visa, passport or ID.
Source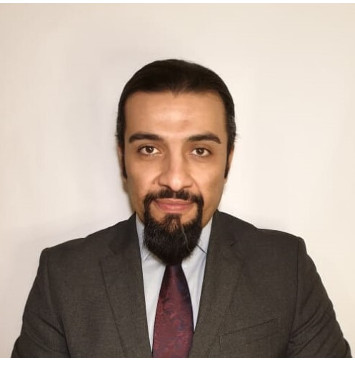 Result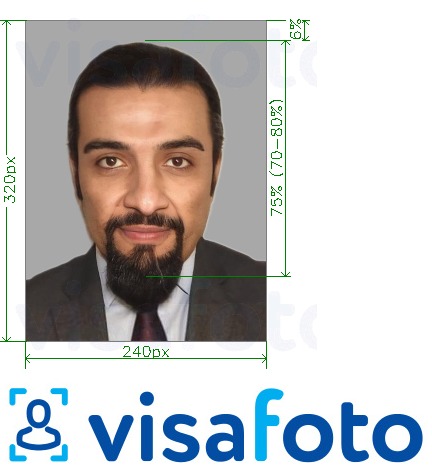 First, take a selfie or ask someone to take a photo of you with the gadget. Your face should be completely visible. The eyes should be wide open. Look directly into the camera. Avoid wearing light-colored clothing.
It should look like this one: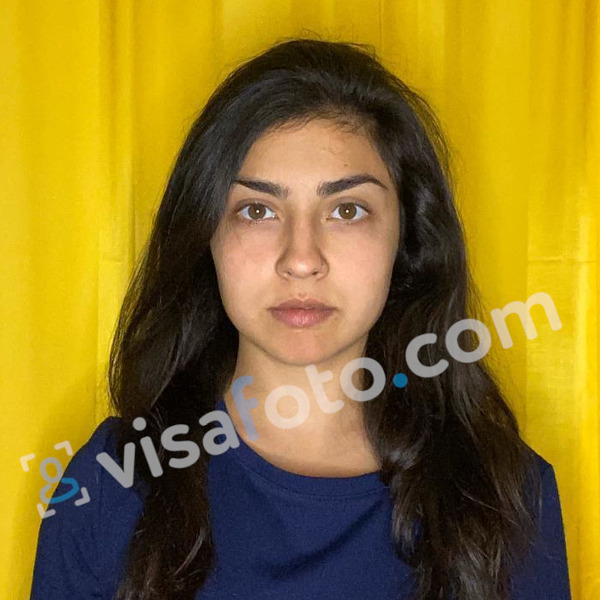 Then upload the photo to the online Bahrain passport photo tool. You will receive a 600 DPI Bahraini digital passport photo. Also, you will get a similar 4x6 inches or 10x15 cm printable image with four 4x6 cm photos for a Bahrain passport:
Bahrain passport photo price
The cost of a Bahrain passport photo at Visafoto.com is $7 only.
Printing out a Bahrain passport photo
Visafoto.com will provide you an image with four separate photos for your Bahraini passport. All you need to do is to print out this file with a color printer.
Learn more about passport printing options in this article.
My photo for my Bahrain passport is not accepted. What to do?
If you purchased your photo at Visafoto.com, it's unlikely to happen, as our services have a 99.7% pass rate.
In case of any problems or questions just contact our 24/7 support. We will replace the photo for free or provide a 100% refund.