Malaysia Passport Photo Online
Are you going to renew your Malaysian passport or obtain the first one?
The easiest way to do this is to apply online at MyIMMs e-services. Let's check how to make an electronic submission and how to get a digital Malaysia passport photo with no hustle.
Table of contents
Documents required for Malaysian passport renewal
To fill out the online application you will need the following papers:
Your current passport;
Phone number and email address (Required field in the application)
Malaysian bank account for FPX transactions, with at least RM200. Credit/debit cards are no longer available.
Digital passport-sized picture.
Malaysia passport photo size
For your submission to be successful, your photo needs to conform to the Malaysian passport photo requirements. In the case of a paper passport application, the demanded size of the image is 35x50 mm.
The current Malaysian digital passport photo format is still 35x50 mm, but converted to the digital form with a ratio of 7:10. The recommended resolution is 600 DPI. The file size should be within 100 kb and 1 MB.
When submitting your passport pic, bear in mind not only the size but other measurements as well. Thus, the head size in the photo should be 25-30 mm. The distance from the frame to the top of the hair should be 10 mm.
Note, that the Malaysian passport application service has an auto cropping tool, but it can operate with errors. It's preferable to crop passport photos in advance to avoid delays.
Here is an example of a Malaysia passport photo: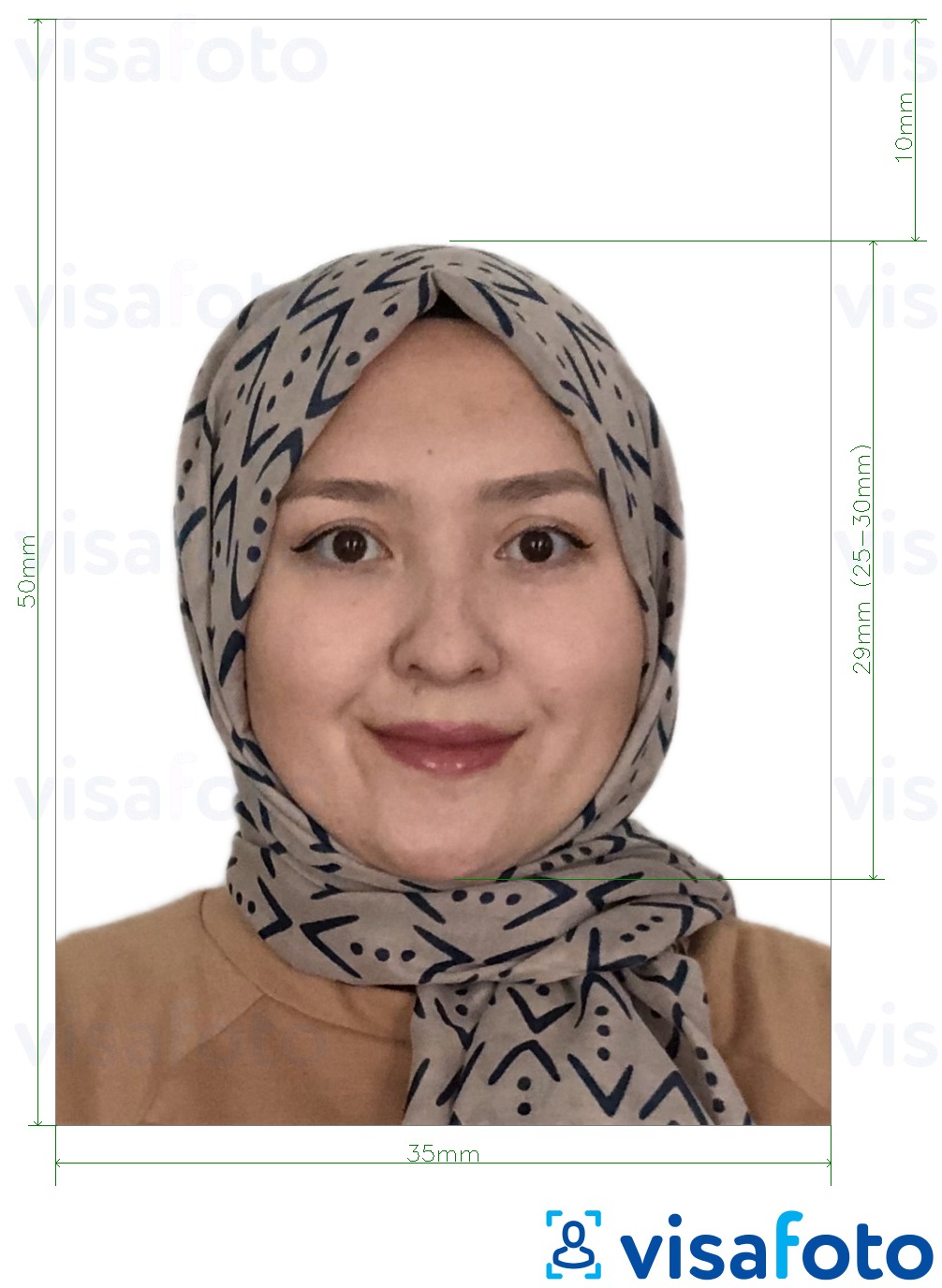 Malaysia passport photo background
Although previous passport photos in Malaysia used to be taken on a blue background, the criteria have now changed. The picture must be taken against a plain white background only, with no shadows or any objects.
Malaysia passport photo dress code
TThere are also certain requirements for clothing. According to the rules, the applicant must wear dark coloured clothing (preferably black or dark) covering the shoulder and chest. No head and hair accessories are allowed, except the hijab. Religious headwear should not cover the face. Contact lenses and glasses are not allowed. Avoid large jewellery, especially tangled earrings.
Where can I get a Malaysian passport photo near me?
The fastest way to get a compliant passport picture is to use specialized online tools. Visafoto instantly crops the photo to the required size, sets the correct face and eye position, and adjusts the background and quality.
Take an image with a smartphone or camera against any background, upload it here and instantly get a professional photo for your visa, passport or ID.
Source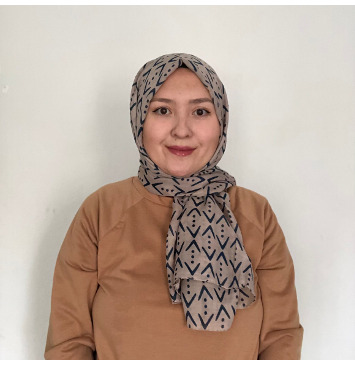 Result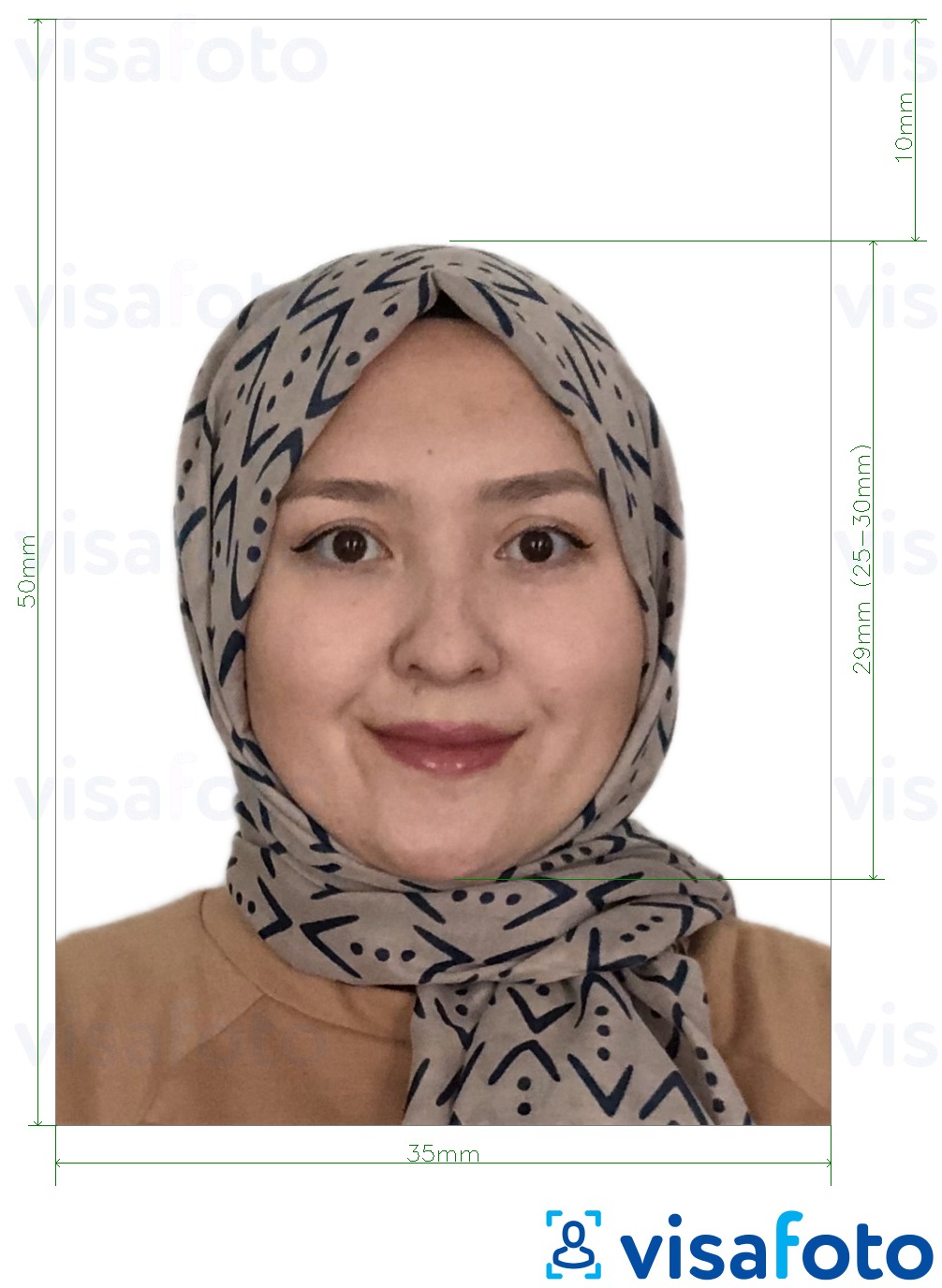 Malaysian passport photo guidelines:
Make sure your clothing corresponds dress code described above;
Take a photo of yourself against any background in good lighting. Your face should be evenly lit, with no strong shadows on it. Look directly in the camera with a neutral facial expression;
A professional camera is not necessary. Modern smartphones have enough resolution for a quality passport photo;
Take several shots and choose the best one;
Upload your picture to Visafoto and immediately get a passport photo online.
Take a photo of yours like this one: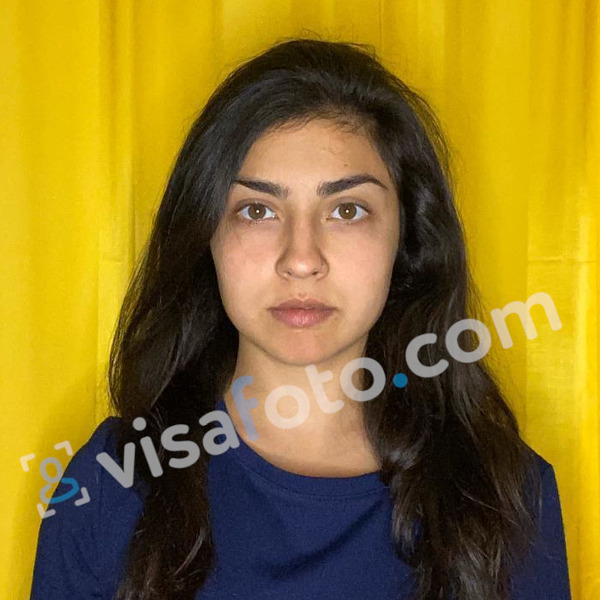 Visafoto provides customers with two files:
A digital photo for online submission;
A printable template you can use for any paper application in the future.
Malaysia passport photo price
In Kuala Lumpur, Melacca, Georgetown, and other major Malaysian cities, the passport photo costs about 40-60 MYR if you take it in a photo centre or a post office. Digital Malaysian passport photo price at Visafoto is $7 US dollars only.
What if my Malaysian passport photo doesn't qualify?
In that case, during your passport application, you will see the following error: 'PHOTO DOES NOT MEET SPECIFICATIONS.'
Sometimes that happens even with professional pictures, as MyIMMs website is quite tricky.
If you purchased your ID photo at Visafoto.com and still the error occurs, just contact our 24/7 support immediately. We will help you fix the picture for free.
Malaysian passport photo: how to print it
For an online passport application, you will need a digital photo only. However, you can print it out and use it in the future, as Malaysian passport photo specifications match with most of the Malaysian ID photo parameters in general.
Visafoto provides customers with a printable template containing 4 separate pictures in it. Just use a color printer and make as many copies as you need.
If you don't have a printer, just check any available printing service (use 7-Eleven stores for the best price).
Check this detailed guideline on printing digital passport photos.
Last update: September 2022
Links