Malaysia driving license photo
Going to live in Malaysia for a long period of time? If you want to drive a personal vehicle there, you will most likely need to take care of obtaining a Malaysian driver's license. International driving licenses in Malaysia can only be used for the first 90 days of your stay, so a local license is required for anyone who plans to live and drive in the country for a longer period of time.
Table of contents
And, as you will be displaying this document frequently, we recommend that you pay particular attention to your Malaysian driving license photo. It will accompany all the validity of your license, so make sure it's of good quality!
How to apply for a driving license in Malaysia?
Step 1: Register at a certified Malaysian driving school
Step 2: Attend a five-hour theory course and pass a theory test in English or in Malay. This test consists of 50 questions, and you must score 84% or higher.
Step 3: Attend the basic car maintenance course. After completing this course you can get a Learning driving license (LDL) allowing you to take driving lessons. The LDL is valid for 3-6 months.
Step 4: Take at least ten hours of driving lessons. When you're ready, you have to take the road test.
Step 5: Once you have passed all the tests, you will get a Provisional Driving License (PDL) valid for the next two years. If you break any rules during this period you will receive penalty points. If these exceed 15 points, your license will be revoked and you will have to pass the test once again.
Step 6: After two years, exchange your PDL for a Competent Driving License (CDL)
Documents required for Malaysian driving licence application
Since the process of obtaining a Malaysian driver's license is done in several steps, you will need separate packets of documents for each case.
Documents required for Learners Driving License application:
Original identity card or passport
1 Malaysia driving license picture (white background)
A fee of RM20.00 for 3 months and RM40.00 for 6 months
Documents required for Provisional Driving License application:
Original MyKad or passport;
A fee of RM40.00 for Class B & C (RM2.00 for Class A/A1 or B2 (sole);
A fee of RM60.00 for Class D & above;
Documents required for Competent Driving License application:
Original MyKad or passport of applicants or copies if the transaction is done by representatives
A yearly fee of RM20.00 for Class B, B2 & C. (RM2.00 for Class A/A1) or a yearly fee of RM30.00 for Class D & above.
1 new Malaysian driving license pic.
Can I exchange the International driving license for a Malaysian one?
Licenses from 32 countries are allowed to be converted to a Malaysian driving license. The full list is as follows:
Australia, Belgium, Brunei, China, Denmark, Egypt, Fiji, Finland, France, Germany, Holland, Hong Kong, Iran, Iraq, Italy, Japan, Laos, Libya, Mauritius, New Zealand, Nigeria, Papua New Guinea, Philippines, Poland, Russia, Singapore, South Korea, Spain, Switzerland, Taiwan, Thailand, Turkey.
Until the end of 2020, this option was available only for MM2H visa holders. Now the rules are slightly more relaxed. You can also convert your International driving licence to a Malaysian driving license if you are a holder of one of the following documents:
Residence pass;
Talent pass;
Employment pass I and II
MM2H visa (as mentioned above).
To get a Malaysian driving license, you should submit the required documents to the main JPJ office in your city. At the appointed time you will receive your Malaysian driving license valid for 1 year. It will be easy to renew at the nearest JPJ office for a small fee.
Documents required to exchange your driving license to Malaysian driving license:
Driving license application form (JPJL1)
Valid foreign driving license (original & copy)
Passport (original & copy of the biometric page)
Visa/Pass (original & copy)
Malaysia driving license photo
The list may slightly differ depending on your visa or residence type.
How to renew a Malaysian driving license online?
If your Malaysian driving license is expired, you can easily apply for a new one online at MyEG: E-Government Solutions and Services Provider in Malaysia.
Documents required for online Malaysian driving license application:
ID card number
Citizenship or residence category
A phone number
A phone number and email address.
You can renew a license for a period of up to five years, with each year costing RM30.
Malaysia driving license photo requirements
The following rules apply to driver's license photos in Malaysia:
The photo must be recent, taken no more than six months before you apply. If you are renewing your license, the photo must be new as well;
The required Malaysia driving license photo size is 32x25 mm;
The background must be plain white;
The Malaysia driving license photo format requires a head height of about 23mm. Distance from the top of the photo to the top of the hair must be 2mm;
The facial expression must be neutral;
The resolution of a digital Malaysia driving license pic must be 600 dpi;
The hijab or other religious headwear is allowed, but the facial oval must be clearly seen;
Tinted glasses are not permitted. Prescription glasses are allowed if they don't hide the eyes;
The image must be of good quality, without darkening, underexposure, or visible pixels.
Here is an example: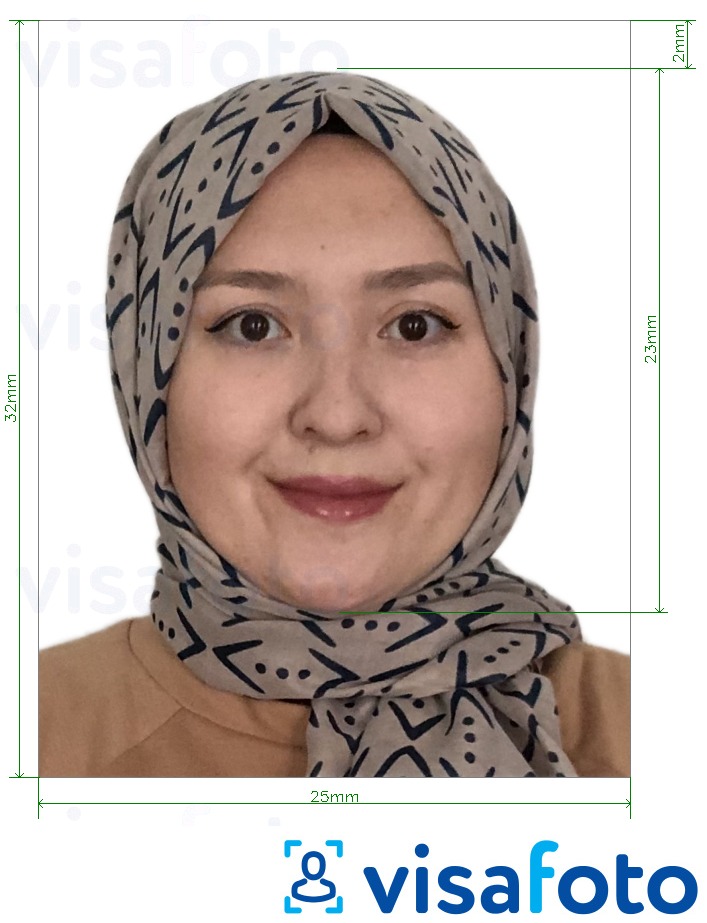 Get the Malaysia driving license photo online!
How do you quickly get your driver's license photo taken from the comfort of your own home? Delegate this task to the professional ID photo editor!
Visafoto will instantly edit your picture so that it matches all the Malaysia driving license photo rules. Just upload your image here and instantly get a ready-to-print photo of professional quality.
Take an image with a smartphone or camera against any background, upload it here and instantly get a professional photo for your visa, passport or ID.
Source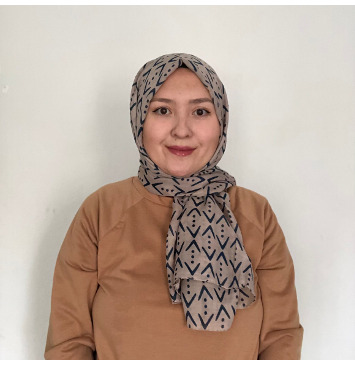 Result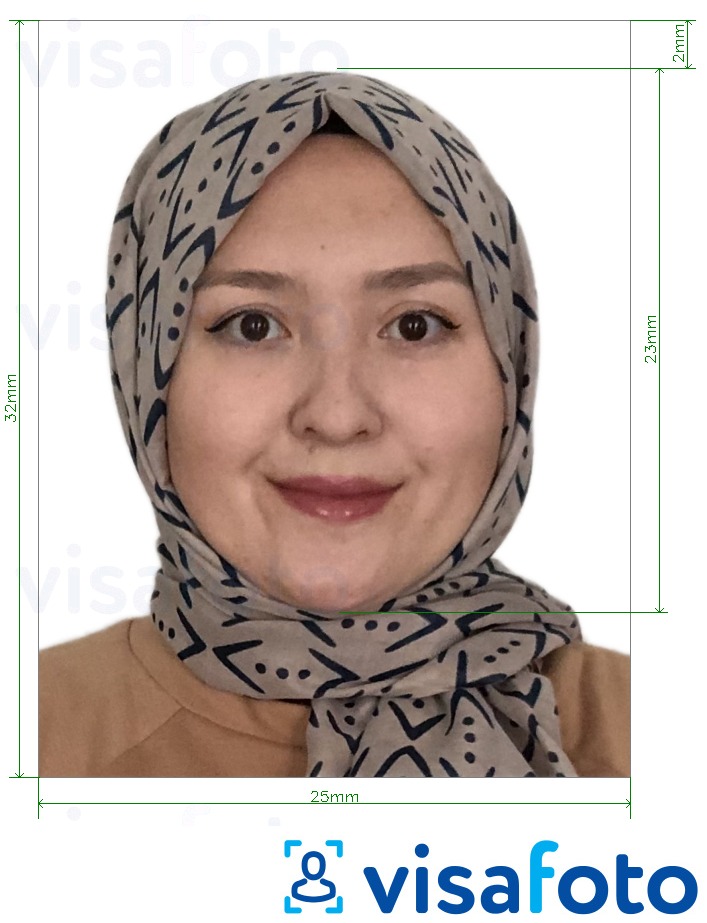 Take a photo for your Malaysia driving license against any background like this one: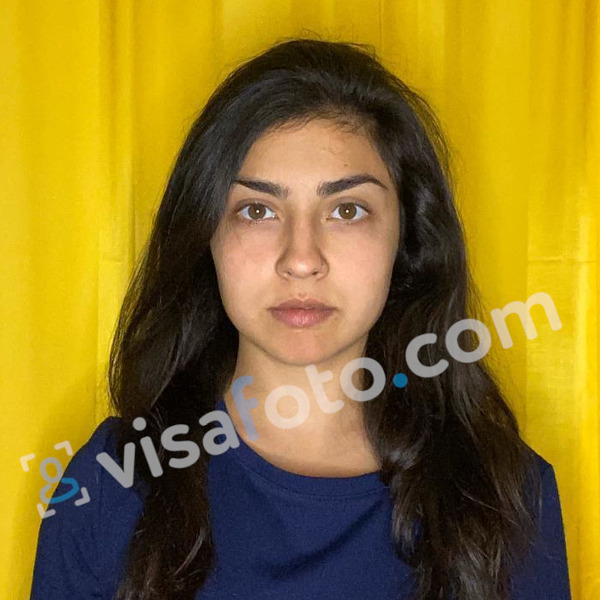 You will instantly get with 2 files:
A digital Malaysia driver's license photo for online application;
A printable template with four separate Malaysia driving license photos sized 32x25 mm.
Malaysia driving license photo guidelines
Here are some tips for your original photo:
Take a picture in uniform lighting, preferably in the daytime;
Stand approximately 1.5-2 meters away from the camera. The lens must be placed at your face level;
Look directly into the camera, keeping your expression neutral;
Think happy thoughts!
And Visafoto will adjust the size, format, and background.
When do I have to provide the new Malaysia driving license photo?
A recent driving license photograph is required for each application. Since there is not much time between applying for a Learners Driving License and a Provisional Driving License, you can use the same photo. The Competent Driving License photo, on the other hand, must be a new one. Use the above guidelines to get:
Photo for Learners Driving License;
Photo for Provisional Driving License;
Photo Competent Driving License;
Malaysian driving license renewal photo.