Singapore Citizenship Application
Singapore passport holds the position as one of the strongest in the world. This means having Singaporean citizenship is second to none. Are you eligible to become a Singaporean citizen? How can you apply for Singaporean citizenship online? Let's check.
Table of contents
Singapore citizenship eligibility
If you are not yet a Singaporean citizen, here are ways you can be eligible for Singaporean citizenship:
You have been a Singapore Permanent Resident (PR) for at least two years and are aged 21 and above. Your spouse and any unmarried children aged below 21 may also apply along;
You have been a PR for at least two years and have been married to a Singaporean citizen for at least two years;
You are an unmarried child aged below 21 born within the context of legal marriage to, or have been legally adopted by a Singaporean citizen;
You are a PR studying in Singapore, have been residing in Singapore for more than 3 years (at least one year of which as a PR), and have passed at least one national exam (i.e. PSLE, GCE 'N'/'O'/'A' levels), or are in the Integrated Programme (IP);
You are a PR and an Aged Parent of a Singapore Citizen.
Singapore citizenship online application process
If you are eligible, you may apply for Singaporean citizenship online. This is the general process:
Log in to ICA e-Service
Start your application on the official Immigration & Checkpoints Authority site. Log in or start your application right away under the "Applying to Stay" or the "eServices and Forms" tab.
Fill out all the forms for the sponsor and main applicant
Forms for both the sponsor and the main applicant need to be filled completely and honesty. Answer questions based on your statuses. Forms consist of questions about biodata, family, marriage, education, and others.
Review your forms
You will be given the chance to review all your answers. Do take time to review all your information and adjust as needed.
Upload your documents
After you have reviewed your forms, you will be asked to upload documents. The list of required documents is in the next section.
Make sure all your documents are not password-protected so that your application documents can be reviewed. Documents must be in PDF and sized no more than 2 MB.
Photos need to be in JPG or JPEG format, among other requirements. You can find the complete requirements list for the application photo further down in this article.
If your document is not in English, you must also upload a legally recognized English translation.
Declaration
Review all your answers and documents again. Then, read the declaration carefully. Check the "I have read and agreed to the declaration" box, then click Next to continue to payment.
Application fee payment
You will be shown the fee you will need to pay on the screen. You may pay using the following methods:
Visa or MasterCard credit/debit card;
American Express (AMEX) credit card;
Internet Direct Debit (DBS/POSB, OCBC, UOB, Standard Chartered Bank, and Citibank Internet Banking accounts in Singapore).
The fees are as follows:
For each application made for adult Permanent Residents (PRs) and children of PRs: S$100;
For each application made for overseas-born children to Singapore citizen parents: S$18;
For each application made for other overseas or locally born children: S$100.
Upon acceptance, you will need to pay these fees as applied:
S$70 for your Singapore Citizenship Certificate;
S$10 for a Singapore Identity Card (applicable to new citizens aged 15 and above)
Track your progress
After payment, you will arrive at the acknowledgment page, which contains your reference number. You can use this number to track your application progress at the ICA website.
Upload additional documents
If needed, you may be asked to upload additional documents. This is also done on the ICA website.
Documents required for Singaporean citizenship online application
Documents are needed not just for the person applying for citizenship but also for the sponsor (including spouse and other family members).
For adult applicants, the general documentation list is as follows:
Digital photo meeting ICA requirements (check below);
Personal documents;
Family documents;
Education documents;
Employment documents;
Other documents.
Here is the complete official list for adult applicants, while the list for aged parent applications is here.
Paperwork required for minor applicants:
Child's photograph;
Child's personal documents;
Parents' documents:
Personal and family documents;
Employment documents.
Here is complete list of documentation required for minor applicants.
Singapore citizenship online application photo requirements
The photo used to apply for a Singaporean citizenship application must satisfy the following criteria:
The picture size in printed form must be 35mm wide and 45mm high;
The photo must not be bordered;
The photo may not be older than 3 months;
The photo must be in colour;
The format must be JPG or JPEG
The photo must show your full face;
The height of your face in the photo must be between 25 mm and 35 mm from chin to crown;
The photo background must be plain white with a matt or semi-matt finish;
The photo lighting and contrast must be even;
Headgear is not allowed except for religious or racial reasons. However, the headgear must not hide your facial features. It should also contrast the white background;
Your facial expression in the photo must be neutral with your mouth closed and eyes looking straight into the camera;
Your head must be centred in the picture, and your whole head and hair, as well as shoulder, must be visible;
Coloured contact lenses are not allowed, and make sure your photo does not have red eye;
Eyeglasses are allowed, but they may not obscure the face by frame, reflective glare, nor coloured lenses.
Here is an example: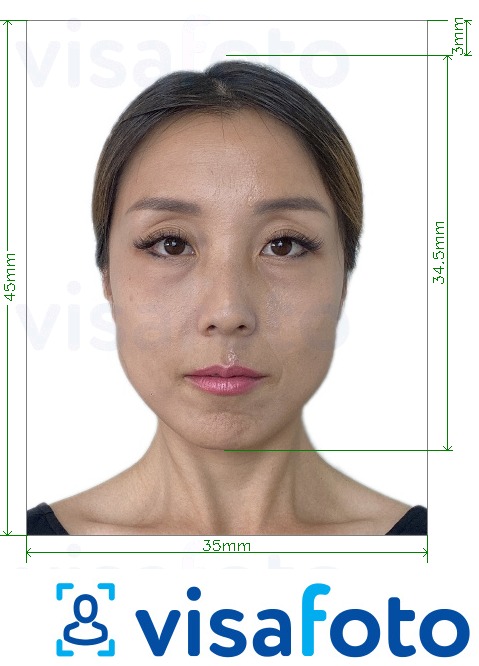 Get a Singapore citizenship photo online
Citizenship applications require a lot of forms and submitted documents, and the ICA photo parameters are pretty specific. You can save time and effort by getting your photo processed professionally.
Trust Visafoto, an online professional photo service that has been helping people get photos for various documents worldwide since 2013. No need to worry about size, background, and proportions. Simply take a picture of yourself following the required posing and dress code and upload it to our tool below.
Take an image with a smartphone or camera against any background, upload it here and instantly get a professional photo for your visa, passport or ID.
Source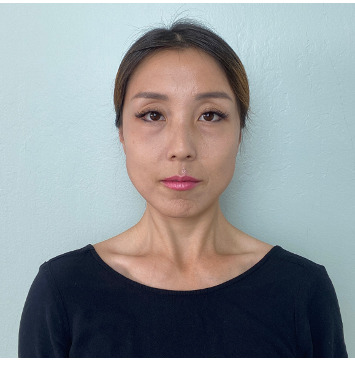 Result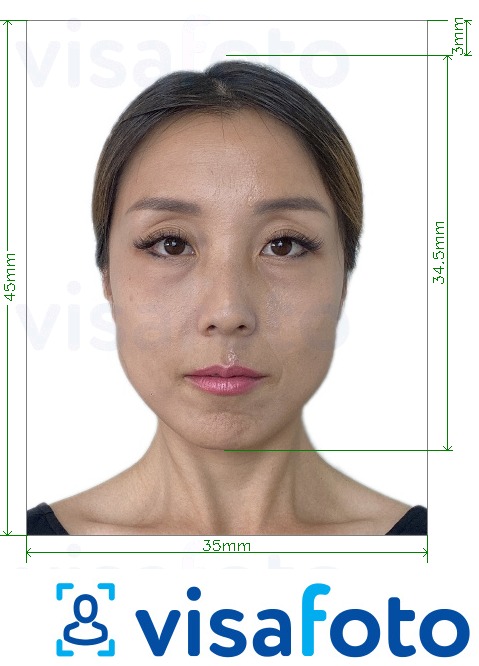 Take an image with a smartphone or camera against any background, upload it here, and instantly get a professional photo for your visa, passport, or ID.
First, take a photo of yours under daylight like this one: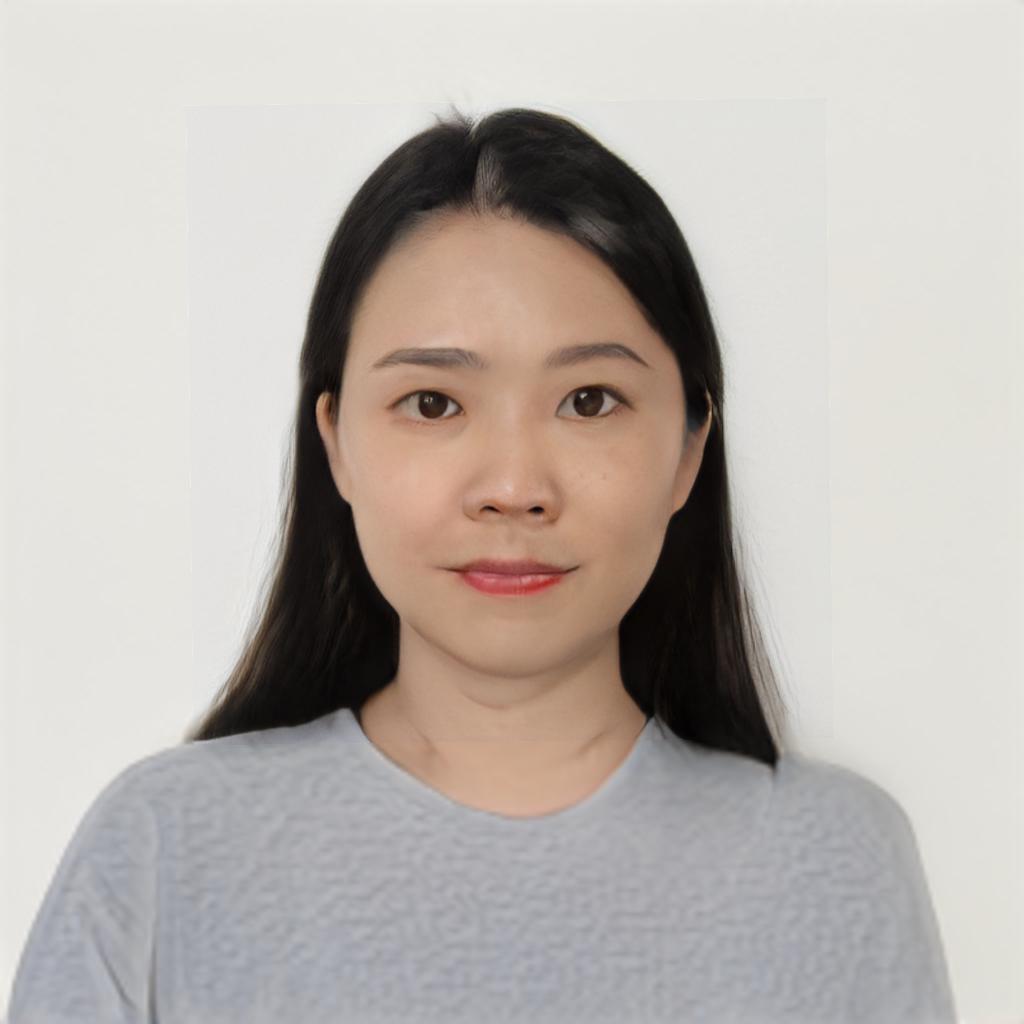 You will have two types of photos: a digital one for electronic applications and another one suitable for printing.
Here they are:
Your photo is guaranteed to be accepted. Should you have questions, contact us!