Azerbaijan eVisa Guideline
Located strategically between Asia and Europe, Azerbaijan is rich in culture and history. Its affordability is even more reason for tourists worldwide to visit Azerbaijan. Azerbaijan's electronic visa system has made it easier for travelers to obtain their travel permits online, allowing them to enter the country without needing a physical visa. In this article, we will guide you through the process of obtaining an eVisa for Azerbaijan, including eligibility requirements, application procedure, and useful tips for a hassle-free experience.
Table of contents
Azerbaijan visa policy
Citizens of most countries need a visa to enter and visit Azerbaijan lawfully. However, Azerbaijan also has policies for different kinds of visas, such as visa on arrival and electronic visa. Azerbaijan e-visa ("ASAN visa") is a digital authorization that allows visitors to enter Azerbaijan for various purposes, such as tourism, business, education, and medical treatment.
If your country of citizenship is not on the list of countries whose nationals can obtain an e-visa, you can also apply for a traditional "paper" visa for short-term travel. Reasons for using this type of visa can be tourism, visiting family or friends, business travel, short-term education, exchange programs, short-term employment, and many other non-permanent reasons.
Countries eligible for Azerbaijan eVisa
A large number of countries are eligible for the ASAN electronic visa:
Albania
Algeria
Andorra
Argentina
Australia
Austria
Bahamas
Bahrain
Barbados
Belgium
Bolivia
Bosnia and Herzegovina
Brazil
Brunei Darussalam
Bulgaria
Canada
Chile
China
Colombia
Costa Rica
Croatia
Cuba
Cyprus
Czech Republic
Denmark
Djibouti
Ecuador
Estonia
Finland
France
Germany
Greece
Guatemala
Holy See (Vatican)
Honduras
Hungary
Iceland
India
Indonesia
Iran (Islamic Republic of)
Ireland
Israel
Italy
Jamaica
Japan
Jordan
Kuwait
Latvia
Liechtenstein
Lithuania
Luxembourg
Macedonia
Malaysia
Maldives
Malta
Mauritius
Mexico
Monaco
Mongolia
Montenegro
Morocco
Nepal
Netherlands
New Zealand
Norway
Oman
Pakistan
Panama
Paraguay
Peru
Poland
Portugal
Qatar
Republic of Korea
Romania
San Marino
Saudi Arabia
Serbia
Seychelles
Singapore
Slovakia
Slovenia
South Africa
Spain
Sri Lanka
Sweden
Switzerland
Thailand
Trinidad and Tobago
Turkmenistan
United Arab Emirates
United Kingdom of Great Britain and Northern Ireland
United States of America
Vietnam
How to apply for Azerbaijan eVisa
To obtain the Azeri electronic visa, follow these steps:
Visit the ASAN visa site and make an application;
Fill out the form and upload the required documents;
Pay the visa fee;
Download the e-visa after it's ready.
Documents required for Azerbaijan eVisa application
Here are the required documents to apply for an ASAN e-visa:
Scan of your valid passport;
Visa application photo fulfilling requirements;
Proof of accommodation (hotel reservation);
Ticket to Azerbaijan.
Azerbaijan visa photo requirements
The digital photo attached to your ASAN visa application must meet the following specifications:
The Azerbaijan visa photo size must be 3 cm in width and 4 cm in height;
The distance from the top border of the picture to the crown of your head must be 3 mm;
The background must be white;
The picture must show your face in full;
You must look straight into the camera with a neutral expression with your mouth closed. A slight smile without showing teeth or gums is allowed;
Eyeglasses are only allowed if worn daily and shouldn't obscure facial features. Contact lenses are permitted for medical reasons, but they must not obscure your natural eye color;
Your ears must be visible, and earrings must be removed;
Hair accessories are also not allowed, headwear is only allowed for religious purposes.
Here is an example of an Azerbaijan visa photo: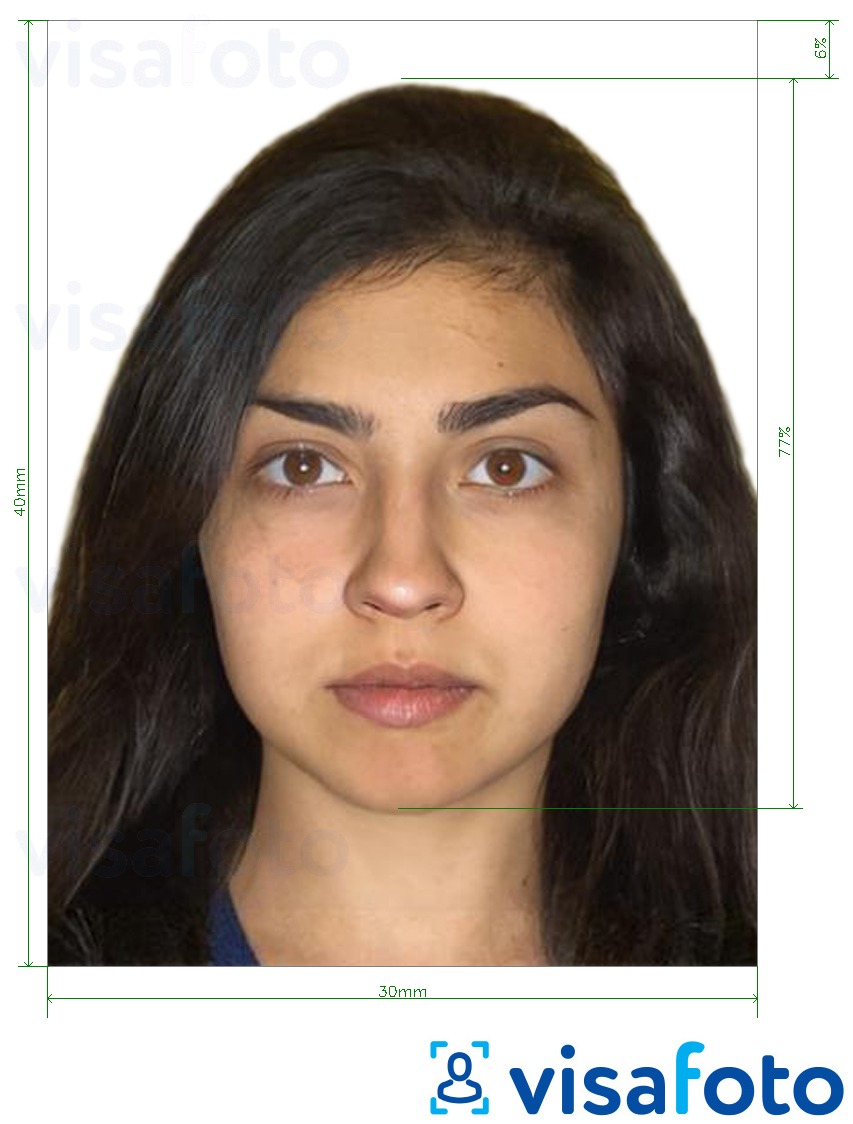 Get a digital Azerbaijan visa photo online
As written above, Azeri visa photos have specific parameters that regulate sizes down to the millimeter. To make sure your photo is accepted and not waste time and resources, we recommend trusting your photo with professionals.
Visafoto has been editing photos for visas, passports, and other documents since 2013. It adjusts all the details from size and background to subtle details like contrast, head tilt, and proportions in the picture.
Simply take a picture of yourself following the posing instructions provided above and upload it to our tool below.
Take an image with a smartphone or camera against any background, upload it here, and instantly get a professional photo for your visa, passport, or ID.
Take an image with a smartphone or camera against any background, upload it here and instantly get a professional photo for your visa, passport or ID.
Source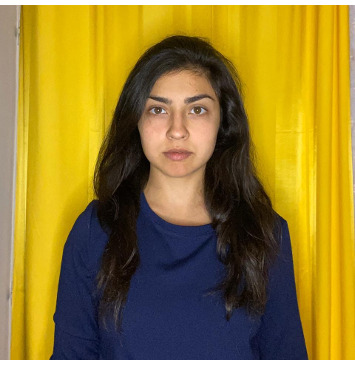 Result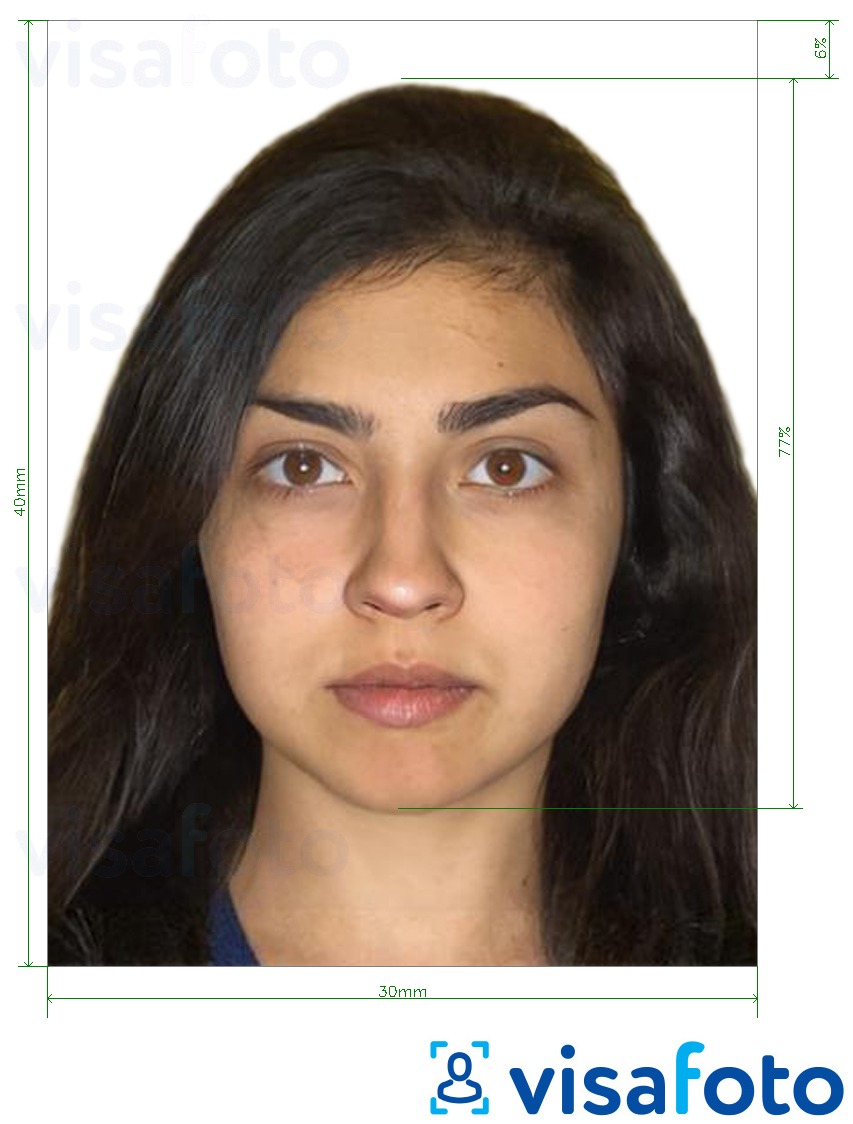 First, take a photo under light like this one: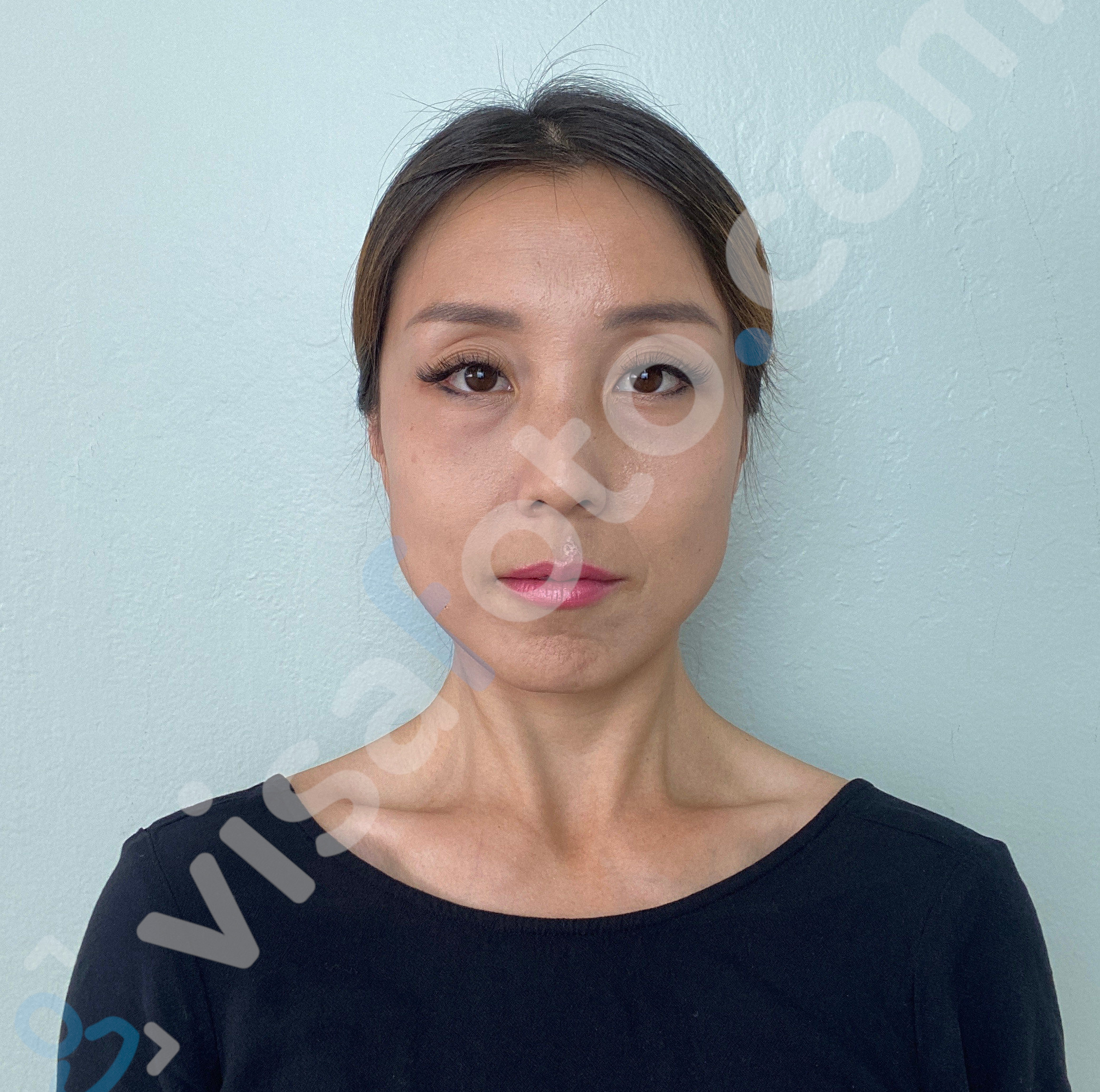 You will receive two versions of the photo: digital for electronic filing, and a printable template.
Azerbaijan eVisa cost
The visa price is 20 USD, with an additional service fee of 5 USD. The fees are payable with Visa, MasterCard, or UnionPay cards.
How much does it take to issue an Azerbaijan eVisa?
The processing time for Azerbaijan eVisa varies depending on the type of visa and the volume of applications being processed at the time of application. Generally, processing a standard visa application takes up to three business days. However, it's important to note that the processing time may be longer during peak travel seasons, so applying well before the intended travel date is better.
There is also an option for an urgent eVisa, processed within 3 hours of applying. However, this option incurs an additional fee.
It's recommended that applicants carefully review the processing times and plan their application accordingly to ensure that they have their eVisa before their intended travel date.
Azerbaijan eVisa validity
An e-visa for the Republic of Azerbaijan allows travelers to stay in the country for up to 30 days and is valid for 90 days from the date of issuance. It's important to note that the e-visa has a single-entry status, meaning it can only be used for one trip.
However, there are some exceptions to this rule. For example, a special 90-day eVisa is available for citizens of some countries visiting Azerbaijan for certain purposes, such as education or work. This visa allows the holder to stay in Azerbaijan for up to 90 days.
Azerbaijan eVisa extension
Extensions can be applied through the State Migration Service of the Republic of Azerbaijan at least three working days before your current stay period expires. Extensions are granted in emergencies.