Colombia E-Visa Guide
Colombia is characterized by relatively soft entry rules: tourists from more than 100 countries can travel to Colombia without a visa. In most other cases, you can obtain a Colombian visa online without visiting a consulate. This article serves as your comprehensive e-visa instructions, offering essential information to ensure a smooth application experience.
Table of contents
Colombia visa policy
Citizens of more than 100 countries worldwide can enter Colombia visa-free for 90 days, with some countries having the right for even more extended periods.
Citizens of countries that do not have visa-exempt status can apply for a Colombian visa electronically,
In addition to tourist visas for nationalities that are not eligible to enter Colombia visa-free, the e-visa portal processes applications for various types of long-term visas.
Who can apply for a Colombia visa online?
As stated above, citizens of countries that do not fall under the visa-exempt categories can apply for a Colombia tourist visa online. These countries are:
Afghanistan
Algeria
Angola
Armenia
Bahrain
Bangladesh
Belarus
Benin
Botswana
Burkina Faso
Burundi
Cameroon
Cambodia
Central African Republic
Cape Verde
Chad
Colombia
China
Comoro Islands
Congo (Rep.)
Congo (Dem. Rep.)
Cuba
Djibouti
Equatorial Guinea
Egypt
Eritrea
Ethiopia
Gabon
Gambia
Ghana
Guinea
Guinea-Bissau
Haiti
India
Ivory Coast
Iran
Iraq
Jordan
Kenya
Kiribati
Kuwait
Kyrgyzstan
Laos
Lebanon
Lesotho
Liberia
Libya
Macao
Madagascar
Malawi
Malaysia
Maldives
Mali
Mauritania
Mauritius
Mongolia
Morocco
Mozambique
Myanmar
Namibia
Nauru
Nepal
Nicaragua
Niger
Nigeria
North Korea
Oman
Pakistan
Palestinian Territory
Rwanda
Sao Tome and Principe
Saudi Arabia
Senegal
Seychelles
Sierra Leone
Somalia
South Africa
South Sudan
Sri Lanka
Sudan
Swaziland
Syria
Tajikistan
Tanzania
Thailand
Timor-Leste
Tonga
Togo
Tunisia
Turkmenistan
Tuvalu
Uganda
Ukraine
Uzbekistan
Vanuatu
Vietnam
Yemen
Zambia
Zimbabwe
Additionally, citizens of any country may electronically apply for the following Colombian visa categories:
Visitor visa. Suitable for tourists, digital nomads, volunteers, exchange programs, business trips, medical treatments, etc. This is a temporary visa that is granted for 90 to 180 days.
Migrant visa. Intended for those who want to obtain a temporary or permanent residence permit in Colombia. Suitable for refugees, spouses and partners of Colombian nationals, parents of Colombian nationals by birth, investors, entrepreneurs, and freelancers. A Colombian migrant visa is issued for up to three years and can be renewed.
Resident visa. Can be obtained after 2-5 years of residence in the country on a migrant visa. Issued for 5 years and is renewable.
Online Colombia e-visa application
To apply for a Colombian electronic visa, visit the official Colombian Cancilleria website, and follow the steps below:
Prepare the documents as required on the form;
Start filling out your data on the form. No registration is needed.
After writing down your passport information, choose the visa type you need.
Continue filling out the form. Depending on your visa category, you may need to provide such information, as your last address, expected address in Colombia, your academic level, the source of your income, links to your social media accounts, etc.
Upload the needed documents, such as a digital photo, passport scans, etc. (the list is below).

Pay for the application by credit/debit card or bank transaction. Find more information on payment methods suitable for your case here;
Upload the needed documents;
Submit your application.
Documents required for Colombia e-visa
If you are applying for a visitor visa, you will need to submit the following documentation:
Scan your passport data page. You must make a copy of the main page of your passport, pages with previous Colombian visas (if any), and pages with the last stamp of entry or departure from Colombia (if any);
Accommodation booking or invitation letter from the host;
Onward/return flight reservation;
Travel insurance;
Bank statement for the last 6 months;
Visa application photo fulfilling requirements;
If you visit a family member or friend in Colombia, you must submit proof of your family relationship or explain how you are connected to them.
If you visit Colombia to attend some event or participate in some activity, you must provide details about the event/activity.
If you are traveling for business, provide a letter of invitation from the host company.
If you are traveling for training courses, provide documentation of enrollment.
The list of documents may vary depending on the type of visa selected.
Note that the documents in electronic form must not weigh more than 5 MB.
Colombia visa photo requirements
The digital photo for a Colombian visa must fulfill the following parameters:
The required Colombian visa photo size is 3 cm in width and 4 cm in height;
The visa picture has to be recent;
The image must have adequate brightness and contrast and show natural skin tone;
It should show a close-up of the head and (partial) shoulders;
Your head must be looking straight forward, centered with neutral expression, in sharp focus, and clear with no ink marks/creases/lines;
The face should occupy about 80% of the photo;
The eyes must be open, and no hair should obscure the face;
Accessories are not allowed;
Head coverings, hair, or head-dress should not obscure the face;
The photo must have plain white background with no other people or objects in the photo;
The lighting must be uniform, with no shadows on the face or behind;
Photos should not have red eyes.
Here is a Colombian visa photo example: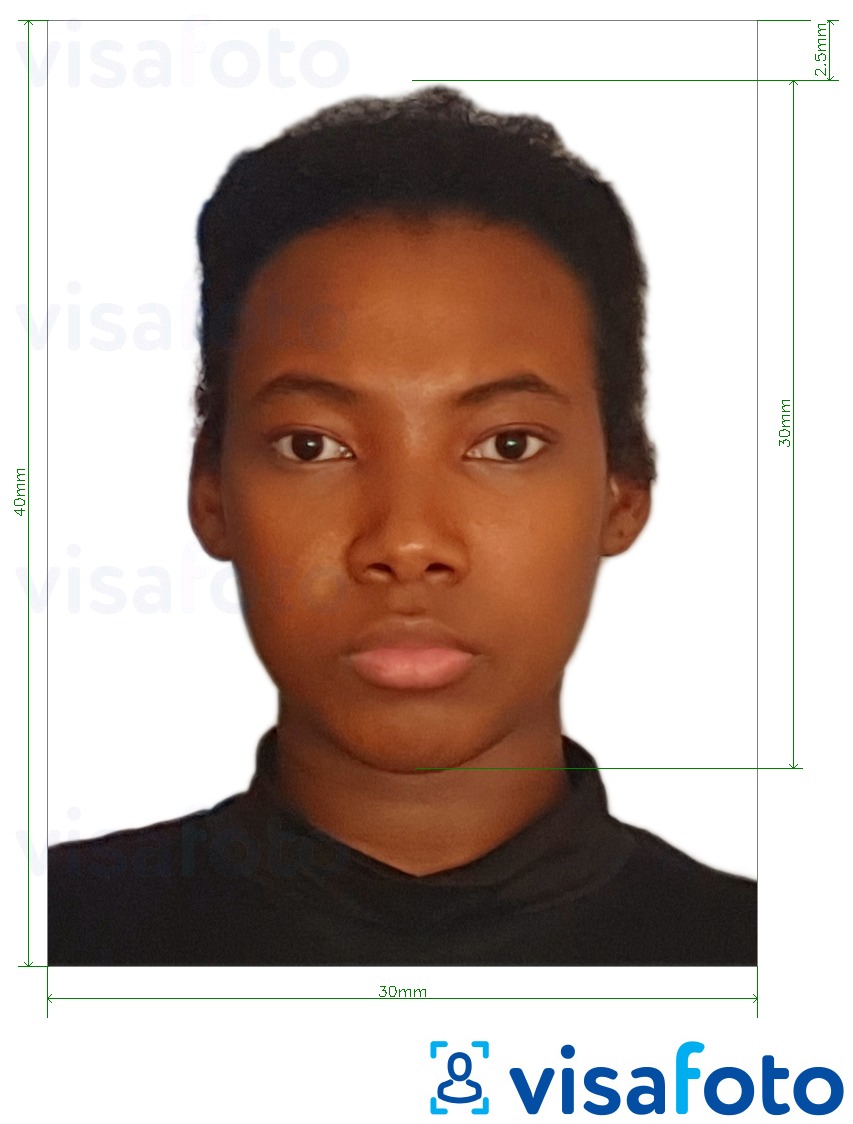 Get a Colombia visa photo online!
To make sure that your photo fulfills the requirements we mentioned above, you may trust this task to a professional online visa photo editor. Visafoto has been converting photos for visas, passports, and other documents since 2013, and it can also take care of your Colombian e-visa application photo!
Simply follow the posing and dress code instructions explained in the requirements listed above, take a portrait picture with decent lighting and any background, and then upload it to our tool below.
Take an image with a smartphone or camera against any background, upload it here and instantly get a professional photo for your visa, passport, or ID.
Visafoto will then adjust the parameters according to the Colombian electronic visa requirements, such as size, background color, proportions, even down to the subtler things such as head tilt and improve the overall quality of the image.
Take an image with a smartphone or camera against any background, upload it here and instantly get a professional photo for your visa, passport or ID.
Source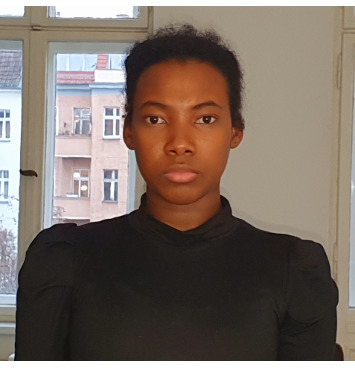 Result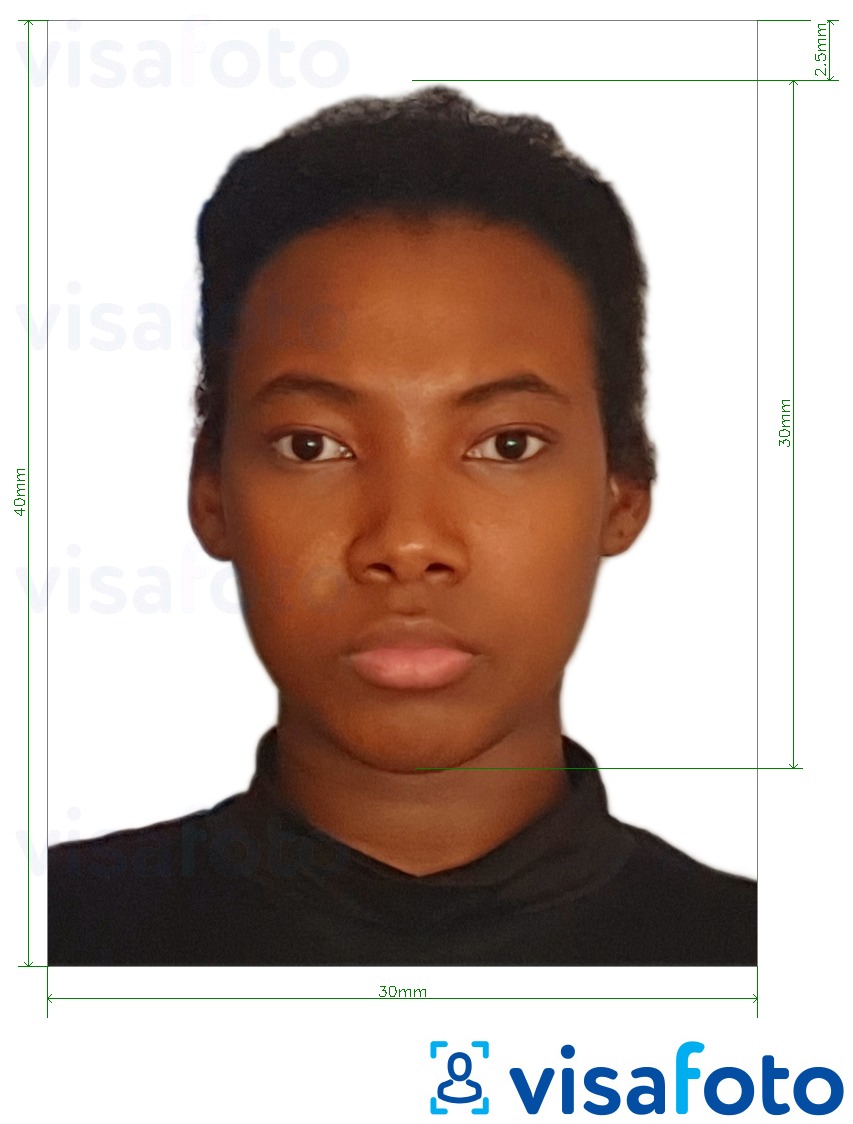 Follow the dress code and posing rules in your photo. Make sure you take your photo in decent lighting.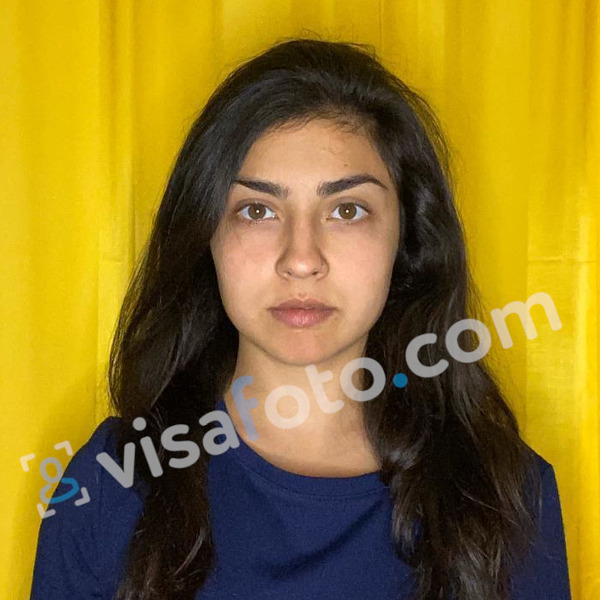 You will get a digital photo like this one:
How much does it cost to get a e-visa to Colombia?
The Colombian visa fees differ depending on the applicant's nationality, so pay attention to your application to get the correct payment amount. A tourist visa price is $45-$55 for most travelers.
How long does it take to get a Colombia e-visa
If the application is made correctly, the Colombian visitor e-visa processing usually takes five working days. For migrant/resident visas, the waiting time may take longer.
Last update: August 2023