Greece visa photo
To travel to Greece, citizens of a number of countries require a visa.
Since Greece is one of the Schengen countries, Greek visa will give you access to other European countries as well, especially if it is a multi visa.
Table of contents
Two photographs must be submitted along with the visa documents. For your visa application to be accepted, the photographs must meet Greek visa photo requirements.
Documents required for Greece visa application
Among required documents for obtaining a tourist visa to Greece are:
Application form filled in English letters. Samples can be found here;
Passport with at least two blank pages. The validity period must exceed 3 months from the date of leaving the Schengen area;
Two photos corresponding to Greece visa photo requirements;
Medical insurance with a minimum coverage of 30,000 EUR. It can be obtained online, and the type should be chosen based on the perceived risks;
Photocopy of an internal passport or ID;
Certificate from work with the prescribed position and salary;
Bank statement made no earlier than 6 months ago;
Hotel reservation confirmation;
Copy of air tickets in both directions or confirmation of flight booking.
For another type of visa, the package of documents is different.
Greece visa photo requirements
There are certain photo requirements for a Greek visa:
The photo size for a Greek visa application should be 3.5x4.5 cm (35x45 mm);
The size of the face from the top of the head to the chin should be about 3.5 cm (from 3.2 cm to to 3.6 cm);
The photo must be colored;
The photo must be without edging, corners, or ovals;
The photo must be a full-face portrait;
The photo must have been taken no earlier than six months before the date of paperwork;
The face in the photo must be centered;
The photo should have a light grey background;
The face should be visible.
Religious hats are allowed.
Here is an example of a Greek visa photo: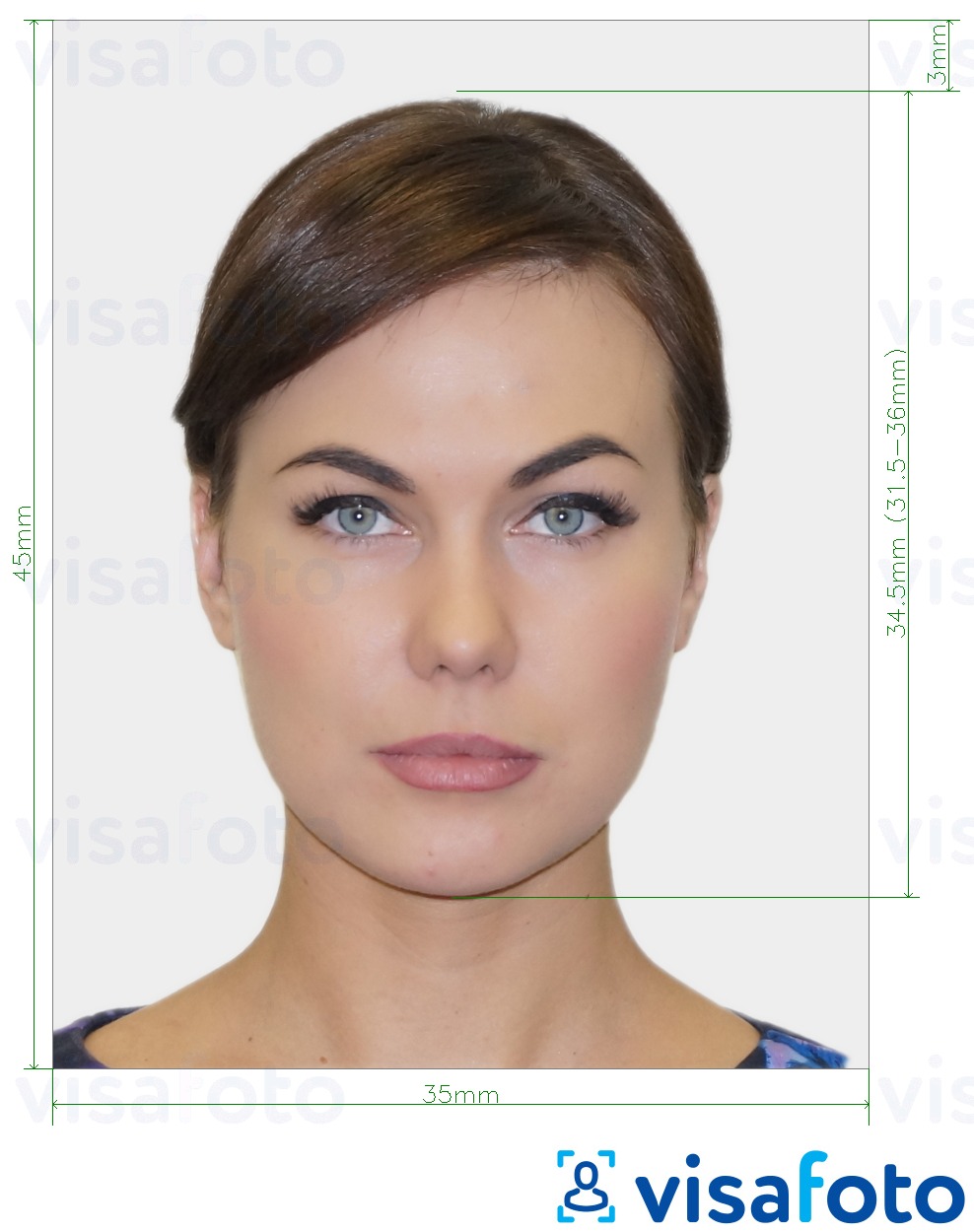 Can I wear glasses in the Greece visa photo?
There should be no sunglasses on your face. The only exception is for items prescribed by a doctor, such as everyday glasses.
Greece visa photo tool
What is the best way to take a Greek visa pic? With Visafoto you can get a Greek visa photo from any place in the world in seconds right now:
Take an image with a smartphone or camera against any background, upload it here and instantly get a professional photo for your visa, passport or ID.
Source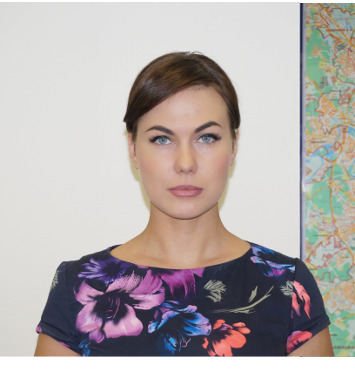 Result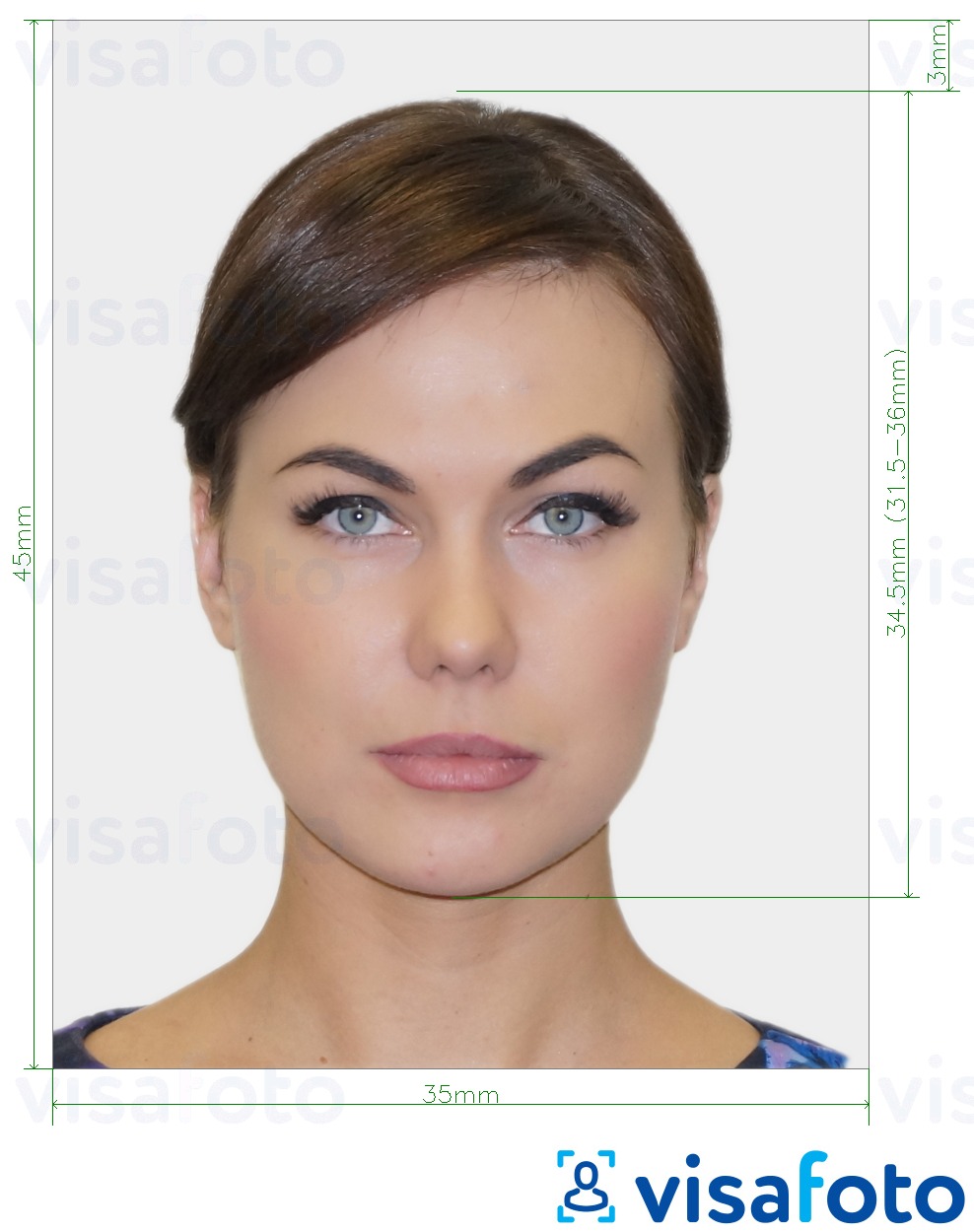 Use our online Greece visa photo editor to view the quickest results. Just upload a full-face photo taken under regular light. Visafoto will instantly resize and format it as needed, replace the background with light grey, and improve overall image quality. The resulting image will meet 100% Greek visa application photo requirements.
First, take a photo of ours under daylight like this one: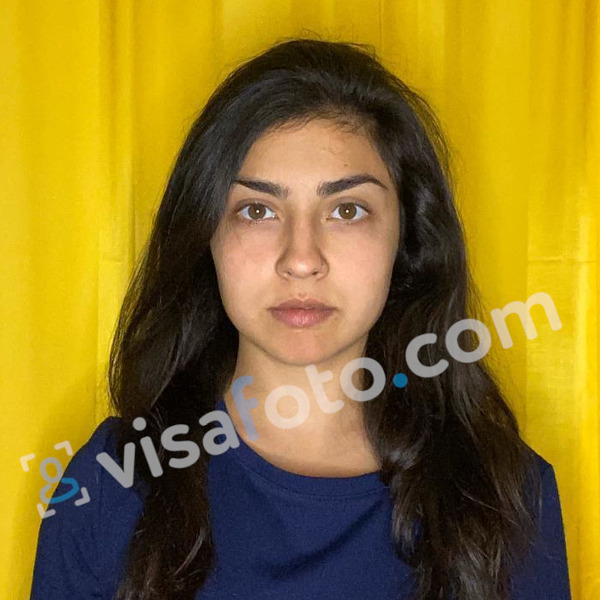 You will have two types of photos: a digital one is for electronic applications and another one suitable for printing.
Here they are:
Greece visa photo: matte or glossy?
The photo must be printed on quality matte paper.
Will I get help with my Greeece visa photo?
Yes!. That is very simple. Just write an email to our support team and your photo will be fixed.
What types of Greece visas require photos?
The information above suits the photos to the next types of visa:
Greece tourist visa photo;
Greece transit visa photo;
Greece national visa photo;
Greece student visa photo;
Greece long-stay visa photo;
Greece combined visa photo.