ICAO Photo Online
The International Civil Aviation Organization (ICAO) has established photo guidelines for issuing passports and other travel documents. These regulations aim to ensure the uniformity and accuracy of photographs used in travel documents across the globe.
Table of contents
This article will discuss the ICAO standard photo requirements and why they are essential for travelers and passport-issuing authorities.
What is the ICAO standard for ID photos?
The International Civil Aviation Organization (ICAO) standard for ID photos is a set of guidelines for the biometric facial recognition of passport and other travel document photos. These specifications aim to ensure that the pictures are high quality and suitable for use in automated facial recognition systems.
The ICAO standard specifies the size, composition, and technical requirements for photos, including the position of the head, the facial expression, the background color, and the lighting conditions. The purpose of the ICAO standard is to improve the accuracy and efficiency of border control and security processes while also ensuring that travel documents are secure and tamper-proof.
In which documents do ICAO regulations apply?
The ICAO parameters apply to various travel documents that require a photograph of the holder, including passports, visas, identity cards, and other forms of government-issued identification.
Here are just some of the countries that use ICAO regulations for all types of travel documents, plus driver's licenses, ID cards, health insurance, and so on:
All the Europe Union countries, with some exceptions;
Australia;
The UK;
New Zealand;
Israel;
Russia;
Jamaica;
Jordan;
Kazakhstan;
Algeria;
Kenya;
Pakistan;
South Africa;
South Korea.
ICAO photo rules are recognized and followed by most countries worldwide. They are intended to ensure that travel documents are high quality and can be used effectively for identification and verification purposes.
ICAO parameters also apply to photos used for biometric identity verification, which is becoming increasingly common in border control and security processes.
ICAO passport photo size and dimensions
The ICAO criteria specify that passport photos must measure 35 mm in width and 45 mm in height, in which the height of the face must be between 32 mm and 36 mm, or equal to between 70% and 80% of the photograph. The image's recommended resolution is 300 pixels per inch (dpi).
ICAO photo size in pixels
The 35x45 photo size does not have a fixed number of pixels as it depends on the resolution at which the image is scanned or taken.
For example, if the picture has the recommended resolution of 300 pixels per inch, its pixel dimensions would be 1050 x 1350.
However, if the photo is scanned or taken at a resolution of 72 ppi, the pixel dimensions would be 252 x 324 pixels.
ICAO photo background
The ICAO standard for passport photos requires that the background be plain, uniform, and light-colored. The background should be free of any patterns or shadows that could interfere with facial recognition technology or cause the photo to be rejected. The recommended colors for the background are white, off-white, or a very light gray tone.
The background should also be free of any objects or other people, and the person should not wear any clothing that blends into the background.
ICAO photo dimensions
The ICAO photo dimension is 35 x 45 mm, in which the height of the face must be between 32 mm and 36 mm, or equal to between 70% and 80% of the photograph.
Here's an example of the photo: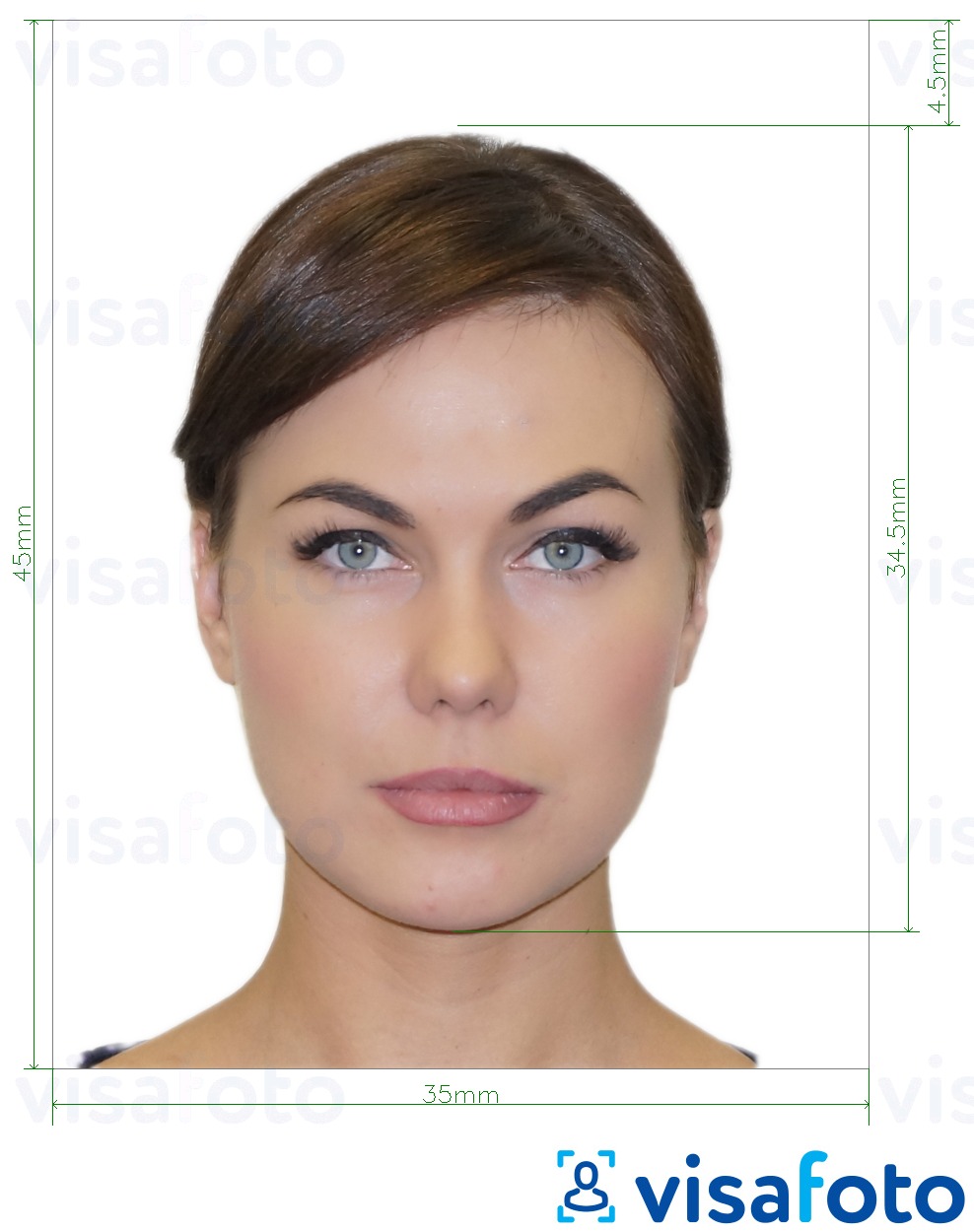 Other essential ICAO photo requirements
In addition to specifying the size, dimensions, and background requirements for passport and other travel document photos, the ICAO standard includes several other requirements. These include:
The person must have a neutral expression with both eyes open and mouth closed. Smiling or frowning is not allowed, as it can alter facial features;
The head and shoulders of the subject must be centered in the photo, with the face fully visible and not tilted. The person must be looking directly at the camera with a relaxed and natural head position;
The photo must be taken in good lighting conditions, with no harsh shadows or reflections on the face;
The photo must be in color, with accurate color representation and good contrast between the subject's face and the background;
The photo must be free of any red-eye effect or other image defects that could affect facial recognition accuracy.
Online ICAO photo tool
Visafoto is an online photo editing service specializing in passport and visa photos, including those that follow the ICAO standard. With Visafoto, you can easily and quickly crop your passport or visa photo to meet the specific requirements for size, dimensions, background, and other technical features.
Using Visafoto, you can simply upload your photo taken at home and adjust it to meet the ICAO standard in a few seconds.
If you need your photo printed, Visafoto also provides its clients with a ready-to-print template with correctly-sized pictures, so you can simply print and cut to submit your photos. One 10x15 centimeter print (the standard postcard size) will hold four 35x45 pics. This saves both time and money, as you can use one digital photograph many times for different documents.
Take an image with a smartphone or camera against any background, upload it here and instantly get a professional photo for your visa, passport or ID.
Source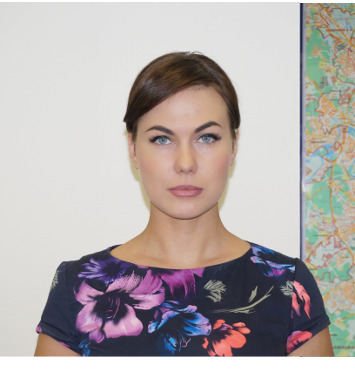 Result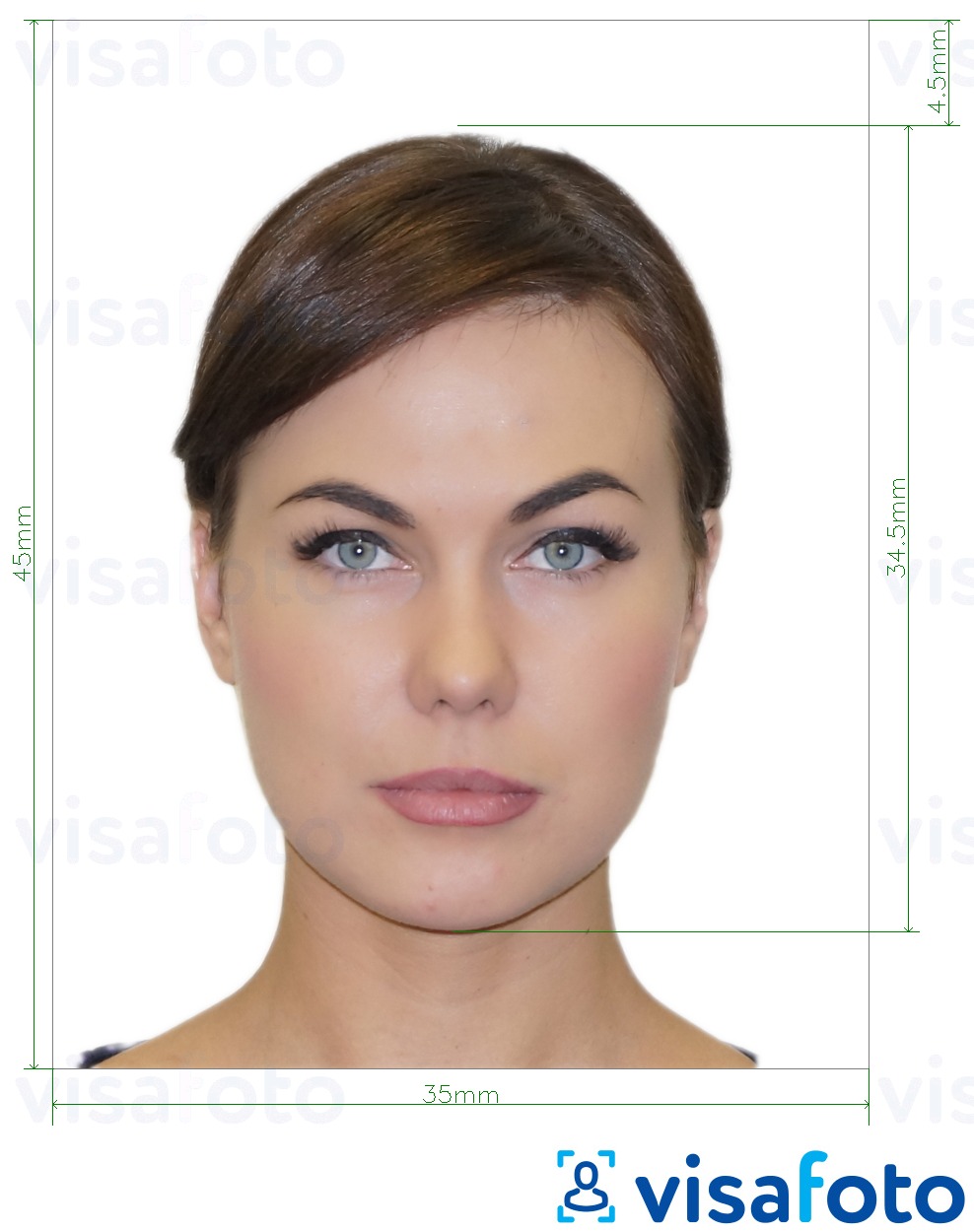 First, take a photo of yours under daylight like this one: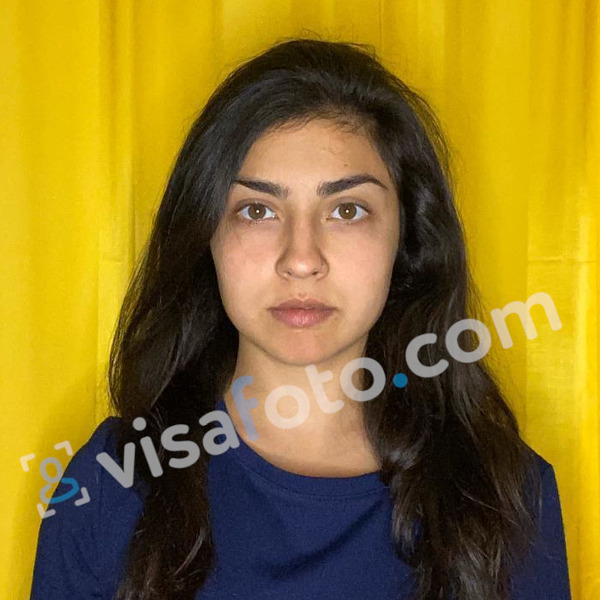 You will have two types of photos: a digital one for electronic applications and another one suitable for printing.
ICAO photo guidelines: Take one by yourself
Here are some tips for taking a DIY passport photo that meets the ICAO standard:
Choose a well-lit location with a plain, light-colored background. You can use a white wall or a sheet hung up behind you as a background. If you are going to use Visafoto for photo editing, skip this point: our software will replace the background automatically;
Use a good quality camera or smartphone with a high-resolution camera to take the picture;
Position the camera at eye level and ensure that your face and shoulders are centered in the frame. Check that there is enough space around your head and shoulders;
Look at the camera with a neutral expression, with your mouth closed and eyes open. Do not smile or frown;
Make sure that your face is evenly lit and that there are no shadows on your face or the background;
Take multiple photos to ensure that you have at least one good shot;
Use photo editing software to crop the image to the correct size or use an ID photo editor like Visafoto to make sure your photo's sized properly.