Indonesian KITAS Work Visa
An Indonesian KITAS work visa allows residents of other countries to reside and work in Indonesia legally. This article will tell you how to prepare the documents for a work visa, how long the process takes, and where to apply for KITAS.
Table of contents
KITAS requirements in Indonesia
Colorful Indonesia, with its magnificent scenery, attracts tourists worldwide. Consequently, there are also good conditions for employment and decent wages. Most people come to work in the famous resorts of Bali or to Jakarta, the country's economic and financial heart.
There are several things to consider when applying for a KITAS work permit in Indonesia:
Indonesian KITAS work visa is issued for 6-12 months. If granted for six months, it cannot be extended, if given for one year - the extension is allowed;
KITAS can only be issued for a specific organization or employer. It is issued for work in a specific position. In other words, after working a certain amount of time in one company, the KITAS holder will not be able to move to another employer;
When obtaining a KITAS visa, you need to find a job beforehand and make an agreemet with the employer. You can also open your own IE and get freelance KITAS.
You must first find a position, get a job, start your own company, and then start your KITAS application.
KITAS application: required documents
Obtaining a work visa to Indonesia consists of several steps. First, Jakarta approves the RPTKA foreign labor plan and determines its validity period. Next is the payment of tax at the rate of $100 per month, after which the IMTA permit and a special TELEX document for obtaining an Indonesian work permit are issued.
TELEX allows you to get a KITAS work visa. Its processinf takes 10 working days.
To provide an employee with a work visa, the employer must provide copies of necessary documents, including the company's act, license, registered office, certificate of company registration, director's identity card, and other papers.
The KITAS applicant must provide the following paperwork:
Passport valid for at least another 1.5 years from the date of application (copy);
Document proving the level of education (copy). Diploma or certificate must be translated into English or Indonesian;
Health insurance for one year;
CV translated into English;
3 Indonesia visa photos on a red background;
KITAS consular fee of $105.
When the authorities approve the KITAS validity period, the applicant needs to pay a fee (tax), depending on the term. The KITAS costs $600 for six months and $1200 for a year.
KITAS processing time takes an average of two months.
After entering Indonesia, you must register your work permit at the migration-center within 7 days.
KITAS photo requirements
All documents, including the Indonesian visa photo, must meet the established requirements. KITAS visa photo criteria are special, namely:
The KITAS photo background must be red;
You must submit several prints of different sizes: 2 x 3 and 4 x 6 cm;
The date of the picture cannot be more than 6 months from the date of filing;
The applicant must look directly into the camera with eyes open;
Indonesian visa photos with headgear are not allowed, except for religious paraphernalia, which the applicant wears on a regular basis;
The picture should be free of defects, glare, and other flaws;
The Indonesian visa picture must be taken in good light;
For women, it is better to refuse massive jewelry, bright makeup, and bangs;
A person can pose with glasses, but as long as they do not cover parts of the eyes.
Here is an example: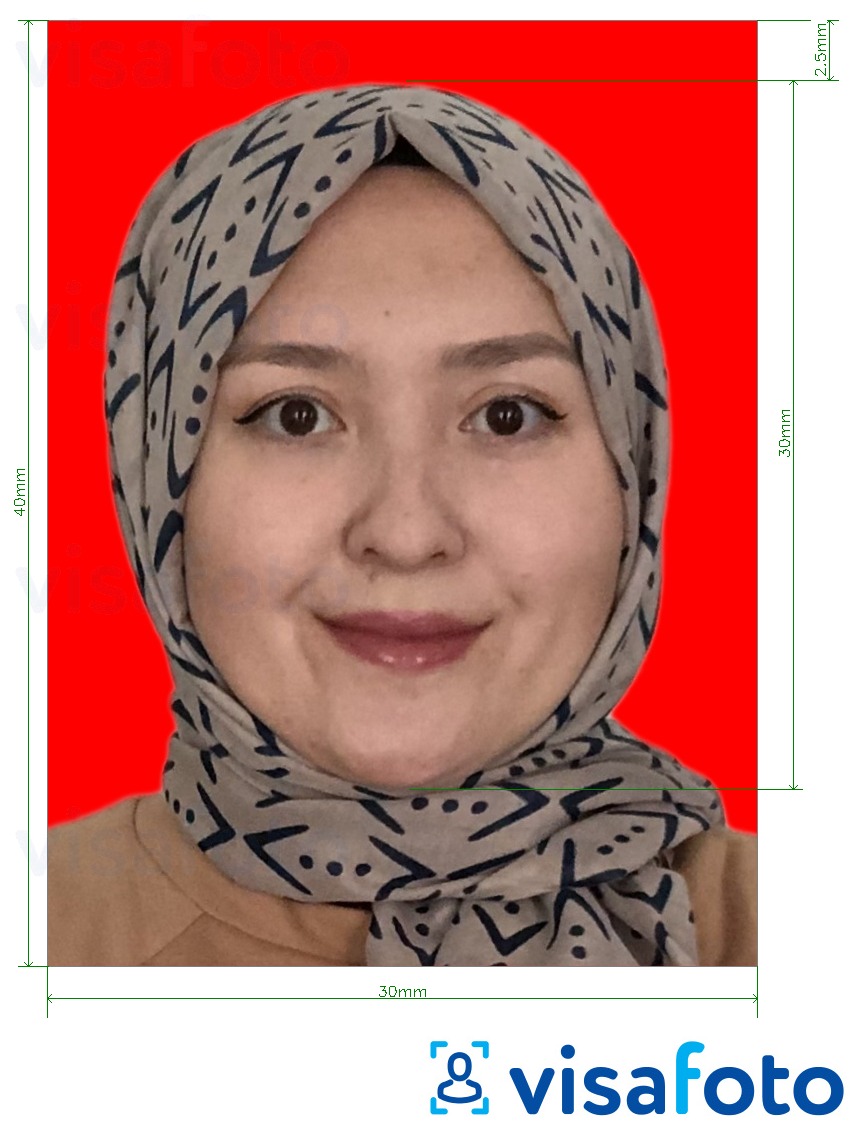 Get Indonesia visa photo online!
Visafoto online photo editor has been working since 2013. The service knows the parameters for of any ID photos, including photos for Indonesian visa KITAS.
The advantage of the program is that it automatically sets the parameters of photos. Human error and mistakes are completely eliminated, while the employees of photo salons often make mistakes and take pictures that do not comply with legal requirements.
Simply take a picture with your smartphone, using a camera with sufficient resolution;
Open Visafoto and upload your image. There is no limit to the number of attempts! You can take an unlimited number of pictures until you are satisfied with the result;
Instantly download a processed and ready-to-print image that you can use for filing along with other documentation.
Take an image with a smartphone or camera against any background, upload it here and instantly get a professional photo for your visa, passport or ID.
Source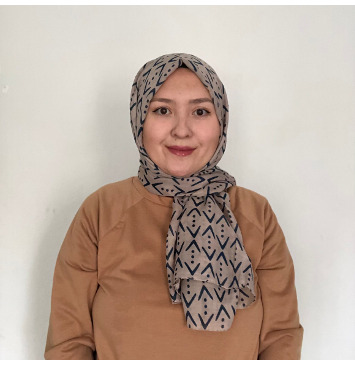 Result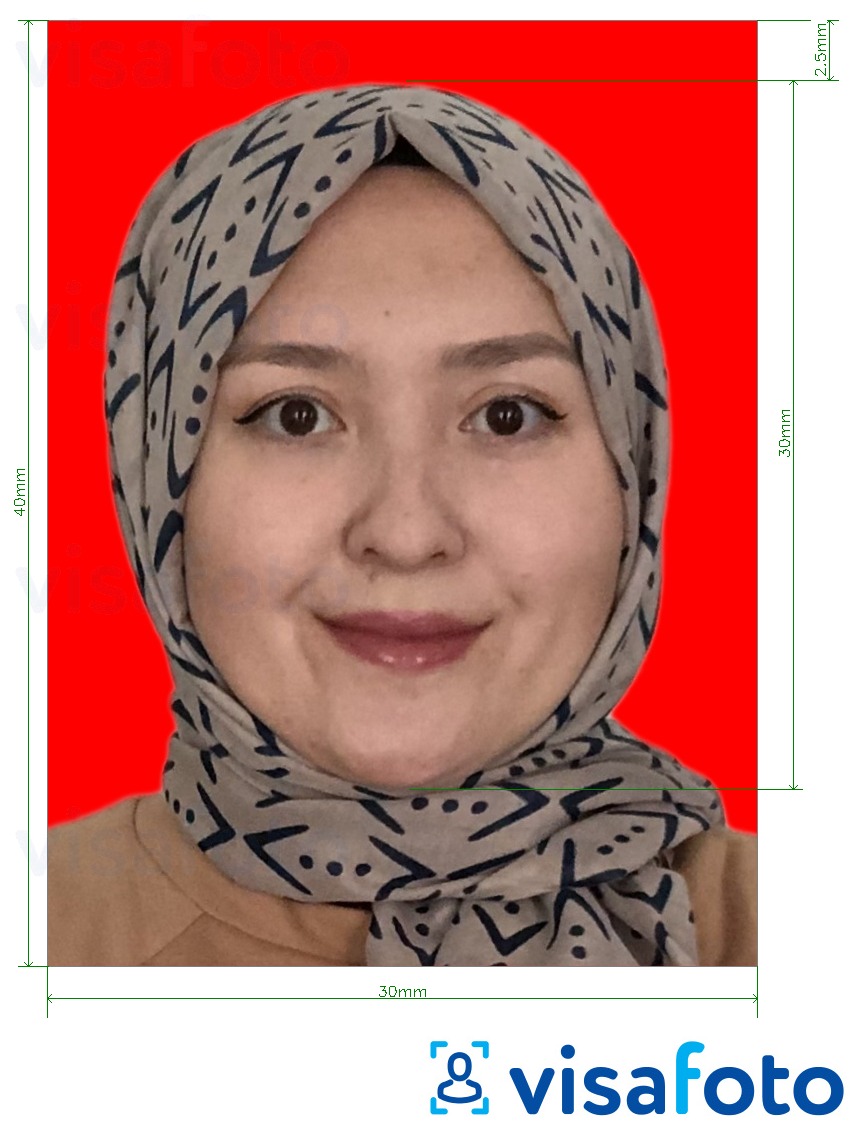 Visafoto images are accepted 99.7% of the time. We guarantee that the photos meet the established criteria.
Good luck in obtaining a work visa to Indonesia!