Iran e-Visa Application Process
To enter Iran legally, citizens of most countries need to have a visa. However, it is possible to apply for this visa online, which is relatively hassle-free. This article will explain the process of applying for an Iran electronic visa.
Table of contents
List of visa-exempt countries for Iran
If you are a citizen of a country with a visa-free deal with Iran, you do not need to have a visa. These countries are Armenia, Azerbaijan, Egypt, Georgia, Lebanon, Malaysia, Oman, Syria, and Turkey.
Iranian visa types
Before applying for a visa, you must determine the kind of visa you need. This depends on your purpose of travel. These are the types of Iranian visas:
Entry visa: for foreign citizens invited to Iran to negotiate, sign contracts, set up purchased machinery, and other similar purposes;
Tourist visa;
Pilgrimage visa: for foreign Muslims going on a pilgrimage to holy places in Iran;
Diplomatic and service visa: for diplomats and government officials;
Education visa;
Temporary work visa;
Transit visa;
Media visa: for foreign journalists, reporters, and other professions in the media field;
Investment visa;
Marital visa;
Medical visa.
The documents you need to apply depend on the type of visa.
Iranian e-visa application steps
Start your Iranian e-visa application online
Gather the documents needed to apply. The list of documents is explained in the next section of this article;
Start a visa application on the official Ministry of Foreign Affairs' e-visa system site;
Complete all the questions on the application form. Make sure that you entered all your information correctly. Note that you must fill it in English, and the form does not accept diacritics like ñ, é, ü, or ç, so fill out the form accordingly. For example, instead of writing "München," write "Munich";
When the program prompts you to recheck your answers, do take time to reread, then submit;
Check the inbox of the email you entered in the form for a verification code. If you have not received the code, you may ask for the code to be resent or edit your email;
You will get a confirmation page on your screen with a barcode. Print this page and write down your tracking code, which you can use to track your visa application.
Visa interview at the Iranian consulate
While some types of Iranian visas do not require an interview, others might require you to attend an interview. These visas are entry, tourist, and pilgrimage visas.
Track your progress
Use the tracking code to check the progress of your application and learn the next steps of your application. The Iran e-visa processing time takes an average of 10 business days.
Documents needed to apply for Iranian e-visa
In general, are the documents needed to apply for an Iranian e-visa:
Your valid passport and a scan of the personal data page of your passport. The scan must:

Be in color, clearly legible, and high quality;
At least be 800 x 600 pixels;
Sized 10 - 500 kB;
Be in .JPG or .JPEG format.

Travel itinerary;
Resume or curriculum vitae;
Visa photo that fulfills the requirements as the next section explains;
Iran e-visa fee of 39 Euro;
Other supporting documents, depending on the visa type. Here are examples:

Entry visa: visa invitation;
Education visa: Certificate of Eligibility for Nonimmigrant Student Status from the science ministry, education ministry, or an accredited academic institution;
Temporary work visa: labor certificate from your sponsoring employer;
Transit visa: visa to destination;
Media visa: permit from the Media & Public Diplomacy center;
Investment visa: approval from Organization for Investment Economic and Technical Assistance of Iran;
Medical visa: approval from a medical institution in Iran.
Iranian e-visa photo requirements
For your e-visa application photo to be accepted, it must fulfill these requirements:
The photo must be clear, in color, and high quality;
The picture must at least be 400 (width) x 600 (height) pixels and in rectangular proportion;
The Iran visa photo size must be between 10 - 500 kB;
Your face must occupy 70-80% of the photo;
The photo may only be in .JPG or .JPEG format;
The background must only be plain white or off-white;
The picture must not be older than six months;
Use the clothing you use in everyday life; no uniform is allowed except for religious clothing worn daily;
No head accessory or covering is allowed except for religious ones worn daily. The religious head covering must not cover your face or cast a shadow;
Your face must be fully visible;
Your eyes must be wide open and looking straight into the camera. Keep a neutral expression;
The use of eyeglasses is not allowed, except for medical reasons such as protection after surgery. However, the glasses' frame may not obscure your eyes, and it may not cast shadows or reflect light that obscures your face.
Here is an example: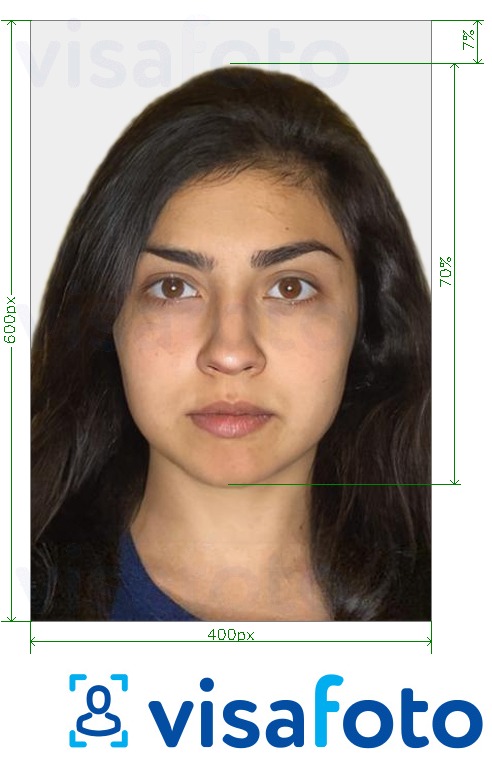 Get an Iranian e-visa photo online
Need an Iranian e-visa done quickly? One of the ways you can save time on your e-visa application is by getting your application photo done by our professional visa photo service.
Our tool adjusts your photo according to all the requirements: size, background, and format, down to face-to-photo proportion, contrast, and head tilt.
Follow the posing and dress code guidelines mentioned above and take a portrait of yourself under daylight. Then, upload it to our tool below.
Take an image with a smartphone or camera against any background, upload it here and instantly get a professional photo for your visa, passport or ID.
Source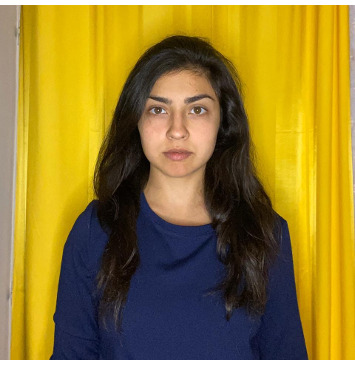 Result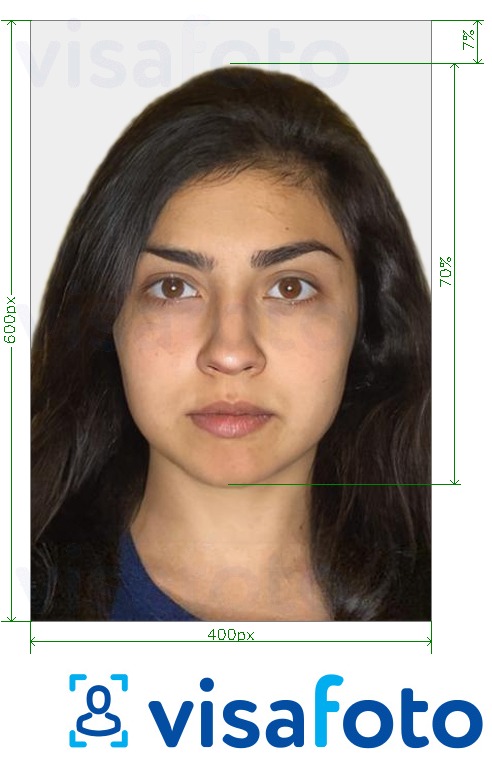 Take an image with a smartphone or camera against any background, upload it here, and instantly get a professional photo for your visa, passport, or ID.
First, take a photo of yours under daylight like this one: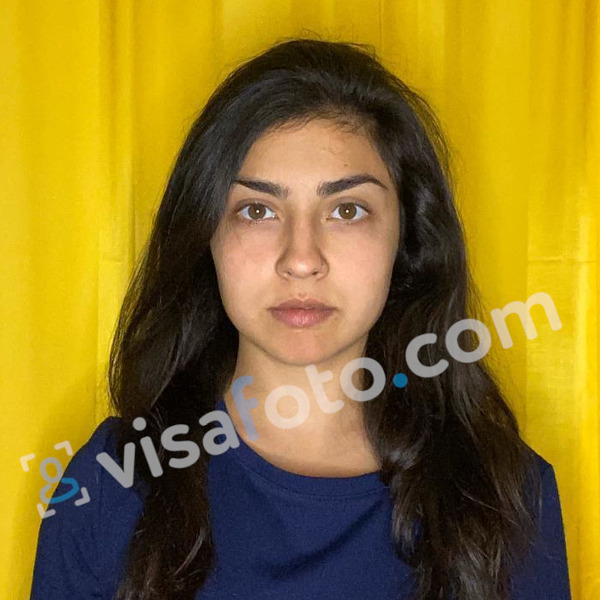 You will get a photo fully compliant with the requirements for Iran e-visa:
Visafoto will take care of the rest! Your resulting photo is guaranteed to fully satisfy the requirements, granted that you followed all the instructions. Have you got questions? Contact us!