ISIC Photo Online
If you're a student or a young person looking to travel, study, or work abroad, an International Student Identity Card (ISIC) can be an invaluable tool. The ISIC card is recognized in over 130 countries and offers travel, accommodation, and various goods and services discounts.
Table of contents
ISIC card benefits
The International Student Identity Card (ISIC) is a globally recognized identity card that offers a variety of benefits to students and young people. The card is accepted in over 130 countries and provides discounts on travel, accommodation, and various goods and services. With an ISIC card, students can access exclusive discounts on transportation, including flights, trains, buses, and ferries. For example, ISIC cardholders can save up to 40% on flights with major airlines such as British Airways, Emirates, and Cathay Pacific.
Additionally, the card provides access to discounts on cultural events, museums, and other tourist attractions, which can add up to significant savings while exploring new destinations. In addition to these travel-related benefits, the ISIC card offers discounts on various products and services like entertainment, shopping, and dining, making it a useful tool for students and young people looking to save money on a wide range of expenses.
How to apply for an ISIC card
Applying for an International Student Identity Card (ISIC) is a straightforward process that can be completed online. Here are the steps to follow:
Visit the official ISIC website and choose your country of residence from the dropdown menu;
Fill in the online application form with your personal details, including your name, date of birth, photo, and proof of student status;
Pay the application fee: Once you have completed the application form, you will need to pay the application fee, which varies depending on your country of residence.
Receive your card: After your application is processed and approved, your ISIC card will be mailed.
In some countries, applying for an ISIC card through authorized travel agencies, schools, or universities is also possible, as listed on the ISIC website.
ISIC card photo requirements
When applying for an International Student Identity Card (ISIC), you will need to provide a passport-style photo that meets the following requirements:
The required ISIC photo size is 35mm x 45mm;
The photo should be in color, not black and white;
The photo should be taken facing straight ahead, with your head and shoulders centered and squared to the camera;
The background should be plain white or light-colored and free from any patterns, shadows, or objects;
Smiling is acceptable, but it must be a natural smile;
Unlike passport photos, an ISIC photo can be taken with head accessories (not just religious ones). However, it is important that the face is fully exposed and the appearance is not distorted in any way;
The picture should be clear and in focus, with no shadows or blurriness;
The photo should be a recent one and not a copy of an existing photo.
Here's an example of the photo: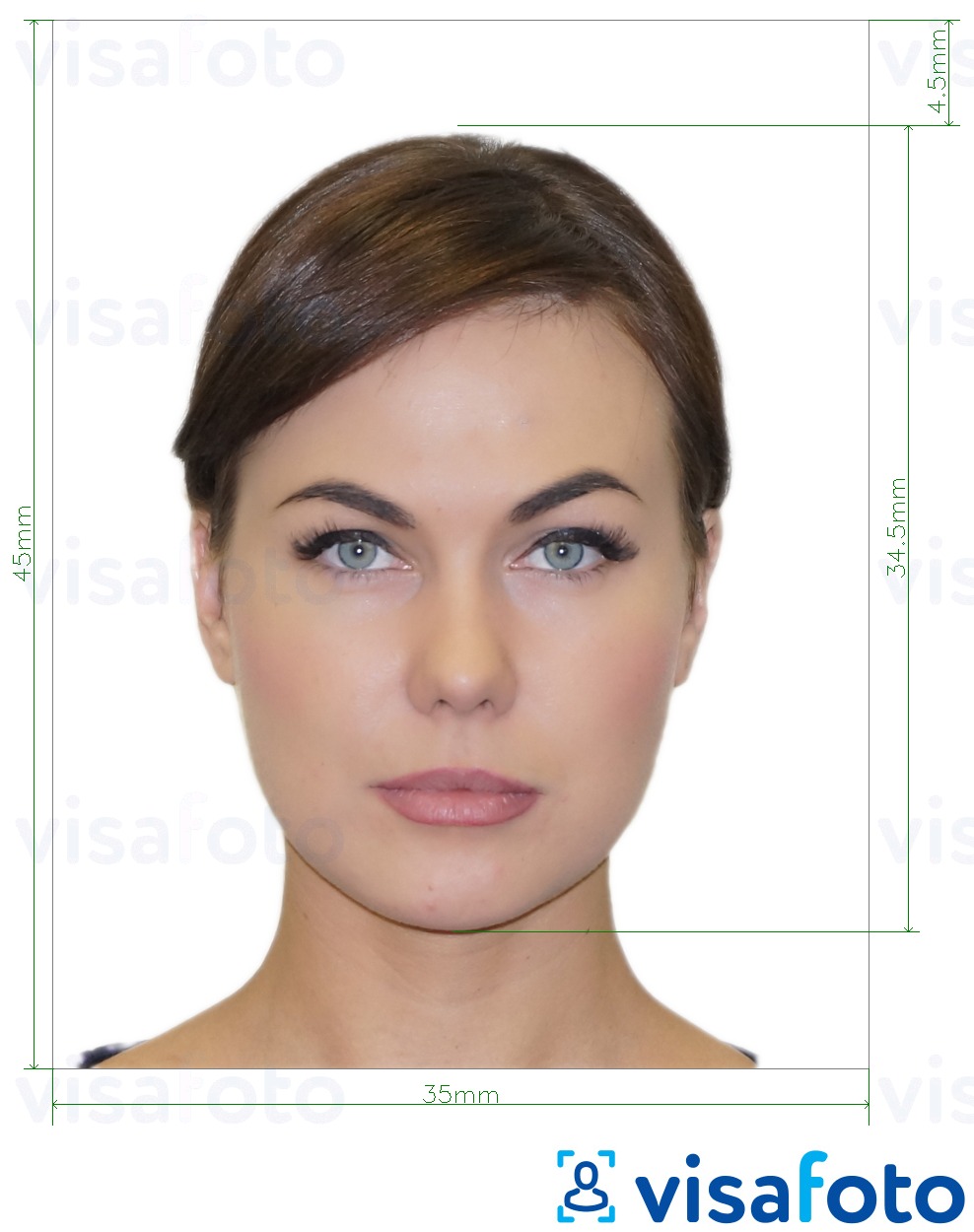 Get an ISIC photo online
Getting the required passport-style photo can be a hassle if you're applying for an International Student Identity Card (ISIC). However, there's an easy solution to this problem: Visafoto. Visafoto is an online service that allows you to take and upload your photo to their website, and they will then edit it to meet the specific requirements of your ISIC card application. This makes the application process much easier and ensures that your photo will meet the ISIC card photo requirements, so you won't have to worry about your application being rejected.
Take an image with a smartphone or camera against any background, upload it here and instantly get a professional photo for your visa, passport or ID.
Source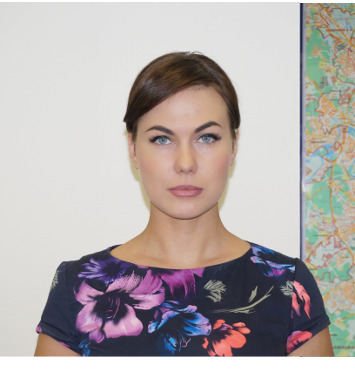 Result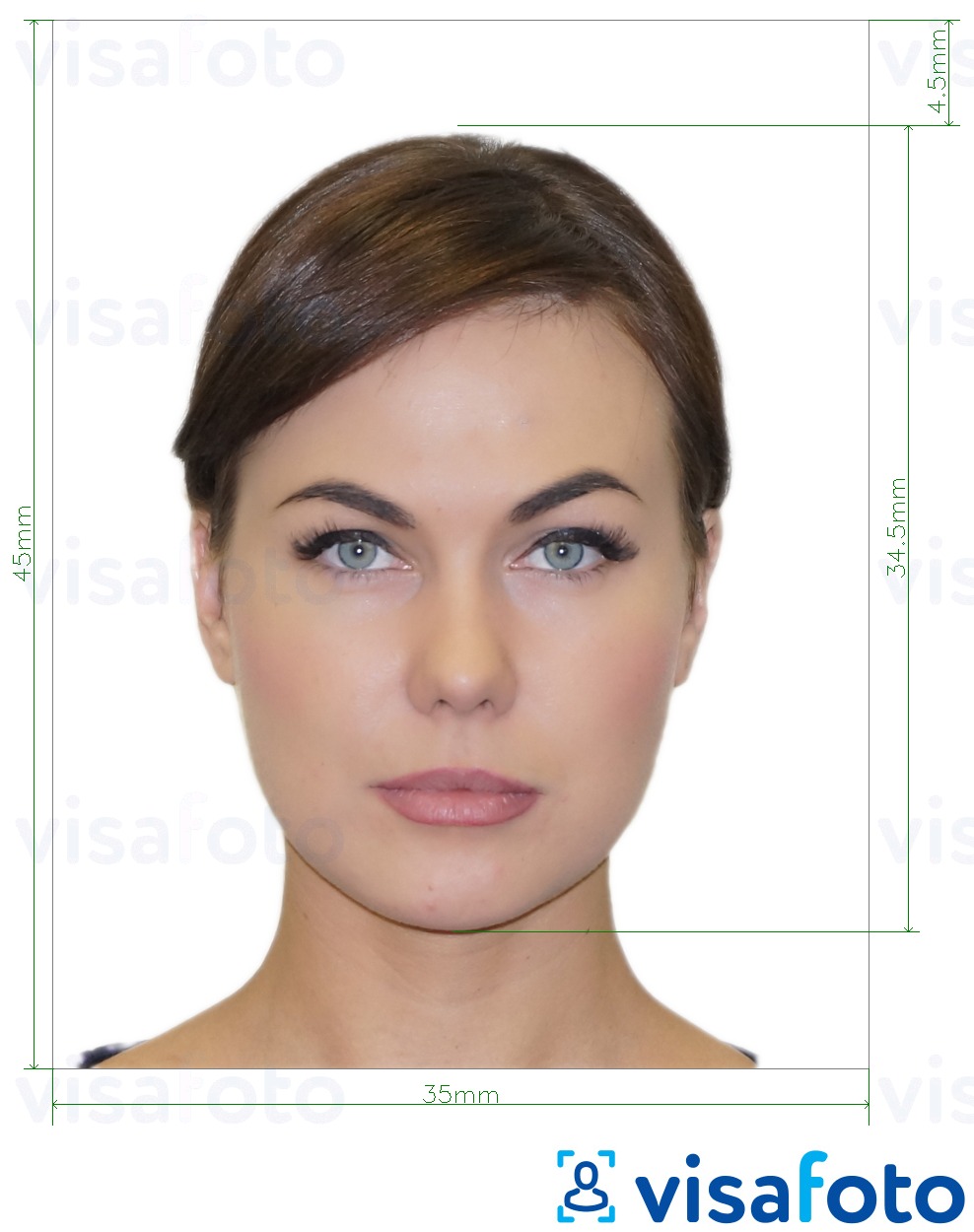 First, take a photo of yours under daylight like this one: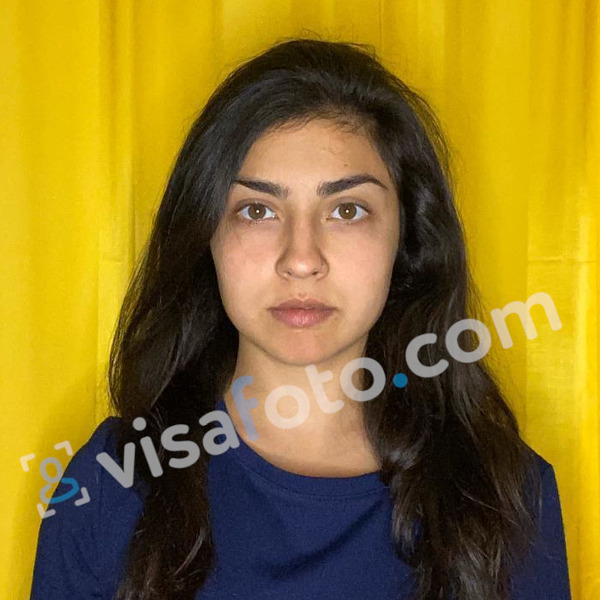 You will have two types of photos: a digital one for electronic applications and another one suitable for printing.
How to take a good student card photo: helpful tips
Taking a good student card photo doesn't have to be difficult. Here are some tips to help you get a great photo:
Choose the right background: Use a plain, light-colored background that contrasts with your clothing, such as a white or light gray wall. Avoid busy or distracting backgrounds;
Choose a well-lit area to take your photo with natural light from a window or a bright indoor light source. Avoid taking your photo in low light conditions, as this can result in a grainy or blurry image;
Make sure your face is fully visible, with no shadows or obstructions. Keep your head straight and centered in the frame, with your shoulders relaxed;
Dress appropriately for the occasion, and make sure your clothing is clean and tidy. Avoid busy patterns, logos, or graphics that can distract from your face;
Looking directly at the camera;
Smile! Photo rules for ISIC are more relaxed than for a passport, which is worth taking advantage of. Think happy thoughts and decorate your face with a smile (or at least smile with your eyes);
Take multiple shots: Take several shots from different angles and distances to find the best one. You can also use a timer or have someone take the photo for you.
Is it possible to change your photo on the ISIC card?
You have the option to change your photo on the ISIC global app. To do so, you can request to have your current photo removed by emailing mobiletickets@isic.org and providing your card number along with the reason for photo removal. Once your current photo has been removed, you can then upload a new photo to your virtual card.