Kuwait Visa Information
Located in a strategic location in the Arabian Gulf, Kuwait is a place of long and rich history and effective business. Get to know all the basics of the Kuwaiti visa in this article.
Table of contents
Is Kuwait issuing visas in 2022?
Yes, as a part of lifting COVID restrictions, the government of Kuwait is now back to processing visas for foreigners looking to visit the country. The entry restrictions were canceled in March 2022.
Kuwait visa policy
As a general rule, most foreigners need a visa to enter Kuwait. Only Citizens of Gulf Cooperation Council member states can travel to Kuwait visa-free by just providing their passports.
However, a number of countries are eligible for electronic visas or visas on arrival, which significantly streamlines the application process and makes it easier for visitors to enter Kuwait.
Kuwait visa types
In general, Kuwait visas are divided by the entry or stay purpose. The visa types include:
Tourist visa;
Business visa;
Work visa for employment in the public or private sector;
Domestic visa for resident expatriates' full-time domestic helper from abroad;
Dependent visa that allows a foreign employee in Kuwait to bring their family.
All of these visas have their own sets of requirements, which are usually targeted to find proof of eligibility of the visa applicants. For example, work visas require employment contracts, while for dependent visas you may need documental proof of familial ties.
Kuwait e-visa and visa-on-arrival eligibility
As mentioned above, citizens of some countries are eligible for electronic visas and visas on arrival. These countries are:
Andorra;
Australia;
Austria;
Belgium;
Bhutan;
Brunei;
Bulgaria;
Cambodia;
Canada;
Croatia;
Cyprus;
Czech;
Denmark;
Estonia;
Finland;
France;
Georgia;
Germany;
Greece;
Hungary;
Iceland;
Ireland;
Italy;
Japan;
Laos;
Latvia;
Liechtenstein;
Lithuania;
Luxembourg;
Malaysia;
Malta;
Monaco;
Netherlands;
New Zealand;
Norway;
Poland;
Portugal;
Romania;
San Marino;
Serbia;
Singapore;
Slovakia;
Slovenia;
Spain;
Sweden;
Switzerland;
The People's Republic of China, including Hongkong;
Turkey;
Ukraine;
The United States;
The United Kingdom;
The Vatican.
How to apply for a Kuwait tourist visa?
The tourist visa, which refers to the e-visa, can be applied for electronically. You can follow these steps to get a Kuwaiti visa online:
Visit the official electronic visa platform to start your application;
Fill out the form with your personal and travel details, based on your passport and other supporting documents;
Upload the required documents;
Submit your application;
Wait for your application to be processed. You may also check your application status here.
Processing usually takes two working days.
Documents required for Kuwait visa application
To apply for a tourist visa, prepare these documents:
Your passport that is valid for at least six months, along with a copy;
Application photos fulfilling requirements;
Travel health insurance;
Proof of accommodation in Kuwait;
Bank details for proof of financial means.
Kuwait visa photo requirements
As mentioned above, your photo must fulfill a set of requirements to be accepted:
The image size is 51 by 51 millimeters (2x2 inches);
The image must have adequate brightness and contrast and show natural skin tone;
It should show a close-up of the head and (partial) shoulders;
Your head must be looking straight forward, centered with a neutral expression, in sharp focus, and clear with no ink marks/creases/lines;
The face (from forehead edge to bottom of chin) should be 70 to 80% of the photo;
The eyes must be open and no hair obscuring the face;
Prescription glasses are allowed but have to be clear and thin framed and should not have flash reflection or obscure the eyes;
Head coverings, hair, head-dress or facial ornaments should not obscure the face;
The photo must have a plain light background with no other people or objects in the photo;
The lighting must be uniform with no shadows on the face or behind;
Photos should not have red eyes.
Here is an example: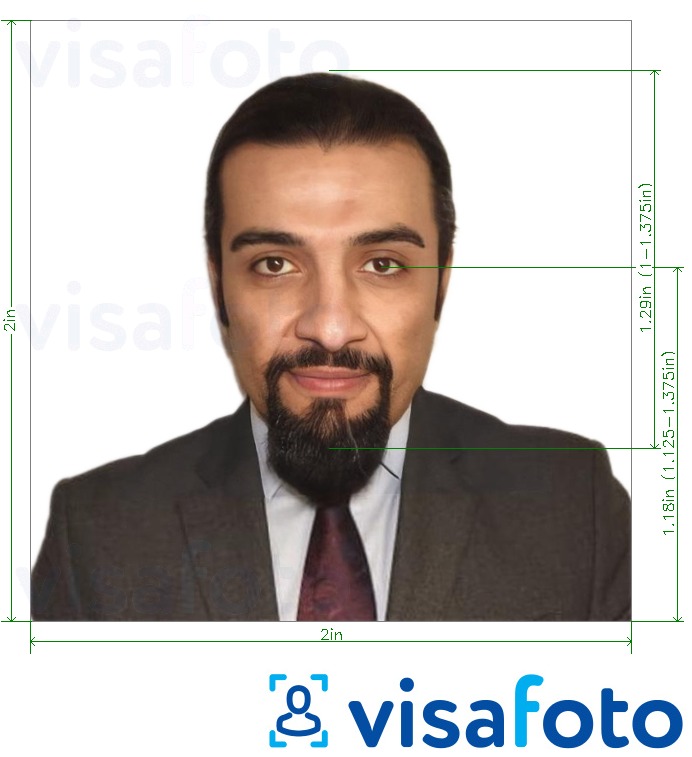 Get a Kuwait visa photo online!
Getting a Kuwaiti visa is now easier than ever, but you can still make the application smoother and more streamlined. Save time and resources and trust professionals on Visafoto to take care of your visa application photo, all without leaving the comfort of your own home.
Take an image with a smartphone or camera against any background, upload it here and instantly get a professional photo for your visa, passport or ID.
Source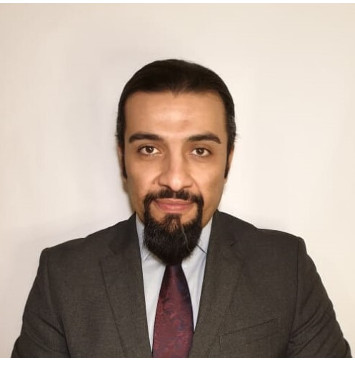 Result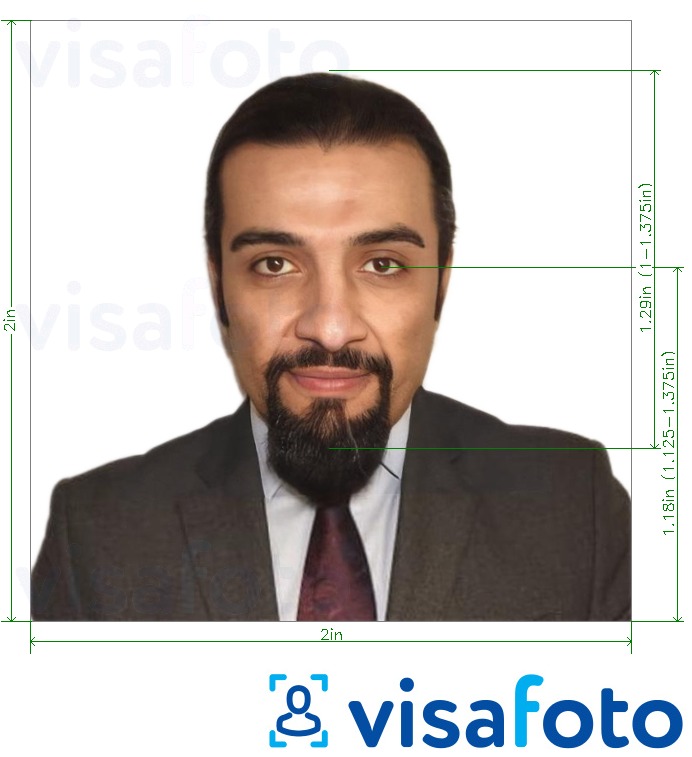 Just take a portrait of yourself in good lighting and upload it to our tool below. You will get two files from Visafoto: a digital photo and a template ready for printing!
First, take a photo of yours under daylight like this one: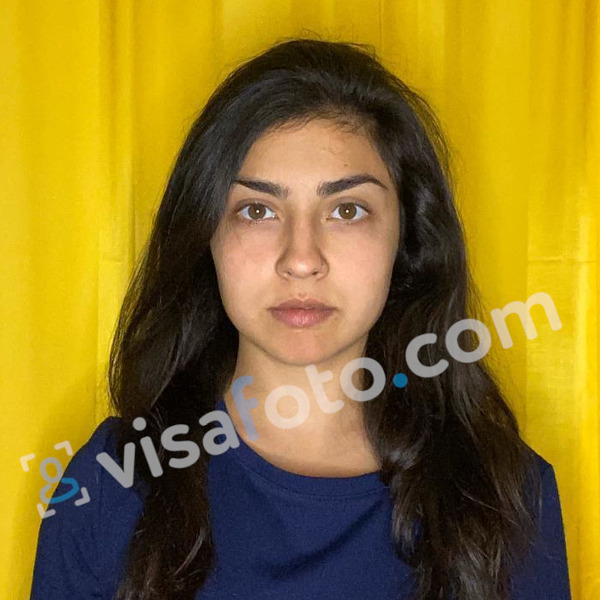 You will have two types of photos: a digital one for electronic applications and another one suitable for printing.
Here they are:
Kuwait visa fees
The fees of varying Kuwaiti visa types vary. For electronic visas that we focus on in this article, the application fee is KD3.00.