Madagascar E-Visa Guide
Madagascar, the world's fourth-largest island, is a destination of stunning natural beauty, unique wildlife, and rich cultural heritage. To visit this incredible country, travelers need to obtain a visa. Fortunately, Madagascar now offers an e-visa system that allows visitors to apply for and receive their visas online. This guide will walk you through obtaining a Madagascar e-visa and provide helpful tips for a smooth and stress-free experience.
Table of contents
Madagascar visa policy
The Madagascar visa policy requires most foreign nationals to obtain a visa before entering the country.
Citizens of only 4 countries can enter Madagascar for up to 90 days without a visa: South Africa, Mauritius, Seychelles, Comoros, and Swaziland.
Citizens of other countries are required to obtain a visa before entering Madagascar. This includes citizens of the United States, Canada, the United Kingdom, and most European and Asian countries.
Madagascar e-visa rules allow applying for a visa online before traveling. With the e-visa, travelers can enter the country for tourism, business, or other purposes.
How to apply for a Madagascar e-visa?
Applying online for an electronic visa is the easiest and most convenient way to get a permit to enter Madagascar. To do so, follow these steps:
Visit the official e-visa platform;
Create your account;
Apply for the visa by filling out the application form
Upload the necessary documents;
Pay for the application fee;
Wait for processing and receive your visa.
Documents required for Madagascar e-visa application
Here are the documents that may be required for your application:
A passport that is valid for at least six months after the date of return;
Application photo fulfilling Madagascar visa photo requirements;
Proof of accommodation;
An invitation letter by a host in Madagascar;
A return or ongoing flight itinerary;
Health insurance valid in Madagascar;
A yellow fever card (if applicable).
Madagascar e-visa photo requirements
Here are the requirements your digital photo has to fulfill to be successfully uploaded with your application:
The digital photo format must be ¾. The picture size in printed form must be 35 to 45 mm in weight and 45 to 55 mm in height;
The background must be plain white;
The height of your head (from the chin to the crown) in the picture must be 32 to 36 mm;
Your eyes must be open and looking straight at the camera;
Eyeglasses are only allowed for medical purposes. In this case, you must provide a letter from a registered medical practitioner stating the reason. The frame must not obscure your face;
If you usually wear religious headwear, it is allowed to wear it in the photo. It must not obscure facial features or edges;
Accessories must not cover any facial features and not produce glares in the photo;
The picture must have good contrast and lighting, with no dramatic shadows nor blurs or pixelated parts;
The picture must not be retouched, it may not have red eyes or glares.
Here is an example: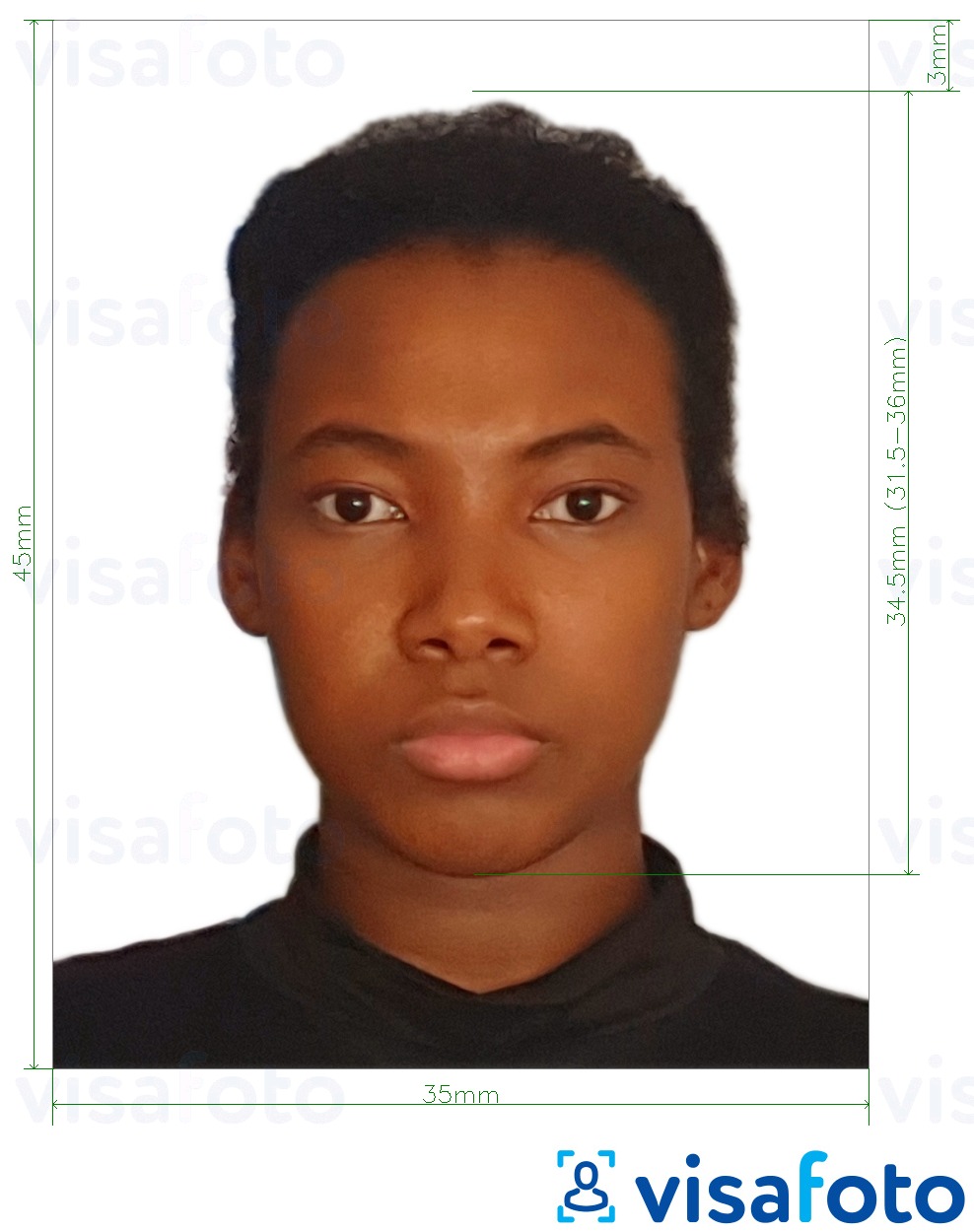 Get a digital Madagascar visa photo online!
The Malagasy government has made visiting Madagascar easier than ever with the e-visa policy, but you can still make it even easier while ensuring your photo is compliant.
We recommend using Visafoto, an online photo editing service that ensures your photo is fully up to par. Just upload a portrait of yourself following the dress code and posing guidelines explained above to our tool below. Visafoto will automatically adjust the correct size in pixels and kilobytes, replace the background with a plain white and prepare the file for printing.
Take an image with a smartphone or camera against any background, upload it here and instantly get a professional photo for your visa, passport or ID.
Source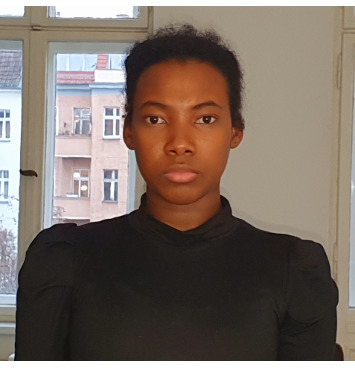 Result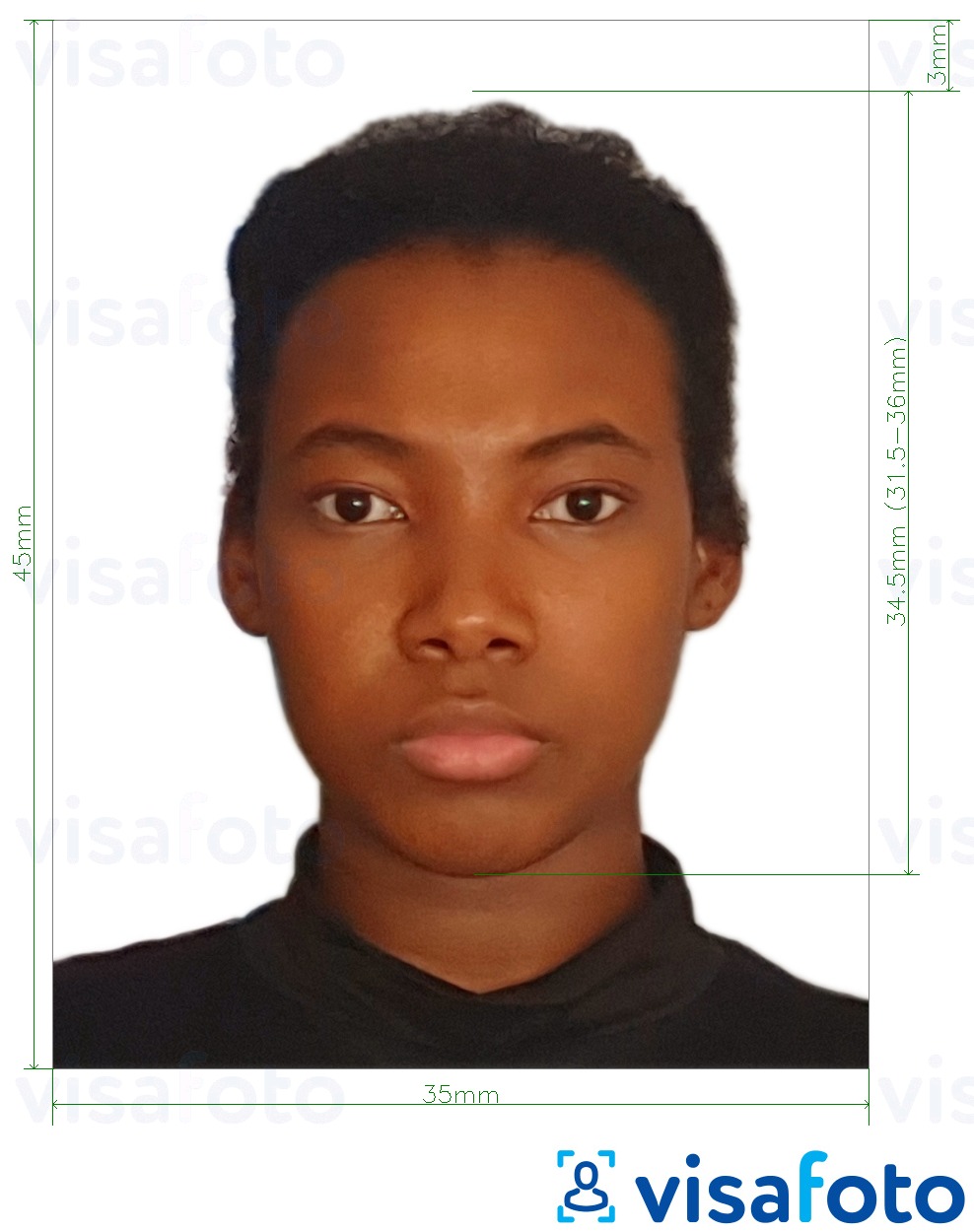 First, take a photo of yours under daylight like this one: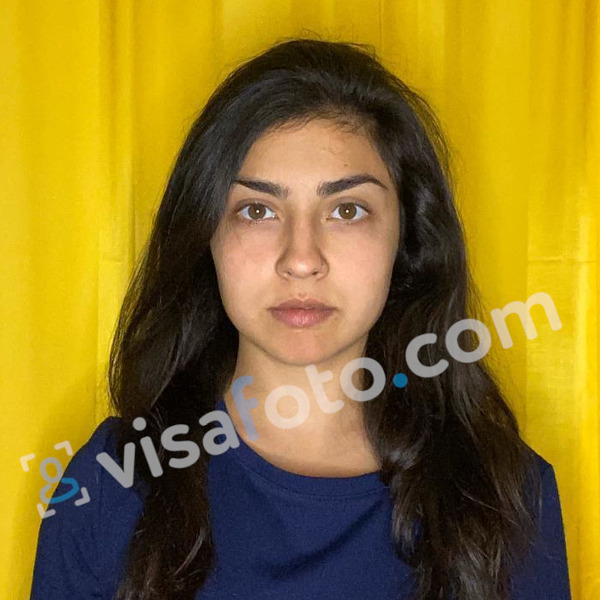 You will have two types of photos: a digital one for electronic applications and another one suitable for printing.
Here they are:
Madagascar e-visa fee
The visa price is stated on the site as you apply, with tourist visas ranging between $30 and $50. Business visa costs start from $50.
It's important to note that the e-visa fee is non-refundable, even if your application is rejected.
Madagascar e-visa processing time
Madagascar e-visa applications usually take three days to be processed, so apply in time to ensure you can enter Madagascar without a hitch.
Madagascar e-visa validity
The Malagasy e-visa can be valid for 30, 60, or 90 days depending on which kind you applied for.