Portugal Citizen Card Application and Photo
Obtaining the Citizen Card in Portugal is essential for full integration into society and administrative processes. It is a multifunctional card that validates your identity and grants access to various services and benefits.
Table of contents
From understanding the key documents needed to capture the perfect photo, we will cover everything you need to know to complete your Portugal Citizen Card application successfully!
Portugal Citizen Card rules
The Citizen Card, also known as "Cartão de cidadão" or CC, is a vital identification document issued by the Portuguese government exclusively for its citizens.
The Citizen Card simplifies and consolidates the documentation process by replacing multiple former documents with one highly secure ID. It effectively replaces former mandatory documents, such as the Bilhete de Identidade (BI), Social Security card, National Health Service card, Taxpayer card, and Voter Registration.
You can use the Citizen Card instead of a passport to travel across Europe, except Belarus, Russia, and Ukraine. Moreover, it allows passport-free travel to Egypt, French overseas territories, Georgia, Montserrat (max 14 days), Turkey, and on organized tours to Tunisia.
This mandatory document must be requested within 20 days of a baby's birth, serving as both legal identification within Portugal and other European Union countries and a valid travel document within the Schengen area.
It is important to note that only Portuguese citizens are eligible for the Citizen Card. The only exception is Brazilian citizens with a Portuguese residence permit: they can get a Citizen Card under the Porto Seguro Treaty.
How to apply for the first Citizen Card in Portugal?
To request your first Citizen Card in Portugal, follow these steps:
Schedule an appointment at one of these places:

in the reception desks of the Registries and Notary Institute;
at Nascer Cidadão desks of maternity hospitals and hospitals;
in the Citizen Bureaus;
in the RIAC Bureaus, in the Azores;
in the Portuguese consular stations if you are abroad.

Gather the necessary documents;
Arrive at the designated office on the scheduled date and time. Bring all the necessary documents and any additional forms or information that may be required.
Provide biometric data such as your fingerprints, and a digital signature will be taken for biometric identification purposes;
Pay the applicable fee for the issuance of the Citizen Card;
Wait for processing;
Collect your Citizen Card.
The same instructions apply when obtaining a Citizen Card for a newborn.
Documents required for Citizen Card application
If you have these documents, present them upon application:
Identification document;
Taxpayer card (NIF);
Social Security card;
User card of the National Health System or another health system you may have;
Voter card;
Identification photo.
When applying for the first Citizen's Card, along with the Civil Identification Number (NIC), individuals are provided with the Tax Identification Number (NIF), the Social Security Identification Number (NISS), and the NHS user number.
How to apply for a Citizen Card for a newborn online?
Starting in 2022, a new service called Birth registration online allows parents to apply for a first Citizen Card for children under one online. The electronic application for the first citizen card is available for babies born in Portugal and abroad.
When applying for a Citizen Card for a newborn, you will need the child's birth certificate issued by the Civil Registry Office (Conservatória do Registo Civil), the parents' identification documents (such as passports or Citizen Cards), and proof of residence.
The birth registration application involves filling out an online form with essential information such as parents' identification, place of birth, and address. Additionally, you must attach a digital photo of the newborn.
Citizen Card photo requirements
Make sure your application photo is formatted to the following specifications:
The required Citizen Card photo size is 30 mm in width and 40 mm in height;
The background must be white;
The photo resolution must be 600 dpi;
The height of your head (from the chin to the crown) in the picture must occupy about 75%;
Your eyes must be open and looking straight at the camera;
Eyeglasses are only allowed for medical purposes. In this case, you must provide a letter from a registered medical practitioner stating the reason. The frame must not obscure your face;
If you usually wear religious headwear, it is allowed to wear it in the photo. It must not obscure facial features or edges;
Accessories must not cover any facial features and not produce glares in the photo;
The picture must have good contrast and lighting, with no dramatic shadows nor blurs, or pixelated parts;
The Citizen Card picture must not be retouched, it may not have red eyes or glares;
When submitting an online application for a newborn, you must attach a digital photo in PDF, PNG, JPG, or JPEG format. The child does not have to keep a neutral expression on the ID photo, but the facial features must be clearly distinguishable.
Here is an example: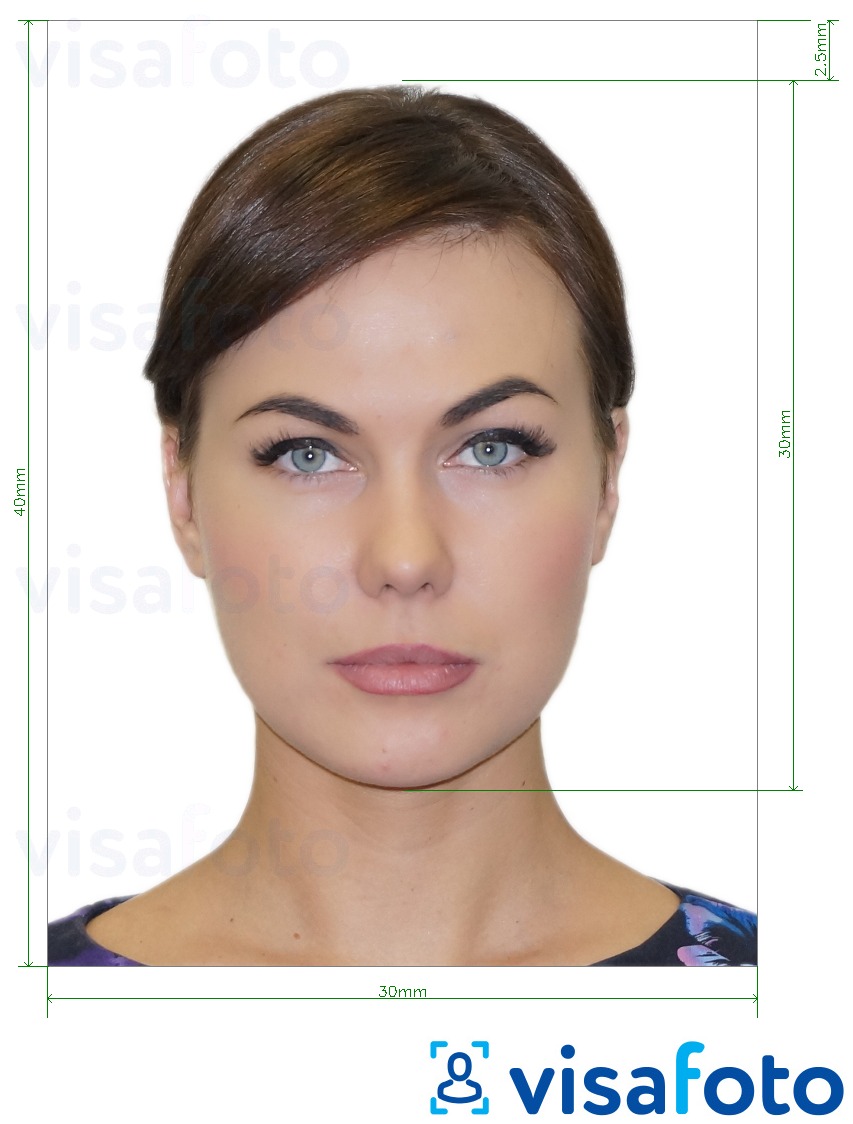 Get the Portugal Citizen Card photo online!
To create your Portuguese ID photo quickly and accurately, you can utilize the online service Visafoto. Upload your favorite photo, and the program will ensure it meets the specified requirements, such as proper dimensions, neutral background, and appropriate lighting. Visafoto's advanced algorithms will automatically adjust the photo to meet specifications.
You will receive your ID photos in two formats: a digital version for online submissions and an image suitable for printing on 10x15 cm photo paper.
To get started, take a selfie or have someone capture your photo using your smartphone. Ensure that your face and shoulders are apparent, with your eyes open and mouth closed. Directly face the camera and wear your everyday attire. The best shot will serve as the original source for your ID card photo.
Next, upload the photo to Visafoto.com's online ID photo maker. You will instantly receive a digital passport photo with 3x4 dimensions perfect for online applications. To print it out, use a color printer or visit the nearest copying center.
Take an image with a smartphone or camera against any background, upload it here and instantly get a professional photo for your visa, passport or ID.
Source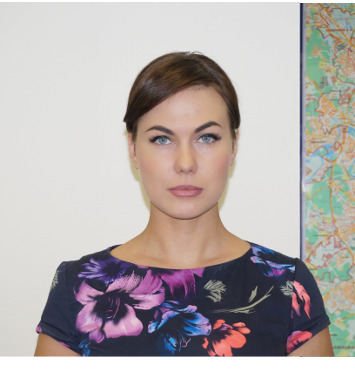 Result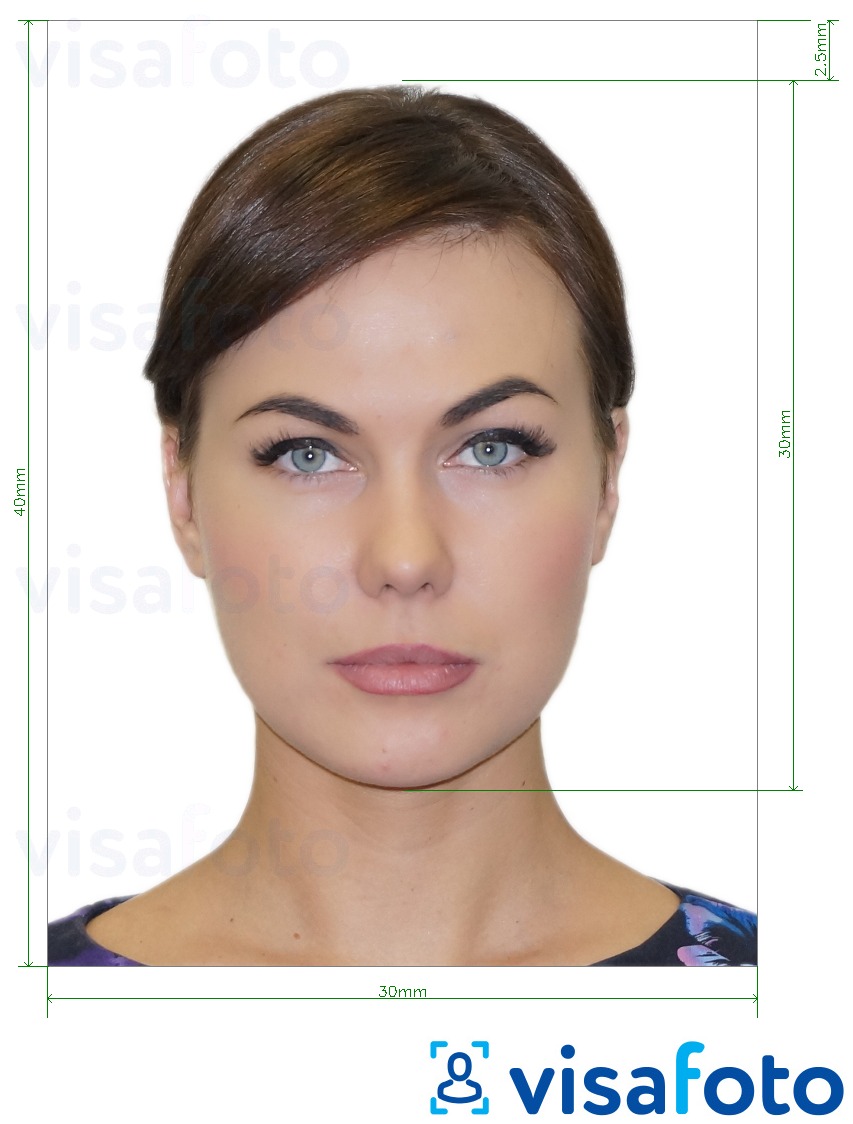 First, take a photo of yours under daylight like this one: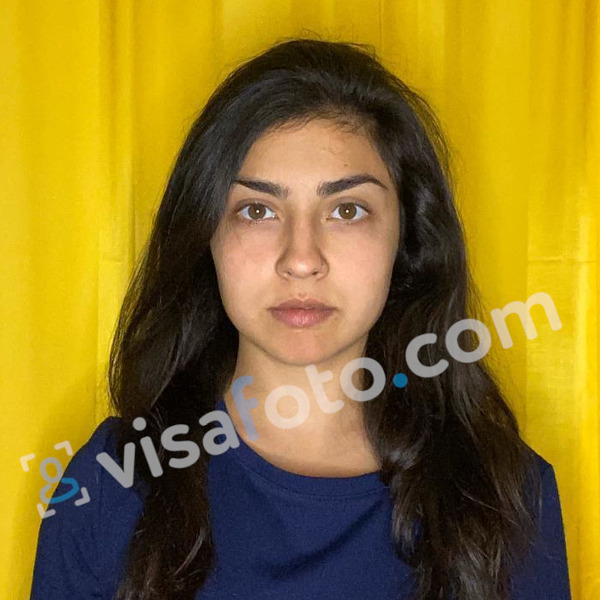 You will have two types of photos: a digital one for electronic applications and another one suitable for printing.
Here they are:
With Visafoto, obtaining a compliant and professional-looking photo for your Citizen Card application has never been easier!
Portugal Citizen Card validity and renewal
The Citizen Card duration depends on age:
Less than 25 years – Citizen Card is valid for five years
From 25 years old – Citizen Card is valid for ten years
Citizen's Card can be renewed once the validity expires or within six months before its expiry date. To renew it, you will have to present your old citizen card.