Getting a work permit in Saudi Arabia
As Saudi Arabia is looking to diversify its economy, it is looking to attract workers worldwide to use their skills to contribute to its earnings. Foreign workers in Saudi Arabia must hold a valid work and residence permit (Iqama) to work legally in the country.
Table of contents
Iqama rules in Saudi Arabia
The Iqama proves your right to reside and work in Saudi Arabia legally. If a foreign worker does not have a work visa, they may have to pay a fine of SAR 10,000 and are also likely to face arrest and deportation.
Iqama also serves as the primary ID type for foreigners in Saudi Arabia. It is desirable to have it with you at all times to always be ready to prove your legal status.
Remember that if you temporarily leave Saudi Arabia during your work contract, you must apply for additional exit and re-entry permits.
Work permit requirements for Saudi Arabia
If you have a job offer lined in in Saudi Arabia, offered by an employer based in the country, count yourself eligible. In addition, you must be over the age of 21. You must also undergo a medical examination at an accredited centre for dangerous diseases. It is important that you do not have a criminal record.
As a rule, the hiring company must first be approved since there are quotas for the number of foreign workers in Saudi Arabia. The quotas depend on the profession, age and nationality of the employees.
While the employer is the one who applies, your documents are ultimately your own and you should have them ready for application. You also must undergo a medical examination for dangerous diseases at an accredited centre.
How to apply for a Saudi work visa?
If you have successfully concluded a contract with a Saudi employer, congratulations - you have done most of the job. Then, your employer has to start an application process on your behalf.
After you arrive in Saudi Arabia with the work visa, your employer will have to apply for your residence permit, including the work permit. The Iqama application must be started within 90 days after your arrival. Your employer must cover all the fees.
While the employer is the one who applies, your documents are ultimately your own, and you should have them ready for application.
Documents needed to apply for a Saudi Arabia work visa
The paperwork you will need to prepare are as follows:
Your valid passport;
Two photographs of yourself that fulfill requirements;
A letter from your employer/visa sponsor, certified by the Chamber of Commerce as well as the Ministry of Foreign Affairs;
A signed employment contract;
Certificates of academic and professional qualifications;
A police report detailing any convictions. As a rule, there shouldn't be any, and this report is supposed to prove it as is needed;
A medical report from a licensed physician.
Iqama photo requirements
Make sure the photographs you use to apply satisfy the following parameters:
The photo must be in color;
The photo size must be 40 mm in width and 60 mm in height;
The height of your head in the picture should range at 85% of the overall photo height;
The photo must be no older than six months;
The background must be plain white;
Glasses are allowed. The frame must not cover any part of your eyes. There must be no glare on the lenses. Dark glasses are not permitted;
You can wear a head covering for religious or medical reasons. Your full facial features must be visible. You cannot wear head accessories for any other reason;
Your photo must be in focus. Balance the lighting and colour, not too dark or too light;
There must not be any shadows on your face or behind your head;
'Red eye' in photographs is not acceptable;
Keep your facial expression neutral and look straight into the camera.
Here is an example: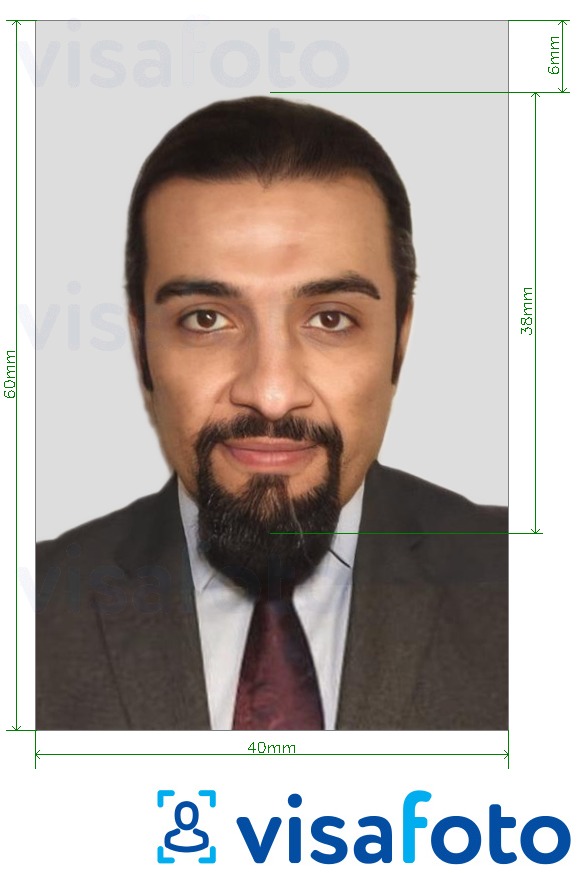 Get a photo for a Saudi Arabia work permit online!
Applications for employment permits in a foreign country generally tend to be drawn out and long, as hiring foreigners is usually a strategic economic point, and the foreigners have to reside and sustain themselves in the country.
So it's understandable if you want to speed up the process. One of the ways you can do so is by getting your photo professionally done online.
Take an image with a smartphone or camera against any background, upload it here and instantly get a professional photo for your visa, passport or ID.
Source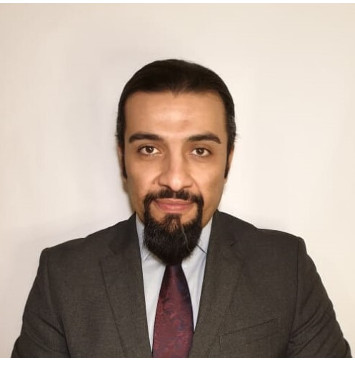 Result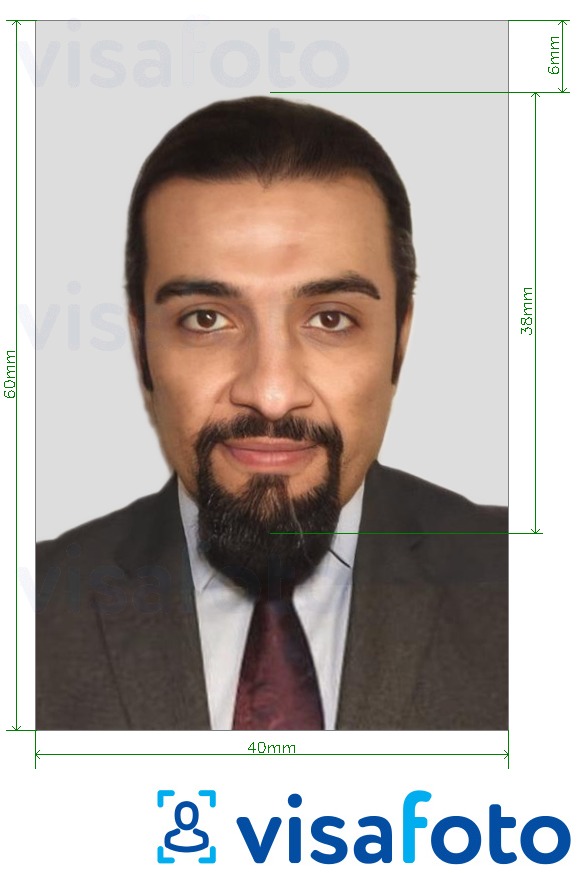 Visafoto has been adjusting photos for passports, visas, and other documents worldwide, and it can also help you in this process. Just take a picture of yourself following the guidance above, under good, preferably daylight, lighting. There is no need to worry about the technicalities such as background, size, and proportions: Visafoto will take care of that.
Take an image with a smartphone or camera against any background, upload it here, and instantly get a professional photo for your visa, passport, or ID.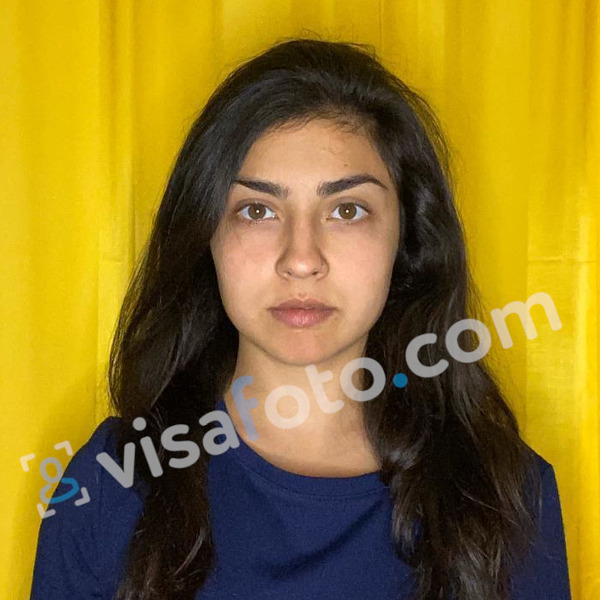 Visafoto has your back: you will get a photo fitting for online applications and a template ready for printing, whether you need the photo printed or in digital form.
How long is the Saudi work permit valid?
By default, your work visa is valid for one year. At the end of this period, your employer must request an Iqama renewal for you. No additional documentation is required on your part.
How much does the Iqama application cost?
The Saudi work visa applications must be paid by the employer. Rates depend on the percentage of Saudi nationals in the hiring company.
If more than 50% of employees are Saudi nationals, the overall fee will be SAR 7,200 (almost $2000). If more than 50% of the staff come from abroad, the permit price to the employer is higher: SAR 8,400.
This cost covers all the necessary documents: the work permit itself, the issuance of Iqama and the medical insurance. Consequently, the applicant themselves need not pay anything, unless their case requires additional documentation.
Is it possible to convert a visit visa to a work visa in Saudi Arabia?
It is not legally allowed. If you came to Saudi Arabia on a regular visa and found a job there, you must first return to your home country and begin the standard work permit application process to be officially employed.