UAE passport and visa photo requirements
The United Arab Emirates passport is highly appreciated worldwide. Already decided to apply? Then you should only prepare several documents and submit them to the issuing authority, together with the application. You are also supposed to have 2 passport photos, and Visafoto.com will help you to get them even without going outside. You may simply take photos at home, and Visafoto will ensure they meet the UAE passport photo requirements. Visafoto provides you with appropriate photos for any documents all over the world.
When traveling to other countries, in most cases you are also supposed to have a valid visa. The UAE visa photo specifications differ from photo requirements for a UAE passport.
If you enjoy taking selfies, this will be useful when you decide to take pictures for your UAE passport, but still, the process is a bit different. There exist a number of UAE passport photo rules you should remember.
Table of contents
Below you will find the UAE passport picture requirements to meet when preparing your photos for being submitted.
UAE passport photo format and size
Here are requirements:
UAE passport photo size should be 4x6 mm;
Resolution (pixels): not less than 300 dpi;
Pictures should be no older than 6 months;
Blurred photos are not allowed.
Emirates 4x6 photo example:
According to the UAE e-visa photo requirements, the photo size for the online visa application must be 300x369 pixels: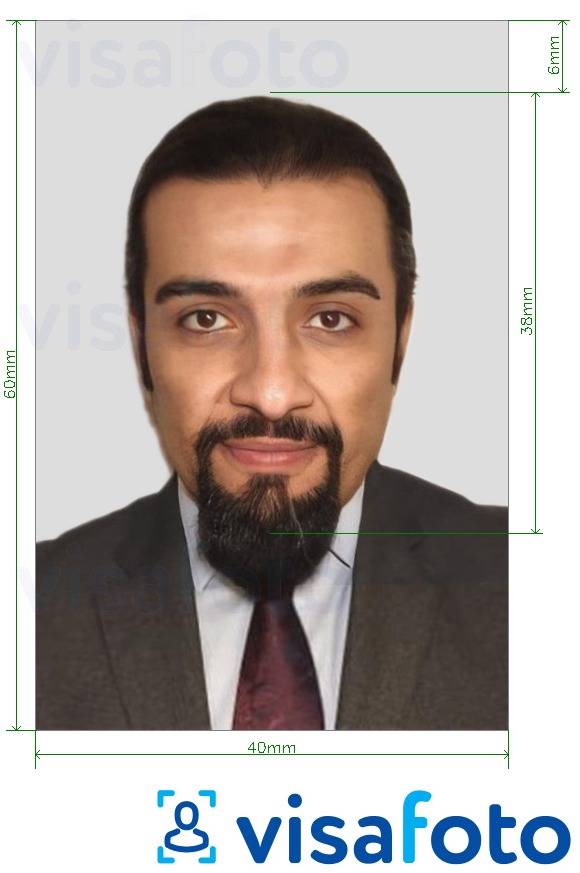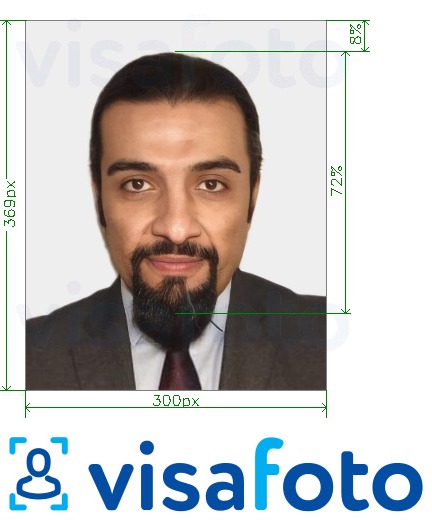 Color and lighting
You have to submit color photographs;
Lighting should be neither obscure nor overexposed. Frontal source of light will help you to avoid shadows on your face;
UAE passport photo background should be completely white, with no ornaments, colors, or shadows on it.
Pose and facial expression
The applicant should look directly at the camera with the eyes clearly seen. Smiling and other facial gestures are not allowed. You may keep the beard if it is part of your everyday look.
UAE passport photo clothing requirements
Headwear is permitted for religious or cultural reasons, as long as it does not covers your face (that should be clearly and entirely seen);
Clothes must differ in color from the background; no white tops;
Glasses are allowed only if they do not hide the eyes or produce flecks in the photograph.
Requirements for Babies, Infants, and Newborn UAE passport and visa photos
Are you going to travel with your kids? In this case, you will submit applications for their passports and visas, too.
Visafoto.com can help you to get the photos. Here you can find several tips for making the right ones:
Photograph your child when awake, making sure the baby's eyes are clearly seen;
Parents are not allowed to be present in the pictures;
The child should have no headwear on;
To make the process more convenient, you may put the baby in the car seat;
Alternatively, you can lay the child down on his/her back and take photos from above.
Getting UAE passport photo online
Specialized online soft is the fastest way to create a compliant passport photo. Visafoto instantly edits pictures so that every detail meets requirements.
Let's take a closer look at some photo examples.
First, take a photo of yours which looks like this. It is better to take it in daylight:
Then upload it to Visafoto and your passport photos should look like this.
Take an image with a smartphone or camera against any background, upload it here and instantly get a professional photo for your visa, passport or ID.
Source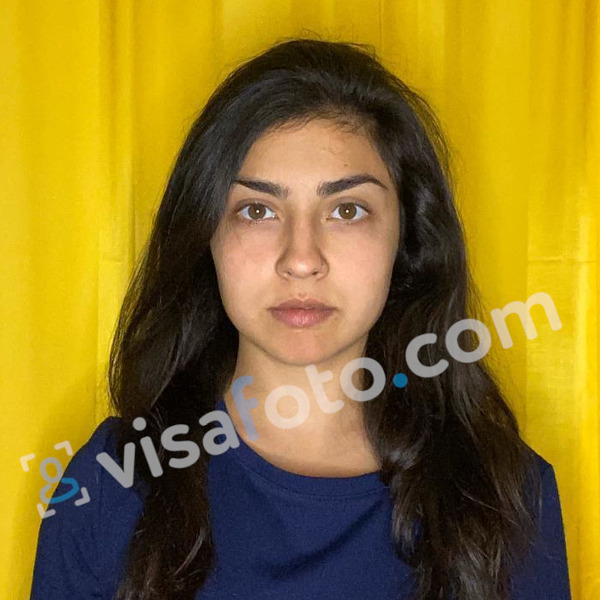 Result
And you also get a photo for printing:
There are many other documents for which you take photos by yourself. Upload your file to get for an UAE visa or ID card:
UAE passport photo guidelines and UAE visa photo guidelines
Brief instructions:
Make a portrait of yourself against any background (preferably the light one to create a good contrast with a face). Look directly into the camera and keep your shoulders straight;
Make sure the photo matches the clothing requirements mentioned above and there are no strong shadows in the picture;
Upload the photo to Visafoto.com and get the immediate result. The service will adjust the background, set the required size and format, and improve image quality. You will get a digital version of the photo and also a printable one.
The technical support is ready to help you in the 24x7 mode. If you are not satisfied with the result, we will replace the photo for free or will refund 100% of the payment.