Visa photo online
Are you going to apply for a visa to travel abroad? Note that in most cases you will need to attach photos that meet certain requirements to your application package. Consulates of some countries may ask for pictures that differ in size from the standard ID photo in your country.
Table of contents
In this article, we'll review the most common visa photo requirements and learn how to take an instant photo for any visa without leaving home.
What is the visa photo size?
As a rule, the visa application photo size coincides with the standard format of the ID picture in a particular country. Below is a list of the most common visa picture formats:
Note that in addition to size, the consulate may have additional formatting requirements, such as the height of the head in relation to the total image area or the position of the eye line.
What should be a visa photo background?
In the vast majority of cases, the visa application picture should be taken against a uniform white background. No extraneous objects, patterns, or distinctive shadows are allowed. Also the photo can be taken against a light-colored wall (e.g., cream or gray).
Can I wear glasses in a visa photo?
The laws of most countries allow the wearing of prescription glasses, provided that the frames do not cover the eyes and the lenses do not have any bright glare or reflections. However, please note that the photo for any of the documents in the U.S. (including visa) can only be taken without glasses. Tinted glasses are not allowed anywhere.
Can I wear a hijab in a visa photo?
As a rule, the wearing of religious headdresses is permitted. The forehead and eyes must be clearly visible. Ordinary headwear (such as caps, hats, etc.) is not permitted on the visa photo.
Can I smile in a visa photo?
As with any ID pic, a visa photo should be taken with a neutral facial expression. This is because visa photos must meet strict biometric requirements for automatic recognition by special software. A wide smile or, for example, a frowning eyebrow can distort the facial features. However, slightly raised corners of the lips are acceptable in most cases.
How to dress for a visa photo?
Consulates actually never have any special requirements for a visa photo dress code. But for the success of your visa application, it is recommended to follow some unspoken rules:
For the best image quality, the clothing should contrast with the background;
Choose clothing with closed shoulders and no deep necklines. This is especially important when applying for a visa to a country with deep religious traditions;
Casual style is the best choice. An overly extravagant appearance can cause unnecessary questions from the visa officer.
How to pose for a visa picture?
Standard visa photo rules require the applicant to look directly into the camera, strictly in full-face. For best results, it is recommended to be about 1.5 to 2 meters away from the lens. The image should contain your face and shoulders, and there should be space between the edge of your hair and the frame of the photo.
Online visa photo tool
How to edit a photo for a visa application so that it matches all the requirements? That's what Visafoto was made for!
Take an image with a smartphone or camera against any background, upload it here and instantly get a professional photo for your visa, passport or ID.
Source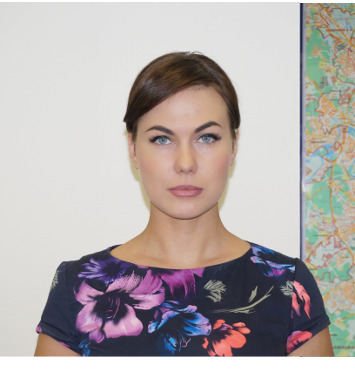 Result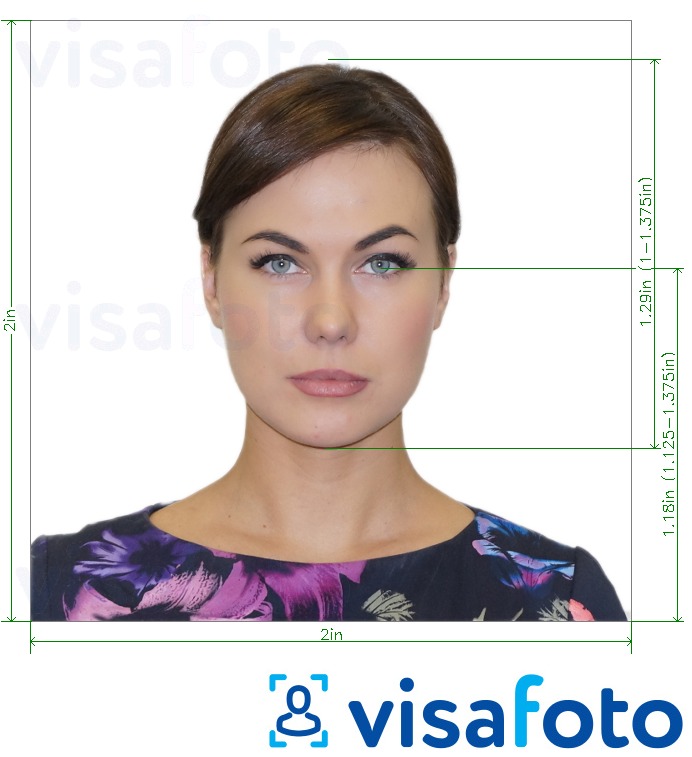 All you need to do is to upload your full-face portrait taken against any background and select a country you need a visa for - and our visa photo converter will handle the rest. The service will automatically set the required size, will correct the head and eye position, replace the background and adjust the quality. We know all the visa picture requirements worldwide - up to the smallest detail.
First, take a photo of yours like this one: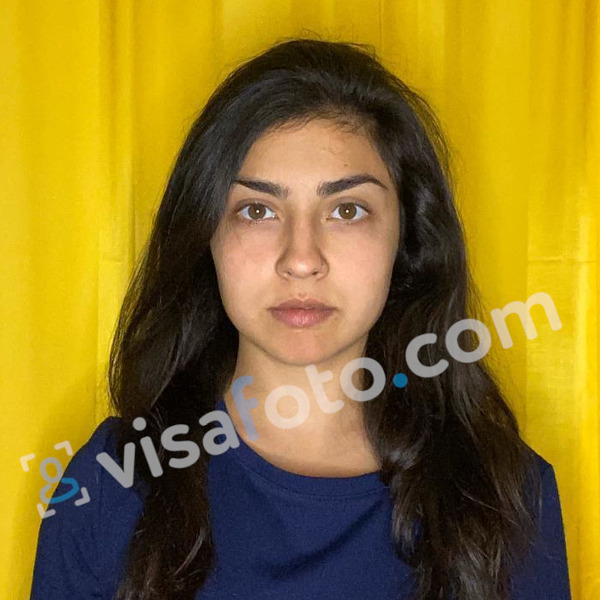 The result of using our visa photo editor will be two files:
A digital visa photo for electronic application;
A printable template with 4 separate visa photos for applying in paper form.
Here they are:
The acceptance of the photograph edited via Visafoto is 100% guaranteed! We specialize in the processing of visa and passport pictures since 2013, and our photos have an impressive 99.7% pass rate. If your case is an exception and your visa photo will be rejected, our 24/7 support will replace the photo for free or provide a full refund.
Use Visafoto to get your visa application photo online now!