Australia Student Visa
To study in Australia, you need a special student visa (Subclass 500). This article will discuss how to get a student visa to Australia, what types of it exist, and what advantages it gives to its owner.
Contents:
Features of Australia student visa
Studying in Australia is popular all over the world. The quality of education in this country is high, and there are good prospects for junior and experienced professionals.
An Australian student visa allows you to:
Stay in the country for up to 5 years;
Upon completing your studies, obtain a Temporary Graduate Visa in Australia (Subclass 485). It gives you a guaranteed opportunity to live and work in Australia for up to 4 years;
During training to be employed and work part-time, but no more than 40 hours a fortnight. You can work full-time during holidays and vacation periods. But if you are pursuing a PhD program or a research master's program, there are no restrictions on working hours.;
To move to Australia with the family: a spouse, partner, children. In this case, you need to prove your financial solvency - the fact that you can support all members of your family in Australia.
As mentioned above, it is allowed to work in Australia on a student visa, but not more than 40 hours per 2 weeks. The same applies to family members. Relatives of those studying in a master's or doctoral program have no such restrictions.
In Australia, student visa holders can receive medical care, start a business, and enjoy other benefits.
How to get an Australian student visa?
The basis for issuing a student visa is enrollment in an Australian educational institution. It is possible to study both in language courses and receive higher, secondary, vocational, and other types of education. In addition, the applicant must have a good command of the English language.
Among other Australian student visa requirements are the following:
Medical insurance;
Compliance with medical requirements of the country;
No violation of migration laws in Australia. It is important that the person has not previously been deprived of a visa.
An Australian student visa is beneficial because it can be obtained to study two or more consecutive courses. For example, you can take a training course and then get a master's or bachelor's degree.
Please note: Students must be enrolled in the course for more than three months. If the period is shorter, you can come on a regular tourist visa (Visitor Visa subclass 600).
Australia student visa application process
You can apply for an Australian student visa on the Home Office website. To do this, you need to register, fill out the application form, upload your documentation, and pay a visa application fee of $620 AUD. Within two weeks of submitting the online application, you need to provide biometrics at the nearest visa centre.
Once approved, the visa will be e-mailed to you in PDF format. You need to print it out and keep it with you throughout your stay in Australia.
You can bring your fiancée, fiancé or partner to study in Australia. The term "partner" in the context of a student visa includes any person with whom you are in a relationship. You can also bring two or more children with you.
Documents required for Australia student visa application
For the Australian student visa online application, you must provide:
Identification Documents;
Confirmation of enrollment in an educational institution (CoE);
International Certificate of English Proficiency;
Health insurance from an approved Australian health insurance provider. Overseas Student Health Cover (OSHC) is recommended. Relatives travelling with you to Australia should also have insurance for the duration of your stay;
Medical examination results;
A digital ID photo;
Proof of financial solvency, such as a bank statement;
Evidence of ties to your home country, such as proof of ownership of the real estate, property, employment. This is to confirm that you are coming to Australia for the sole purpose of obtaining an education.
Sometimes additional documents may be requested. These should be submitted as soon as possible.
Australia visa photo specifications
For processing a student visa to Australia, it is necessary to provide two identical photos. The visa photo requirements are as follows:
The required Australian visa picture size is 35 x 45 mm;
The applicant's head size must be 32 to 36 mm. The face must be in the centre. The expression of the face is neutral;
Headdresses are allowed only for religious reasons;
Eyeglasses are permitted as long as they do not overlap the eyes;
The applicant should be easily identifiable, and therefore it is worth providing as recent a photo as possible. General requirements state that the photograph cannot be more than six months old.
Here is an example: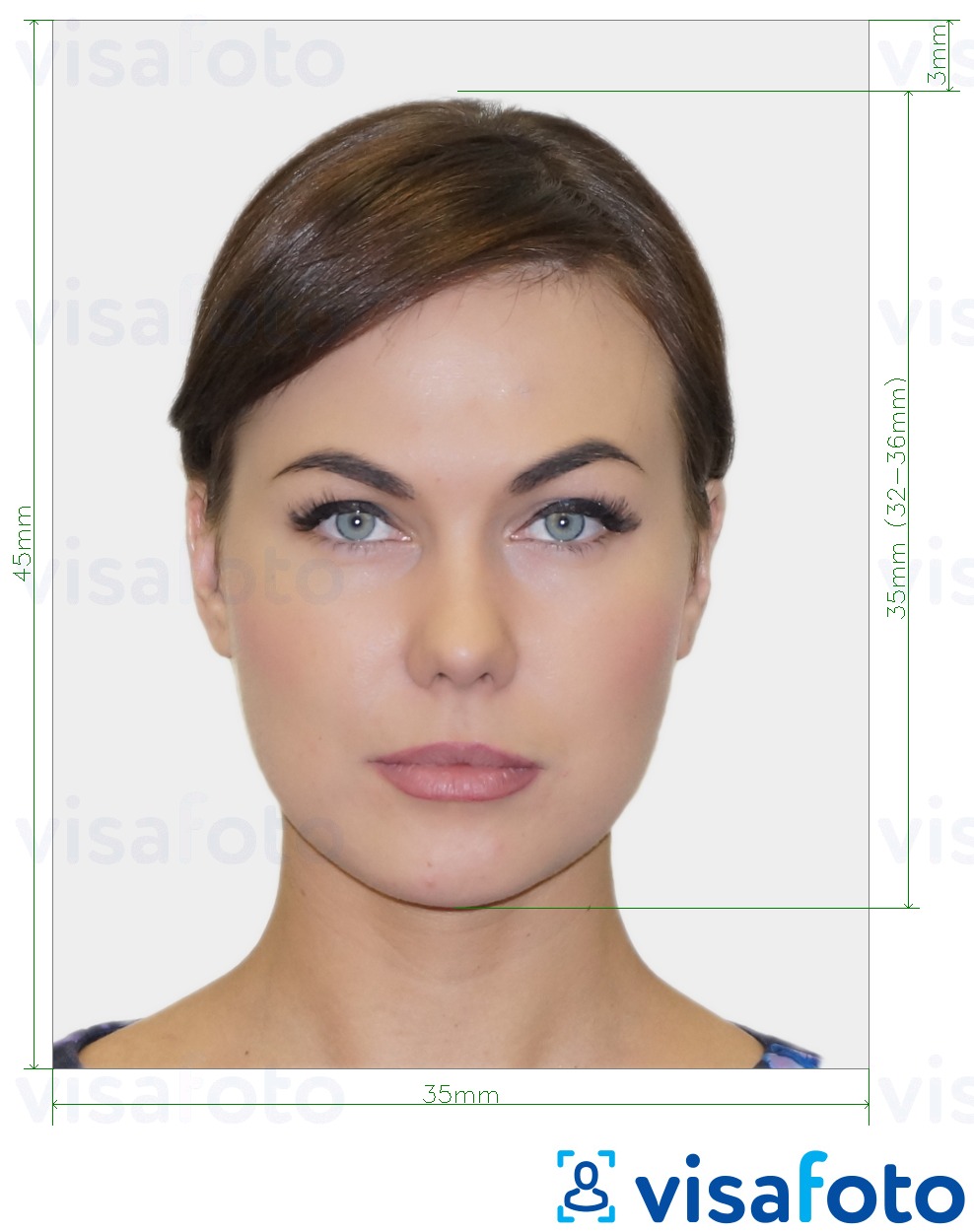 To get your Australian student visa photo quickly and conveniently, we recommend using the Visafoto service. The software has existed since 2013 and processes photos for different types of domestic and international documents.
Take an image with a smartphone or camera against any background, upload it here and instantly get a professional photo for your visa, passport or ID.
Source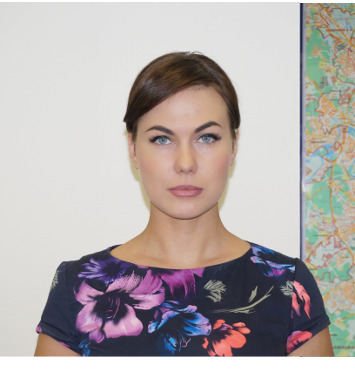 Result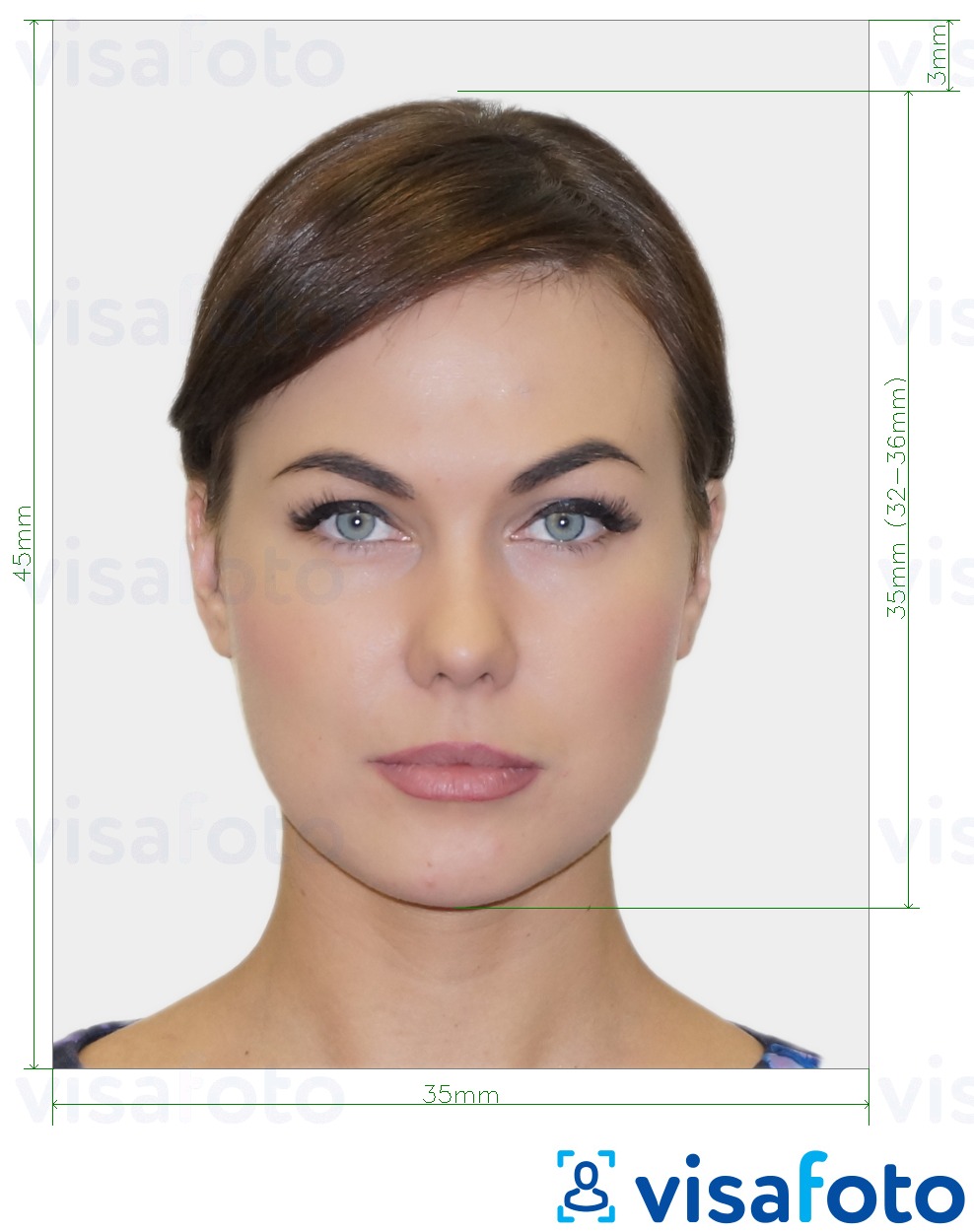 Getting an Australian visa picture online from the comfort of your home is easy: you only need a smartphone and an Internet connection. Take a photo against any background, upload the original image to the program and download the processed file.
First, take a photo of yours under daylight like this one: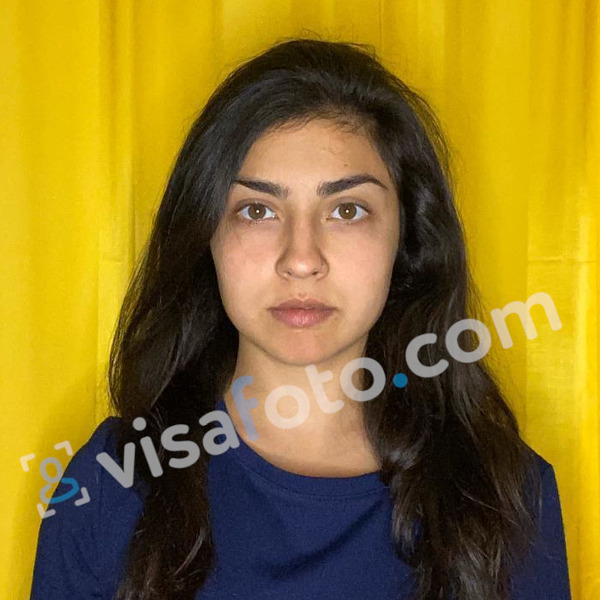 You will have two types of photos: a digital one for electronic applications and another one suitable for printing.
Here they are:
This is the most modern way to get your visa photo, saving you time and effort. Visafoto photos are accepted 99.7% of the time.
We wish you the best of luck in moving to warm Australia, receiving a high-quality education and further career success!