Australia Visitor Visa Guide
Home to the Great Barrier Reef and other natural wonders, Australia is on the travel bucket list of many people. If you are not a citizen of a country with a visa waiver agreement with Australia and want to travel to Australia as a tourist, you will need a Visitor visa (subclass 600).
In the following sections, we'll navigate through the visa types, eligibility criteria, application procedures, and essential tips for a seamless experience.
Contents:
Visitor visa (subclass 600) policy
A visitor's or tourist visa to Australia is suitable for recreational trips, guest visits, or short-term study visits. You cannot use it for employment. Australian visas are not pasted into the passport; they're obtained electronically before the trip.
There are several streams to apply for this visa:
Tourist stream (apply in Australia);
Tourist stream (apply outside Australia);
Sponsored family stream: for those whose travel is covered by relatives in Australia.
Business visitor stream;
Approved Destination Status stream: specialised visas for Chinese nationals visiting Australia for personal or work reasons.
Frequent traveller stream.
A quiz on the Australian Department of Home Affairs website can help you select the proper type of visa.
Australia visitor visa validity
The Australian Department of Home Affairs determines the tourist visa duration. It can grant a visa for a 3, 6 or 12-month stay in the country, single or multiple entry. The Department evaluates the wishes of the applicant and the reasons for travel.
Visitor Visa for tourist and business travel is often issued for up to three months. The number of entries is determined on an individual basis.
How to get an Australia visitor visa?
To apply for a visa on your own, you must contact the Australian embassy or visa center in your country of residence. Beforehand you should study all types of visas, decide on the right option, and collect the required documents.
To apply for an Australian visa online, you must register with the ImmiAccount system on the Commonwealth Department of Immigration website. You must select the correct visa type and fill in the necessary sections of the online application form. The final steps of the process are attaching supporting documentation and paying the consular fee.
If you prefer to bring the papers in person, the embassy has a drop-off box where you can put a sealed envelope. There is no need to make an appointment or wait in line for that.
After you receive a letter from the embassy telling you to submit your biometric data, you need to make an appointment at one of the Australian biometric data collection centers within two weeks. The sooner they are submitted, the sooner the documents get processed. Failure to submit biometrics can result in visa rejection.
Documents required for Australia visitor visa application
The checklist for Australian tourist visa is as follows:
Your valid passport;
Australian visa application form;
Proof of paid visa fee;
Application photograph fulfilling requirements;
Your national ID;
A bank statement. Cash and credit cards are not sufficient evidence that you can financially support your stay;
Police certificate;
Health insurance valid in Australia;
Detailed itinerary of your Australian journey
Proof of accommodation in Australia;
Employer permission letter (if applicable);
Invitation letter from Australian friend or family, if applicable.
It's important to note that specific requirements may vary based on the type of visitor visa you're applying for, whether it's a tourist visa, business visitor visa, family-sponsored visa, or other categories. Always refer to the official Australian government website or the Australian embassy or consulate website in your country for the most up-to-date and accurate information.
Australia visitor visa photo requirements
Make sure the photograph you use to apply fulfills these parameters:
The Australian vosa photo size must be 35 to 45 mm in weight and 45 to 55 mm in height;
The background must be light grey or white;
The photo resolution must be 600 dpi;
The height of your head (from the chin to the crown) in the picture must be 32 to 36 mm;
Your eyes must be open and looking straight at the camera;
Eyeglasses are only allowed for medical purposes. In this case, you must provide a letter from a registered medical practitioner stating the reason. The frame must not obscure your face;
If you usually wear religious headwear, it is allowed to wear it in the photo. It must not obscure facial features or edges;
Accessories must not cover any facial features and not produce glares in the photo;
The picture must have good contrast and lighting, with no dramatic shadows nor blurs or pixelated parts;
The picture must not be retouched, it may not have red eyes or glares.
Here is an example: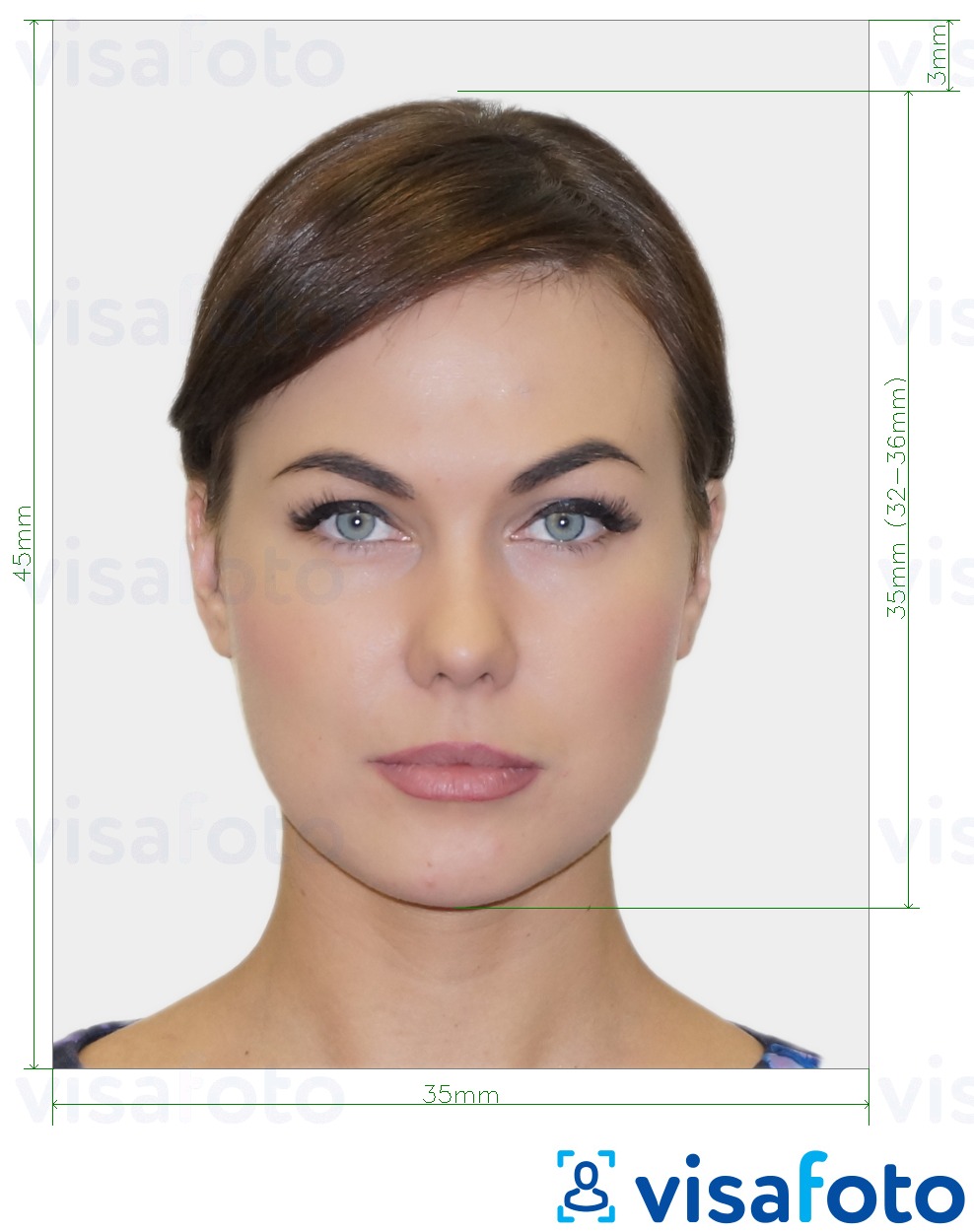 Australian visa applications can require a lot of work, so we recommend saving your time where possible. To ensure your photo is up to par while saving time and resources, we recommend using Visafoto. This online photo editing service provides your image is fully up to par. Just upload a portrait of yourself following the dress code and posing guidelines explained above to our tool below. Visafoto will instantly set up the required parameters and prepare the image for printing.
Take an image with a smartphone or camera against any background, upload it here and instantly get a professional photo for your visa, passport or ID.
Source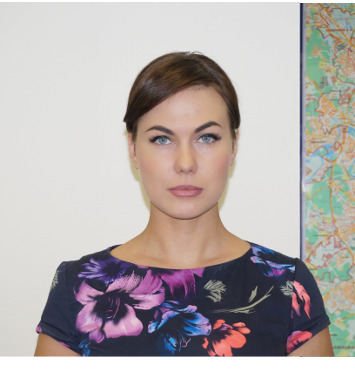 Result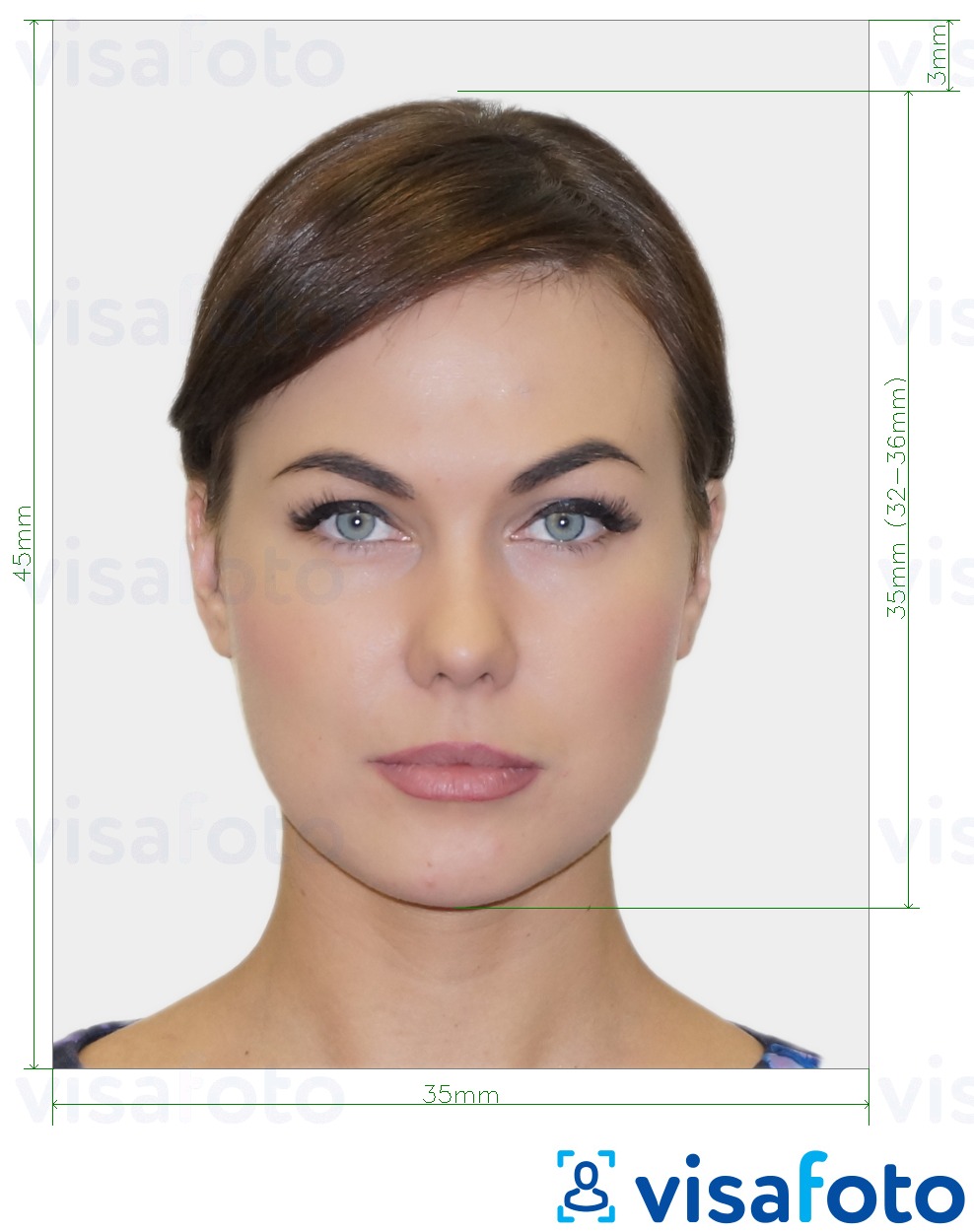 First, take a photo of yours under daylight like this one: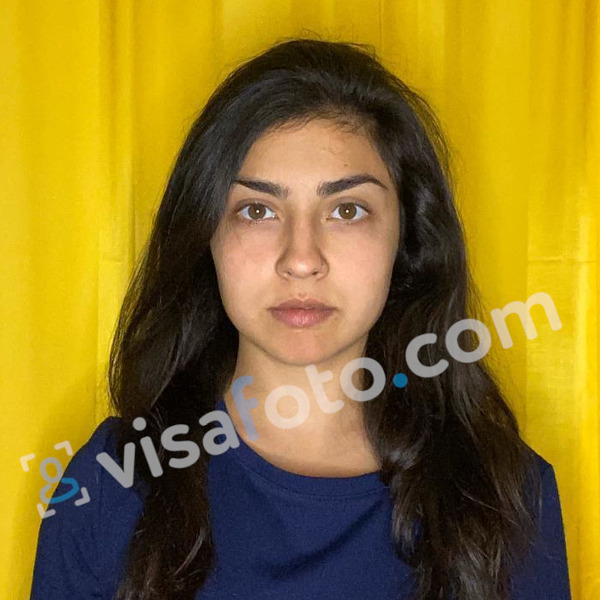 You will have two types of photos: a digital one for electronic applications and another one suitable for printing.
Here they are:
Australian tourist visa processing time
The visa backlog that occurred due to the pandemic has tapered off for the time being. Currently, the Australian tourist visa processing time takes 28 days on average, equivalent to the pre-Covid rates.
Australia visitor visa fee
For almost all streams, the cost is AUD150, if applying outside Australia. The Frequent traveller stream is AUD1,120, while Tourist stream applications within Australia cost AUD380. For Sponsored family stream applications, the Immigration service may ask for a security bond from your sponsor.
If you want to speed up the procedure, you can pay an additional A$1000 for the visitor visa fast-track fee.
Australian tourist visa renewal
Foreigners can extend their Australian visas while already in the country. This is done online at ImmiAccount system, in the standard procedure. The applicant must state why they are being detained in the country. A 3-month tourist visa can usually be extended for another five months. Sometimes, a foreign national can obtain the right to enter Australia multiple times.
Note that not all tourist visa holders can renew their Australian visa once they run out. To renew, you must:
Be from an eligible country;
Prove your good health by passing medical tests;
Hold a valid visa;
Not have conditions on your visa that disqualifies you (no further stay);
Not stayed in Australia for more than 12 months in the last 18 months.
If you check all those points, you may apply for an extension. Make sure to apply on time, as not having a visa during your stay makes you an unlawful noncitizen, which may end in detention, deportation, or a ban from applying for an Australian visa in the future.
Australian tourist visa rejection reasons
To make a positive decision entry, the visa officer must ensure that your trip's purpose is real and that you have sufficient funds. The applicant will be rejected if there is any doubt on these points.
Among factors affecting the issuance of an Australian visa are:
Personal, employment, or financial obligations that encourage the applicant to return to their home country ((such as a full-time job);
Purpose, anticipated travel time, vacation dates, and applicant's plans.
The character and behaviour of the applicant.
The most common reasons for refusal are:
Insufficient amount of money in the account;
Incomplete data in the application form;
False information.
In case of rejection, the applicant receives a letter stating the reasons and providing information about the revision. After correcting the deficiencies, supplementing the package of papers with missing documents you can reapply.
Last update: August 2023