Bolivia Visa Guide
Getting a visa is one of the first things that comes to mind when it comes to traveling abroad. If you're planning to visit Bolivia and wondering about what it would require you in terms of visas, read this guideline to find out the most frequently asked questions about it.
Table of contents
Bolivia visa policy
To enter Bolivia, citizens of some countries need a visa while others don't. This is based on the Bolivian visa policy that divides up countries into three groups:
Group 1: citizens of these countries can enter Bolivia and stay for 30 days without a visa;
Group 2: citizens of these countries can enter Bolivia with a free visa acquired before entry, or a paid visa on arrival;
Group 3: citizens of these countries need to apply for a visa in advance with special authorization.
Who is eligible for a Bolivia visa-on-arrival?
The countries eligible for Bolivian visas on arrival are in Group 2:
Albania
Algeria
Antigua and Barbuda
Armenia
Azerbaijan
Bahamas
Bahrain
Bangladesh
Barbados
Belarus
Belize
Benin
Bosnia – Herzegovina
Botswana
Brunei Darussalam
Bulgaria
Burkina Faso
Burundi
Cameroon
Cape Verde
The Central African Republic
China
Comoros
Cuba
Cyprus
Djibouti
Dominica
Dominican Republic
Egypt
El Salvador
Equatorial Guinea
Eritrea
Ethiopia
Fiji
Gabon
The Gambia
Georgia
Ghana
Granada
Guatemala
Guinea
Guinea-Bissau
Guyana
Haiti
Honduras
India
Iran
Ivory Coast
Jamaica
Jordan
Kazakhstan
Kenya
Kiribati
Kuwait
Kyrgyzstan
Lebanon
Lesotho
Liberia
Macedonia
Madagascar
Malawi
Malaysia
Maldives
Mali
Malta
Marshall Islands
Mauritania
Mauritius
Micronesia
Moldova
Mongolia
Montenegro
Morocco
Mozambique
Myanmar
Namibia
Nauru
Nepal
Nicaragua
Niger
Oman
Palau
Papua New Guinea
Qatar
Republic Of Korea
Romania
Russia
Saint Kitts and Nevis
Saint Vincent and the Grenadines
Samoa
San Marino
Santa Lucia
Sao Tome and Principe
Saudi Arabia
Senegal
Serbia
Seychelles
Sierra Leone
Singapore
on Islands
South Africa
Sri Lanka
Surinam
Swaziland
Tajikistan
Thailand
Togo
Tonga
Trinidad and Tobago
Tunisia
Turkmenistan
Tuvalu
Uganda
Ukraine
United Arab Emirates
United Republic of Tanzania
Uzbekistan
Vanuatu
Vietnam
Zambia
Zimbabwe
How to apply for a Bolivia visa?
If you're a citizen of a country in Group 2, you can apply for a visa in advance at your nearest Bolivian embassy or consulate by following these steps:
Contact your nearest Bolivian embassy or consulate for appointments and application details;
Fill out the application form available online and print it out;
Submit the form and required documents in person or by mail, depending on the embassy's or consulate's policies, and pay for the fees (if applicable);
Wait for the application to be processed and retrieve your visa.
This process also applies to Group 3 countries, usually with different processing times or additional documents.
Visas on arrival are available at Cochabamba, La Paz, and Santa Cruz airports.
Documents required for Bolivia visa application
Have these documents with you whether you're applying at the consulate or as a visa on arrival:
Your passport, valid for at least another six months;
A visa application photo;
Travel itinerary;
Proof of accommodation in Bolivia;
Invitation letter, if applicable;
Proof of visa application fee payment, if applicable;
A certificate of vaccination against yellow fever, if applicable.
As a general rule, keep documents relevant to your travels handy, as they may also need to be shown or submitted.
Bolivia visa photo requirements
Make sure the photo attached to the visa application package fulfills these requirements:
The required Bolivian visa image size is 3x3 cm;
If submitting online, the file size must not exceed 150 Kb;
The image must have adequate brightness and contrast and show natural skin tone;
It should show a close-up of the head and (partial) shoulders;
Your head must be looking straight forward, centered with a neutral expression and in sharp focus, and clear with no ink marks/creases/lines;
The face (from forehead edge to bottom of chin) should be 70 to 80% of the photo;
The eyes must be open and no hair obscuring the face;
Prescription glasses are allowed but have to be clear and thin framed and should not have flash reflection or obscure the eyes;
Head coverings, hair, head-dress or facial ornaments should not obscure the face;
The photo must have a plain white background with no other people or objects in the photo;
The lighting must be uniform with no shadows on the face or behind;
Photos should not have red eyes.
Here's an example of the photo: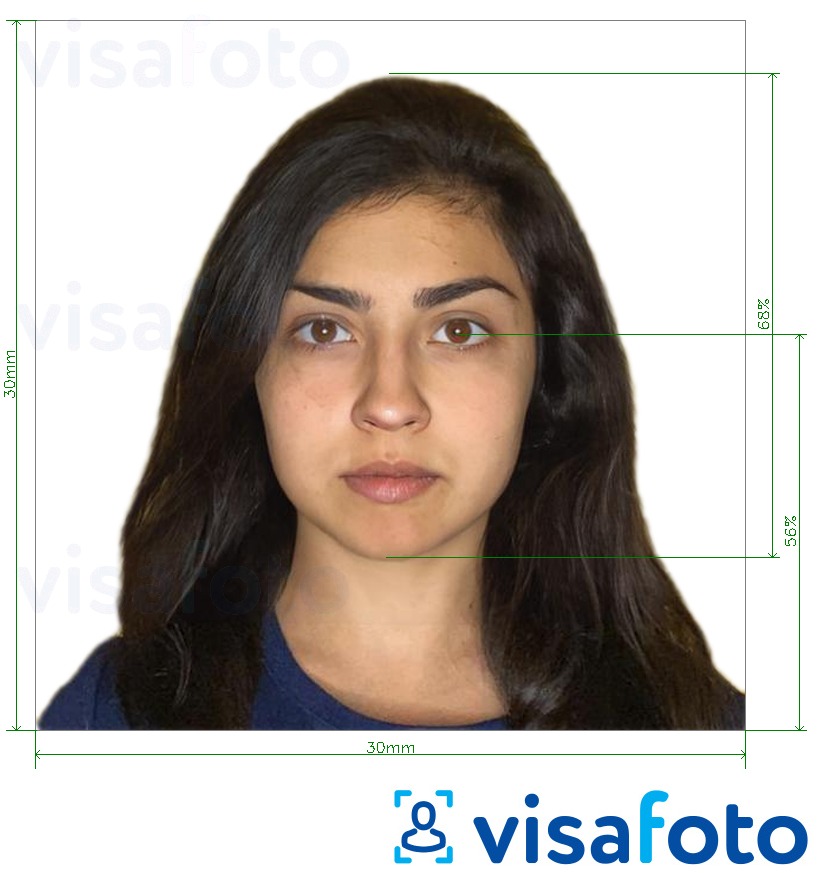 Get a Bolivia visa photo online!
To instantly get a compliant picture, simply upload your full-face portrait to our online visa photo converter. Visafoto will instantly format its size, background, and quality. You will get a ready-to-submit image fully compatible with official specifications. Contact our 24/7 support if you have any questions!
Take an image with a smartphone or camera against any background, upload it here and instantly get a professional photo for your visa, passport or ID.
Source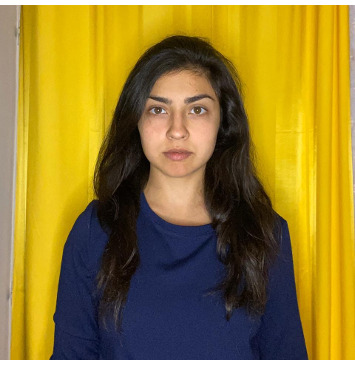 Result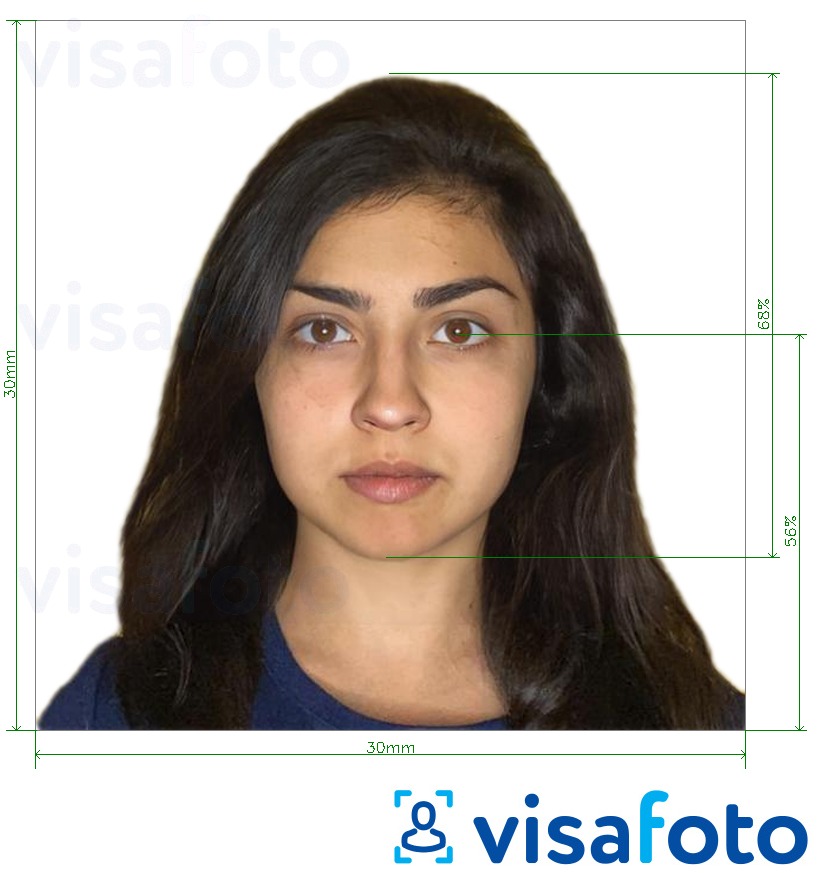 First, take an original photo like this: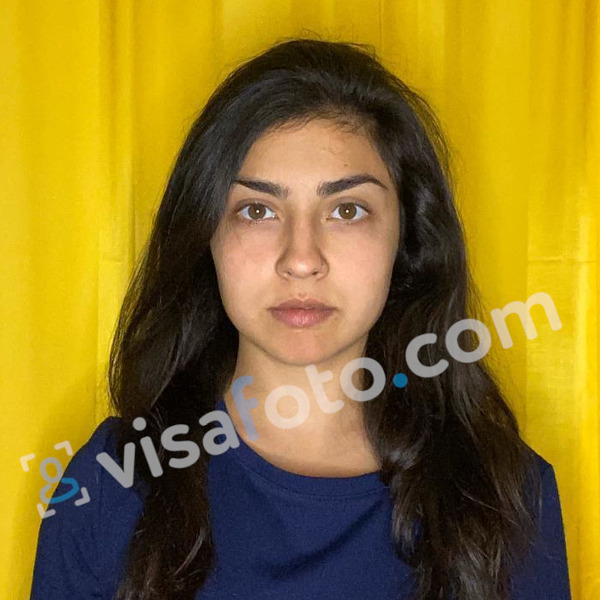 Then resize it to get a photo for online submission and 4 photos suitable for printing:
Bolivia visa fee
The fees may vary depending on your country of origin and the purpose of travel. As a rule, short-term visas like tourist visas are cheaper, ranging from free to US$30, while longer-term visas like a student and temporary residence visas cost more (US$50 and US$200 - US$250 respectively). Visas on arrival also tend to cost more than visas acquired before travel, as their fees may vary up to US$95.
Bolivia visa validity
Generally, the validity for Bolivian visitor visas is 30 days or 90 days, depending on your country of origin and type of visa.
Links