Canadian Citizenship Application Guide
Canada's robust social support and economic system is a dream for many. Some may take it even further by seeking out Canadian citizenship. How can you get through the application process? Read more below.
Table of contents
The benefits of Canadian citizenship over the permanent resident status
While permanent residence already grants many rights to foreigners living in Canada, citizenship status gives you even more.
One of the most apparent differences is political rights. Citizens can vote and run for political office, while residents cannot.
Besides that, because you're a citizen, you won't need to worry about your residency status by counting the days you spend inside and outside Canada, nor will you need to worry about renewing your permits.
Holding this status also opens you up to jobs only available to citizens, such as those needing security clearance.
Canadian citizenship also, obviously, grants you a Canadian passport: one of the strongest travel documents worldwide.
Who is eligible to get Canadian citizenship?
In general, here are the points you need to check. To obtain citizenship status in Canada, you must:
be a permanent resident;
have lived in Canada for 3 out of the last five years;
have filed your taxes, if applicable;
pass a citizenship test;
prove your language skills (you need to be able to communicate at a certain level in French and/or English).
There are varying requirements for minors, former members of the Canadian Armed Forces, those who gave up their Canadian citizenship in the past, and others.
How to apply for Canadian citizenship?
In general, there are two ways to apply for Canadian citizenship: online and by post.
Right now, online applications are available to eligible residents aged 18 and above who are applying alone, not with their families. If you can apply electronically, here is the link.
In other cases, you will have to apply on paper. The documentation package varies on your status: whether you submit it as an adult for yourself, a minor without parents, a parent applying for minors, a stateless person, and others.
Then you will need to pay for the application online. You can pay several application fees at once, if applicable.
If you're submitting more than one application (for example, also for a family member or more) and want them to be processed simultaneously, send them together.
Documents required for Canadian citizenship application
As we mentioned above, the documents vary on your status. However, we will use the case of an adult application to give you the basics of what you will need to submit:
The original printout of your Online Physical Presence Calculation or form CIT 0407 (as an evidence of your stay in Canada);
Colour photocopy of all pages of your past and current passport(s) for the last five years;
Copies of two pieces of personal identification. These may be:
Certificates proving your English or French language level, which may be:

Scores of a third-party English or French language test;
diploma, certificate or transcripts from a secondary or post-secondary education program in Canada or abroad, which used English or French for studies;
proof that you have reached at least the Canadian Language Benchmark (CLB) level 4 through a government-funded language training program.

Two identical citizenship application photos fulfiling the parameters;
Paid application fee;
The documents checklist.
Canadian citizenship photo requirements
Make sure your application photos fulfil these parameters:
The photo size must be 50 mm wide by 70 mm high (2 inches wide by 2¾ inches high);
The height of your face must be between 31 mm (1¼ inches) and 36 mm (1⁷⁄₁₆ inches) from the chin to the natural top of the head;
The pictures must be clear, sharp, and in focus;
The images must have uniform lighting and no shadows, glare, or flash reflections;
The photos must show an obvious contrast between your face and the background;
The photos must show your natural skin tone;
You must print photographs on plain, high-quality photo paper;
You must not retouch your appearance;
You should have a neutral facial expression with eyes open and visible; your mouth must be closed with no smiling;
The photos must not be older than six months;
They must show face and shoulders centred and squared to the camera, not tilted in any direction;
Headwear worn daily for religious beliefs or medical reasons is allowed;
Glasses are permitted, but your eyes must be visible, and there must be no glare on the lenses;
They must have a plain white or light-coloured background that shows a clear difference between you and the background.
Here is an example: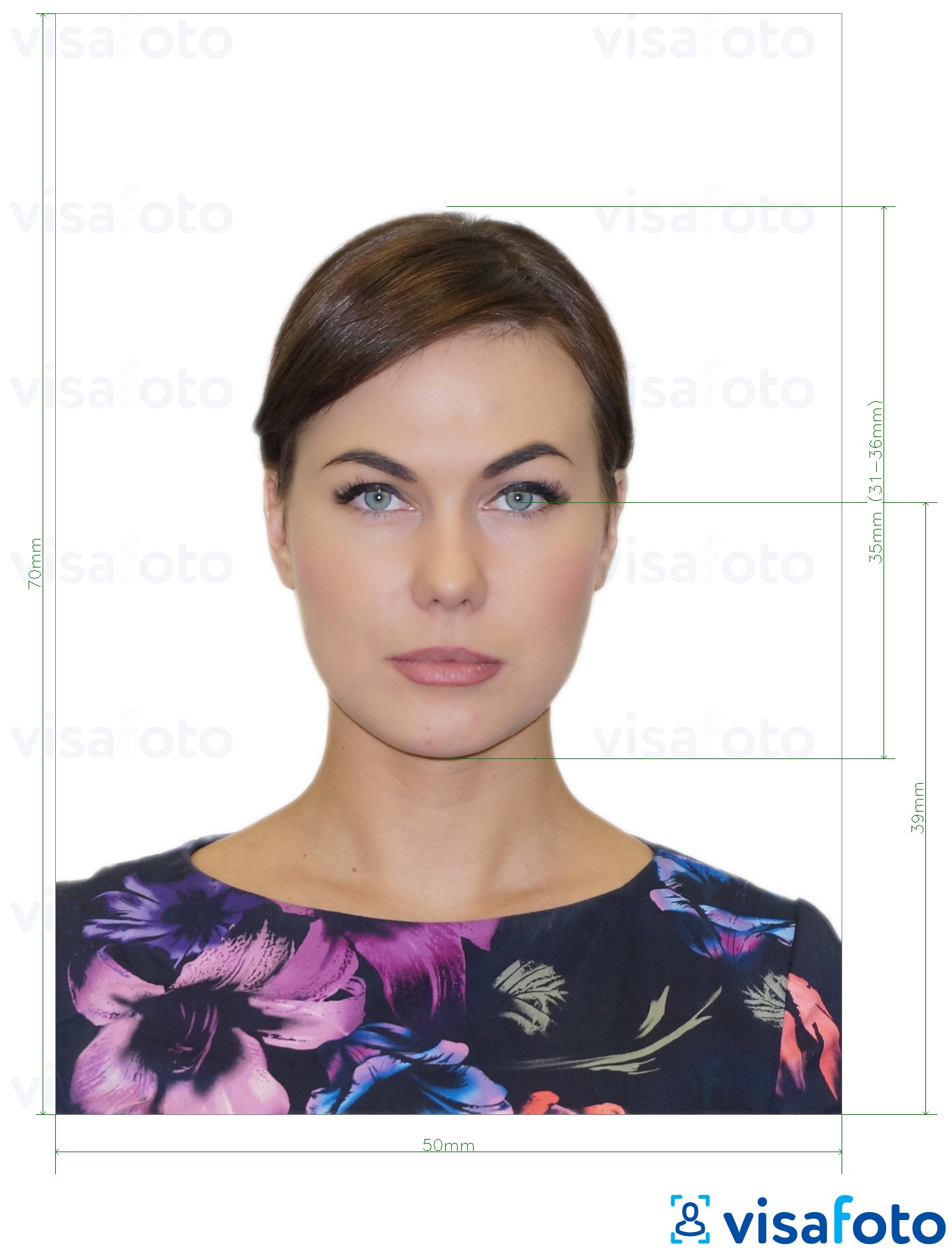 Get a photo for a Canadian citizenship application online!
Citizenship applications need a large set of documents, all of which you must get right. So we recommend not wasting your time where you can save it: on application photos. By using Visafoto, you can get a Canadian citizenship application picture that checks all the requirements without leaving the comfort of your own home.
Take an image with a smartphone or camera against any background, upload it here and instantly get a professional photo for your visa, passport or ID.
Source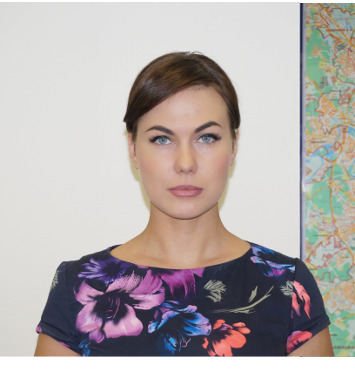 Result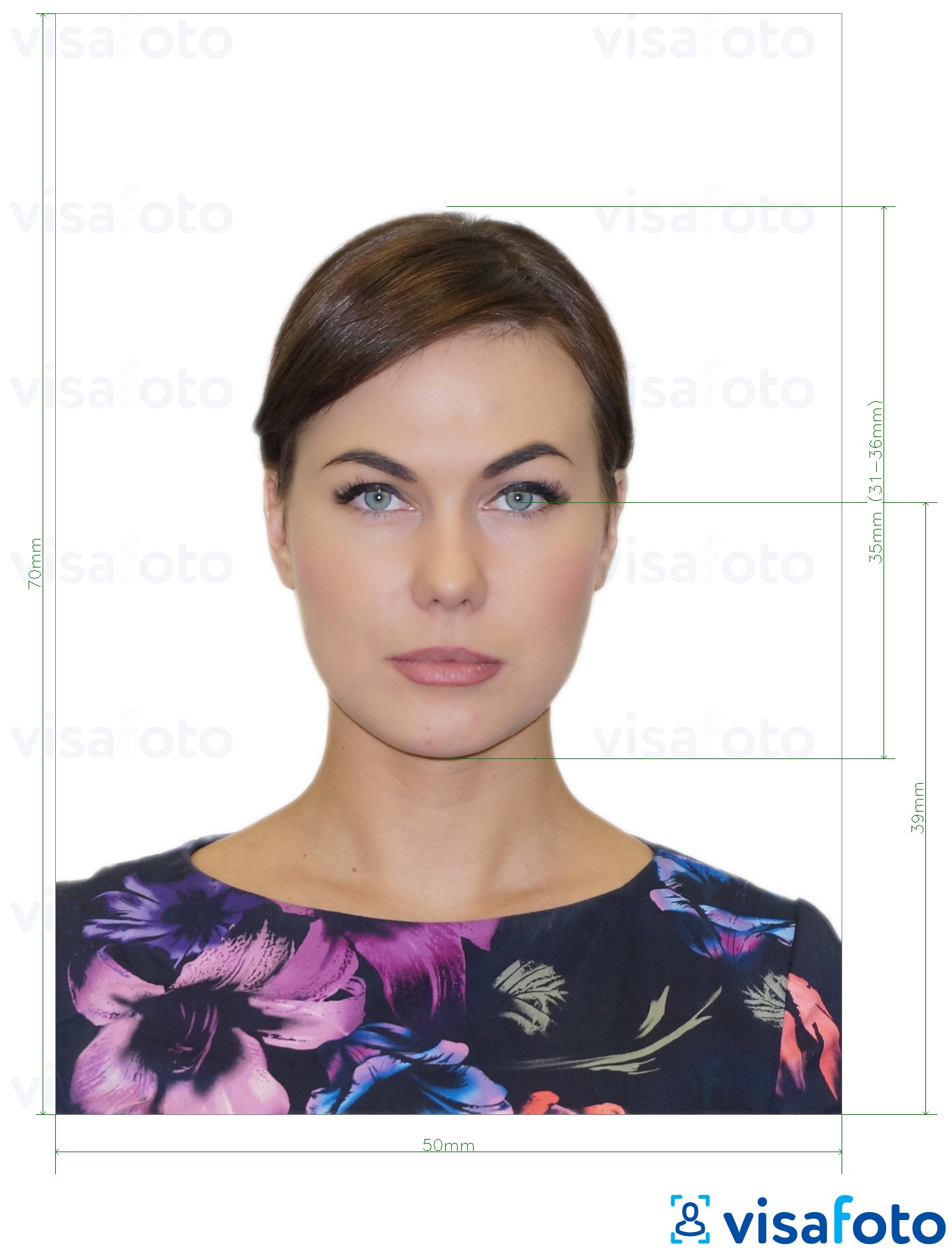 Just take a portrait of yourself in good lighting and upload it to our tool below. No need to worry about the background, format, and proportions; we have you covered. You will get two files from Visafoto: a digital photo and a template ready for printing, so you can use Visafoto whether you're applying online or by post.
So let's have a look at some examples. Your original photo should look like this: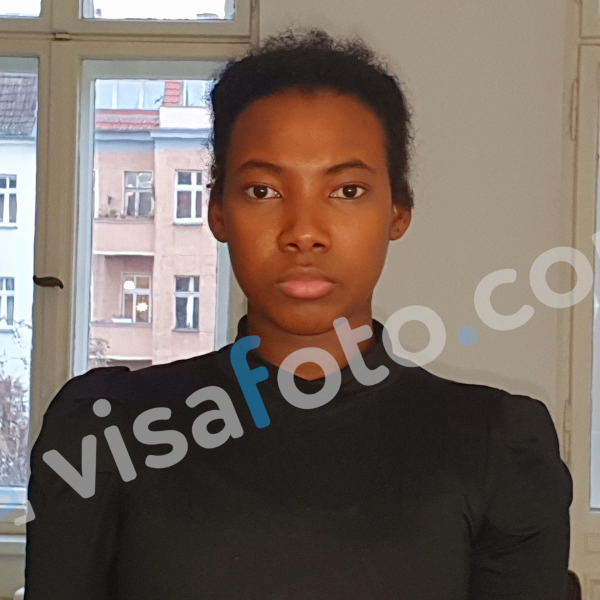 After resizing, you will get a photo for online submission and 4 photos for printing:
Canadian citizenship fee
The total price for adult applicants (including processing fee and right of citizenship fee) is $630.
For stateless adults born to Canadian parents and minors, the cost is $100.
Canadian citizenship test and interview: what to expect
First, find out whether you need to take the test and interview or just one of them. Adults 18 to 54 years of age need to attend both. Check your situation below:
Adult 55 and over: interview only;
Minor under 18 with a Canadian parent or a parent applying at the same time: neither, exceptions apply;
Minor 14 to 17 without a Canadian parent or a parent applying at the same time: interview only
Minor under 14 without a Canadian parent or a parent applying at the same time: neither exceptions apply.
In the test, there will be 20 questions about the rights and responsibilities of Canadians and Canada's history, geography, economy, government, laws, and symbols. You will need to familiarize yourself, among others, with aspects of Canadian culture, the Monarchy, the political system, and elements of Canadian life. Prepare yourself by studying this guide.
Canadian citizenship processing time
The processing time may vary based on the processing centre's workload, which you can check here. However, most applications (routine) need approximately 25 months to be processed.