Canada Digital Nomad Visa
The digital nomad lifestyle has gained immense popularity in recent years, allowing individuals to work remotely while exploring different countries. Recognizing this trend and its potential economic benefits, Canada has introduced its own Digital Nomad Visa program. This initiative aims to attract talented professionals and entrepreneurs worldwide who wish to temporarily live and work in Canada.
This article will delve into the rules, requirements, application process, costs, and other essential aspects of the Canadian visa for digital nomads and freelancers.
Table of contents
Canada's New Digital Nomad Program rules
The Digital Nomas scheme will enable individuals who work remotely for any company or as freelancers to come to Canada and stay for up to six months. During this time, they can explore employment options within Canada and, if successful, apply for a work permit from within the country.
According to the current immigration regulations, digital nomads are only required to obtain a Canadian Visitor Visa to relocate to Canada and work remotely for up to six months.
Canada digital nomad visa requirements
Applicants must meet certain criteria to qualify for the Canadian digital nomad visa. Firstly, individuals must be at least 18 years old and have valid passports to enter Canada. Secondly, applicants must demonstrate their current activity and intent to engage in remote work, either as an employee of a foreign company or as a self-employed individual. It is important to note that applicants should be able to fund themselves during their stay in Canada and must be able to prove it.
How to apply for a Canada digital nomad visa?
The process of applying for a freelancer visa is basically identical to obtaining a regular visitor's visa to Canada.
There are two ways to apply for your visitor visa to engage in the digital nomad scheme.
In-person
Fill out the application form based on your travel purpose electronically. Do not fill it out by hand. Then, print this application form on good quality paper, make sure the barcode is printed clearly and without damage.
Prepare all supplementing documents according to your visa application, which we will explain below.
Book an appointment at your nearest Canada visa office or visa application center to take your biometrics if you need them.
Pay your visa fee. Don't forget to keep the receipt of your payment, as it will be further needed in your application.
Attend your appointment if it was needed. Either way, you will need to submit your passport.
Track your application and retrieve your passport, whether by picking it up at the application center or by mail, for an additional fee.
Online
Create an account on the IRCC website and start filling out your application. Upload the supplementing documents as needed.
Book an appointment at your local Canada visa office or visa application center.
Pay your visa fee.
Visit your local visa application center to take your biometrics (if needed) or submit your passport.
Track your application and retrieve your passport with your Canadian visa.
Documents required for Canada visa application
You should apply for a regular visitor visa to enter Canada under the digital nomad scheme. Here is the list of mandatory documentation:
A photocopy of your passport's data page. Your passport must have at least one empty page besides its last page;
Two photos that fulfill Canada visa photo requirements;
Proof that you can fund your stay in Canada;
A photocopy of your current immigration passport if you do not currently reside in India;
Additional documents as required by your local visa office, based on your purpose and status.
Canada visa photo specifications
Make sure that your visa photos fulfill these requirements. If they do not, you must make a new one before processing your visa application.
The required Canada visa photo size is 35 x 45 mm;
The height of your head in the photo must be between 31 and 36 mm;
The photo must be clear, with no blurring or pixelation;
You must be looking straight into the camera with a neutral expression;
The photo may not be older than six months by the time of application;
Religious headwear is allowed but must not obscure your face;
Prescription glasses are allowed. Make sure the lenses are not tinted and the glasses do not obscure your face;
Hair accessories and makeup are allowed if they do not alter your appearance. We recommend that you stay minimalistic in this regard;
The visa photo background must be white or light-coloured;
If your photo is digital, digital retouches or edits that alter your appearance are not allowed;
As you will need two photos, both photos must be identical to each other.
Here is an example: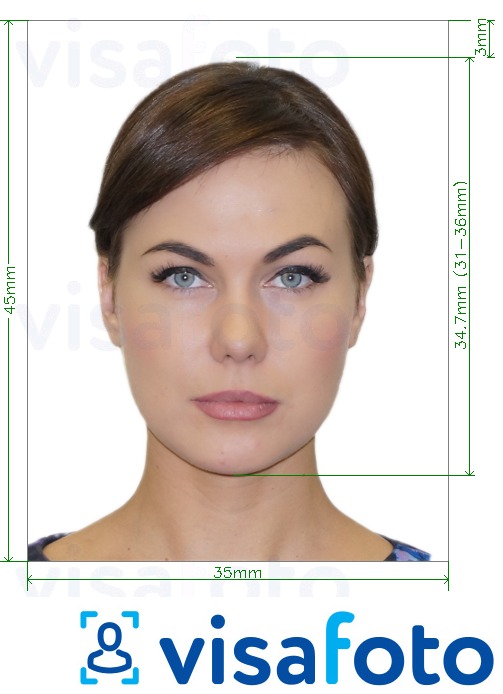 Get a Canada visa photo online!
To ensure a successful Canada visa application, submitting photos meeting the specified requirements is crucial. We strongly recommend relying on professionals to guarantee that your photos comply. Visafoto provides a convenient solution by transforming your selfie into a valid picture suitable for Canada visa applications. As long as your photo is taken under suitable lighting conditions and adheres to the prescribed dress code and posing guidelines mentioned earlier, Visafoto can assist you in achieving the desired outcome.
The process is simple. Just upload your portrait using our generator below, and our software will handle tasks such as adjusting the size, proportions, background, and even enhancing subtle details like head tilt and contrast. Whether you capture the image with a smartphone or a camera against any background, Visafoto will swiftly provide you with a professional photo that meets your visa, passport, or ID requirements.
Take an image with a smartphone or camera against any background, upload it here and instantly get a professional photo for your visa, passport or ID.
Source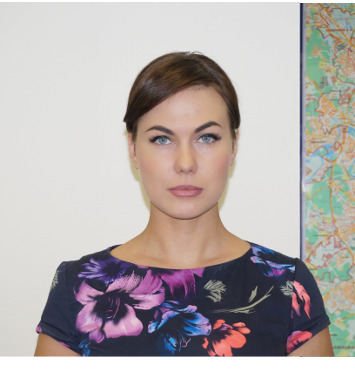 Result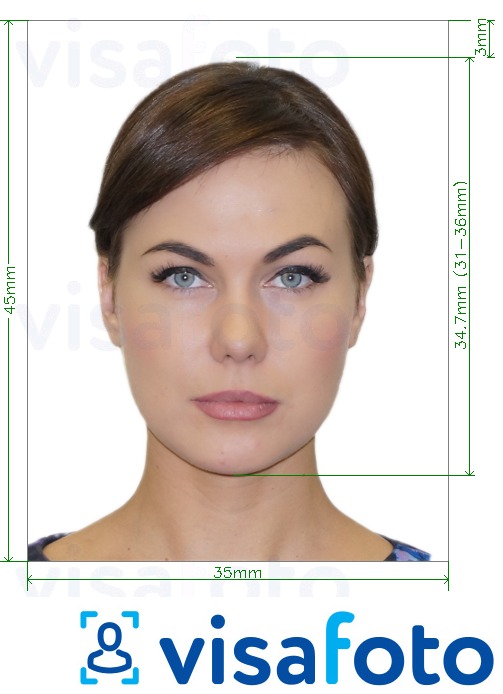 Source photo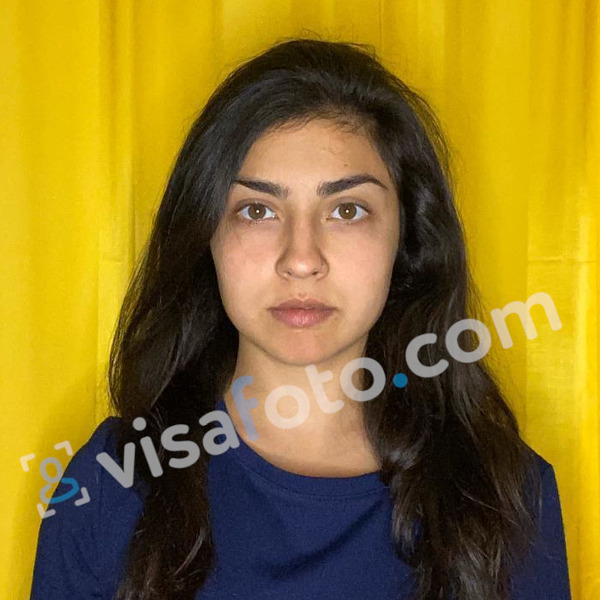 You will get 2 types of Canada visa photos: online submission and printing.
Canada digital nomad visa cost
The visitor visa application fee is CA$ 100 for a single person to apply for a visitor visa. If you need your biometrics taken, the fee for the service is CA$ 85. If applicable, a work permit costs CA$ 155.
You may pay online on the IRCC official website (after you have created an account) or at your local visa application center.
Canada digital nomad visa validity and extension
The visa can be valid for up to 6 months. To extend your stay in Canada as a visitor (stay in Canada longer), you must apply for a visitor record. A visitor record is not a visa. You can apply for this document at the IRCC, whether online or in person.
Taxes for digital nomads in Canada
As a digital nomad or freelancer in Canada, you are subject to tax obligations based on your residency status and income earned within the country. If you meet the criteria for being a resident, you will be required to report and pay taxes on your worldwide income. This includes income from employment, self-employment, or any other sources. It is important to keep accurate records of your earnings and consult with a tax professional or the Canada Revenue Agency (CRA) to ensure compliance with tax regulations and understand deductions and credits that may be available.