Canada Visa Photo Online
The main condition for travelling to Canada is obtaining a visa. And there's one essential element that must not be overlooked: your visa photo. The Canadian officials have specific visa photo requirements, and ensuring compliance is crucial to avoid delays in your application.
From the technical specifications to essential composition guidelines, we'll provide you with insights and tips to capture the perfect visa photograph that meets the government's expectations.
Table of contents
Documents for Canada visa application
The visitor visa, or temporary resident visa, is the most popular Canadian visa type, suitable for tourist and business trips. To obtain one, you must submit a sufficiently large set of documents to the consulate:
A passport that remains valid for at least six months beyond your planned stay in Canada.
2 identical photographs which must comply with photo requirements for Canada visa application of the Ministry of Citizenship and Immigration of Canada.
Completed application form, which is typically available online on the official website of Immigration, Refugees, and Citizenship Canada (IRCC). You can fill out the form online or download it and fill it out on your PC. The form must be completed in English or French.
Supplementary Family Information Form (IMM5645E) completed in English or French and signed by the applicant.
"Additional Information to the Application for a Temporary Resident Visa", completed in English or French and signed by the applicant.
Itinerary of your trip, including flight reservations, hotel bookings, and any planned activities or tours.
Proof of sufficient funds for the trip. This may include bank statements, proof of employment, sponsorship letter, or any other evidence of financial capability.
Original certificate from the place of work.
Pensioners must provide a copy of the pension certificate, a letter of sponsorship from one of the relatives, a certificate from their place of work indicating the position, work experience, salary, and a copy of the first page of their passport.
For students and schoolchildren, a birth certificate (copy), a certificate from the place of study, a copy of a student card, an application for sponsorship of the trip from parents, and documents confirming their financial well-being and ability to pay for the trip are required.
For children traveling accompanied by one of the parents or third parties, it is necessary to provide a you need notarized permission from the remaining parent.
Depending on your circumstances, you might need to provide additional documents, such as a letter of no objection from your employer if you are currently employed, or proof of enrollment if you are a student.
How to apply for a Canada visa online?
Online submission at the official website of the Ministry of Citizenship and Immigration of Canada is the most convenient way to apply for a Canadian visa. If you missed something, the system will simply not allow you to proceed to the next stage. An incorrectly filled field will be marked in red, and it will be easy for you to find the error.
Follow six steps to get your Canadian visa online:
Fill out forms and prepare documents
Download all the necessary forms for the visa you need and save them on your computer.
Forms must be completed electronically, saved, printed, signed, and scanned. All documents that you will attach to your application must be scanned.
You don't need to send your visa application now. It must be sent only together with a complete package of documents. An incomplete package of documents will be returned to you without consideration.
Payment must be made online using a bank card. Payment confirmation must be printed, scanned, and attached to all other documents.
When submitting online, all the necessary documents except for the passport are sent in a scanned form along with the application form and confirmation of the payment of the consular fee.
Wait for a letter from the Consulate confirming the consideration of the application
This usually takes 3 weeks. If the application is accepted, then the letter contains an instruction to send a passport for a visa.
Send your passport to the Consulate
The passport is sent by courier mail after the completion of the consideration of the application when you receive the corresponding letter from the Consulate.
Obtain a passport with a visa
A passport with a visa is delivered back to your home by the same courier service.
Canada visa photo requirements
Photographs must comply with the Canada visa application picture requirements as follows:
The required Canadian visa photo size is 35 x 45 mm (3.5x4.5 cm, 1 3/8″ x 1 3/4″ or 1.375x1.75 inch) by Canada visa photo size requirements;
The size of the face vertically from the crown to the chin must be from 32 to 36 mm;
The shoulders should be visible;
The head should not be tilted;
Both photos must be identical and taken within six months before submission of documents;
The photo can be either black and white or in color;
Blurry photos are not accepted;
The background should be white or plain light;
The face should be in the center of the frame. The facial expression should be calm and relaxed, with a mouth closed.
A person can be photographed wearing a hat or covering their head for religious reasons. In this case, facial features should be visible.
Here is a Canadian visa photo example: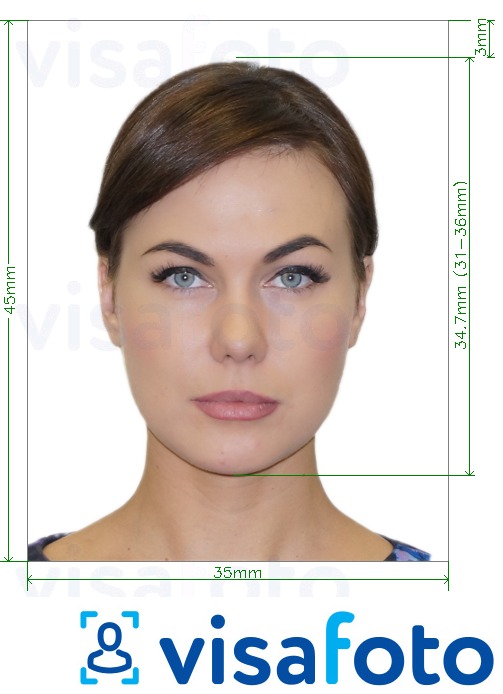 Can I wear glasses in the Canada visa photo?
Photos in sunglasses are not allowed. If the applicant wears eyeglasses, he can take a picture in them. The main condition is that the eyes are visible. The frame should not be too thick.
Canada visa photo: matte or glossy
The photo should be printed on high-quality photographic paper. The type of the paper is not specified in the Canada visa picture requirements.
Canada visa photo tool
What is the best way to take a photo for a visa application? As Canadian visa photo size requirements are strict, it is better to outsource this task to special online tools like Visafoto. This revolutionary solution not only saves you time and effort but also ensures that your visa application complies with the strict guidelines set by the Canadian government.
Take an image with a smartphone or camera against any background, upload it here and instantly get a professional photo for your visa, passport or ID.
Source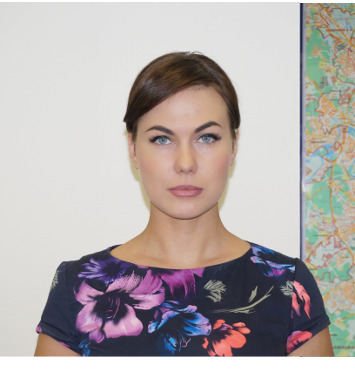 Result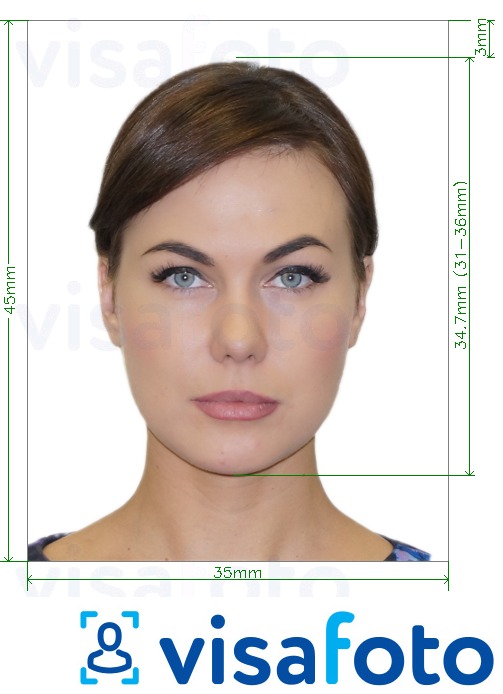 Use our visa photo editing tool to get the quickest results. Just upload a full-face picture taken under conventional light. Visafoto will immediately resize and format it as needed, substitute the background with plain white and increase the image quality in general. The resulting image will meet 100% photo requirements for the Canadian visa application.
Take a photo of yours under daylight like this one: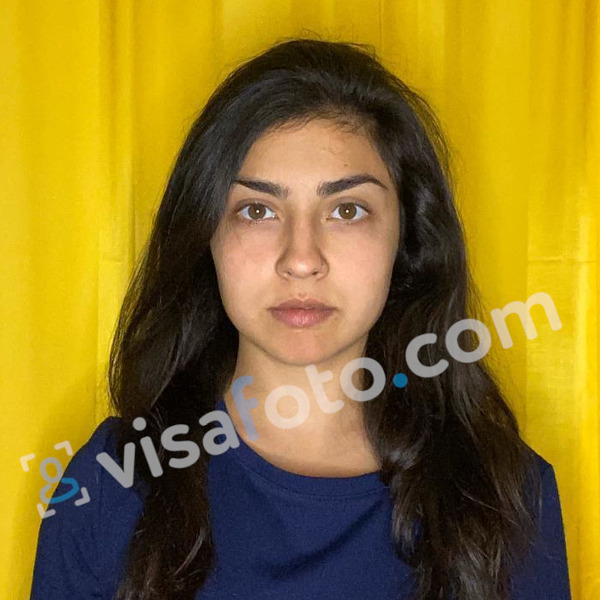 You will have two types of photos: a digital one is for electronic applications and a printable template.
Learn how to print out the digital visa photo in our guideline.
What types of Canadian visas require photos?
The information above suits the photos to the next types of visa:
Canada tourist visa photo;
Canada temporary resident visa photo;
Canada transit visa photo;
Canada student visa photo.
Last update: July 2023
Links