Canada visa guide
Citizens of most countries need a visa to enter Canada.
It is usually not easy to get a visa for Canada. The chance of getting one is up to 50%. But everything is real: the main thing is to follow the established rules on how to get a visa to Canada.
Table of contents
All documents and photos for a visa to Canada must meet the current requirements, which we will discuss in this article.
Canada visa types
As with visiting any country, there are different types of visas for Canada. These are:
Canada visitor (tourist) visa. Suitable for tourist, visiting, and business trips. As a rule, the document allows you to stay in the country for six months. One cannot get a job with such a visa, but it allows short-term study. Canada visitor visa fee is CA$100.
Canada transit visa. It is required for any transit through the country. Even if you do not plan to leave the airport, you still need a travel permit. A visa is issued for a maximum of 72 hours. Neither a visa fee nor biometrics is needed for a transit visa.
Canada study permit. If you will be studying in Canada for more than six months, you must first obtain a study permit and then proceed to apply for a visa. The basis for this document is an approval letter from an established list of educational institutions. Canada study permit fee is CA$150.
Canada work permit. You need it to be officially employed in Canada and to study at local universities or schools. Such a visa is issued if you have an invitation from an employer or an educational institution from Canada. Canada work permit fee is CA$ 155.
Canada business visa. It is suitable for investors and business people who are about to establish a new business in Canada. It allows obtaining a residence permit quickly. However, the applicant must have an impeccable reputation and gather a large set of supporting documents. The Canada business visa application fee is CA$ 185.
Canada Permanent Resident Visa, or immigration visa. This type of visa is intended for those who want to open a business in Canada, highly skilled professionals, and those who plan to marry a Canadian citizen. The temporary resident permit fee is CA$200.
Documents required for a Canada visa
To apply for a visitor visa to Canada, you will need to submit the following documentation to the consulate or visa application centre:
Completed Canada visa application form. In a case of a visitor visa, it must be the form IMM5256;
Copies of all completed pages of your passport. The document must be valid for at least 6 months after your return;
A visa photo;
Travel history for the last 10 years. You must provide all visas and stamps from valid and expired passports. Airline ticket details may also be included;
Proofs that you plan to return to your home country: e.g. a certificate of employment, property or business. Students are entitled to submit certificates from their place of study;
Documents confirming financial solvency: for example, a certificate of work showing your salary, bank statements, a letter of sponsorship.
Travel itinerary. The form is free. You just need to state what you plan to visit in Canada.
You may also enclose travel insurance with a minimum cover of $50,000 for the entire trip, as well as hotel and airline reservations, including unpaid ones. This will increase your chances of approval.
If you are going on a business trip, provide an invitation from a business partner or company. You can also enclose an invitation from a friend or relative with details of the inviting party. Proof of friendship or family ties is also required, e.g. photos of you together.
All documents must be translated into English or French.
To obtain a visa to Canada, it is also necessary to undergo biometrics: fingerprints and photos. Children under 14 years of age and people over 79 do not have to take biometrics.
Traveling to Canada during the COVID-19 pandemic
During the lockdown, Canada temporarily closed its borders. But in September 2021, authorities opened them to fully vaccinated foreigners.
In a statement, the Canadian Department of Foreign Affairs said that foreign nationals who have been fully vaccinated with Pfizer, Moderna, Johnson & Johnson, AstraZeneca, a minimum of two weeks before entering the country could visit the country. Tourists will be required to have a negative PCR test done at least 72 hours before their arrival in Canada. In addition, it is necessary to register in a special travel application.
Children under 12 years of age do not need to be vaccinated, but a fully vaccinated parent or guardian must accompany them.
Please note! Due to a coronavirus infection, passengers must take the COVID-19 test at the country's airport upon arrival in Canada and expect the result within three days.
During the pandemic, the Canada visa processing time may take longer than usual.
Canada visa photo requirements
If you are applying for a tourist visa, 2 photos are enough. If you need a work or study visa, you will need 3 printed photographs. The photo requirements are as follows:
The required Canada visa photo size is 35 x 45 mm;
The face must be between 32 and 36 cm vertically from the top to the chin;
The images must be taken no earlier than six months before application;
The background of the photo must be white or light;
The photo must not be blurred;
It is not permitted to be photographed while wearing sunglasses. If the applicant wears glasses for vision correction, the photo may be taken with them. You must be able to see your eyes clearly. You may not be photographed wearing glasses with very thick frames or tinted lenses;
Photographs with religious headgear are allowed. Make sure that the shape of your face does not change too much and your features do not look distorted;
Head must not be tilted;
The resolution of a digital photo for the online application must be a minimum of 420 x 540 pixels;
The size of the photo file must be at least 240 kilobytes;
Photo must not contain any stamps, markings, or shadows.
Here is an example of a Canada visa photo: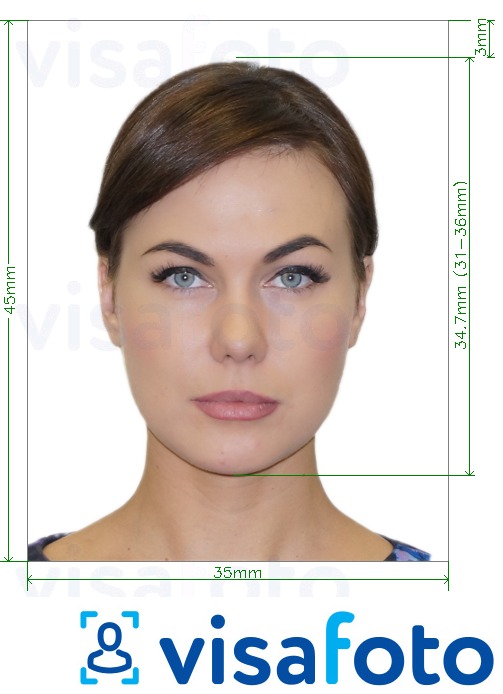 How to take a Canada visa photo online?
To save time, it's best to use online photo software. Smart photo processing service will adjust your photos for different types of documents: passports, visas, driving licences to comply with current requirements.
Take an image with a smartphone or camera against any background, upload it here and instantly get a professional photo for your visa, passport or ID.
Source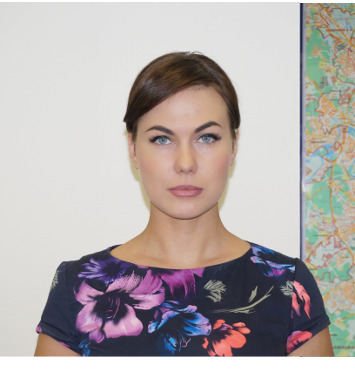 Result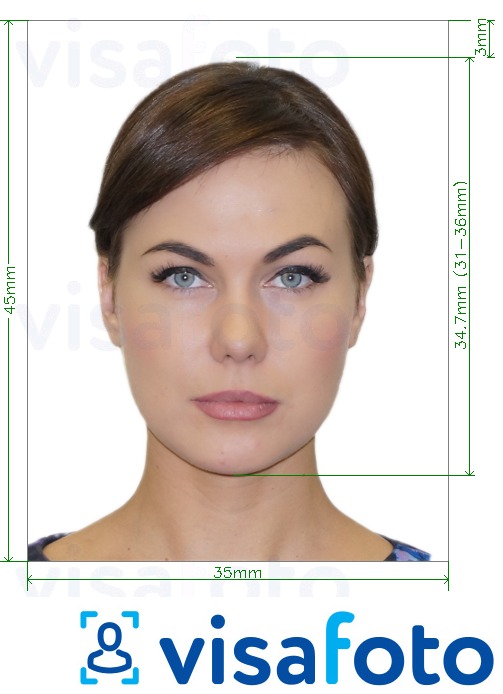 You need:
Take a photo of us against any background, following the established dress code rules;
Upload your photo here;
Download ready-made images.
Your original photo must look like this one: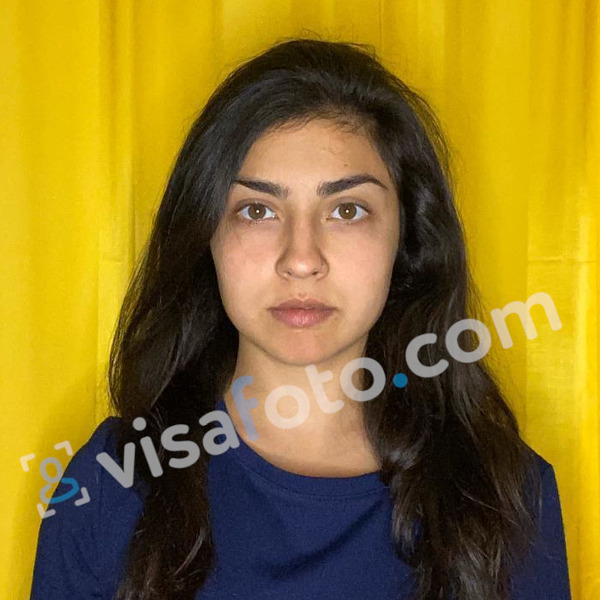 Your ready photos will look like these ones:
Service will automatically adjust your photo to your preferred size and resolution and change the background. You will be able to use photos for online submission and printing. All requirements for Canada visa photo in terms of size, resolution, background, colour correction will be met.
Canada visa-exempt countries
Citizens and permanent residents of the following countries can visit Canada for tourism purposes without a visa: for entry only the Electronic Travel Authorisation (eTA). You do not need an eTA to enter the country by land or water.
The list of visa-exempt countries:
Andorra
Australia
Austria
Bahamas
Barbados
Belgium
British citizen
British National (Overseas)
British overseas citizen (re-admissible to the United Kingdom)
British overseas territory citizen with citizenship through birth, descent, naturalization or registration in one of the British overseas territories of:
Anguilla
Bermuda
British Virgin Islands
Cayman Islands
Falkland Islands (Malvinas)
Gibraltar
Montserrat
Pitcairn Island
Saint Helena
Turks and Caicos Islands
British Subject with a right of abode in the United Kingdom
Brunei Darussalam
Bulgaria
Chile
Croatia
Cyprus
Czech Republic
Denmark
Estonia
Finland
France
Germany
Greece
Hong Kong Special Administrative Region of the People's Republic of China, must have a passport issued by Hong Kong SAR.
Hungary
Iceland
Ireland
Israel, must have a national Israeli passport
Italy
Japan
Republic of Korea
Latvia
Liechtenstein
Lithuania
Luxembourg
Malta
Mexico
Monaco
Netherlands
New Zealand
Norway
Papua New Guinea
Poland
Portugal
Romania (electronic passport holders only)
Samoa
San Marino
Singapore
Slovakia
Slovenia
Solomon Islands
Spain
Sweden
Switzerland
Taiwan, must have an ordinary passport issued by the Ministry of Foreign Affairs in Taiwan that includes the personal identification number
United Arab Emirates
United States, lawful permanent resident of
Vatican City State, must have a passport or travel document issued by the Vatican.
Good luck with your Canada visa!
Links