Chinese visa for Indian citizens
As there is no India-wide Chinese visa-free policy, most Indian citizens must apply for a visa if they want to enter China. This article will explain the basics of applying for a Chinese visa from India.
Table of contents
China visa types for Indian citizens
Before applying, determine your visa type based on your travel purpose. These are the available visa types:
Tourist (L);
Business (M);
Student (X);
Work (Z);
Transit (G);
Private Visit (S): for family members of foreigners residing in China for work, study, etc.;
Family Reunion (Q): for relatives of Chinese citizens or foreigners with permanent residence permits residing in the PRC;
Noncommercial Visit (F): for foreigners invited to a lecture, scientific-technological & cultural exchanges, study tours, etc.;
Talent (R) for high-level personnel and much-needed highly talented people;
Crew (C);
Resident (D) for foreigners who are going to reside permanently in PRC;
Journalist (J-1, J-2).
Documents needed to apply for a China visa
The basic requirements for all visa types
Whichever visa type you apply for, you will need:
An application form;
A photo compliant visa Chinese visa picture requirements;
Your original passport with at least two blank visa pages and at least six months of remaining validity;
A photocopy of the passport's data page and the photo page if it is separate.
In the following points, we'll list the required documents for the most popular kinds of Chinese visas.
Tourist Visa (L)
You will need to provide a round-trip ticket booking record and proof of a hotel reservation or an invitation letter issued by a relevant entity or individual in China with the following information:
Travel itinerary: dates of arrival and departure, places of visit, relations between the tourist and the inviting party, proofs of sufficient funds, etc.;
Information on the inviting party (entity or individual): name, contact number, address, official stamp, a signature of the legal representative or the inviting person.
Business Visa (M)
You will need documents on the commercial activity issued by a trade partner in China, trade fair invitation or other invitation letters issued by a relevant entity or individual. The invitation letter should contain the same information as described above for a tourist visa.
Noncommercial Visit Visa (F)
Provide an invitation letter issued by a relevant entity or individual in China, with details as described above for a tourist visa.
Student Visa (X)
Submit original and photocopy of the Admission Letter issued by a school or other entities in the PRC.
For an X1 visa with an intended stay of more than six months, applicants should also provide an Original and a photocopy of "Visa Application for Study in China" (Form JW201 or Form JW202).
Work/ Employment Visa (Z)
One of the following work permits is required:
Foreigners Employment Permit issued by the Ministry of Human Resources and Social Security of the PRC;
Registration Certificate of Resident Representative Offices of enterprises of foreign countries (regions) issued by Chinese authorities of industrial and commercial administration;
An approval document for commercial performances issued by the Chinese government authorities for cultural affairs;
Invitation Letter to Foreigners for Offshore Petroleum Operations issued by National Offshore Oil Corporation.
China visa application photo requirements
The photo you use for the application form has to fulfil the following requirements:
It must be a colour photo;
The photo must have a plain white background and have no edge frame;
It must be taken recently (within the last six months);
The required Chinese visa photo size must be 48mmx33mm;
The width of the head in the picture must be 15mm to 22mm, while the height of the head must be between 28mm- 33mm;
The facial oval must be clearly visible;
The facial expression should be neutral with eyes open, lips closed, and ears visible;
Head position: ≤20°left or right tilt, and ≤25°up or down tilt;
There should be no extra movement or objects visible in the photo;
Facial features should be complete and clearly visible, with the head centred in the photo;
Eyeglasses are allowed except thick-rimmed, tinted or glare glasses;
Hat or other head wears are only permitted due to religious reasons, but they should not obscure any facial features;
There should be no damage or impurities on the photo, no permeation or shadow over the face;
An image should be in a natural tone but not over or under-exposed, red-eyed or distorted.
Here is an example of a Chinese visa photo: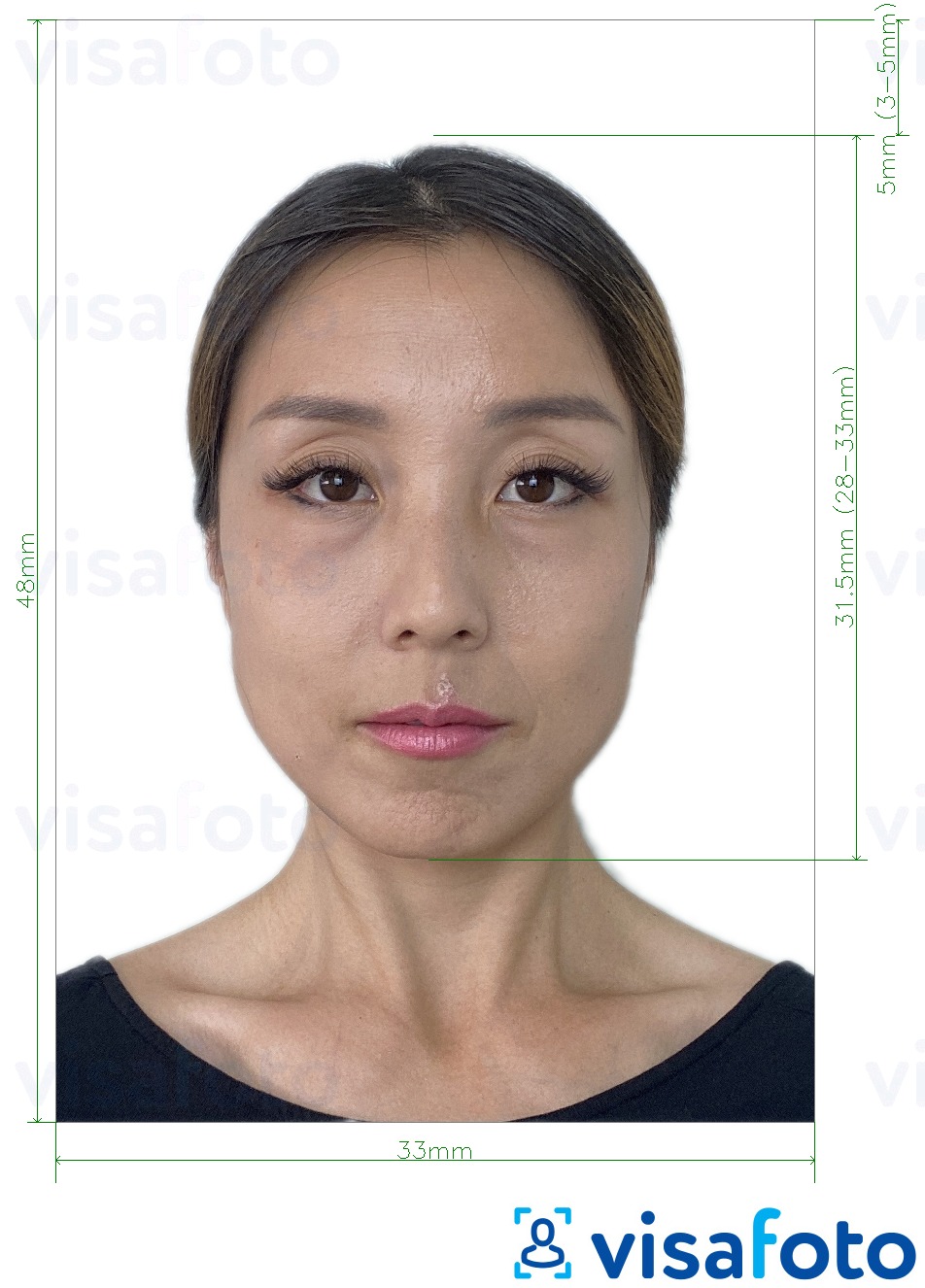 Get your China visa photo online for applications in India
As mentioned above, Chinese visa photos have specific requirements you will need to fulfil. To avoid problems with your application, you might want to trust professionals to ensure your photo is fully compliant with the parameters.
With Visafoto, not only will you get a single digital photo, but you will also get a template ready for printing. The photo you get from Visafoto will fulfil all requirements like background and face proportion, as well as correct subtler things such as contrast, head tilt, and eye position.
Take an image with a smartphone or camera against any background, upload it here and instantly get a professional photo for your visa, passport or ID.
Source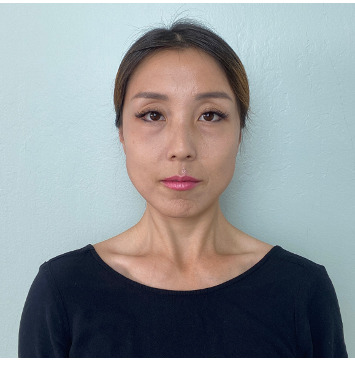 Result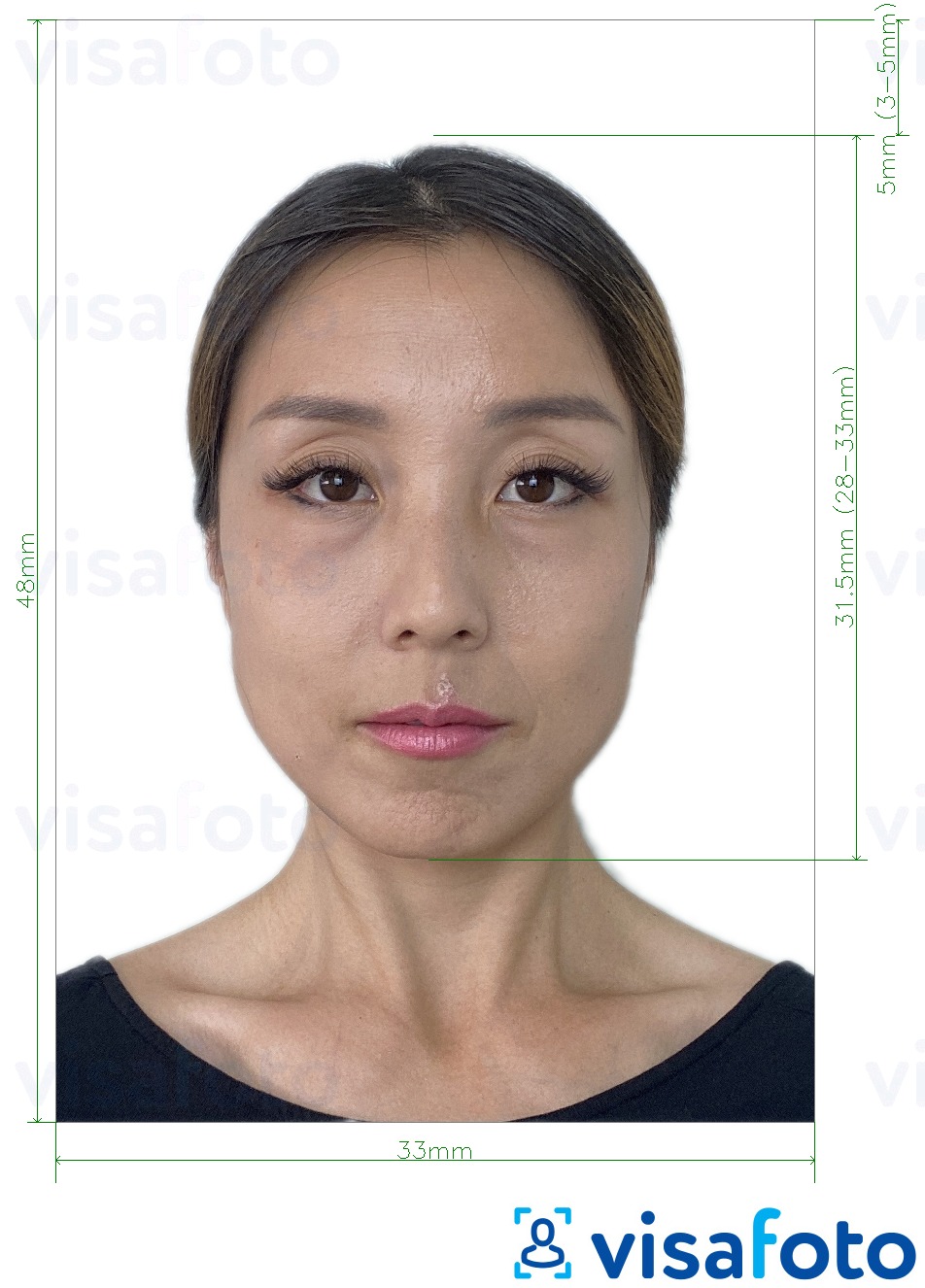 Simply take a picture of yourself with any background with decent lighting and follow all dress codes and posing rules. We recommend you dress in smart casual attire with no bright makeup or accessories.
Take an image with a smartphone or camera against any background, upload it here and instantly get a professional photo for your visa, passport, or ID.
First, take a photo under light like this one: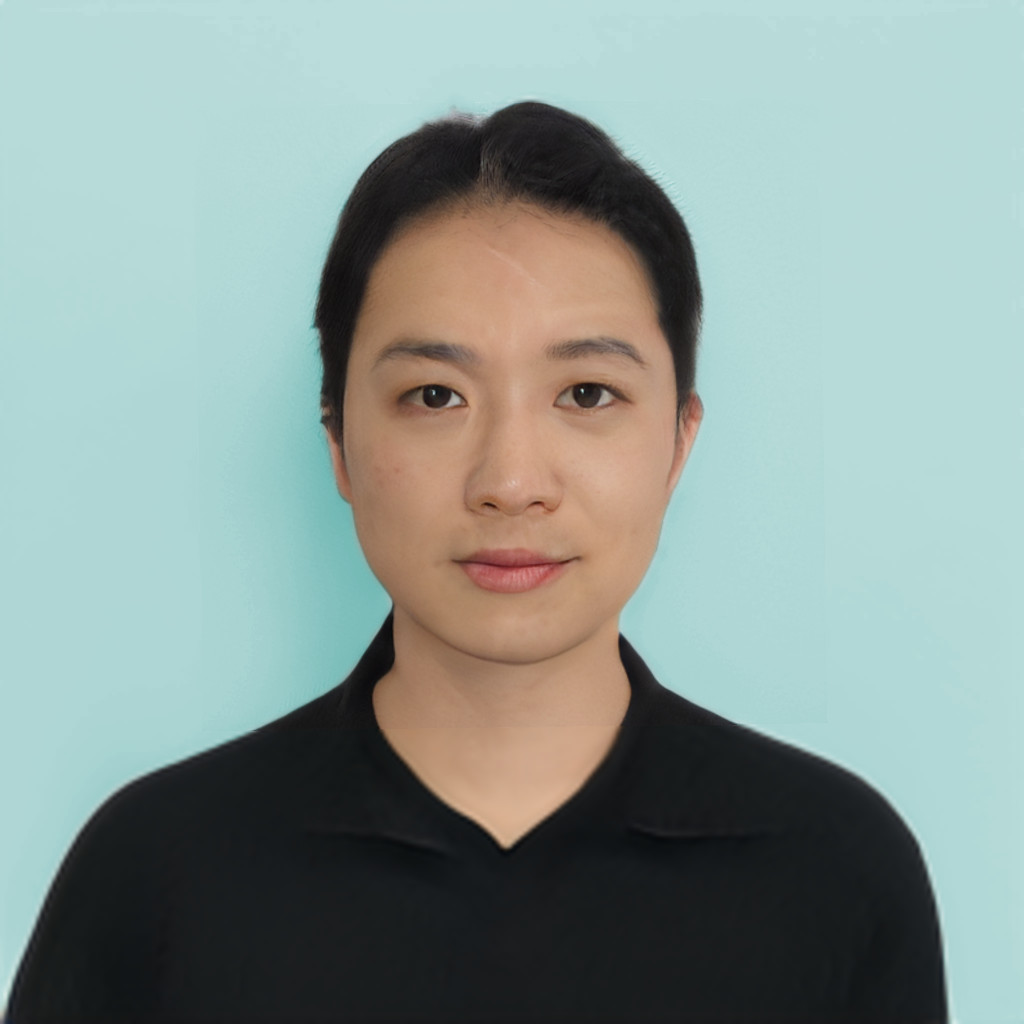 You will receive two versions of the photo: digital for electronic filing, and a printable template.
Submitting your Chinese visa application in India
After collecting all the paperwork, submit your documents and pay a visa fee at the Chinese embassy or consulate of your choosing in India:
Embassy in New Delhi:
50-D, Shantipath
Chanakyapuri
110021
New Delhi
India
Consulates:
EC-72, Sector I
Salt Lake City
700064
Kolkata
India
9th Floor, Hoechst House, 193 Backbay Reclamation, Nariman Point
400021
Mumbai
India