China Visa Photo Online
For citizens of most countries, a trip to China is only possible with a visa. Along with your application, you must submit two China visa photos per the established parameters.
The China visa photo should be taken in advance, regardless of how the visa will be obtained: upon arrival at the airport, through the visa center, or in the embassy. High-quality photos will increase the chance of obtaining a visa.
Table of contents
Documents needed for Chinese visa application
Among the documents required to obtain a Chinese visa are the following:
Passport with a validity of at least 6 months;
Copy of the first page of the passport and previous Chinese visas (if any). In case previous Chinese visas are in the old passport, it is also necessary to provide a copy of the first page of this passport;
Completed visa application form;
Documents confirming the purpose of the trip (invitation, airline tickets, tour reservations, etc)
Copies of your national ID with personal data;
Some PRC Consulates may also require an insurance policy (original and copy) for the entire period of stay in the country (the amount of coverage should be not less than $15,000);
If you are applying for a visa to China for the first time, the Consulate staff may require a certificate of employment and bank account statement;
Chinese visa photo.
The list of documents may vary depending on your citizenship.
China 10-year visa application
Citizens and residents of the U.S., the UK, Argentina, Canada, and Israel can obtain a 10-year Chinese visa. It can be used for both tourist and business purposes. This visa allows you to enter and leave China as often as you need over a 10-year period. Note that the maximum stay for each trip cannot exceed 60 days.
Documents required for a 10-year visa:
A completed visa application form;
Passport with 1 year of validity and at least 2 blank pages. Otherwise, the visa can be issued for less than 10 years;
Travel itinerary (round trip flight tickets, invitations, bookings, etc.);
Recent China visa picture.
You don't need to submit the documents every time you visit China. You only need to provide these documents for the first application.
Chinese E-Visa requirements
Since 2016, citizens of certain countries can apply for a Chinese visa online. The Chinese e-Visa can be issued to tourist groups of 2 or more people. It allows a single entry for a stay of no more than 15 days. The e-Visa is not stamped into your passport and is issued on a separate sheet. You only need to complete the online application at the authorized visa center.
Along with the application, all tourists must submit the following documents:
Scan of a passport valid for at least 6 months from the date of entry;
Return air ticket;
Confirmation of hotel reservation in China/invitation from a host in China;
Valid mailing address.
Color Chinese digital visa photo (not older than 3 months).
China visa photo requirements
When taking a picture, follow the conditions below, and the risk of rejection will be reduced.
The required photo size for China visa application matches the format of passport photos in China: it must be 3.3 х 4.8 cm only.
The head width should be between 15 mm and 22 mm, and the head height should be between 28-33 mm;
The face should take up 70 to 80% of the picture;
The China visa pic must be in color;
The photo must not have been taken earlier than 6 months ago;
China visa photo background should be plain white. No extra objects are allowed;
Headwear is allowed for religious purposes only;
The facial expression should be neutral, with eyes open and clearly seen;
The lighting should be clear, and the face should be in contrast to the background in order to distinguish all the features of the appearance.
The photo must be redone if you have changed your hairstyle while collecting your visa papers. The photo for the visa to China must be up-to-date so that the embassy or border officials can identify you from the photo.
Here is an example of a China visa photo: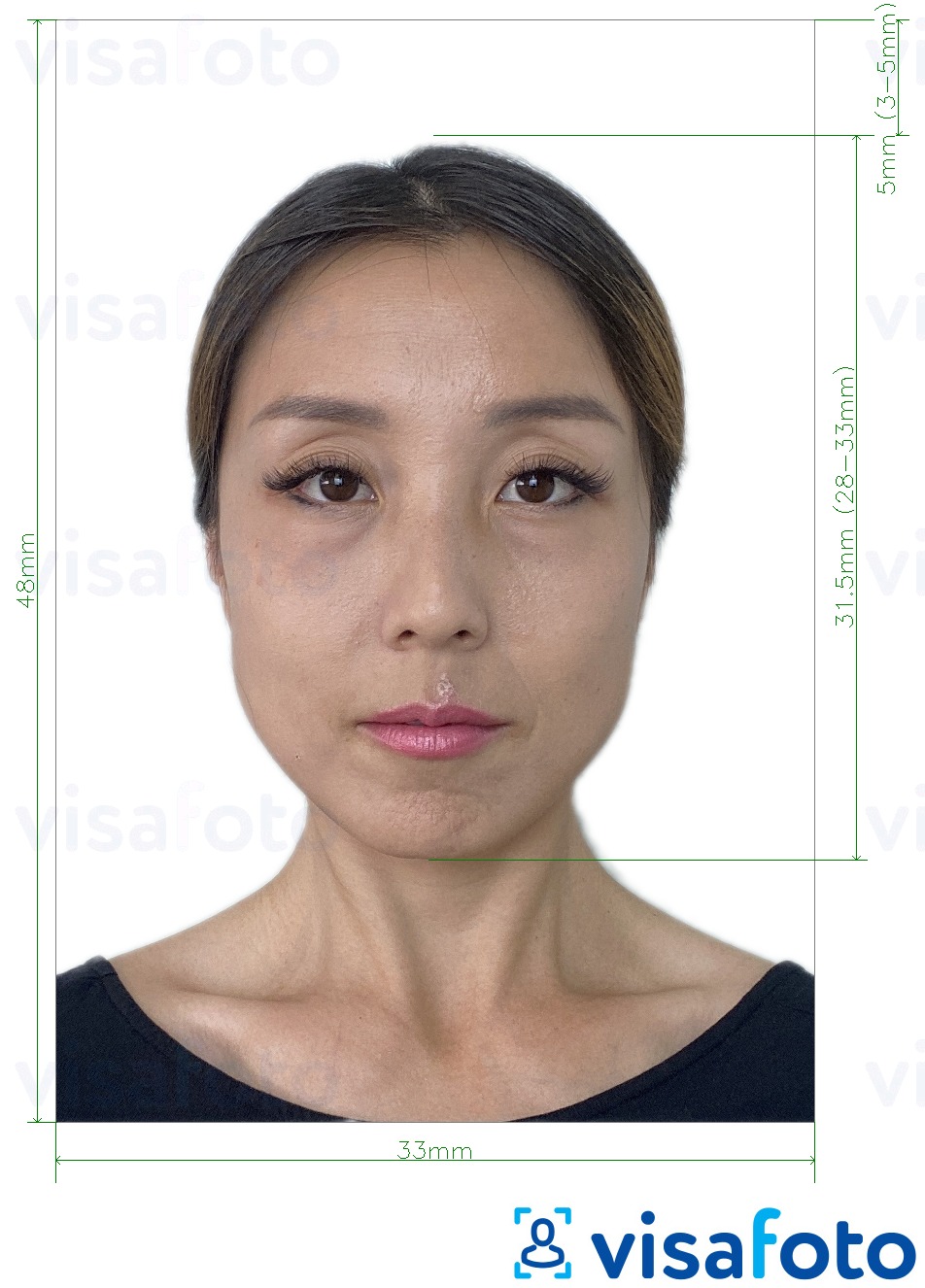 Chinese E-visa photo requirements
A digital Chinese visa photo size in pixels must be 354 in width and 472 in height in pixels. Eye height is 262 pixels. The Head width is about 211 pixels (191-251 pixels). So the photo size differs. But a photo for a Chinese E-visa should match the other parameters (like background color) listed above.
Here is an example of a photo suitable for a Chinese e-visa: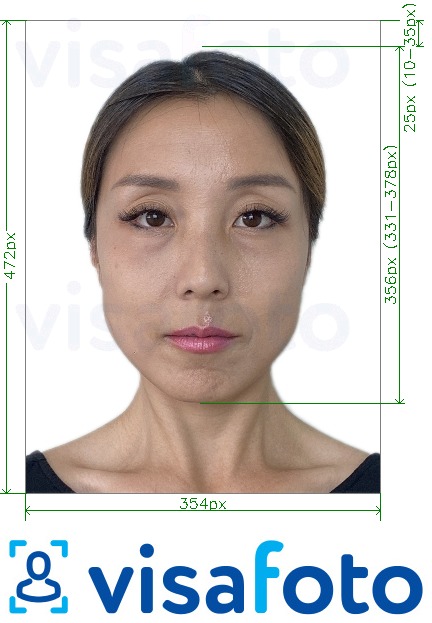 Can I wear glasses in China visa photo?
Prescription glasses are allowed only if they don't hide the eye. Avoid thick frames and tinted lenses.
China visa photo tool
Where is it better to get a Chinese visa photo? Since the China visa photo size requirements are quite specific and different from most passport-sized photos, it's best to entrust this task to specialized online tools. With Visafoto, you can get your China visa photo online from anywhere in the world!
Take an image with a smartphone or camera against any background, upload it here and instantly get a professional photo for your visa, passport or ID.
Source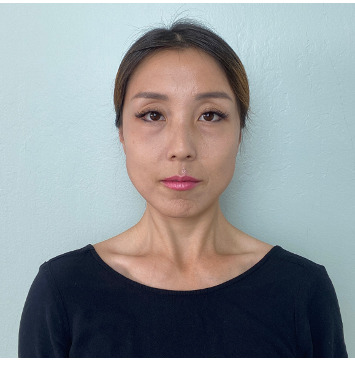 Result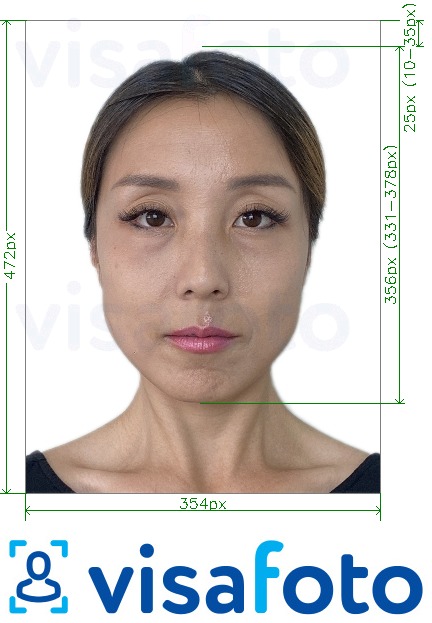 Use our China visa photo cropping tool for the fastest result. Just upload your portrait taken in full-face with good lighting. Visafoto will instantly adjust the required size and format, change the background to plain white and improve overall image quality. The resulting image will be 100% compliant with official requirements.
First, take a photo under light like this one: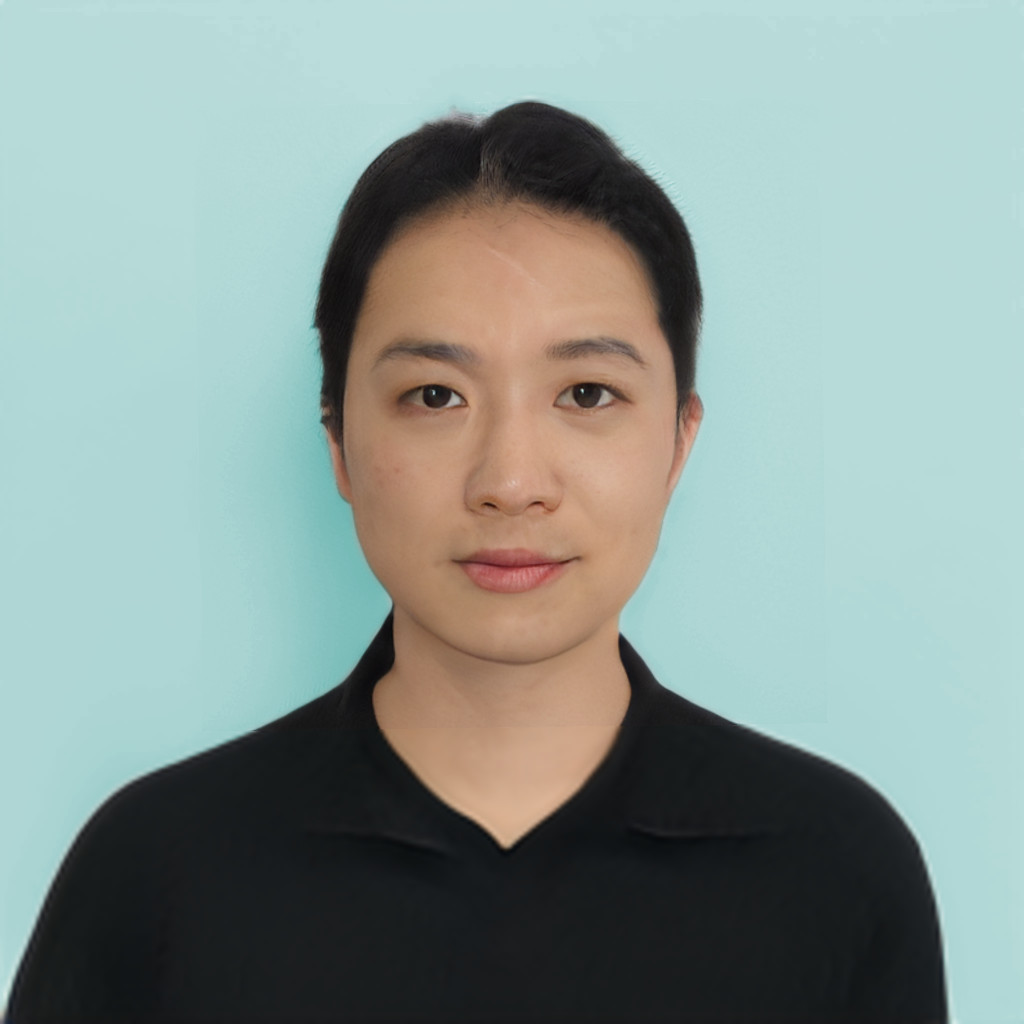 You will receive two versions of the photo: digital for electronic filing, and a printable template.
China visa photo: matte or glossy?
Photos must be printed on high-quality glossy paper. Use a color printer or contact your nearest copy center.
What types of Chinese visas require photos?
The above information is relevant for the following categories:
China student visa photo;
China business visa photo;
China work visa photo. It is impossible to get a job in a Chinese company without photos;
China tourist visa photo;
China transit visa photo;
China visa on arrival photo.
In addition, photographs may be required for medical insurance before traveling.
Last update: April 2023
Links