China Tourist Visa Guidelines
After a long period of closure due to the COVID-19 pandemic, China has finally announced the reopening of its borders to tourists. This decision has been long-awaited by travelers worldwide, many of whom have been eagerly anticipating the opportunity to explore China's rich culture, history, and natural beauty.
However, if you're planning a trip to China, one of the first things you'll need to consider is obtaining a tourist visa. China's visa application process can be complex and confusing, with different rules and requirements depending on your nationality and travel plans. In this article, we'll provide you with a comprehensive guide to China's tourist visa requirements and walk you through the steps of obtaining a travel permit to China.
Table of contents
"Can I apply for a visa to China now?" China tourist visa policy in 2023
Since March 2023, China has resumed issuing all types of visas for foreigners, including the tourism and medical treatment visa.
Foreigners who hold valid multi-year multiple entry visas for business or tourism purposes that were issued by Chinese visa authorities abroad before March 28, 2020, can use these visas to enter China.
The official name of the category of tourist visa to China is "L Visa".
Is it possible to visit China without a visa?
In general, most foreign travelers to China require a visa to enter the country. However, there are some exceptions to this rule, and it's worth noting that China has implemented several visa-free policies for specific groups of travelers.
For example, citizens from certain countries, such as Singapore, Brunei, and Japan, can stay in China visa-free for up to 15 days if they are traveling for tourism or business purposes. Additionally, travelers to certain regions within China, such as Hainan Island, may be eligible for visa-free entry for a limited period.
Furthermore, there are transit visa exemptions available for travelers who are transiting through certain Chinese airports for up to 144 hours, as long as they meet specific criteria.
Several visa-exemption policies in China are set to resume operation, allowing more foreign visitors to enjoy the country's many attractions. These include the visa-exemption policy for Hainan, the visa-exemption cruise policy for Shanghai, the visa-exemption policy for foreigners traveling to Guangdong from Hong Kong and Macao, and the visa-exemption policy for ASEAN tour groups to Guilin and Guangxi. With the resumption of these policies, more travelers will have the opportunity to explore the diverse cultural and natural wonders of China without the need for a visa.
How to apply for a China tourist visa
Here are the steps to apply for a tourism (L) visa to China:
Gather the required documents;
Schedule an appointment: You must schedule an appointment with the Chinese embassy or consulate in your area. Make sure to check the embassy or consulate's website for specific instructions and requirements
Submit your application: At your appointment, you will need to submit your application and pay the visa fee;
Wait for processing;
Collect your visa: Once your visa is approved, you can collect your passport with the visa attached from the embassy or consulate.
Documents required for a China tourist visa application
The specific documents required for a China tourist visa (L Visa) application can vary depending on the country you are applying from and the embassy or consulate processing your application. However, in general, the following documents are commonly required:
Passport with remaining validity more than 6 months with at least 2 blank visa pages. If you previously have had a multi-year multi-entry visa on the old passport, the old passport has to be submitted;
Visa application photo fulfilling requirements. The exact Chinese visa photo specifications are listed below;
Photocopy of the biodata page of the passport;
Visa application form (COVA): You will need to complete an online visa application form and print it out. You can download the COVA visa form here;
Financial documents: You may be required to provide evidence of your financial ability to cover your trip, such as bank statements or proof of income.
Invitation letter: If you are visiting China as part of a group or have a sponsor in China, you may need to provide an invitation letter.
Previous visa: If you have previously traveled to China, you may need to provide your previous China visa and travel records.
Signed and filled-out form stating that the applicant is in the jurisdiction they're applying in;
Proof of legal residence, if the applicant is a foreigner in the jurisdiction they're applying in;
Travel itinerary: You will need to provide proof of your travel arrangements, such as flight tickets, hotel reservations, and tour itineraries.
China visa photo requirements
The photo used to apply for you Chinese visa must fulfill the following requirements:
It must be a color picture, taken recently within the last 6 months.
The Chinese visa photo size must be 48mm by height and 33mm by width, with width of head: 15mm to 22mm, height of head: 20mm to 33mm.
The applicant has to be easily identifiable from the photo;
Facial features should be complete and clearly visible, with the head centered in the photo;
Eyeglasses are allowed except thick-rimmed, tinted or glare glasses;
Hat or other head wears are only permitted due to religious reasons, but any facial features should not be obscured;
There should be no damages or impurities on the photo, no permeation or shadow over the face;
The photo should be in natural tone, but not over or under exposed, red-eyed or distorted;
Background should be in white or off-white, and with no edge frame
The photo should be printed on glossy finish photo paper, but not on matte finish paper or plain paper, and should be stainless, scratchless or without any crease.
Here is an example of a Chinese visa photo: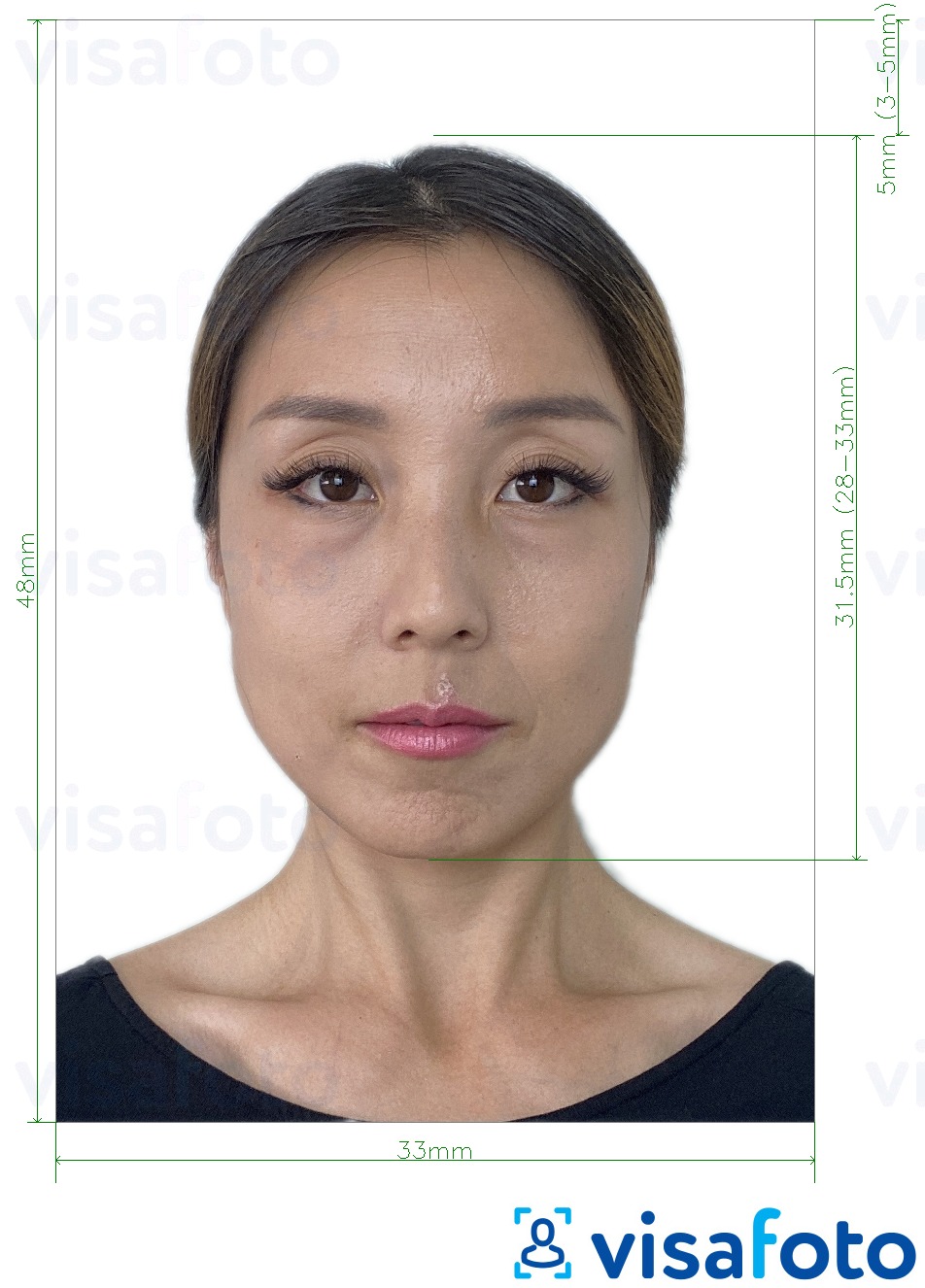 Get a China visa photo online!
Using Visafoto, an online photo editor that has been adjusting photographs for various documents worldwide since 2013, you can easily make a fully compliant Chinese visa application photo online. It will make sure your photo fulfills all the requirements needed.
Just take a picture of yourself following the guidelines stated above. Don't worry about the size, background, positions, and proportions: Visafoto will handle the technicalities.
Take an image with a smartphone or camera against any background, upload it here, and instantly get a professional photo for your visa, passport, or ID.
Take an image with a smartphone or camera against any background, upload it here and instantly get a professional photo for your visa, passport or ID.
Source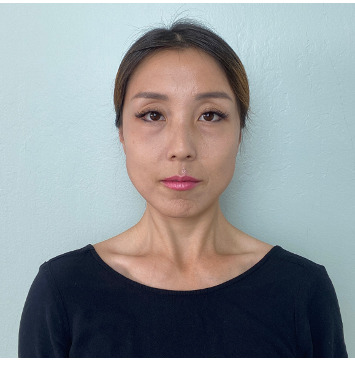 Result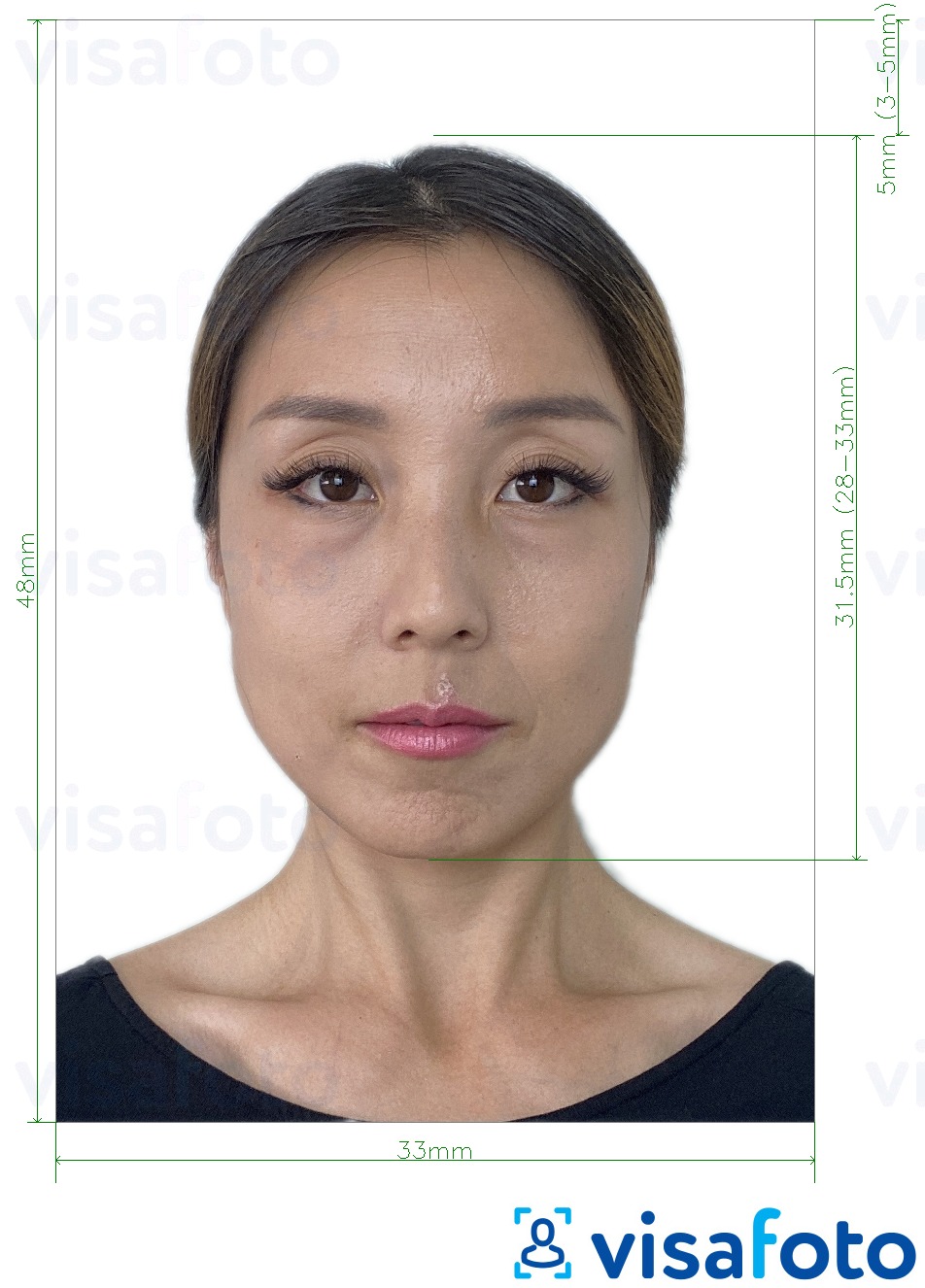 First, take a photo under light like this one: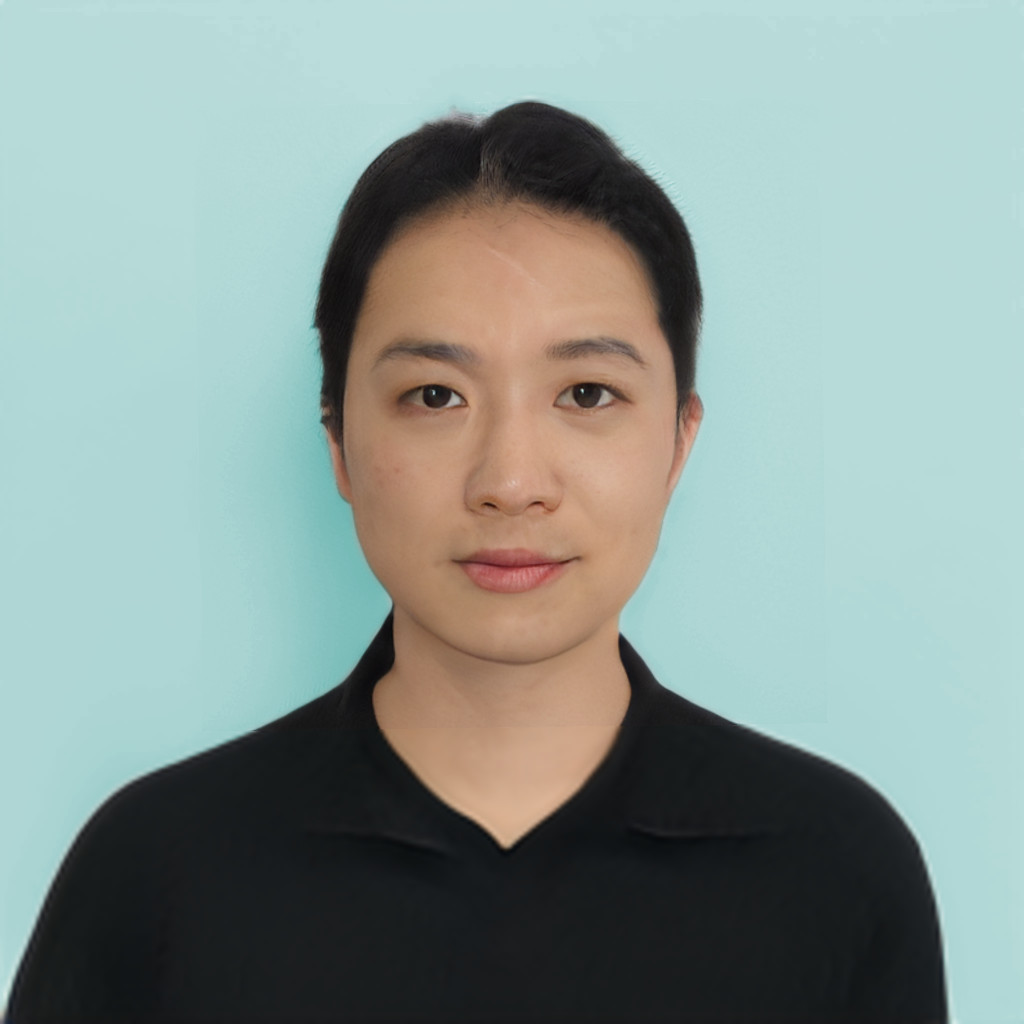 You will receive two versions of the photo: digital for electronic filing, and a printable template.
Visafoto also provides you with a template ready for printing, so you do not need to worry about formatting your photo for this purpose. With a high-quality color printer and photo paper fitting requirements, you can print out a Chinese visa photo without leaving your home.
China tourist visa fees
Chinese tourist visa costs usually vary based on the citizenship of the applicant and the jurisdiction they apply in. Make sure to check with your local consulate or embassy to know the exact requirements and fees.
In general, the prices for a single-entry L Visa range from around $30 to $140, while fees for a double-entry or multiple-entry L Visa can range from around $45 to $190. Additionally, expedited processing fees may apply if you require a faster turnaround time for your application.
China tourist visa processing time
If all the requirements are submitted correctly, it usually takes 4 business days for tourist visa applications to be processed.
China tourist visa validity
China offers single, double, and multiple-entry visas with varying validity periods, which can range from as short as 3 months or 6 months to as long as 1 year or even 10 years.
In most cases, single-entry Chinese tourist visas are valid for three months from date of application.
To avoid the possibility of your visa expiring before your planned departure date, it is important to time your application appropriately. For instance, if you intend to enter China in September, it is recommended that you submit your application around August, taking into account working days only. This will help ensure that your visa is valid and in effect for your entire trip. The length of stay in China on a tourist visa usually does not exceed 30 days.
Citizens from the United States, Canada, the United Kingdom, and Argentina are eligible for a 10-year multiple-entry Chinese visa.