Schengen Visa FAQ
The Schengen Agreement provides a unique visa system granting entry to Schengen countries. They even make it easier to enter countries non in the Schengen area that have the system set up to do so. In this FAQ article, you'll get some basic facts on the Schengen visa.
Table of contents
Schengen visa countries
The Schengen area countries are Austria, Belgium, the Czech Republic, Denmark, Estonia, Finland, France, Germany, Greece, Hungary, Iceland, Italy, Latvia, Liechtenstein, Lithuania, Luxembourg, Malta, the Netherlands, Norway, Poland, Portugal, Slovakia, Slovenia, Spain, Sweden.
This includes most EU states (exceptions are Ireland, Croatia, and Bulgaria), Norway, and Iceland.
Schengen visa policy
Citizens from non-EU countries, if their country or individual conditions do not exempt them, are required to hold a valid visa when traveling to the Schengen Area. Generally, a short-stay visa issued by one of the Schengen States entitles its holder to travel throughout the 26 Schengen States for up to 90 days in 180-day period. Visas for stays exceeding that period remain subject to national procedures.
Four general Schengen visa types
These are the four principal Schengen visa categories:
Type A (Airport Transit Visa): allows citizens of non-Schengen states to transit through or wait for their connecting flight in the international zone of an airport located in a Schengen country. You do not need a transit visa for connections of less than 24 hours;
Type B (Transit Visa): allows its holder to travel through more than one Schengen country on the way to a non-Schengen country. The holder of the Transit Visa is allowed to enter the Schengen Area for a maximum of 5 days;
Type C (Short-Stay Visa): the most popular type of a Schengen visa, suitable for touristic purposes. It allows its holder to reside in a Schengen Area for a certain period depending on the visa validity. This particular category, according to the holder's purpose of the travel, can be obtained in the form of single-entry, double-entry, and multiple-entry visas;
Type D (National Log-Stay Visa): granted to individuals studying, working, or permanently residing in one of the Schengen countries.
Schengen visa entry and exit rules
With a single-entry visa you can enter the Schengen area only once. This is indicated on the visa sticker under the heading "Number of entries" by number "1". A two-entry or a multiple-entry visa allows for two or several entries during the validity of the visa. This is written on the visa sticker by "02" or "MULT" under the "Number of entries" text.
Your exit from the Schengen area must not exceed the validity date or on completion of your permitted stay duration. If you are exiting the zone with a multiple entry visa, you will be able to re-enter as long as your visa is still valid and that you do not break the visa policy.
Schengen visa rules for multiple entry
With a visa allowing for two or multiple entries, you may enter twice or several times during its validity. This is indicated by "MULT". If you hold a multiple entry visa, you will be able to re-enter the area as long as your visa is still valid and that you do not break the 90/180 rule.
For example, let's say you have multiple Schengen visas valid from January 1, 2022, to June 30, 2022. Suppose you stay in the Schengen area for 30 days after entry, leave, return to that area after 50 days, stay for 15, and leave again for 100 days. Technically, you will only spend 45 days in the Schengen area, which is significantly less than the 90-day limit. However, since your visa expires on June 30, 2020, its limit will be exceeded and you will not be able to re-enter the Schengen area with the same permit.
Your multiple entry visa status is noted n the visa sticker by "02" or "MULT" under the heading "Number of entries".
Schengen Visa essential requirements
Here are the basic documental requirements:
Visa application form, correctly completed and signed;
Two visa application photos that fulfill requirements;
A valid passport that is valid for at least three more months beyond the date you plan to leave the Schengen area. Also have older passports with visas on them, if applicable;
Round trip reservation or itinerary;
Travel insurance policy;
Proof of accommodation in the Schengen area;
Proof of financial means. This can be a bank account statement and/or sponsorship letter;
Proof of paid visa fee.
The Schengen visa application process
Here are the general steps of applying for a Schengen visa:
Find where to apply
First, determine where is your "destination country":
If you are traveling to one country and nowhere else in the Schengen area, then that country is your destination country.
If you are traveling to two or more countries, there are two cases:

If you plan to spend the same amount of days in all countries, then your "destination country" is the first country of the Schengen area you plan to enter.
If you plan to spend different amount of days in each country you're going to visit, then the country you plan to spend most days in will be your "destination country".
Once you have determined, get applying at the relevant embassy, consulate, or visa processing agency.
Fill out your application form and gather your documents
Get an application form and collect the documentation as mentioned in the previous section.
Book an appointment
Depending on the destination country and the place in which you plan to apply for your visa, you may be able to book your visa appointment online. Visit their website or contact them for the exact information.
Attend your appointment and interview
Make sure to show up on time to your appointment.
In the interview, you will be asked questions related to your planned trip, as well as some of your personal details to make sure that you are traveling to Europe based on the purpose you wrote on the form and can support yourself during your trip.
So don't be surprised if the consular employee asks you about your personal life, as long as it's proper: it's just to confirm that you have ties to your home country that implies that you will come back home and not stay in Europe.
Pay the Schengen visa fee
Different embassies/consulates and application centers may have different visa payment methods. In general, you must have your passport with you during payment to confirm your identity.
Wait for your visa decision
Now all that's left is to wait whether your visa will be accepted. If it is, make sure to pay attention that everything is according to your travel plans and the dates on your visa. In case of negative decision, read the reason for rejection. If you think the denial was a mistake, you may appeal the decision.
Schengen visa cost
The general visa fee of EUR 80 must be paid when submitting the visa application. The visa cost for children from the age of six years and below the age of 12 years is EUR 40. The price may be higher if you apply through a visa center or a travel agency.
Schengen visa photo requirements
Make sure your application photo fulfills these requirements:
Your picture must not be older than six months;
Your Schengen visa application photo size must be 35x45 mm;
Your image must be in color;
The photo's background has to be light and plain, for example, light grey;
Your head should occupy 70-80% of the image;
Keep the expression in the photo neutral and look straight into the camera;
Religious headwear like the hijab is allowed but must not obscure facial features;
Do not retouch the photo or wear makeup in a way that alters facial features.
Read More: Schengen Visa Photo Online: Take Visa Photo At Home
Here is an example Schengen visa photo: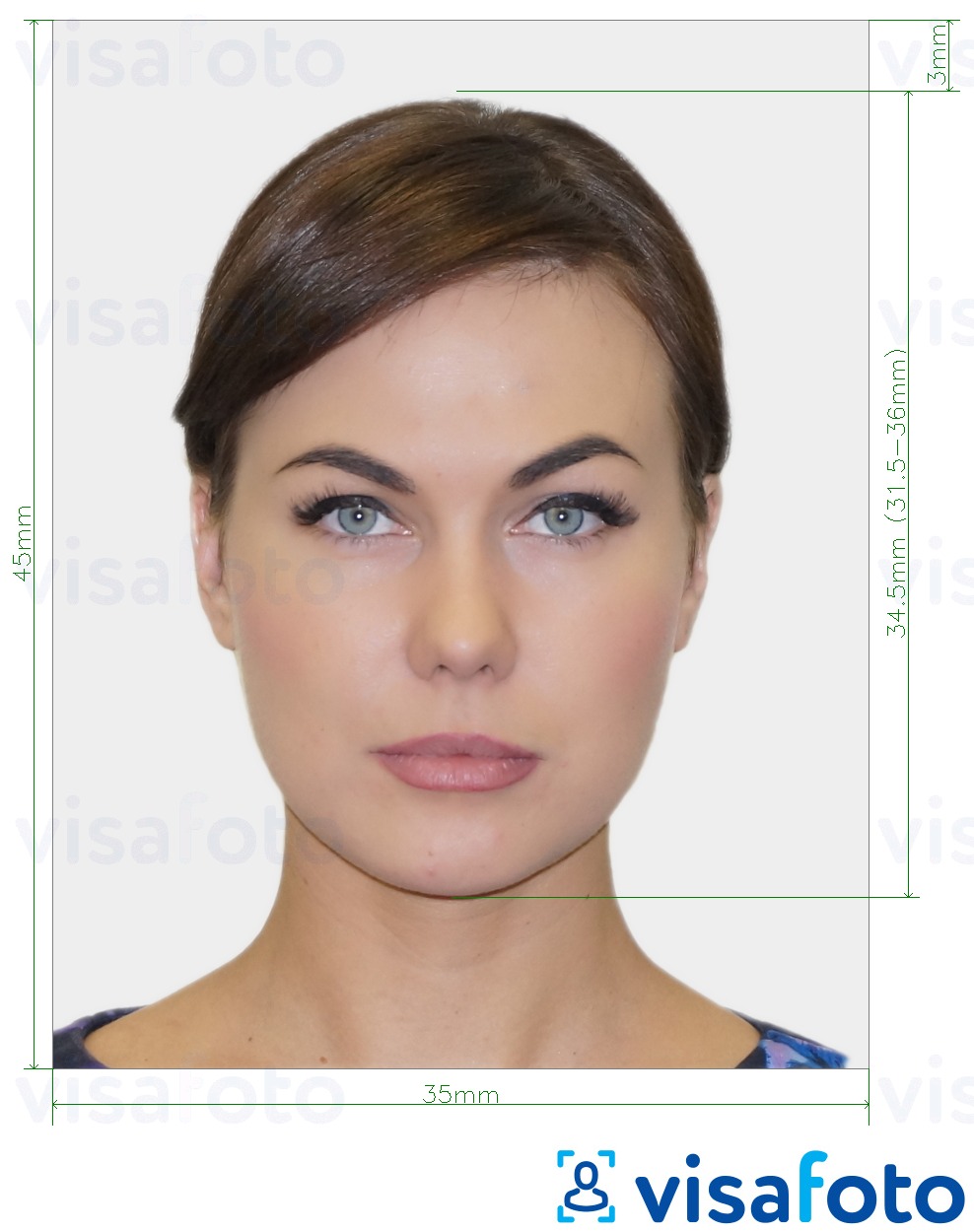 You can use our online ID photo editor to get a compliant Schengen visa photo. Simply upload your portrait taken in full-face under decent light. Visafoto will instantly edit the size, the background, and the format and prepare the image for printing.
Take an image with a smartphone or camera against any background, upload it here and instantly get a professional photo for your visa, passport or ID.
Source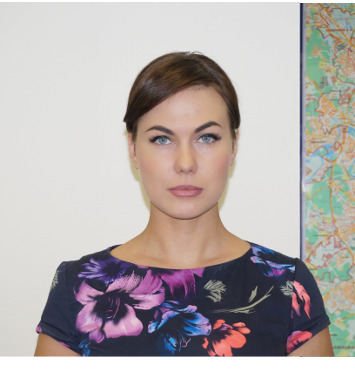 Result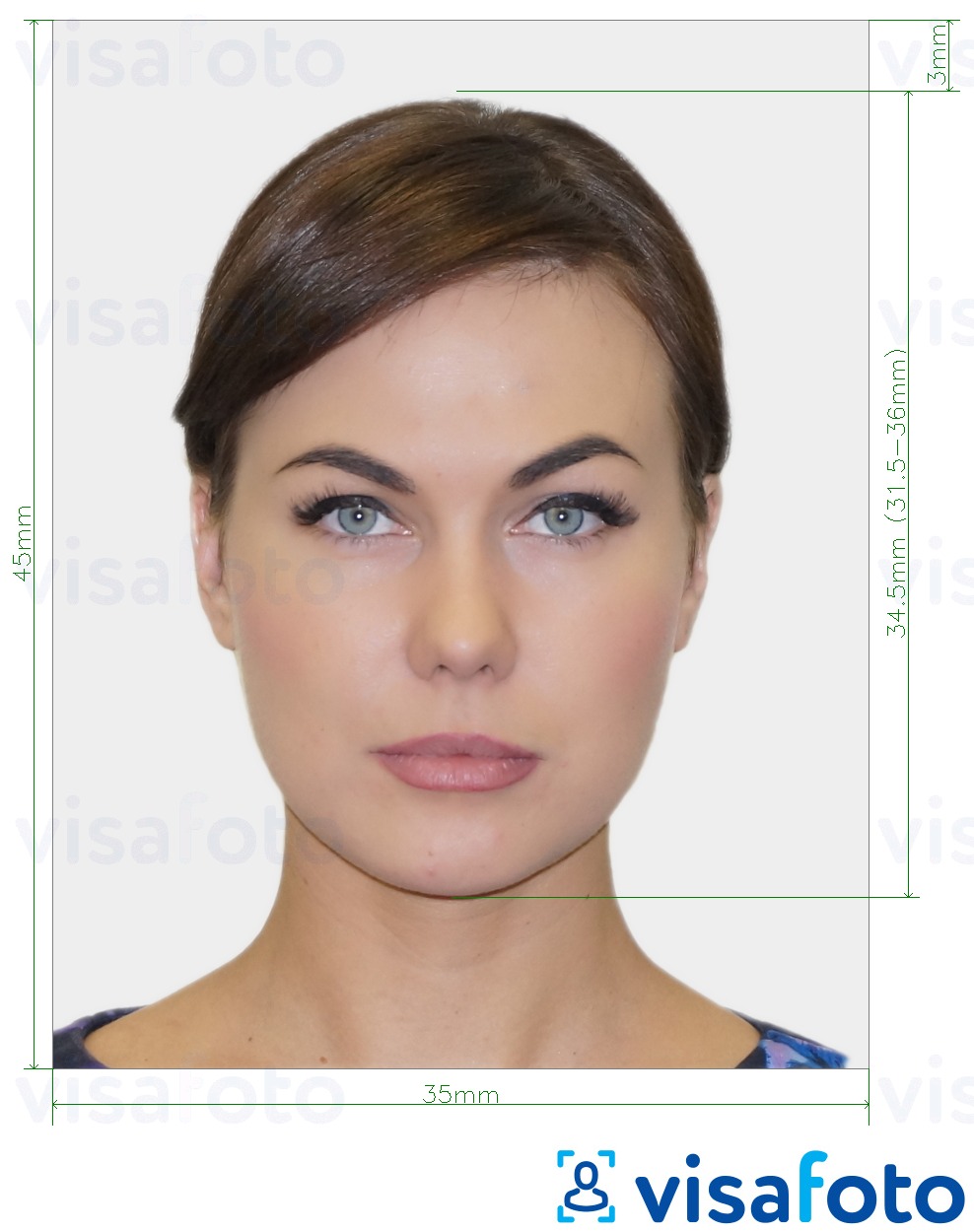 Follow the dress code and posing rules in your photo. Make sure you take your photo in decent lighting.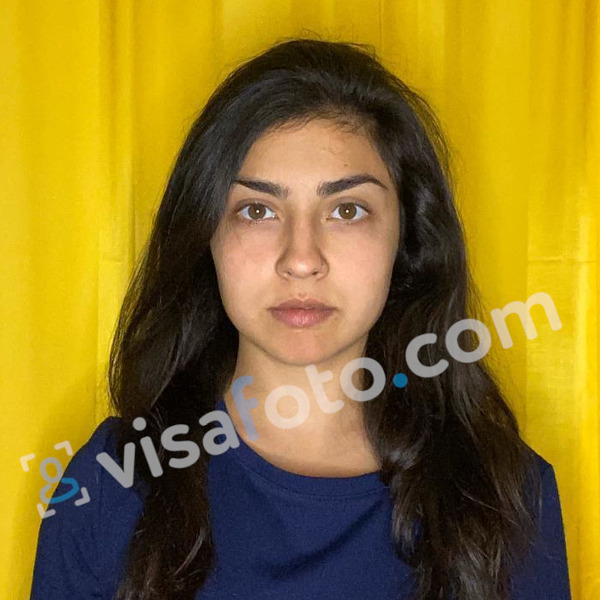 You will have two types of photos: a digital one for electronic applications and another one suitable for printing.
Here they are:
Schengen visa processing time
Usually, it takes 15 days to process a Schengen visa. However, Schengen visa processing time may vary in some specific situations. There are edge cases where the visa processing time may be extended to 30 days after the interview or, in some particular situations, to 60 days.