India FRRO (Foreigner Registration): How to Apply
As is the case in many other countries, India requires foreign citizens who stay in the country's territory to register themselves. This is done through Foreigners Regional Registration Offices (FRROs). This article will explain how to report yourself if you're a foreigner staying in India.
Table of contents
FRRO requirements
All foreigners staying in India on a long-term basis (180 days) must register themselves. This applies to holders of the Student Visa, Medical Visa, Research Visa, Employment Visa, Missionary Visa, and Project Visa.
Registration must be done within 14 days of arrival in India.
If you entered India using the long-term visas mentioned above, but your continuous stay does not exceed 180 days, you are not required to register.
Business visa holders whose aggregate stay in India exceeds 180 days in a calendar year must register at the FRRO/FRO concerned.
FRRO application process
Now, foreigners can register themselves online without visiting any FRRO/FRO in person. It allows a more seamless experience, and besides, in-person service is only granted in emergency cases.
Here are the steps of registering yourself:
Register yourself on the official e-FRRO site;
Authenticate your account by email and phone number. Use your personal email and phone number, as this concerns your private data;
Login to the site with your credentials;
Fill out the application form completely and honestly and upload all required documents. After the requirements are satisfied, you may apply;
After your submission, your application will be reviewed. If there's any document that needs to be added or corrected, you will get notified via SMS or email;
Pay the application fee online as instructed through SMS or email. The payment systems on the site accept Mastercard and Visa credit and debit cards, including foreign cards not issued in India;
Track your progress on the site using your user ID;
Upon completing the process, you will get a notification on whether your application was accepted or rejected. If your application is accepted, you will get the Registration Certificate or Registration Permit by email. You can also get them on the e-FRRO portal.
Make sure to apply two weeks in advance to allow time for your application to be processed.
Documents needed to apply for FRRO
Here are the documents you will have to upload to register yourself as a foreigner in India online.
Your valid passport;
FRRO application photo that satisfies FRRO photo requirements;
FRRO undertaking letter from Indian sponsor, as well as their ID;
Proof of residence in India;
Documents based on the kind of visa based on which you entered India. For example:

Foreigners on student visas need to provide a Bonafide certificate from their educational institution;
Foreigners on medical visas need to provide a letter and proof of treatment from their hospital;
Foreigners on employment visas need to provide their PAN card, proof of employment (contract, proof of salary), and a letter from their company;
Foreigners on business visas need to provide their PAN card and a letter from their company;
etc.
You must upload these documents in PDF format. The maximum size of each PDF file must not exceed 1 MB. A single document may be split into several PDF files to accommodate this size limit.
FRRO photo requirements
Your application photo must satisfy these requirements to be accepted:
The photo size must be either 3.5x3.5 cm or 3.5x4.5 cm;
The background must be light or white and plain. No shadows or extraneous objects are allowed;
The maximum file size of the photo is 1 MB;
The photo format must be JPG;
Your head in the picture must be centered;
Your eyes must be open and look straight into the camera;
There may not be shadows or strong highlights on your face;
Facial features should be fully displayed;
The photo must not have a border;
Photo retouching is not allowed;
The photo should not be blurred, pixelated, or distorted in any way.
Here is an example: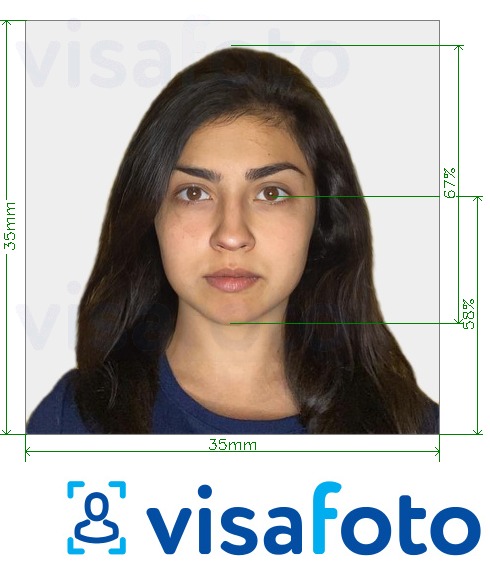 Get an FRRO application photo online
Registering yourself as a foreigner in India has never been easier, but it doesn't mean that documental requirements get any loose. One common unexpected hurdle during such application processes is that the photos we upload sometimes do not fulfill the requirements.
But don't worry; you can use Visafoto to make sure your FRRO photo is 100% up to par. Just take a portrait of yourself with the recommended dress code and pose under good lighting, then upload it to our tool below.
Take an image with a smartphone or camera against any background, upload it here and instantly get a professional photo for your visa, passport or ID.
Source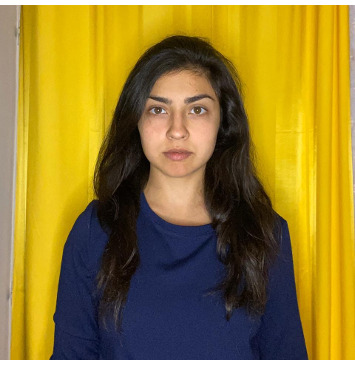 Result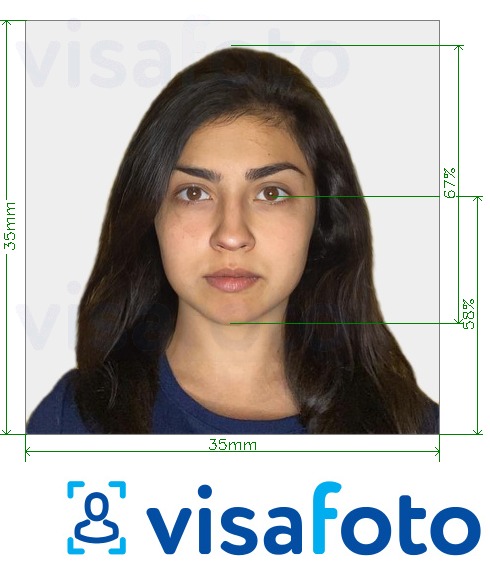 Take an image with a smartphone or camera against any background, upload it here and instantly get a professional photo for your visa, passport, or ID.
First, take a photo of yours under daylight like this one: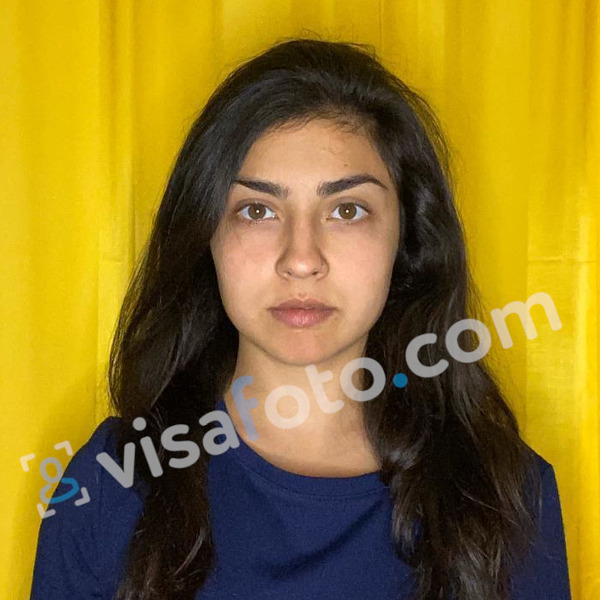 You will have two types of photos: a digital one for electronic applications and another one suitable for printing.
Here they are:
Then, let our professional photo tool take care of the rest. It will adjust your photo to fulfill all the requirements. Your resulting image is guaranteed to be accepted. If you have questions, just contact us!