India passport and visa photo requirements
When applying for a new Indian passport or visa, whether online or by paper, always make sure that your photo meets the official passport or visa photo requirements for India. Incorrect size, format, pose, facial expression, headwear or poor photo quality - all may cause your application being rejected or delayed.
On this page we list detailed photo requirements for Indian passports.
Table of contents
Colour photographs are required for both Indian visa and passport. Indian passport photo sizes vary depending on the place of submission.
Indian passport photo size if you apply in India
In 2007, the Indian Government approved Passport Seva Project (PSP) to facilitate passport issuing process, and the first Passport Seva Kendras were open by 2010.
Today, if you apply for an Ordinary Indian passport at Passport Seva Kendra (PSK) or Post Office Passport Seva Kendra (POPSK) offices, you do not need to submit a photo, as it will be taken on site. In 2013, the Indian Government introduced new security features for passports, including "ghost images" of passport holders to prevent passport forgery. To that effect, specialized passport centres in India (PSK and POPSK) have been equipped with photo taking facilities. The applicant must apply for a passport in person for the capture of his/her picture and singing the passport or submitting fingerprints.
However, in some cases you need to provide a passport size photo. Passport Seva Service specifies photo dimensions, namely, 4.5 cm (height) x 3.5 cm (width) colour passport photo(s) have to be pasted to a special box on supplementary application form or other special form. You will need a passport photograph in the following cases:
If you apply for an Ordinary passport at District Passport Cell (DPS), Speed Post Centre (SPC) or other Citizen Service Centres (CSC), you need to submit one (1) passport size colour photo 4.5 cm (height) x 3.5 cm (width), affixing it to the designated space on your application form.
The same holds true for Diplomatic and Official passports. In this case, the applicant is required to affix two (2) colour photos 4.5 cm x 3.5 cm to the designated spaces on the application form.
When applying through the 'Tatkaal' scheme (for urgent issue of passport), the photo is taken at the camp. However, the applicant is required to bring two (2) recent colour photographs 4.5 cm x 3.5 cm.
Minors under 4 y.o. need one (1) recent colour passport size photo 4.5 cm x 3.5 cm affixed to the application form, whether applying through 'normal' or 'tatkaal' scheme. All children, including infants and toddlers must be present at the passport centre, as their fingerprints will be collected for the personal data page. For more information on children's photos please see 'Babies and children' section below.
If you renew your ordinary passport at Seva Camp (a temporary or mobile passport office), you will need to bring two (2) 35x45 mm photos. Remember that you can submit only electronic forms to Seva Camp, paper forms are not acceptable.
Here is an example of required photo: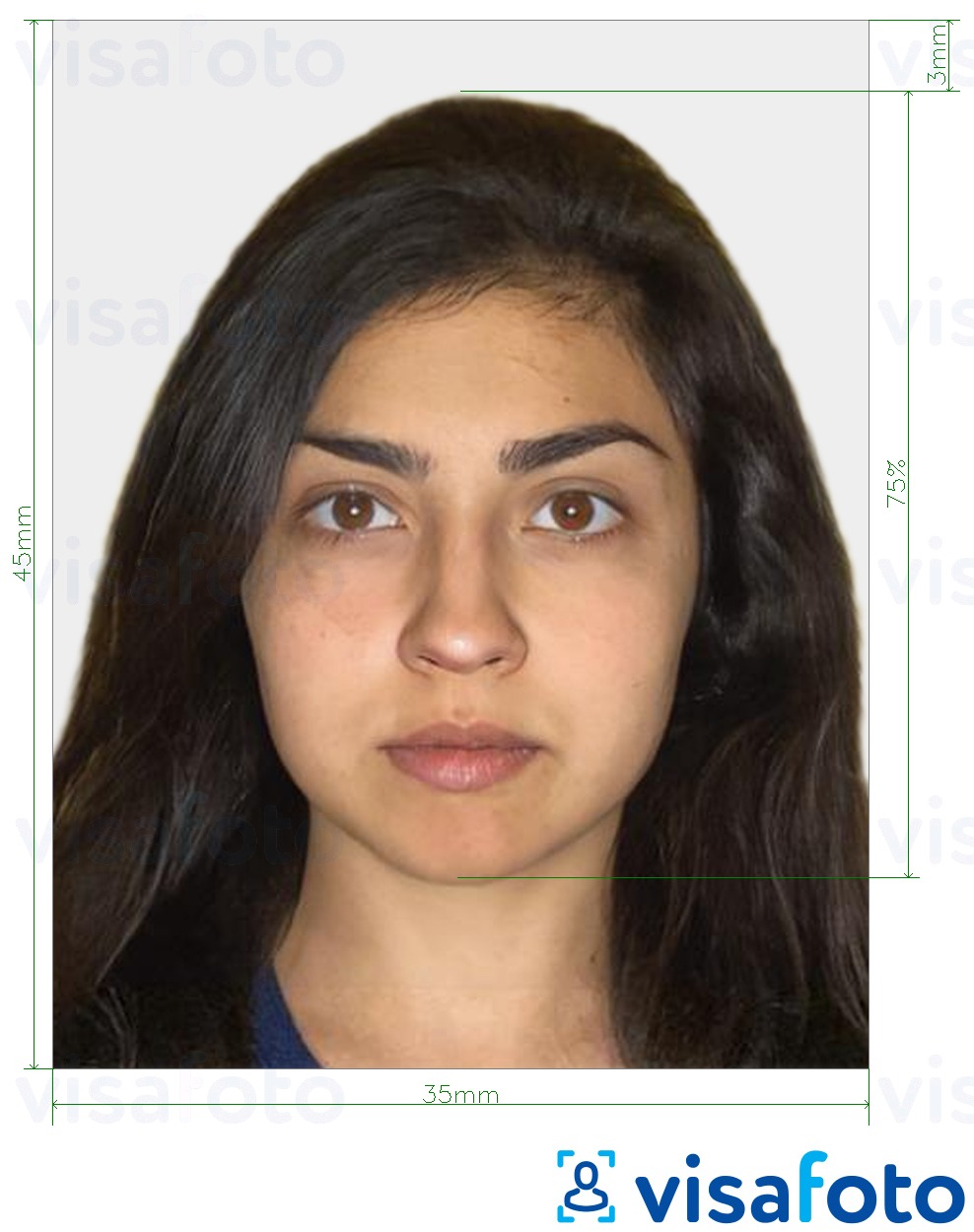 As requirements for passport photo sizes may change over time, you are advised to consult the Passport Service in the place of submission about the current rules for passport photo in India.
Indian passport photo size if you apply abroad
If you apply at an Indian Embassy or Consulate overseas, requirements for Indian passport photo size may vary. Recently, most consulates have integrated the passport application process with the Global Passport Seva Project (PSP). If your Consulate/Embassy has achieved it, you will be asked to apply for a passport online through PSP portal, as well as submit a printed application at the Indian Consulate/Consular Department in your place of residence.
The hard copy application should be accompanied by printed photos. Photos sized 5.1 cm x 5.1 cm (2 inch x 2 inch) are generally accepted. However, the number of photos (from 2 to 5) and photo sizes (5.1 cm x 5.1 cm, 3.5 cm x 3.5 cm, etc.) may vary, depending on the requirements of each Consulate. You are thus recommended to enquire about the number of photos and the appropriate photo size at the Embassy/Consulate, or refer to their website. You will normally find information on photos and other accompanying documents under 'Consular Services', 'Passports' and 'FAQs' sections of the website.
When applying for an Indian passport through VFS Global, submit two (2) colour passport size photographs of 5.1 cm x 5.1 cm (2 inch x 2 inch) each.
Here is an example of required photo: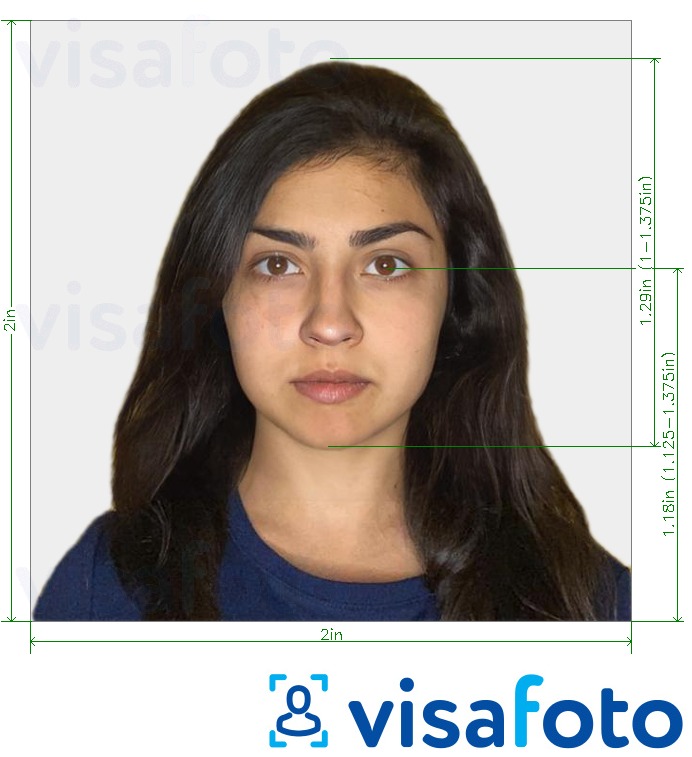 Consulates may specify different photo sizes for popular consular documents from those requested in India. For example, most Consulates and VFS Service want 5.1 cm x 5.1 cm (or even 4 cm x 4 cm) photos for Police Clearance Certificate. A general requirement with many Indian documents is that a photo cannot be smaller than the box on the form to which it is attached.
The standard photo size for OCI card (Overseas Citizenship of India) is 2 inch x 2 inch (51 mm x 51 mm). Please note that the PIO scheme has been cancelled and merged with the OCI scheme.
Learn the required photo size in advance to inform your photo provider or use Visafoto.com online tool to automatically adjust your photo size and format.
Indian passport photo format
Generally, Indian passport photos have two sizes:
The 2x2 inch photo for OCI passports, visas, Police Clearance Certificate
The 35x45 mm photo for baby passport, Seva Camp photos, diplomatic passports
An adult photo must include the applicant's head from top of the hair to bottom of chin and upper shoulders. The Indian passport photo requirements are very strict about the head size. On 2x2 inch photos, head height should measure 1 inch to 1-3/8 inches (25 mm to 35 mm) and eye height be between 1-1/8 inches and 1-3/8 (28 mm to 35 mm). On 35x45 mm photos, head height should occupy 70-80% of the photo height.
Indian passport photo proportions are differentfor infants and children under 4 y.o., where the child's face should take up 80-85% of the photo.
Recency
The photos must be taken within the last 6 months to reflect your current appearance.
Pose
The head must be centered within the frame. When you take a photo, look straight into the camera, since strictly frontal view is required. Do not tilt or turn your head. The photo should present a full face from top of hair to bottom of chin, and both left and right parts of your face must be in full view.
Your eyes should be open, level and clearly visible. Some editions of Indian passport photo rules state that the applicant's ears should also be visible.
Background
The photo must be taken against a plain white background for Passport Seva submission. Plain white or light colour background may be acceptable for passports obtained through Consulates and for OCI card photos.
Quality and lighting
Indian passport photo rules require the photo to be in good focus, so that all the facial features are clearly discernible. The image cannot be blurred, and there should be no marks or creases.
The lighting should be even and balanced to avoid shadows on face or in the background. No retouching or other enhancements can be applied to the face and face features. There should be no border around the edge of the image.
Contrast and colour
The photo must be well-exposed. Brightness and contrast should be adjusted to represent the person and the background accurately. Good colour balance is necessary to reproduce natural skin tones. Unbalanced colour may blur the unique facial features or cause unwanted colour shade in the photo.
Expression
Facial expression should be natural with both eyes open and the mouth closed. Hair or glass frames cannot cover your eyes.
Glasses
Sunglasses or tinted glasses are not allowed. Prescription glasses are acceptable, in which case there should be no glare on lenses.
Clothing
Both adults and children are recommended to wear dark clothes to achieve good contrast with white background.
Head covering
Headwear is not permitted. If you wear head covering for religious reasons, make sure it does not disguise any part of your face. The head covering worn for religious reasons may not cast a shadow on your face.
Remember that rules for passport photo in India require your face to be fully visible from top of forehead to bottom of chin, and both parts of your face clearly shown in the photo.
Printing and paper quality
Passport photo guide for India allows both digital and conventional printing and various printing methods. However, high resolution printing quality is strongly recommended for passport or visa photos. Check that the printed image is clear and of continuous-tone quality. In case of digital printing, there should be no visible pixels or dot patterns. Passport photographs may be printed on thin photo paper or on stock (pasteboard).
Babies and children
Passport Seva photo rules for children under 4 y.o. are very strict, as they are exactly the same as Indian passport photo requirements for adults.
The only difference being picture proportions, as the child's head should take up 80-85% of the image. Indian passport photo requirements set forth by Embassies and Consulates, as well as OCI photo rules show some flexibility for children under ten and babies in terms of image proportions and facial expression.
The head should be centered within the frame, the infant's eyes should be open and clearly visible (not covered by hair or other objects). Try to make your child look directly at the camera. The whole face from top to chin and both parts of the face should be open and visible. The background of the photo is to be plain white or light coloured. There cannot be any shadows, flash reflections or red eyes in the image.
The photo should include the child alone with no other people or objects like chair backs or toys visible in the photo. Facial expression should be neutral with the mouth closed. Babies under one year do not have to have their eyes open.
Indian visa photo specifications
There are two types of visas issued by the Republic of India:
Regular (paper) visa
eVisa
Regular/paper visa is obtained through Indian Missions abroad, namely, Consulates or Consular Departments of Indian Embassies. First, an applicant is asked to fill out a detailed online application form at indianvisaonline.gov.in and upload a digital photo to it. Afterwards, he or she is prompted to print out the application form and submits it to an Indian Embassy or Consulate along with paper photo(s) (normally, 1 or 2) and other supporting documents.
Indian visa photo guidelines for online submission specify that you should provide a high resolution colour digital photo saved in JPEG format. The height and the width of the photo must be equal. The image can take from 10 to 300 KB of memory. The minimum acceptable resolution is 350 pixels x 350 pixels, and the maximum dimensions are 1000 pixels x 1000 pixels.
A commonly used Indian visa photo size for the accompanying printed application is 2 inch x 2 inch (5.1 cm x 5.1 cm). However, check with your Embassy or Consulate in advance, as photo sizes may vary.
VFS Indian visa photo specifications also indicate that you need two (2) recent 5.1 cm x 5.1 cm sized photographs. Printed visa photos should meet the standard Indian passport photo requirements.
The photo should have plain white or light coloured background. Overall Indian visa photo criteria are similar to Indian passport photo rules for 2x2 inch photos described above.
If you are eligible for Indian eVisa, you are invited to fill in an application form online at: indianvisaonline.gov.in (choose eVisa option), and upload your recent digital photo. Indian eVisa photo requirements are very similar to digital photo specifications for online submission. You are not so much restricted in photo size, though, as eVisa photo specs only set the minimum photo dimensions (350 pixels x 350 pixels) and you can upload a photo as large as 1 MB in size. Make sure your photo format meets the general Indian passport picture requirements described above, or your application will be rejected.
India passport photo guidelines
One of the fastest ways to make a complaint Indian passport or visa photo is to use specialized online tools. Visafoto.com instantly converts your photo so that it complies with all the passport photo requirements for India.
Take an image with a smartphone or camera against any background, upload it here and instantly get a professional photo for your visa, passport or ID.
Source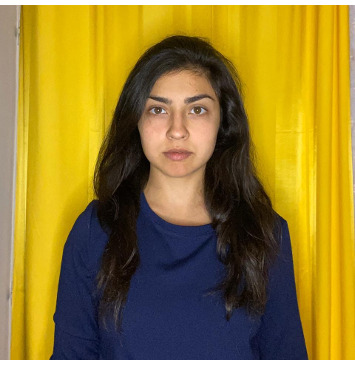 Result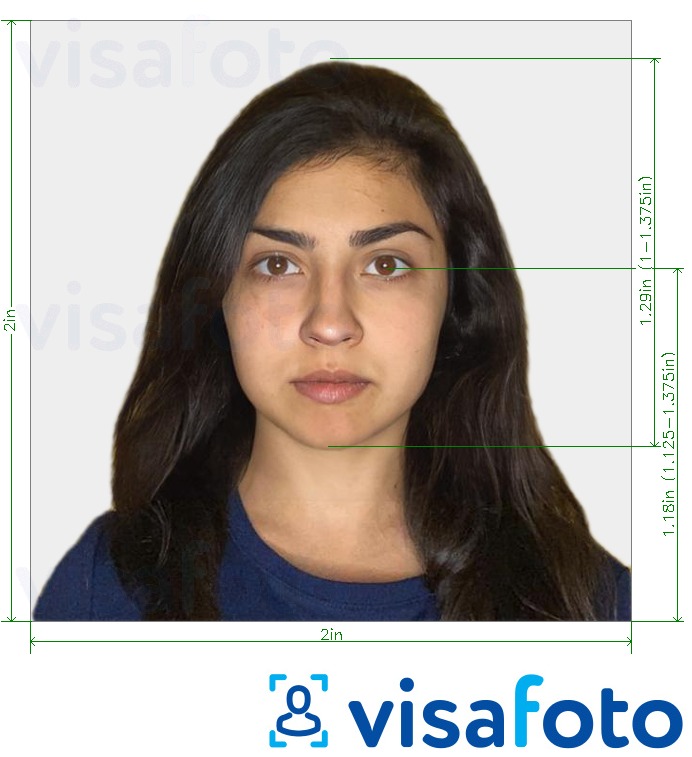 The result will also conform to the Indian visa photo rules, if you choose the 'Indian visa' option.
Let's look at some examples. First, take a selfie under daylight: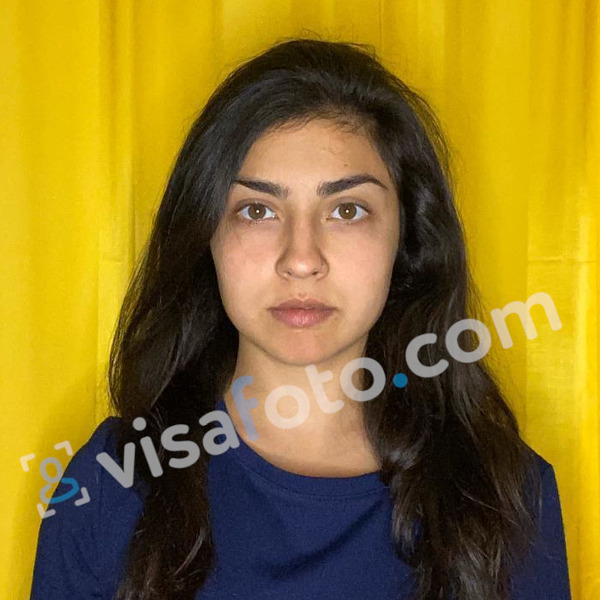 And you will get photos for printing and online submission:
Brief instructions:
Take a photo of yourself against any background. Look directly into the camera and keep your shoulders straight, do not tilt or turn your head;
Your expression must be neutral;
Make sure the photo matches clothing requirements mentioned above and there are no strong shadows or glare in the picture;
Choose the type of document and desired photo size;
Upload the photo to Visafoto.com and get the immediate result. The service will adjust the background, set the required size, format, and improve image quality. You will receive a digital photo for online submission and an image for printing;
Technical support is available 24/7 to answer all your questions. If you are not satisfied with the photo quality, the service will issue another photo free of charge or return 100% of the payment.