Malaysia Temporary Employment Pass: Application And Photo
In the age of globalization and mobility, Malaysia has become an attractive destination for individuals seeking temporary employment opportunities. The Temporary Employment Pass for Malaysia serves as a work permit for people engaged in approved sectors, explicitly targeting semi-skilled workers.
Understanding the application process and requirements, including the crucial aspect of submitting a photo, is essential for those seeking temporary employment in the country.
Table of contents
Please note that a temporary work permit doesn't allow you to bring your family to Malaysia.
Malaysia temporary employment pass rules
Obtaining a temporary employment pass in Malaysia entails adhering to specific rules and regulations. Firstly, applicants must have a valid job offer from a Malaysian employer before initiating the application process.
Furthermore, applicants are often required to undergo medical examinations and obtain health insurance coverage. Adhering to the rules and procedures set forth by the Malaysian authorities is crucial for a successful temporary employment pass application.
There are two categories of Temporary Employment Passes:
For workers of manufacturing, construction, plantation, agriculture, and services;
For foreign domestic helpers.
Who is eligible to get a temporary employment pass?
To be eligible for a temporary work permit in Malaysia, you must fulfill the following criteria:
Your intended employment falls within the sectors of Construction, Plantation, Agriculture, Services, or Manufacturing;
You are a citizen of Bangladesh (restricted to the Plantation sector), Cambodia, India (excluding the Manufacturing sector), Indonesia (male workers excluded from the Manufacturing sector), Kazakhstan, Laos, Myanmar, Nepal, Pakistan, Philippines (female workers ineligible for any sector), Sri Lanka, Thailand, Turkmenistan, Uzbekistan, or Vietnam;
Your age ranges from 18 to 45 years;
You have undergone a comprehensive medical examination at an approved medical center and have been declared fit and healthy for work;
Your employer has obtained a foreign worker quota from the Ministry of Home Affairs, One Stop Centre (OSC);
You have successfully undergone Immigration Security Clearance (ISC) verification at an ISC Centre in your home country.
Temporary employment pass application process
The process of obtaining a Temporary Employment Pass in Malaysia begins with your employer applying on your behalf at the Immigration Department of Malaysia prior to your arrival. The steps involved are as follows:
Acquiring the visa approval letter: Your employer needs to obtain a Visa Approval Letter from the Immigration Department of Malaysia before you can travel to the country;
Applying for the Malaysia visa with reference: To enter Malaysia, you must apply for the Malaysia Visa With References at the nearest Malaysian Representative Office, such as an embassy or consulate;
Applying for the Temporary Employment Pass: Upon your arrival in Malaysia, you must undergo a FOMEMA medical examination within 30 days. Once you receive your FOMEMA medical examination results, you can proceed to the employment pass application at the Immigration Department of Malaysia. Both you and your employer will be responsible for paying the employment pass Pass fee and a security bond as part of the application process.
Documents required for temporary employment pass application
Here are the documents that your employer must submit when applying for the work permit:
Visa With Reference application form (forms IM.12 and IM.38);
Quota approval letter from the Ministry of Home Affairs;
Copy of worker's passport
Worker's identifying picture fulfilling requirements
Worker's medical test results
ISC verification results;
Receipt of foreign worker levy;
Security bond;
Foreign Worker Compensation Insurance Scheme;
Malaysian health insurance for foreign workers.
Employment pass photo requirements
Make sure your application photo fulfills the following requirements:
The photo size must be 35mm wide by 50mm high;
Your head must occupy 25-30 mm of the picture's height;
You must be looking straight into the, with a neutral expression;
No headgear, except for religious reasons such as the hijab, is allowed. However, it may not obscure your face;
You may wear glasses, but they must not obscure the face;
The photo must be of decent quality so you may be easily recognized: good contrast and lighting, clear, not blurred, pixelated. Scanned photos are not allowed;
Your photo must not be older than six months;
The background must be light blue with no shadows or extraneous objects;
The photo must not have borders;
The photo must show the shoulder up to the crown.
Here is an example: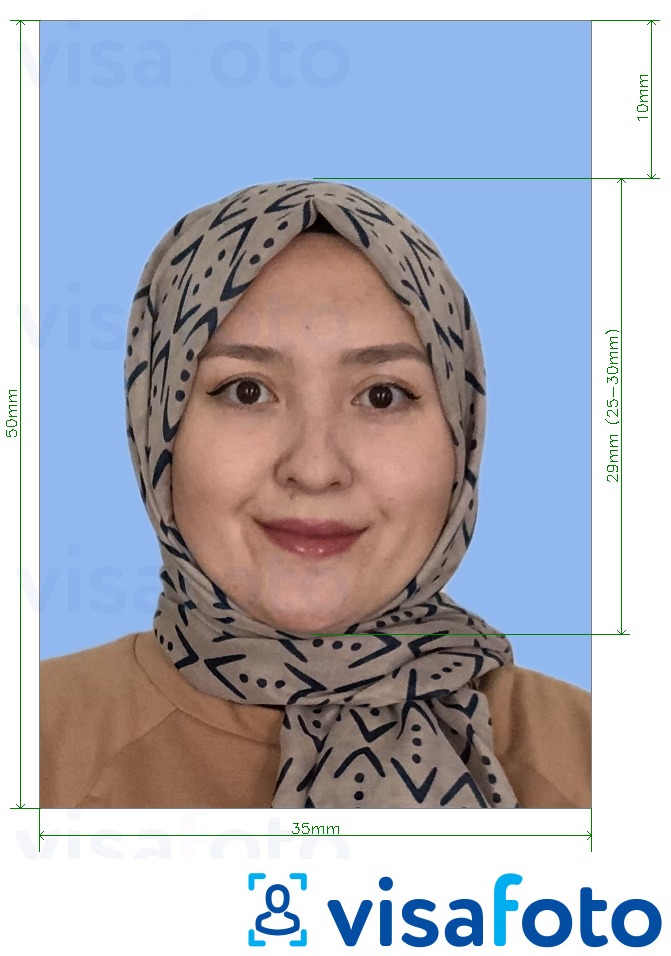 Get a photo for a Malaysian work permit online!
Settling in a new country for a new job can be stressful. Why not save your time where you can? This way, you can focus on preparing for your work and setting up a new life.
To ensure your photo is up to par while saving time and resources, we recommend using Visafoto, an online photo editing service that ensures your photo is fully compliant with whatever visa photo requirements you may need. Just upload a portrait of yourself following the appropriate dress code and posing. Visafoto will instantly set up the required parameters and provide you with the needed photos, including a template for printing.
Take an image with a smartphone or camera against any background, upload it here and instantly get a professional photo for your visa, passport or ID.
Source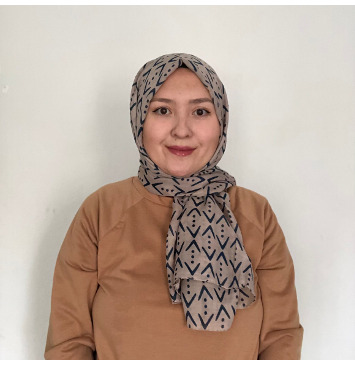 Result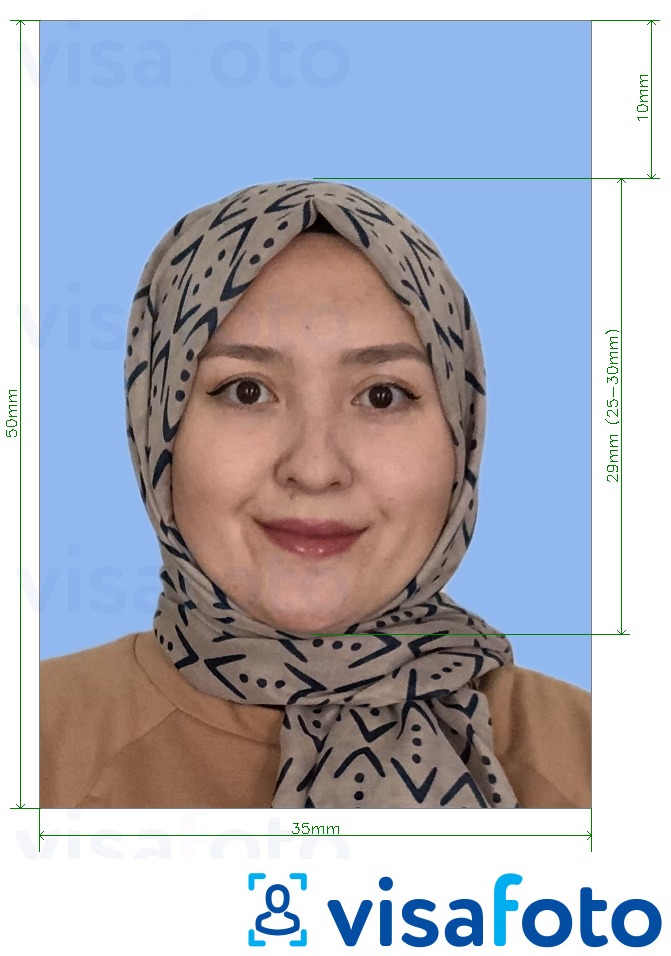 First, take a photo of yours like this one: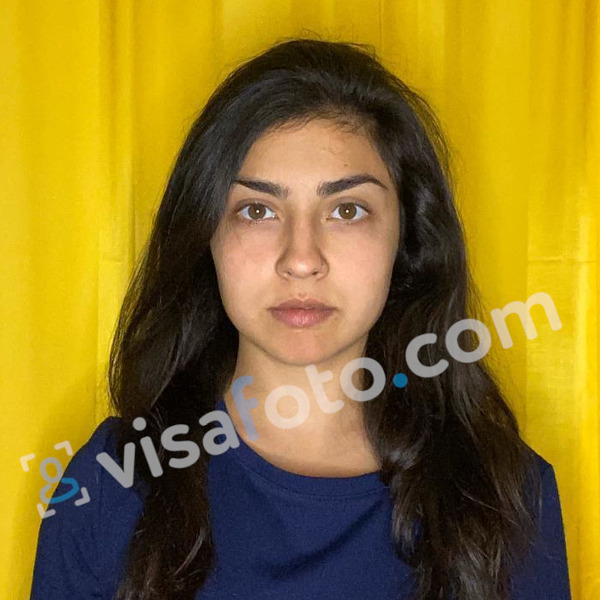 You will have two types of photos. Digital photography is suitable for electronic applications, while the other is designed for printing.
Temporary employment pass validity and extension
Initially, the Malaysia Temporary Employment Pass is granted for a duration of 12 months, and it can be extended or renewed annually for a maximum period of 10 years. To ensure continuity, your employer must submit the renewal application three months before the expiration of your pass. The authorities will reject any applications submitted after the expiration date.