Non-Resident Nepali Card (NRN) Guideline
The Non-Resident Nepali card is a special identity card issued to Nepali nationals who live abroad, outside of SAARC member states, and persons of Nepali origin who hold citizenship other than SAARC country citizenship.
(The countries on the SAARC list are Afghanistan, Bangladesh, Bhutan, India, Maldives, Nepal, Pakistan, and Sri Lanka.)
Why would a Nepali need an NRN, what benefits does it provide, and how to get one? Check our instructions below.
Table of contents
NRN card benefits
The NRN card provides its holders formal identification as a non-resident Nepali and various benefits and privileges, such as:
Non-citizens of Afghanistan, Bangladesh, Bhutan, India, Maldives, Nepal, Pakistan, and Sri Lanka are eligible for a free visa to enter and stay in Nepal;
The right to open a bank account in a foreign currency that you can convert to the Nepalese rupee;
Eligibility to make investments in a foreign currency that you can convert to the Nepalese rupee;
The opportunity to repatriate investment proceeds in the same foreign currency;
The ability to purchase and sell land, with limitations;
Inheritance and ownership of property in Nepal;
Tax exemption on the initial capital invested;
Tax exemption certificate for up to NPR 15 Lakhs for personal expenses for NRN's close relatives in one fiscal year;
Tax exemption for funds remitted via formal banking channels for social, political, cultural, religious, charity, sports, and disaster relief projects;
The right to establish businesses and access investment benefits for foreigners.
In general, it provides more access to participate in daily life, including investment and development in Nepal.
How long can NRN card holders stay in Nepal?
The answer to this question depends on your citizenship.
If you are a Nepali citizen with NRN status, you do not need a visa to stay in Nepal and can stay indefinitely, thanks to your status.
If you are a foreign national who holds NRN status, you must apply for a visa to stay in Nepal, but the visa will be free of charge. The stay period of your visa depends on which visa you have and is the same as with other foreign citizens.
How to apply for an NRN card?
To apply for a Non-Resident Nepali (NRN) card, you can follow these steps:
Obtain the NRN application form available from your local Nepali embassy or diplomatic mission or from the Nepali Ministry of Foreign Affairs website;
Fill out the application form completely and attach required documents;
Submit the completed application form along with the required documents to the nearest Nepali Embassy or Mission or to the NRNA;
Pay the prescribed fee for the NRN card depending on the payment method available for your jurisdiction;
Submit your application based on your embassy's or mission's instructions;
Wait for the processing of the application and issuance of the NRN card.
Note: The specific requirements and procedures for applying for an NRN card may vary depending on the jurisdiction, so it is advisable to check with the nearest Nepali embassy or diplomatic mission for the most up-to-date information.
Documents required for NRN card application
The documents required are:
Proof of Nepalese Citizenship renouncement, if applicable;
Naturalization certificate of a foreign country, if applicable;
Passport of a foreign country, if applicable
Nepalese Citizenship Certificate;
Parent's Citizenship Certificate;
Documentary proof of business, occupation or employment in the country of residence;
Application photos fulfilling requirements.
NRN photo size and requirements
Pay attention that the photos you use to apply must fulfill the following parameters:
The image must be in color;
The size must be 35 mm in width and 45 mm in height for a passport-formatted photo or 25 mm in width and 30 mm in height for an auto-size image;
The head should be centered and occupy 70-80% of the photo;
The picture must be recent;
The background must be plain white;
Glasses are allowed. The frame must not cover any part of your eyes. There must be no glare on the lenses. Dark glasses are not permitted;
You can wear a head covering for religious or medical reasons. Your full facial features must be visible. You cannot wear head accessories for any other reason;
Your photo must be in focus. Balance the lighting and color, not too dark or too light;
There must not be any shadows on your face or behind your head;
'Red eye' in photographs is not acceptable;
Keep your facial expression neutral and look straight into the camera.
Here is an example: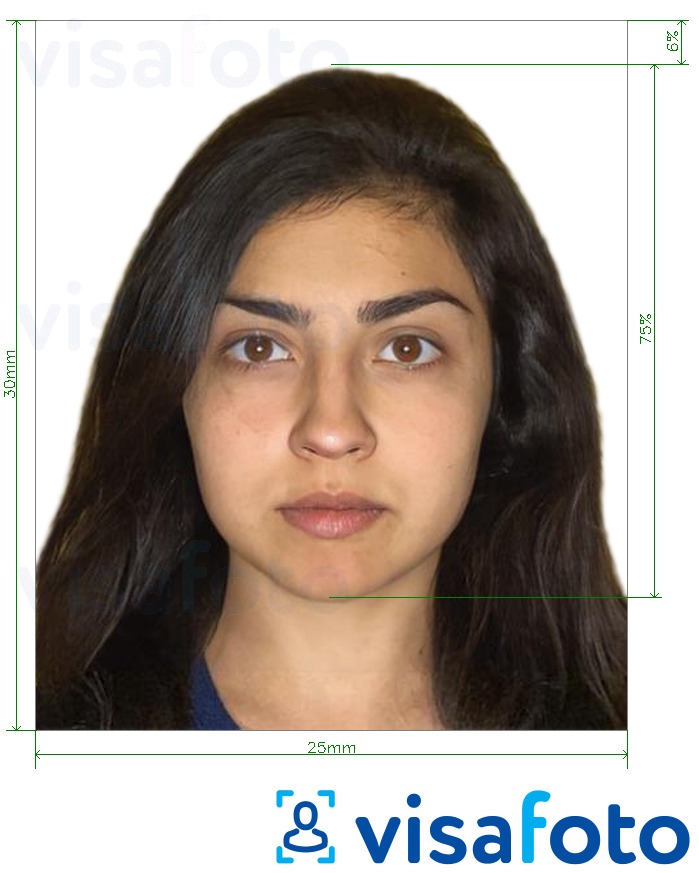 Get an NRN photo online!
With all the benefits and possibilities of connecting to your home country, the NRN card can be a useful thing to have. If you're applying for an NRN card, ensure all your submitted documents are in order, including your photos.
You can make sure of that by trusting this task to professionals. Visafoto can turn your homemade portrait of any size and background into a fully compliant photo: it changes the background, adjusts the dimensions, and even fixes red eyes. Make sure to take your picture in good lighting and according to dress code guidelines.
Take an image with a smartphone or camera against any background, upload it here and instantly get a professional photo for your visa, passport or ID.
Source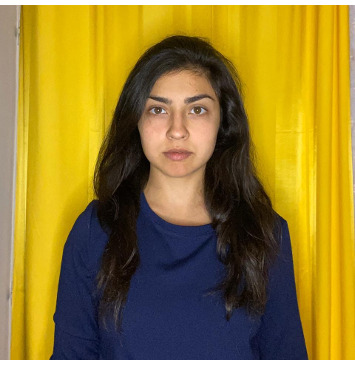 Result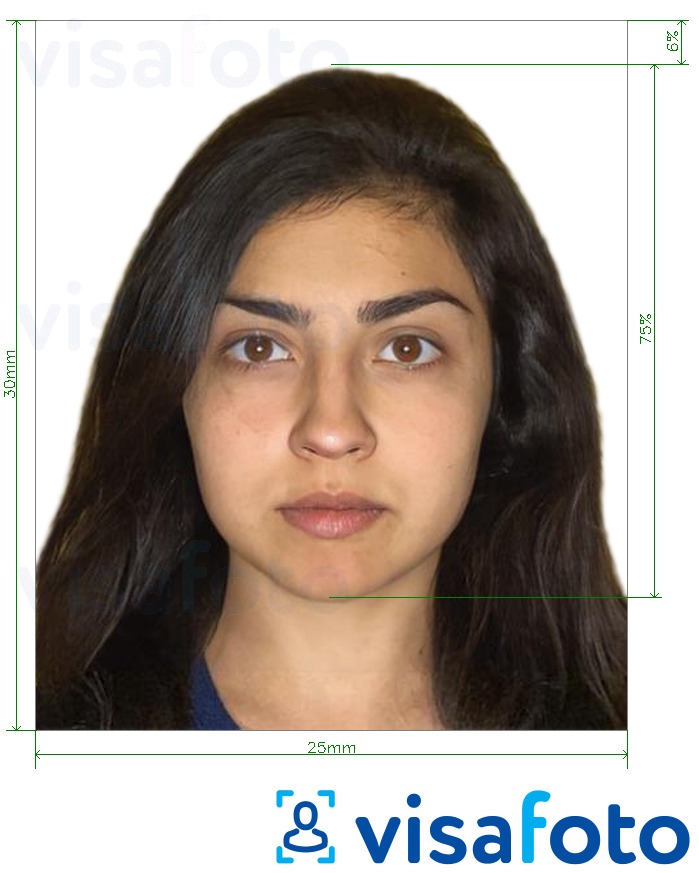 First, take a photo of yours under daylight like this one: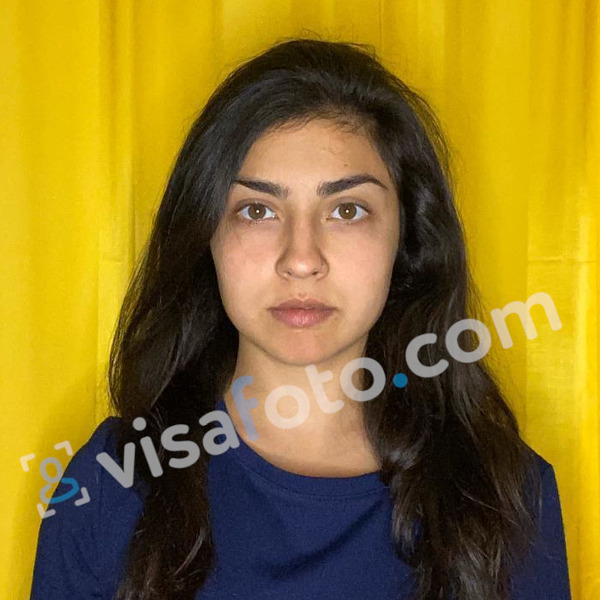 You will have two types of photos: a digital one for electronic applications and another one suitable for printing.
Here they are:
How long does it take to get an NRN card?
The processing time depends on the policies of your local Nepali diplomatic mission and averages 2 to 5 working days.
NRN card fee structure
The costs of applying for an NRN card are broken down into two.
First is the application fee, which is USD 20 outside of Nepal or Rs. 1500 in Nepal.
The second part is the card fee:
For citizens with Nepali origins coming from European countries, North America, South America, and Australia Region including New Zealand, Japan and Korea, the fee is USD 500;
For citizens with Nepali origins coming from other countries, the price is USD 250;
The card fee for Nepali citizens residing outside Nepal is USD 50.