Permanent residence in Poland (Karta Pobytu)
The Polish "Karta Pobytu" (temporary stay card) allows you to legally live and work in this country, as well as travel freely throughout the European Union. This article will tell you how to apply for a residence permit in Poland and review the list of required documents.
Table of contents
Rights and obligations of a Polish permanent residence holder
In addition to legal residence in Poland, a residence permit or Pobytu Card provides the following opportunities:
Obtain higher education both in Poland and in the EU;
Buy a car in the whole territory of the European Union;
Move freely within the Schengen Area without a visa;
Be legally employed;
Invite foreign people as guests;
Conduct business;
Use medical care;
Obtain a permanent residence status in the future. It is possible to exchange a temporary permit for a permanent one after five years of residence permit status. In the case of marriage with a Polish citizen, this period is reduced to 3 years.
Poland residence permit requirements
There are various grounds for obtaining a residence permit in Poland. Here are the most common ones:
Work. To apply for a work permit in Poland, you must be hired by one of the Polish companies and sign a contract, guided by the Act on Residence of Foreigners;
Study. You can obtain a residence permit after enrollment in an educational institution or language courses;
Presence of Polish roots. A residence permit in Poland can be obtained based on repatriation, which automatically gives the status of permanent residence for 10 years. In addition, it is possible to get citizenship six months after receiving the Pole's Card;
Getting married to a Polish citizen or a person who has a permanent residence permit;
Doing business in this country or partnership/co-founding with one of the Polish legal entities;
The status of a victim of human trafficking, if such a person is in Poland and assists the investigation.
Poland residence permit: required documents
The "Karta Pobytu" is issued after moving to Poland on a National Visa (category D). You have to go to the Voivodeship Office nearest your residence, to the Department for Foreigners' Affairs.
To obtain a Polish temporary stay card, you must submit the following documents:
A standard application form in Polish;
Original passport and two photocopies of each page;
Receipt of payment of the state fee (340,00 PLN);
A photo for the residence permit, the requirements for which we will describe below. You must submit four photos, taken no earlier than six months ago;
Medical insurance valid for the whole period of stay;
Rental agreement;
A bank statement or proof of monthly stable income/sponsorship. The minimum amount is PLN 800 ($200) per person per month.
Polish residence permit terms vary from 3 months to 3 years. The permanent residence permit is valid unlimitedly.
Karta Pobytu photo requirements
What photo is required for a residence permit card in Poland? The criteria are as follows:
The required size of the Poland residence permit photo is 35 x 45 mm;
The face must occupy from 70 to 80% of the size of the image;
The height is 30-32 mm, the width is 18-22 mm.;
The size of the upper margin above the head is 4 to 6 mm.;
The background of the residence permit photo must be white;
Photos must be taken with a neutral facial expression, strictly in full-face;
Headdresses must be worn if the applicant wears headdresses because of religious beliefs. Accessories, hats, scarves, headbands are prohibited;
If the applicant wears glasses, he/she must be photographed wearing only vision glasses with clear lenses. Tinted glasses are excluded, and the frames must not cover the eyes.
Here's an example of the photo: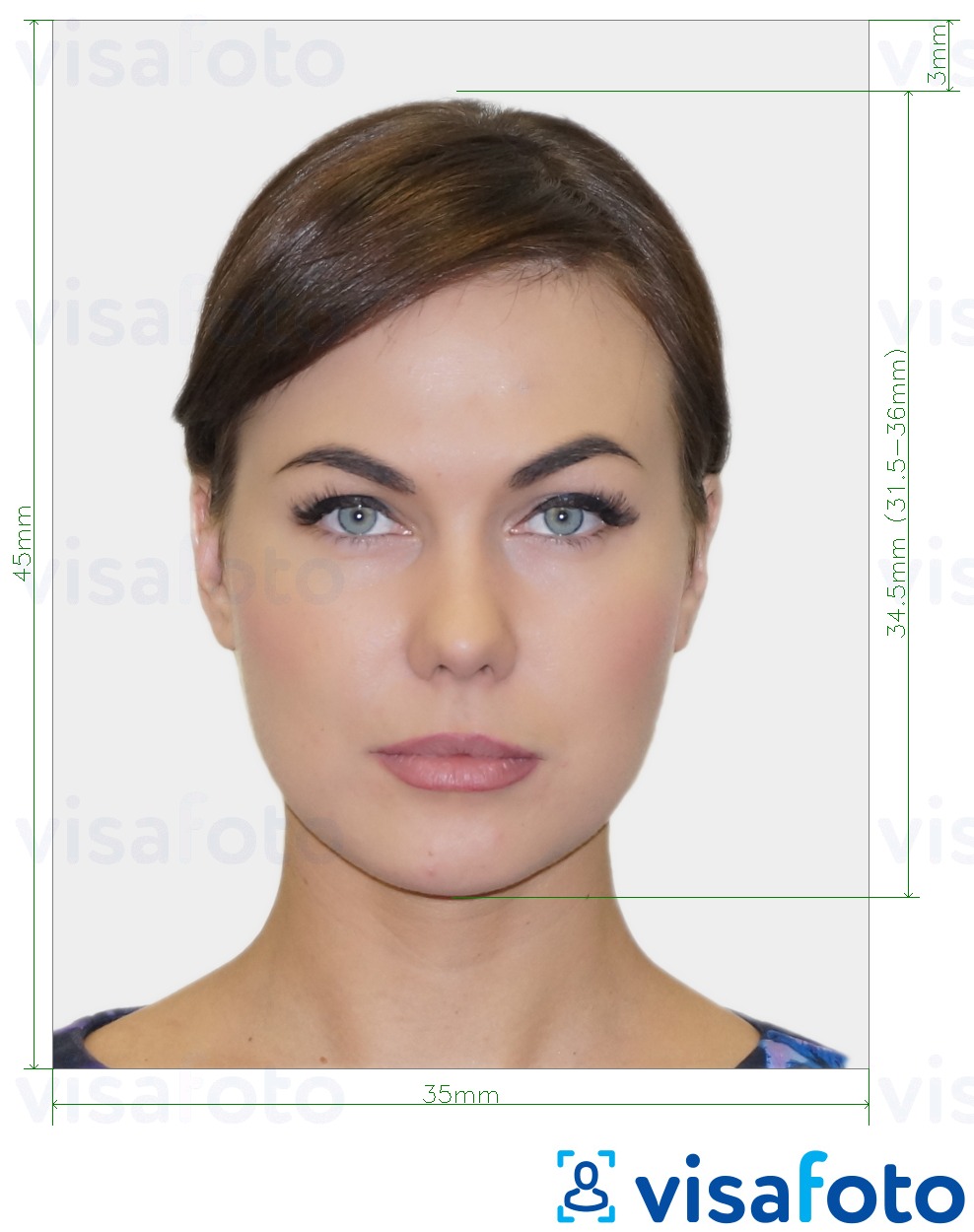 Get a Poland residence permit photo online!
To save yourself from a long search for a photo studio or a proven online editor who will do everything you need in accordance with the established rules, use the Visafoto service!
Take an image with a smartphone or camera against any background, upload it here and instantly get a professional photo for your visa, passport or ID.
Source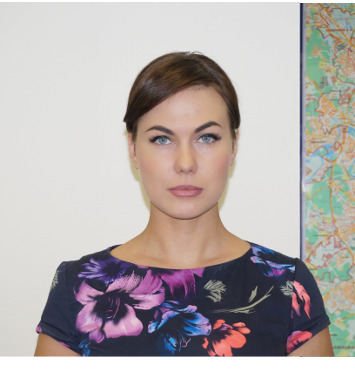 Result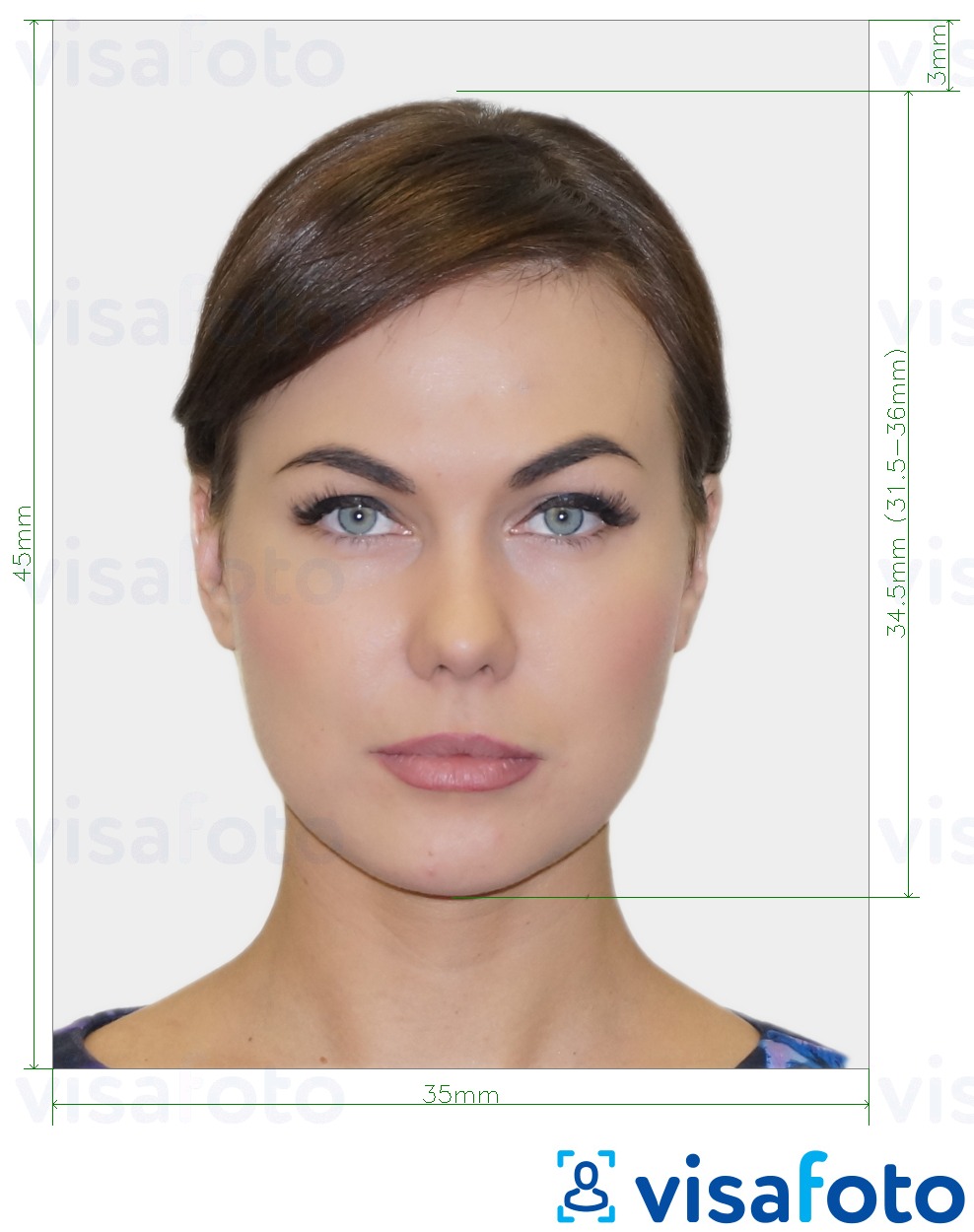 All you need to do is:
Take a photo of yourself against any background;
Upload a photo here;
Download the processed image;
When taking a picture, follow specific rules:
Use daylight. But if you are photographing in the evening, make sure you have enough artificial light;
Keep the camera at eye level;
Take as many shots as you need to get a perfect portrait.
Source photo (example)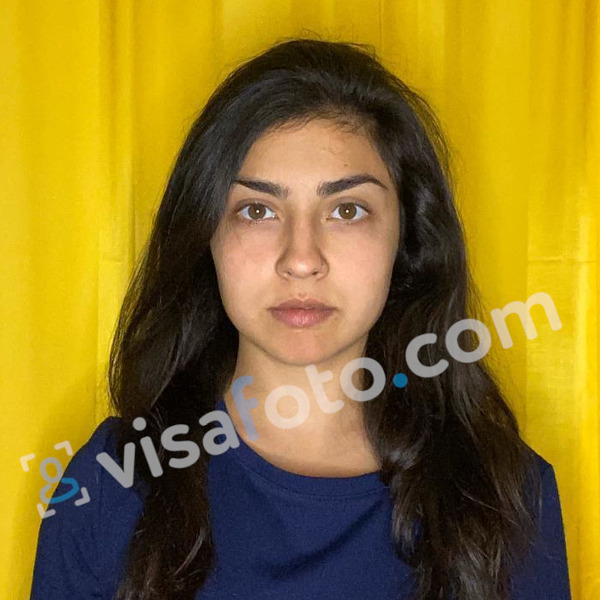 Poland Residence permit photo in two formats: for printing and online submission:
You should also observe the dress code requirements. They are about the same for photos for all official documents:
Choose contrasting dark clothing to look good against a light background;
Don't use a lot of jewelry;
Avoid bright makeup;
Make sure your hair does not cover your face;
The head, part of the shoulder girdle, neck, and ears should be clearly visible.
Photos processed at Visafoto are approved 99.7% of the time. Use Visafoto to create a picture for a valid Polish residence permit!